Baobab: Tree of Generations by Elaine Ling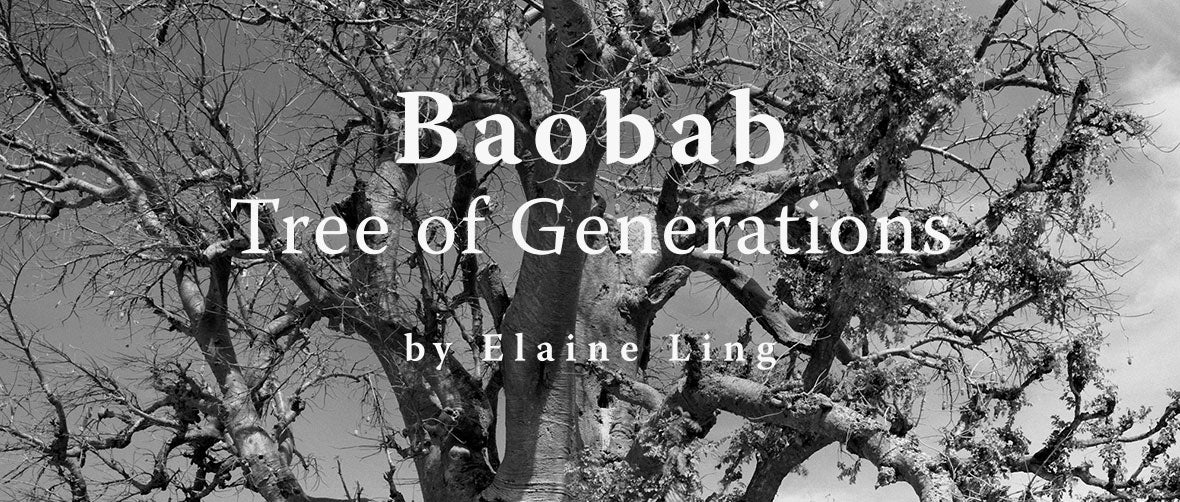 May 2015 - July 2015
Baobab: Tree of Generations




by Elaine Ling

Hong Kong-born photographer and physician Elaine Ling has lived in Canada since the age of nine. Ling has traveled the world photographing and practicing family medicine among the First Nations people in Canada's North and Pacific Northwest and among the indigenous people in Abu Dhabi and Nepal. As a seasoned adventurer, Ling feels most at home with her view camera across the great deserts of the world, sleeping under the stars.
In the arid and infertile regions of Africa, Madagascar, and Australia, the baobab tree grows to a gigantic size—one of the largest living plants in the world. With a potential lifespan exceeding one thousand years, the miracle of the baobab tree is that it is a renewable source of material for the essentials of human life: textiles, nets, baskets, and roofing. Its fruit is a rich source of nutrition and medicine. The trees are deeply connected with the daily existence of those who live in close proximity. Ling's Baobab: Tree of Generations captures the role these giants play in the lives of its human neighbors. These images reflect the resilience and transience of life from generation to generation for nearly a millennium.
Elaine Ling's photographs are in the permanent collections of numerous museum and private collections, including the Bibliothèque Nationale de France, Paris; Museet for Fotokunst, Odense, Denmark; Fototeca de Cuba, Havana; Lishui Museum of Photography, China; Museum of Fine Arts, Houston, Texas; Brooklyn Museum, New York; and Southeast Museum of Photography, Daytona Beach, Florida. In Canada, Ling's photographs have been exhibited at the Royal Ontario Museum, Toronto and the National Gallery of Canada, Ottawa. Her international publications include work in View Camera, Photo Technique International, The Polaroid Book,  ZOOM, Orion, ViKTOR Mag, New Scientist, and Aperture. Her photographic publications include: Mongolia, Land of the Deer Stone, 2009, which won a Nautilus Silver Book Award.
©2015 by the San Francisco Airport Commission. All rights reserved