The Bangladesh Project: Photographs by Geoffrey Hiller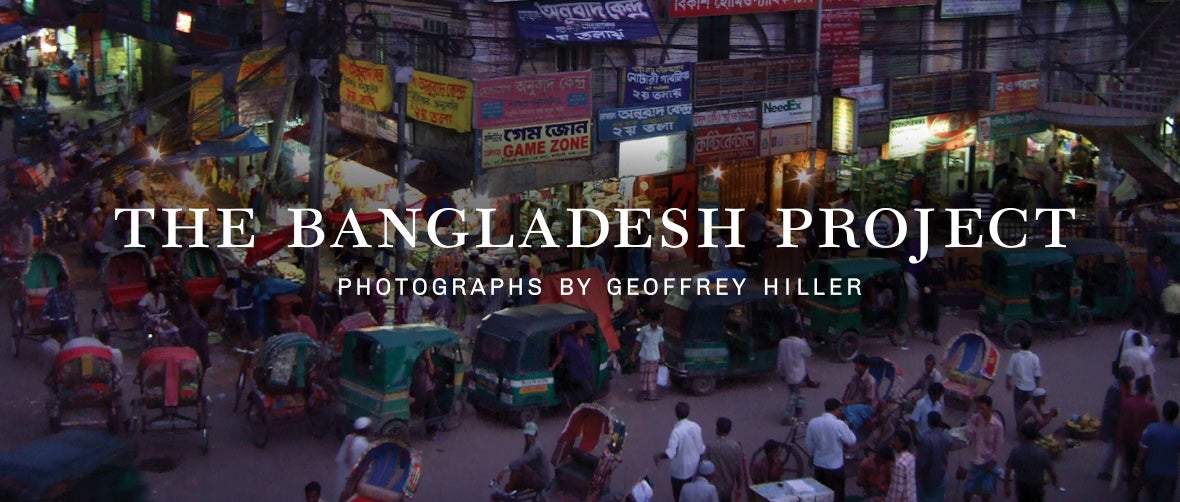 Departures - Level 2
Jun 16, 2016 - Sep 22, 2016
The Bangladesh Project: Photographs by Geoffrey Hiller
Documentary photographer and Fulbright scholar Geoffrey Hiller created The Bangladesh Project during a nine-month period between August 2008 and May 2009 when he taught Interactive Media at Independent University in Bangladesh. He documented the day-to-day life of many people in this predominately Muslim nation, the home of more than 160 million inhabitants, which occupies an area approximately the size of the state of Wisconsin. Known in mainstream media mostly for its monsoons, floods, and poverty, Bangladesh, which neighbors India, has an ancient and rich tradition of Bengali literary and musical culture.
Hiller lived in Dhaka, a sprawling and unplanned megacity of sixteen million people, which has grown exponentially in the past twenty years. Although the city is plagued by electrical blackouts, nightmarish traffic, and few services, Hiller witnessed the strong resilience and steadfast tenacity of the city's residents. Hiller's The Bangladesh Project is a visual witness to the persistence and fortitude of people who have experienced every kind of natural and political disaster imaginable.
Geoffrey Hiller's work has been published in magazines in the USA, Europe, and Japan including Geo, Newsweek, Mother Jones, and the New York Times Magazine. His award-winning multimedia projects about Vietnam, Eastern Europe, Ghana, Burma, and Brazil have earned recognition from National Public Radio, The Christian Science Monitor and USA Today. Hiller has worked as a media trainer in India, Cambodia, Pakistan, and Vietnam. He lives in Portland, Oregon.
©2016 by the San Francisco Airport Commission. All rights reserved.