Aviation Evolutions: The Jim Lund 1:72 Scale Model Airplane Collection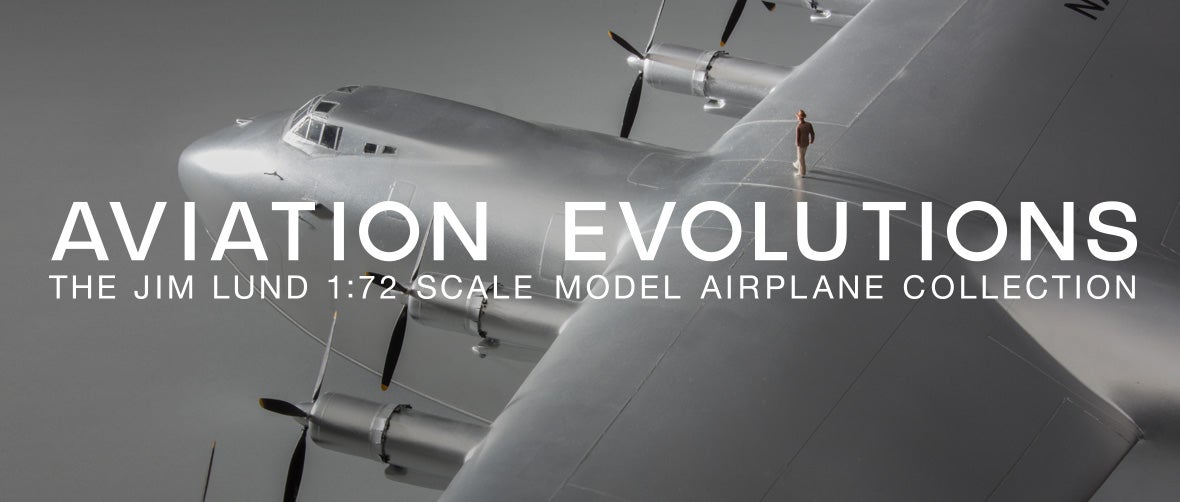 Aviation Museum & Library
Sep 18, 2017 - Sep 18, 2017
Aviation Evolutions:
The Jim Lund 1:72 Scale Model Airplane Collection
Jim Lund, a Bay Area native, has a passionate interest in aviation dating back to his childhood when he first constructed aircraft models. Later in life, he returned to the practice and has dedicated much of his time to model building as a way to explore and experience the astonishingly rapid advancement of aviation since the first airplane. With a keen eye for detail, Lund's research includes careful study of the photographic record to assure that his models are accurately portrayed. Numerous models were constructed or modified from kits produced by manufacturers worldwide. In the many instances when no kit was available, Lund crafted the model parts from scratch based on manufacturers' plans using the "vacuform" process—a method that creates plastic parts from his hand-carved wood forms.
The 1:72 scale, with one inch equal to six feet, originated in the 1930s with popular aircraft model makers such as Skybirds and Frog. It appeals to the aircraft modeling community because of the ease with which nearly all aircraft types, from the smallest to the largest, can be constructed and displayed. This constant provides one-to-one size comparisons, and in large groupings it dramatically reveals the progress of aircraft design. Lund has created nearly 1,600 models in 1:72 scale representing historically significant aircraft from the 1903 Wright Flyer to today's airliners. They are constructed using plastic, wood, metal, wire, string, and epoxy, and detailed with paint and decals. This exhibition presents nearly three hundred models of pioneer, sport, and commercial aircraft that Jim Lund generously donated to the SFO Museum aviation collection.
Special thanks to Jim and Christiane Lund for their generosity and ongoing support in making this exhibition possible.
©2017 by the San Francisco Airport Commission. All rights reserved.