The Allure of Art Nouveau: 1890–1914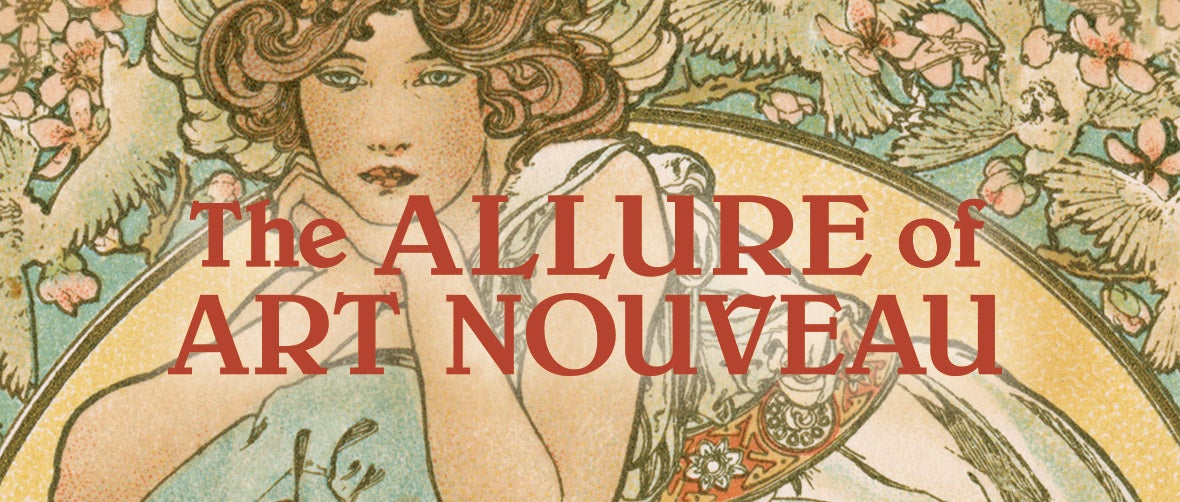 Feb 13, 2016 - Aug 26, 2016
The Allure of Art Nouveau: 1890–1914
Art Nouveau captivated urban centers in Europe and North America beginning in the 1890s. The style permeated everything from graphic arts to architecture, interior design, and decorative arts. A number of characteristics define the style: a reverence for nature with an emphasis on organic designs; the use of "whiplash" curvilinear lines; and a seemingly limitless portrayal of the female form, with artists depicting women as ethereal, sensual nymphs. Motifs were interpreted in both realistic and stylized fashions.
A vibrant group of artists and designers fostered the style, such as painter and illustrator Alphonse Mucha, architect Victor Horta, art glass pioneers Emile Gallé and Louis Comfort Tiffany, and furniture maker Louis Majorelle. Referred to as Jugendstil in Germany, Sezessionstil in Austria, Glasgow Style in Scotland, and Modernisme in Spain, each country's interpretation of the style varied. Austria and Scotland favored a more restrained, geometric approach to the style, while artisans in Nancy, France, were particularly drawn to the natural world around them as their main source of inspiration.
Art Nouveau was influenced by several nineteenth-century art movements including Arts and Crafts, Aestheticism, Symbolism, and Japonisme. Its proponents encouraged artists, architects, and designers to create innovative, modern designs, absent of traditionalism and revivalism. The movement disregarded the conventional hierarchy of academic arts, which elevated painting and sculpture above decorative arts. Designers emphasized the creation of holistic decorative interiors and sought to bring artistic design into daily life.
A leading advocate of the style, Parisian art dealer Siegfried Bing opened the gallery Maison de l'Art Nouveau in 1895, which featured new art and design from Europe as well as Japanese arts. Many World's Fairs showcased Art Nouveau, but the 1900 Paris Exposition Universelle celebrated all aspects of the new 'modern style.' Visited by over fifty million people, the fair displayed Art Nouveau architecture, furniture, jewelry, ceramics, graphic arts, glass, textiles, and metalwork. Hector Guimard's sinuous cast iron designs for the new Paris Métro stations debuted the same year. Further disseminating the style, magazines, such as the German publication Jugend, posters, postcards, retailers, and mail-order catalogs promoted Art Nouveau at the turn of the twentieth century. Both ateliers and larger manufacturers offered items in the style, making Art Nouveau designs available to a broad audience.
Art Nouveau's popularity waned by the start of the First World War. Many began to shun the style's excessive use of ornamentation, considering it overly elaborate. More than fifty years later, Art Nouveau experienced a popular revival in the 1960s, particularly in San Francisco when psychedelic poster artists began emulating the work of Alphonse Mucha and other Art Nouveau graphic artists. The Allure of Art Nouveau explores this enchanting style and features an array of works by important artists such as Emile Gallé, Georges de Feure, and Gustav Gurschner.  Bronze sculpture, silver, glass, ceramics, and furniture are among the many exceptional items on display.
[image]
Jardinière  c. 1900–10 
Delphine Massier  (1836–1907) 
France 
ceramic, glaze 
Courtesy of John Melillo, Antiquarian Gallery
L2015.2505.017
Special thanks to Chuck Morgenstern, Alan Schneider, John Melillo, and David and Julie Vezmar for making this exhibition possible.
© 2016 by San Francisco Airport Commission. All rights reserved.