Aleksey Kondratyev: Ice Fishers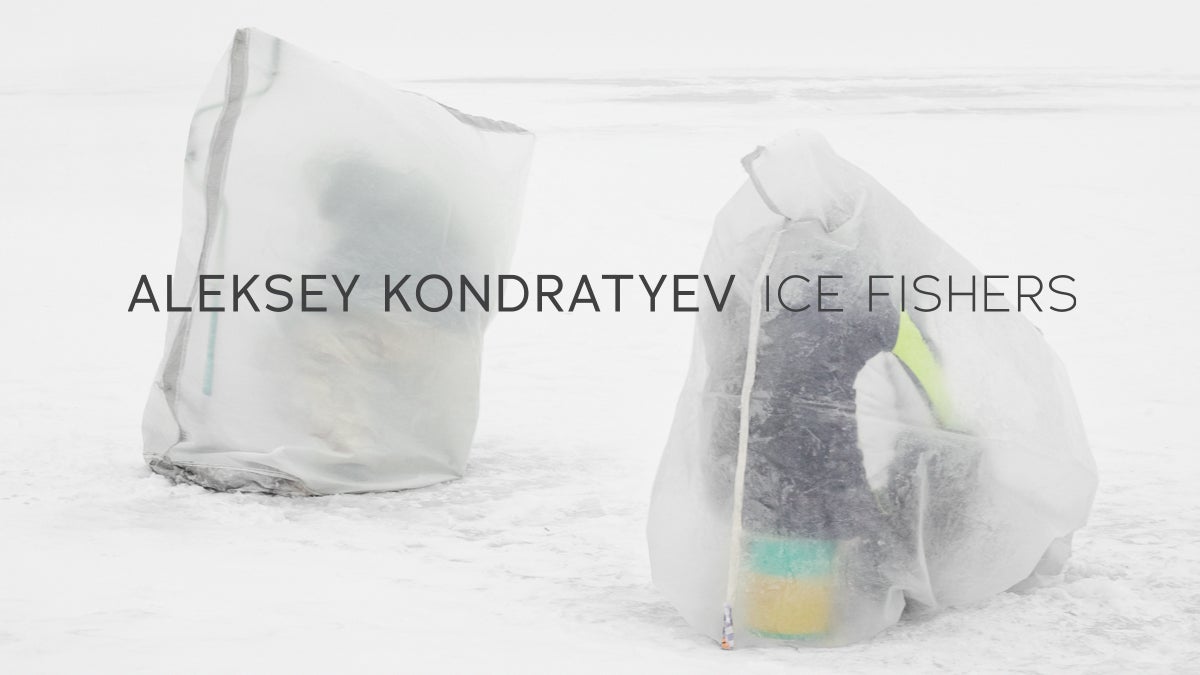 Departures - Level 2
Jun 30, 2021 - Mar 16, 2022
Aleksey Kondratyev: Ice Fishers
In his 2018 series, Ice Fishers, Aleksey Kondratyev draws focus on the Kazakh men who fish through the ice of the frozen Ishim River. The Ishim flows through Astana (now Nur-Sultan) a high-rise, futuristic city that was named Kazakhstan's capital in the late-1990s during a period of rapid economic growth, when the city became emblematic of the country's entrance into the global economy.
The capital is located in one of the coldest populated regions on Earth and the fishers frequently brave subzero temperatures on the river. Working in the elements for extended periods of time, they often utilize the protection of plastic packaging obtained from nearby markets selling Western, Chinese, and Russian goods. Bright and sculptural, these temporary barriers stand in contrast to the stark landscape, highlighting their occupants' activities and illuminating the influence of global capitalism on the region's local, nomadic practices. Kondratyev explains, "I was interested in examining the material and aesthetic forms of these improvised protective covers and the way in which they functioned as inadvertent sculptures. Kazakhstan was once a nomadic country, and some vestiges of that way of life still exist. These ice fishers improvise and adapt to their environment in ingenious ways, just as their forebears did."
Aleksey Kondratyev (b. 1993, Bishkek, Kyrgyzstan) is a Los Angeles-based artist and photographer. He received a BFA from Wayne State University in Detroit, and an MFA from the University of California, Los Angeles. His work has been exhibited globally at venues including the Neue Schule für Fotografie in Berlin, the Benaki Museum in Athens, the Museum of Contemporary Art Rome in Rome, and the Oregon Center for the Photographic Arts in Portland, among others. His photographs have been featured by publications including the New York Times, Der Spiegel, Vogue, National Geographic, and the Financial Times. Kondratyev's work is held in the permanent collections of the Leica Foundation, the Hellenic Center for Photography, and the FABRICA Research Center.
©2021 by San Francisco Airport Commission. All rights reserved.