Aerial Artistry: The New Bay Bridge East Span From Above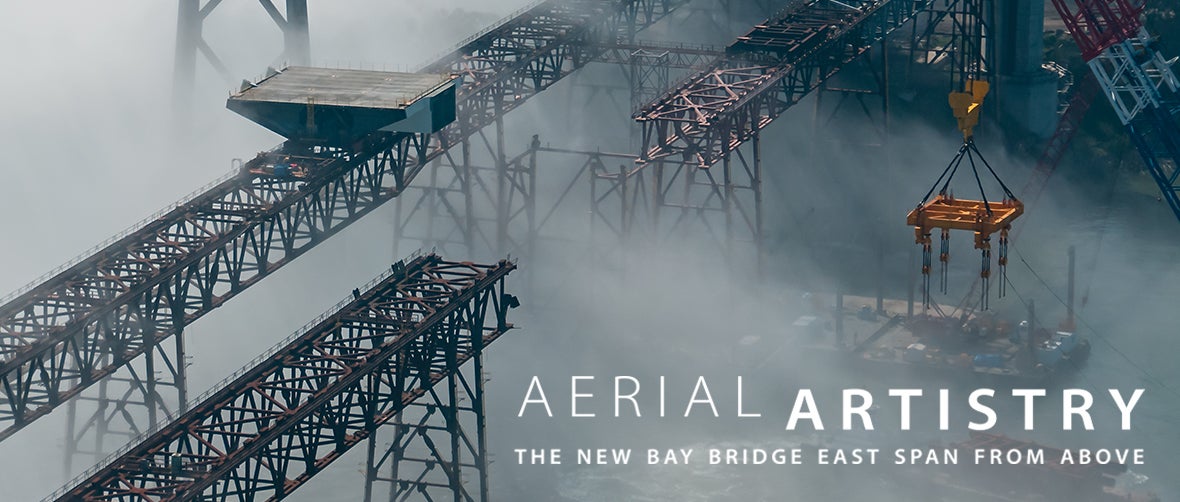 September 2013 - November 2013
Aerial Artistry: The New Bay Bridge East Span From Above
Soaring at one hundred-miles-per hour, seasoned aerial photographer Barrie Rokeach employs his quick reflexes and creative instincts to capture the San Francisco Bay and its bridges. For over three decades, he has simultaneously operated two machines—camera and plane—to shoot the region's iconic structures from stunning new angles and perspectives.
For the aerial artist, the erection of the new East Span of the San Francisco-Oakland Bay Bridge was a perfect photography subject. From 1,000 feet above the water, Rokeach was able to capture both the construction of the massive span and the natural beauty that surrounds it. Of course, shooting in San Francisco weather is not without its obstacles, but Rokeach embraced the challenges, often incorporating the dramatic fog in his striking images. The artist-pilot prefers shooting at dawn and in the late afternoon, catching the structure's shadows on the Bay.
Aerial Artistry: The New Bay Bridge East Span From Above is a collection of Rokeach's breathtaking panoramas and dramatic close-ups of the eastern span's construction. Shot mostly from the cockpit of a Cessna between 2009 and 2013, these photographs reveal the many intricate processes involved in erecting the 2,047-foot steel, self-anchored suspension span—the largest of its kind in the world.
Rokeach lives in the East Bay city of Berkeley, but has traveled as far as Thailand and Ireland to participate in photography projects. He is the author of the Kodak Guide to Aerial Photography as well as Timescapes: California from the Air, a coffee-table book on the state's geology. His widely exhibited work has appeared in numerous books, corporate publications, and magazine, and is represented in the recently released Earthscapes postage stamp series. Rokeach earned his master's degree in design and photography from the University of California, Berkeley. He is an instrument-rated and commercially rated pilot, and he has taught photography on the college level.
©2013 by the San Francisco Airport Commission. All rights reserved.