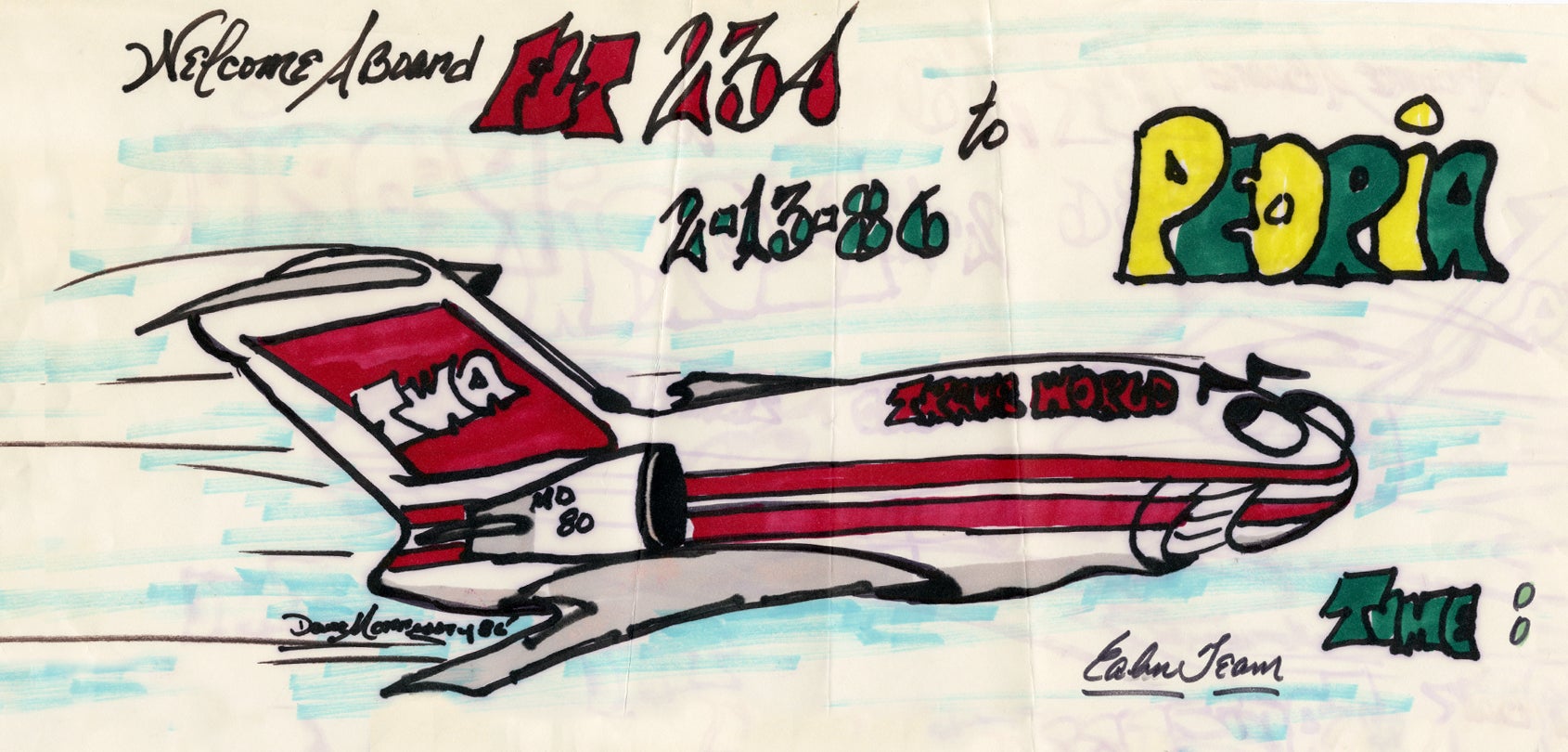 Redrawing the Map: TWA's Illustrated Homegrown Talent
Twenty years after being acquired by American Airlines, Trans World Airlines (TWA) continues to affirm its unmistakable brand for the ages. Bearing its distinctive style in travel destination posters, uniform apparel, and airport architecture developed in collaboration with renowned designers Raymond Loewy, Eero Saarinen, Pierre Balmain, and David Klein, the company steered a bold corporate identity through the Jet Age.
Since 2000, the Aviation Museum & Library at SFO Museum has amassed an extensive archive of firsthand material from airline employees who have generously donated their career highlights to the Museum's permanent collection. From every personal snapshot, video clip, and diary entry emerges a series of shared experiences supporting the broader story of commercial aviation. By turns insightful and delightful, these unique perspectives offer an alternative take on the official account of an airline beyond its authorized portrayal and big-name associations.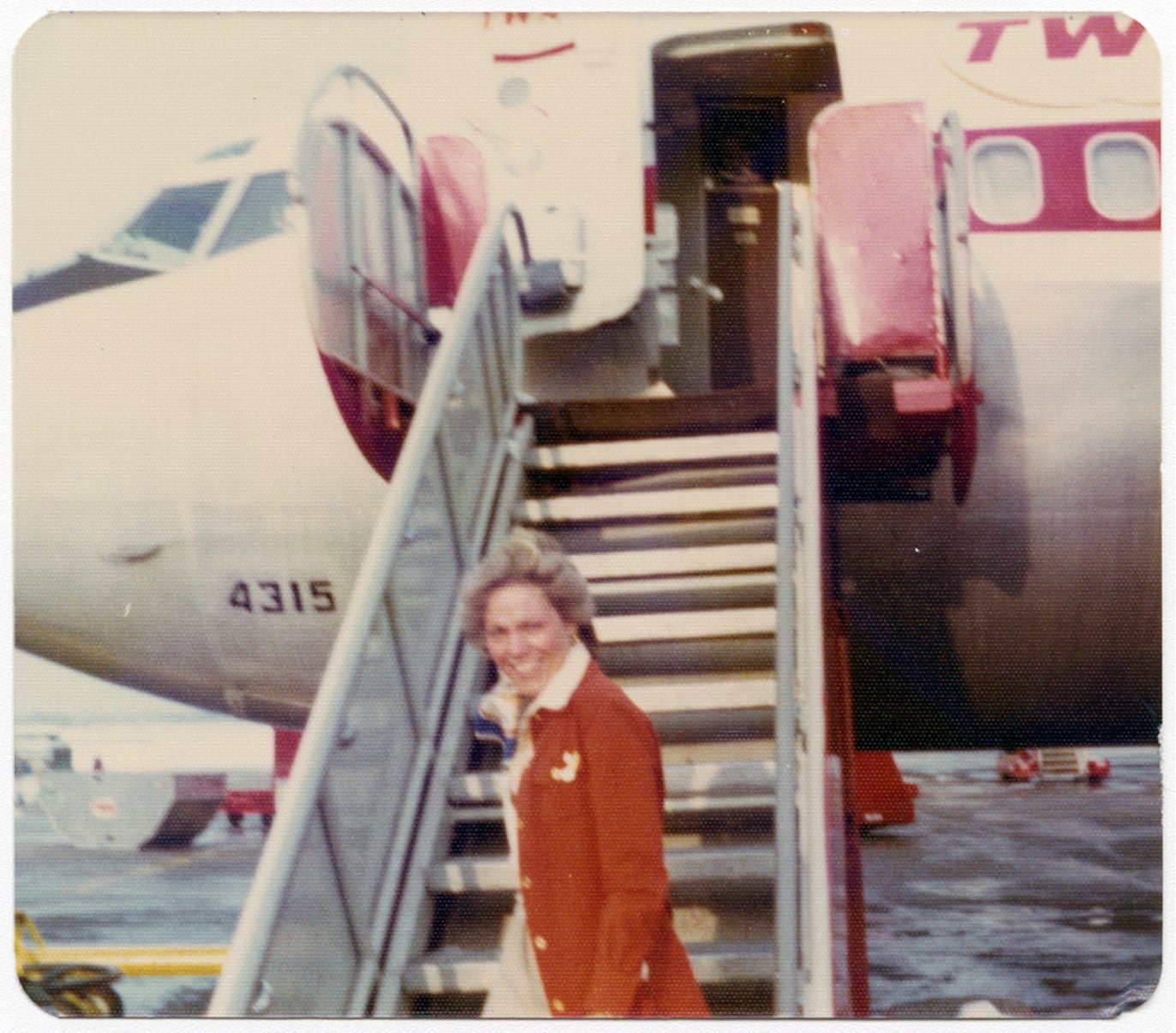 For a closer look at some of the creative minds who promoted TWA on a more localized level, we turn to former flight attendant Reneé Schaukowitch, who graduated in 1973 from Breech Training Academy, a flight service school operated by TWA in Overland Park, Kansas. Pictured here standing in front of a Boeing 707 at Lambert–St. Louis International Airport (STL), Schaukowitch saved a pair of cartoons drawn in felt-tip marker by her fellow crewmembers to greet boarding passengers at the door. Proudly displaying their team colors, the bug-eyed jets flash wide grins like lovable mascots amped up on a full tank of cheer.
Two Airplanes on a Mission
More than just a smile, cabin welcome signs identified the crew and communicated other essential information to the traveling public, such as the flight time, altitude, and weather. Unlike today's computerized tracking systems, the flight plans of yore were decidedly limited in scope. And yet, a customized sign on paper had the potential to convey something far more memorable – a sense of hospitality, character, and trust – to channel company pride onboard and distinguish the carrier against its competitors.
Enter TWA Captain Russ Day. The U.S. Navy veteran and resourceful cockpit artist, whose witty comic strips ran for many years in the flight operations newsletter Flite Facts, produced this image of a Boeing 727 trijet beckoned by a gleaming Lower Manhattan skyline: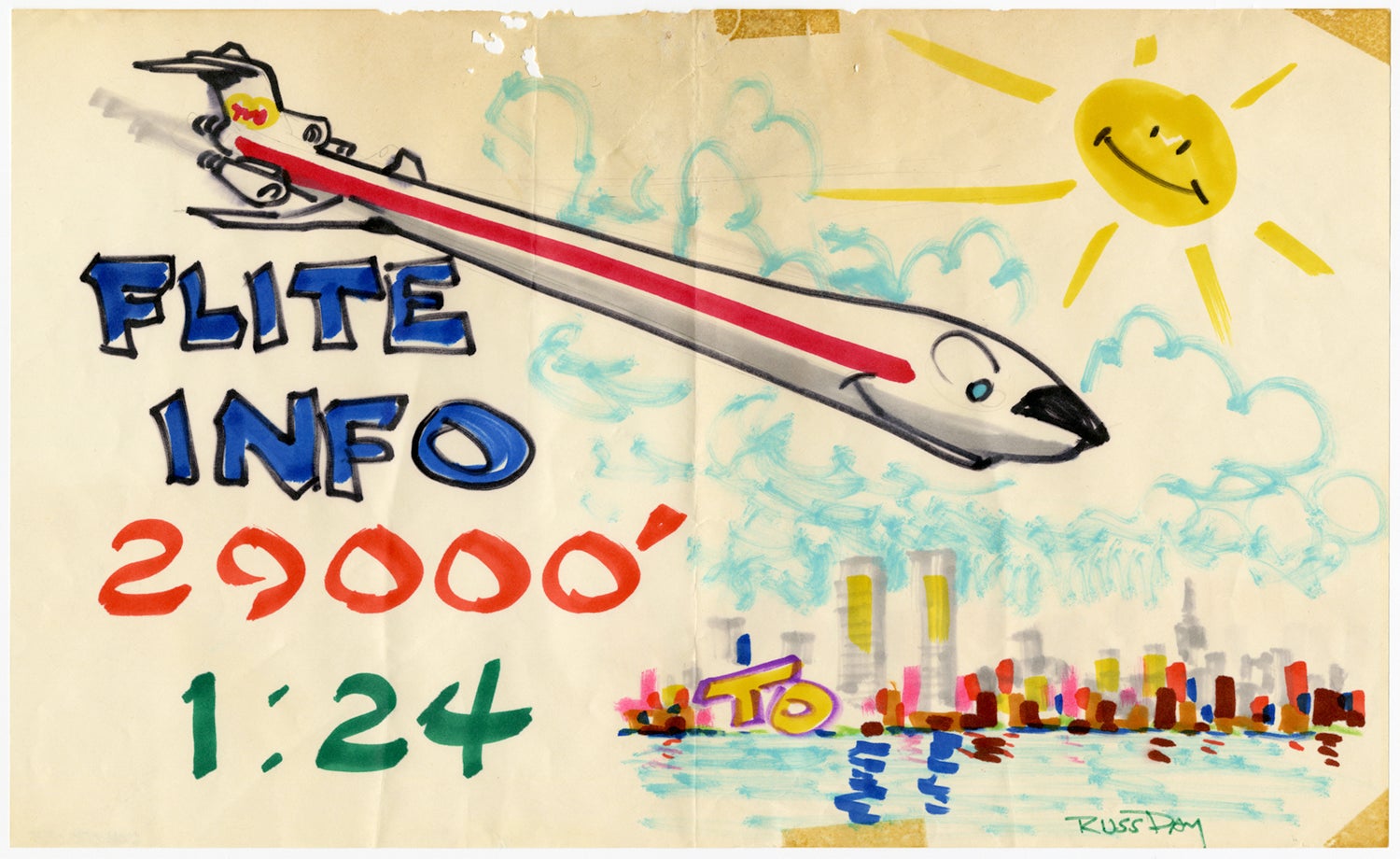 [inset image]
Trans World Airlines (TWA) Boeing 727 flight plan illustrated by Captain P. Russell Day  1970s
ink and graphite on paper, 8.5 x 14 in.
SFO Museum, Gift of Reneé Schaukowitch
The composition in red, blue, and yellow likely dates to the mid-1970s, before TWA discontinued Raymond Loewy's twin globes logo as shown, but after completion of the twin towers of the World Trade Center in 1973. Sporting an anti-glare shield on its nose, the sleek body of the aircraft sharply contrasts with the gestural cloud formations behind it for a striking juxtaposition of figure and ground.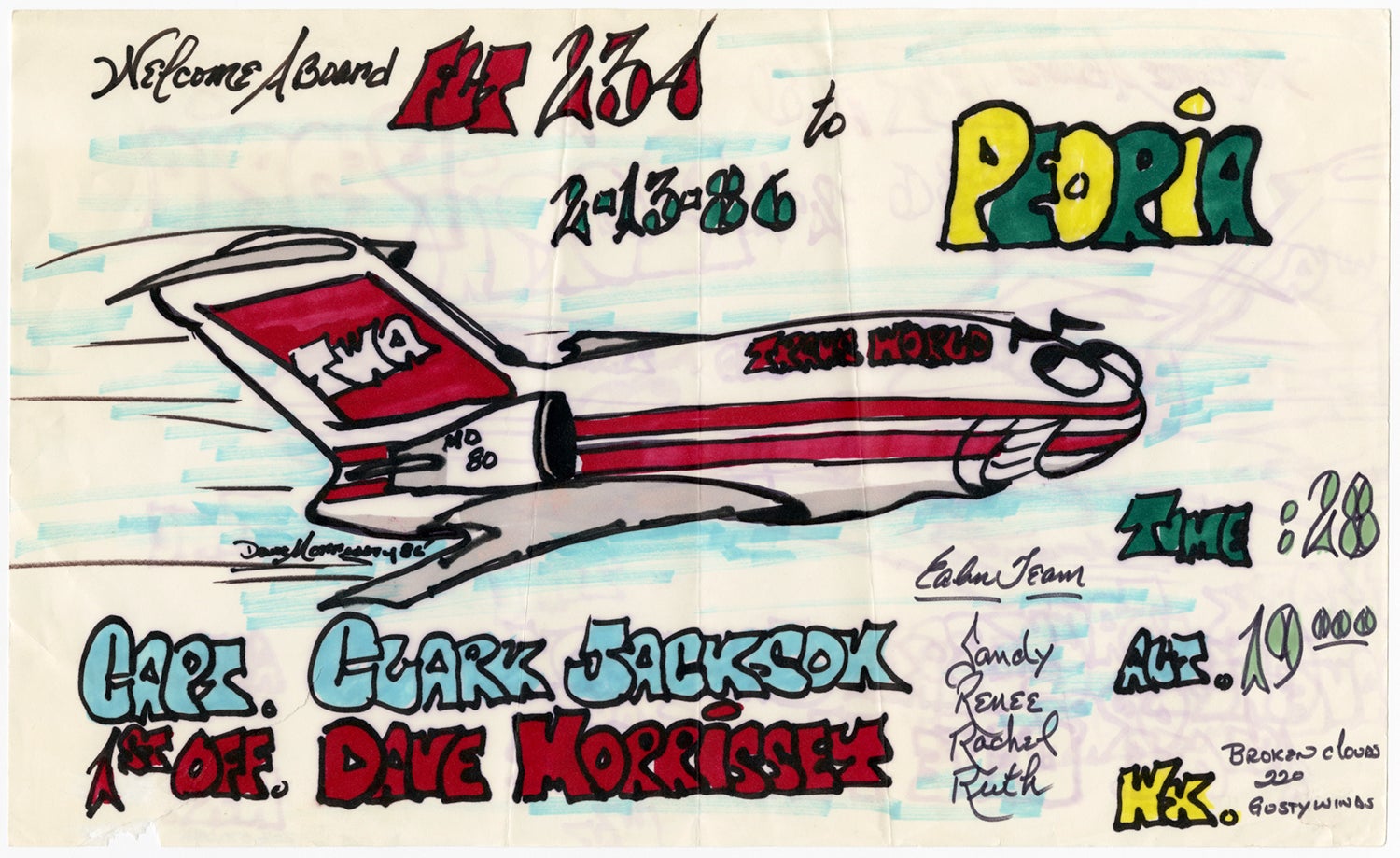 [inset image]
Trans World Airlines (TWA) McDonnell Douglas MD-80 flight plan illustrated by First Officer J. David Morrissey  1986
ink on paper, 8.5 x 14 in.
SFO Museum, Gift of Reneé Schaukowitch
First Officer Dave Morrissey, a U.S. Marine Corps aviator-turned TWA flight engineer, brought his drafting skills to various occupational assignments. His amusing MD-80 takes the art of the smile to a new level, evoking memories of San Diego-based carrier PSA's signature stare and slogan, "Catch our smile." The updated look recasts Loewy's flared arrowhead profile against a modified version of the earlier, piston-era stripes, topping it off with a red rhombus for the vertical stabilizer.
TWA's final livery returns home to St. Louis in Captain John Eddy's pictorial route map overlay: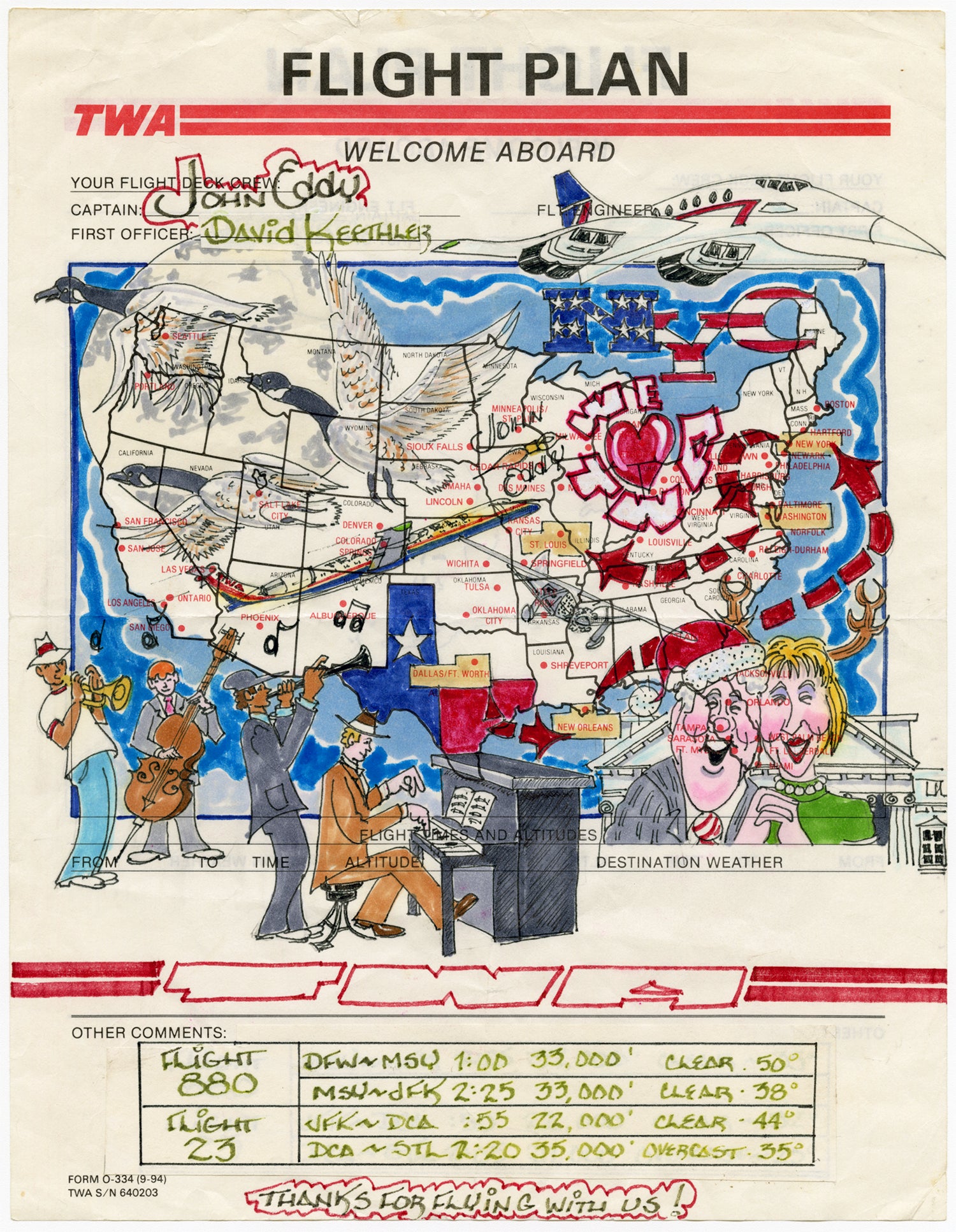 [inset image]
Trans World Airlines (TWA) flight plan illustrated by Captain John Eddy  1995
ink and graphite on paper, 11 x 8.5 in.
SFO Museum
Wings of Pride
Today, Trans World Airlines is remembered for its domestic and international routes, early inflight entertainment, and Royal Ambassador amenities. While these friendly faces recall a bygone era in air transport, in retrospect they continue to uphold the enduring legacy of TWA's team of dedicated professionals, exuding an infectious charm that represents the best of personalized service. Or, as they would say, "Thanks for flying with us!"
Tomohiko Aono
Registrar
SFO Museum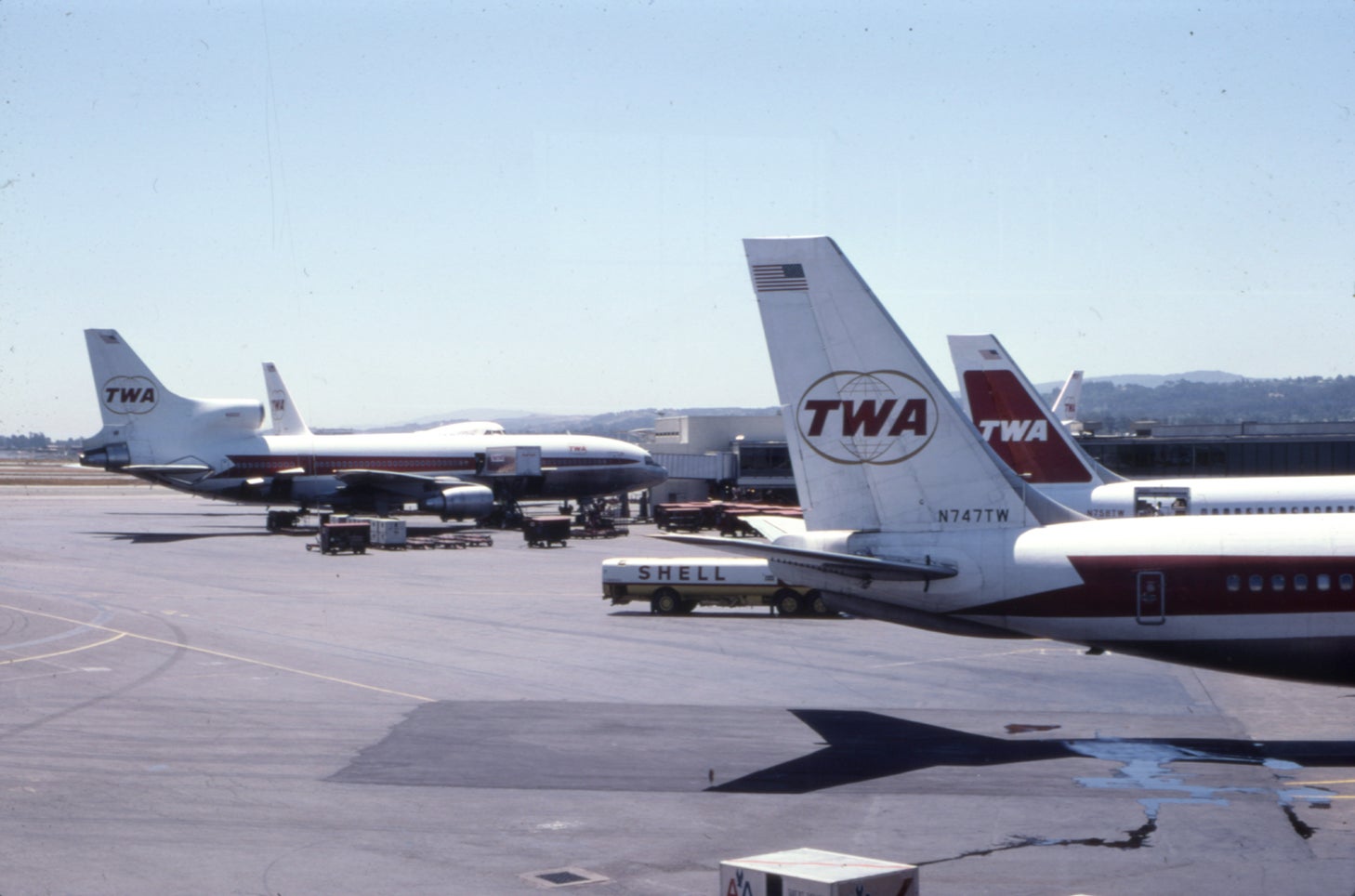 [inset image]
Trans World Airlines (TWA) fleet at San Francisco International Airport (SFO) photographed by Daniel Hahn, age 14  1975
SFO Museum, Gift of Daniel Hahn