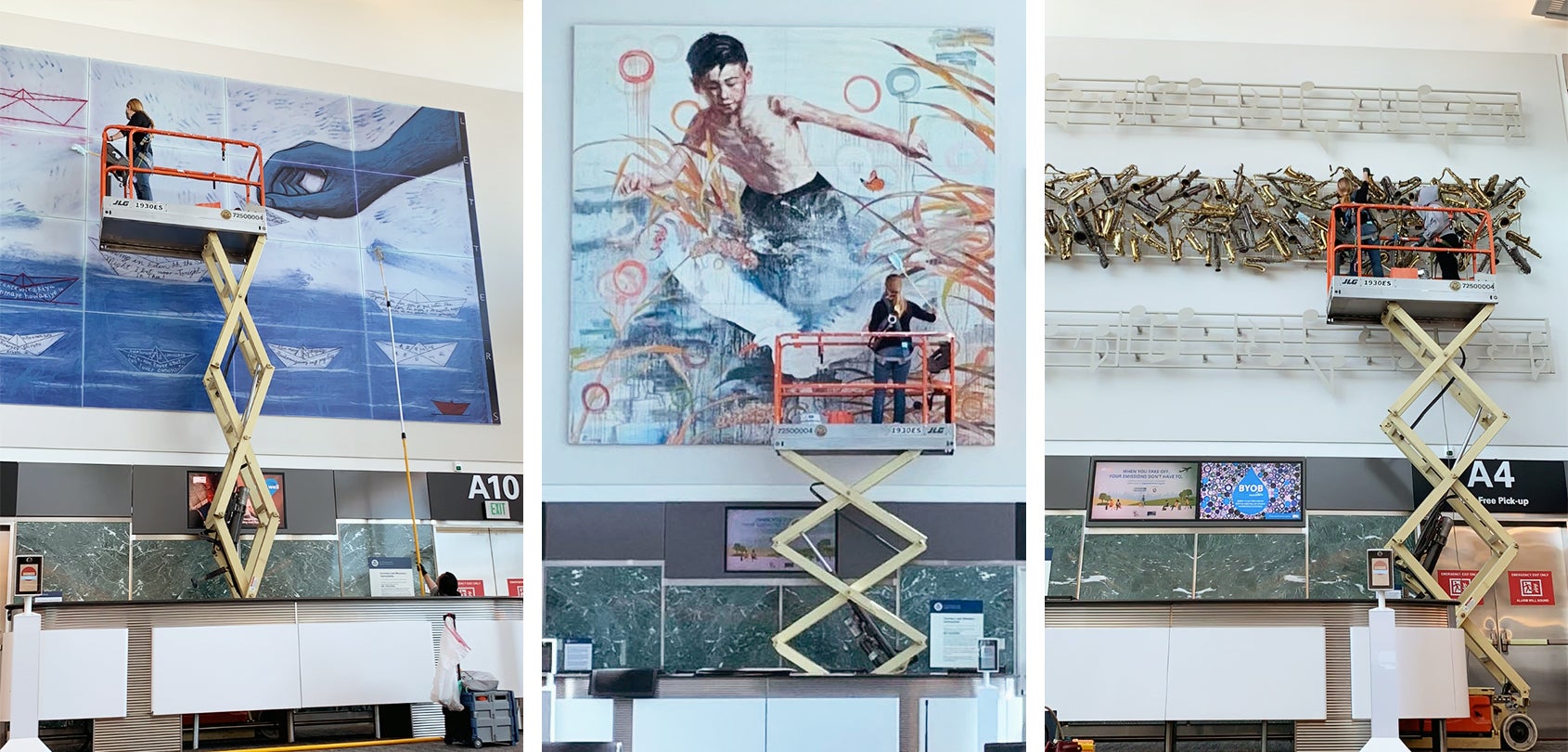 Raising the Bar: Care of the Public Art Collection at SFO
Growing up in Taiwan as a young child, I would fly to San Francisco to visit my father's relatives with my family during long summer breaks from school, and over the years, I discovered that, as a traveling passenger, I was surrounded by an amazing public art collection at the San Francisco International Airport—everywhere you looked, you would find art: a mosaic mural above a boarding gate, a painting or a series of posters next to a baggage carousel, a light installation along a connector corridor, or a pair of sculptures by the check-in counters.
Fast forward many years to March of 2020, and I am an associate museum registrar with SFO Museum enjoying opportunities to work closely with and gain newfound appreciation for SFO's public art collection. In addition to my responsibilities as a registrar working with loaned objects and objects from the aviation collection for SFO Museum's rotating exhibition program, one of the unique duties of my position entails the maintenance of public art at SFO. This includes routine cleaning, inspection, condition reporting, documentation, and project management. While the artworks are either commissioned or purchased for SFO by the San Francisco Arts Commission and the San Francisco Airport Commission, they reside permanently on Airport grounds, thus requiring monitoring and caretaking by the Museum.
Enriching the Public Experience
An ever-growing collection of more than 100 artworks of various media, style, and scale, is currently on view throughout the Airport's terminal buildings and the Grand Hyatt at SFO. Launched in 1977 by the San Francisco Arts Commission, SFO's art program showcases work by artists of local, national, and international acclaim, in accordance with San Francisco's percent for art ordinance, which provides for an art enrichment allocation equivalent to two percent of the construction cost of a new or renovated civic structure.
Each piece in the collection involves an individual set of maintenance needs that are specific to their materials, construction, and location inside the Airport. A routine maintenance for a suite of 26 large silver spheres hanging above a seating area near boarding gates [link to artwork] in a domestic terminal will differ from a cleaning for a 10-foot-by-60-foot wall of 5,400 unique 3-inch-by-3-inch paintings, wood carvings, tiles, found objects, and cast acrylic cubes [link to artwork] in a pre-security area, or for a large-scale assemblage consisting of 130 real saxophones and steel bars installation [link to artwork] mounted above post-security boarding gates in the International Terminal. Different tools, equipment, and coordination are required to ensure appropriate and safe usage to clean the individual artwork. Physical access may also pose a challenging factor in the maintenance work, as some of the large-scale installations are high above the ground or difficult to reach due to architectural surroundings. This blogpost will highlight several of my recent cleaning projects to provide a behind-the-scenes look at public art maintenance at SFO.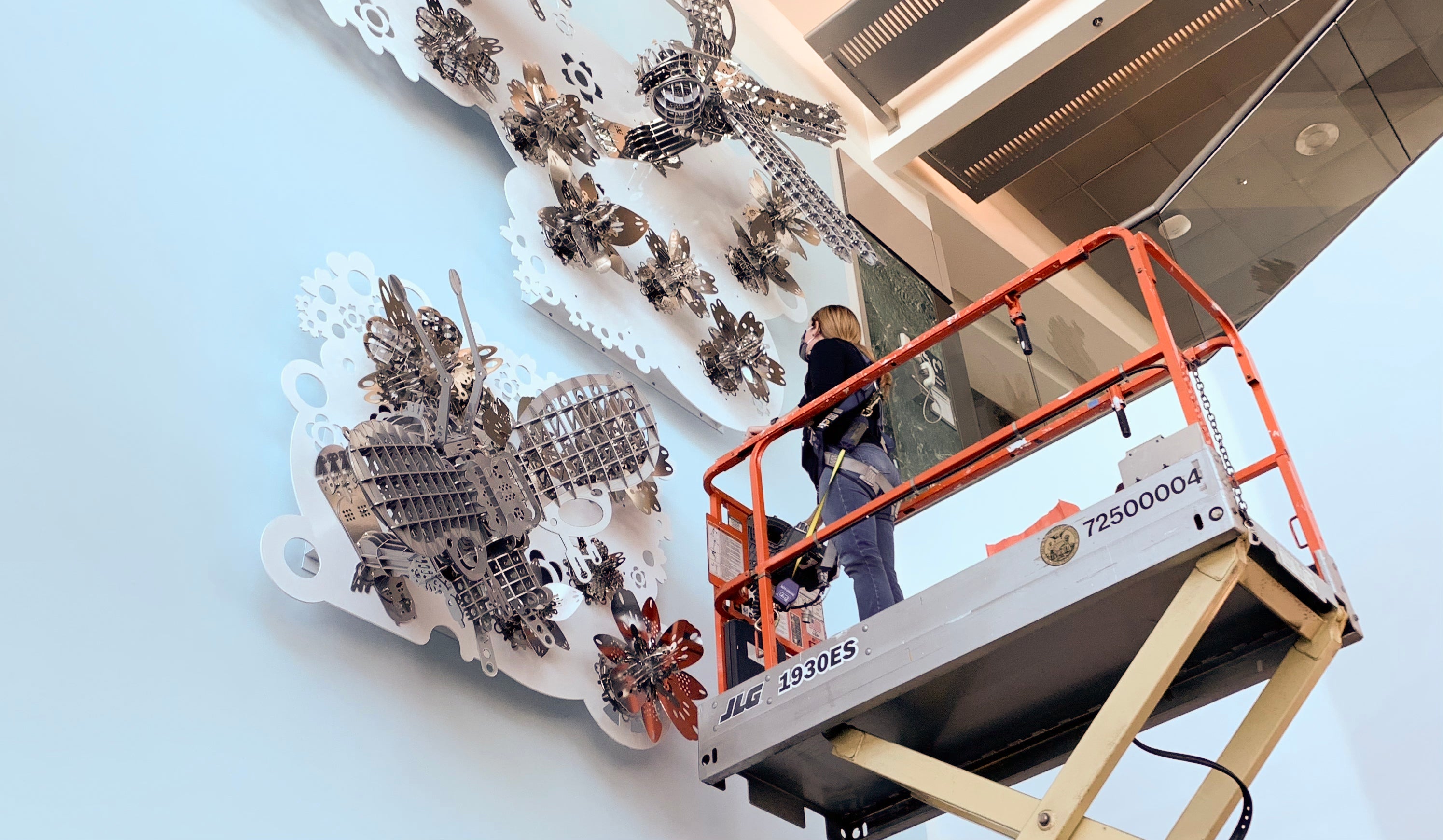 [inset image]
Namoo House  2008, Joyce Hsu, powder coated aluminum and stainless steel
Between April and September of 2020, SFO temporarily closed Boarding Area A in the International Terminal as a response to the significant reduction in flight activity due to COVID-19. While the temporary closure was a reflection of the devastating effect of the pandemic's toll on international travel, it presented a strategic and convenient opportunity for the Museum to tackle the cleaning needs of several large artworks installed in Concourse A. Without the regular passenger movement in the area, the Museum was able to conduct uninterrupted cleaning during daytime hours, as opposed to typical cleanings during overnight hours—only after the departure or arrival of the last flights on any given evening.
The majority of the public art in Concourse A is wall-mounted at an average of 15 feet off the ground in boarding gate areas. The placement of airline counter stations is quite close to the back wall, leaving a very narrow path or tight clearance to accommodate a lift for aerial work. For this cleaning project, I worked with my museum colleague, conservator Alisa Eagleston-Cieslewicz, using a scissor lift to reach the necessary heights. With proper training and certification to operate the equipment, Museum staff also followed the Airport's health and safety protocols at the jobsite concerning COVID-19.
After receiving approval from the U.S. Customs and Border Protection, San Francisco International Airport, for access to the sterile area, we arrived on-site with a variety of cleaning equipment. Armed with brushes, a vacuum, and extender poles with cleaning pad attachments, we operated the scissor lift to position in the boarding gate areas. We were able to complete inspection and cleaning of five artworks in approximately eight hours.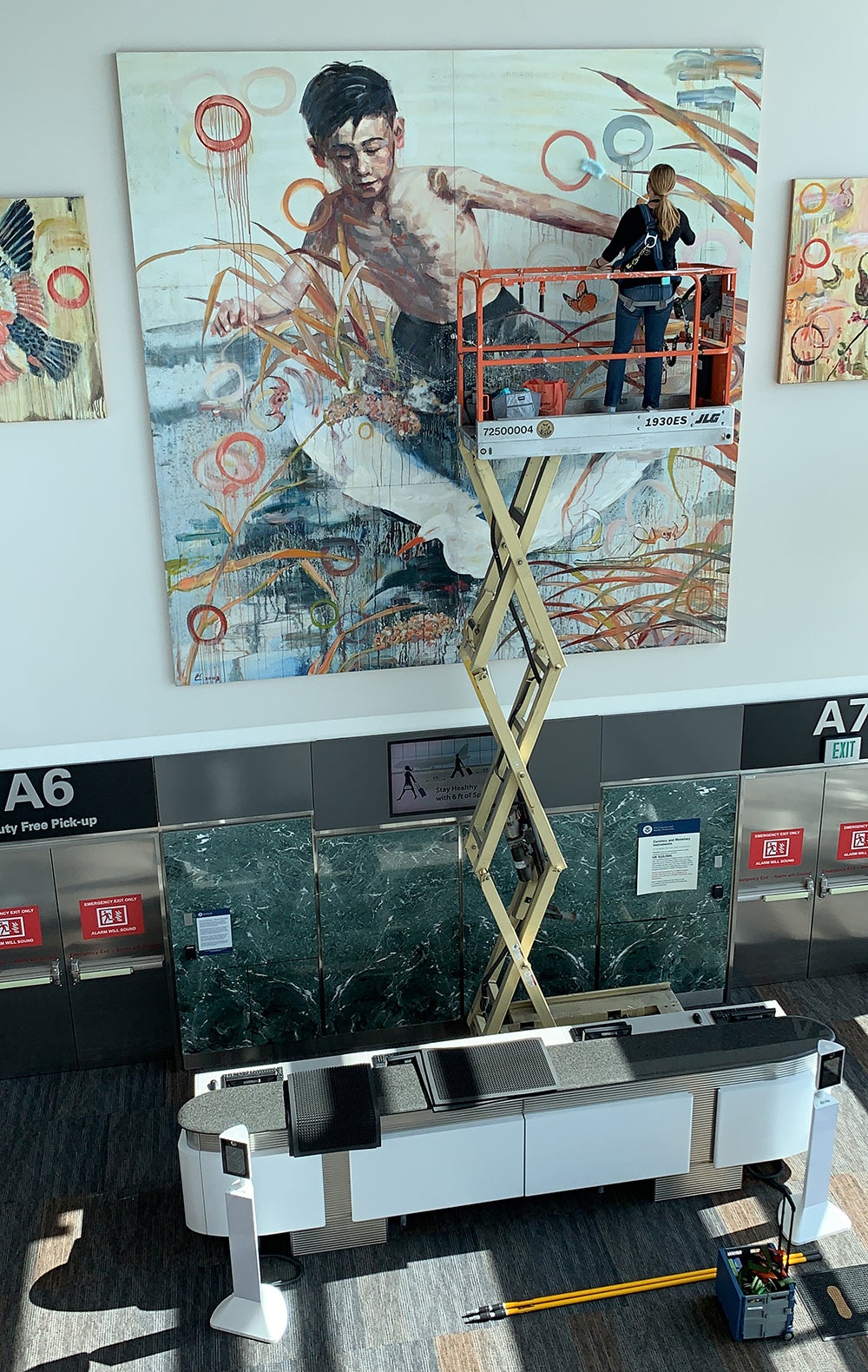 [inset time-lapse videos]
Love Letters  2000, Enrique Chagoya, custom graphic, laminated glass | Salty Peanuts  2000, Mildred Howard, saxophones, powder coated steel

[inset image]
Take Off  2008, Hung Liu, permanent ink and oil paint on wood
After the 2020 California wildfire season began to wind down in October, several large-scale sculptural installations located near main entrances to the terminal buildings from roadways or airfields, such as the pair of suspended sculptures in the pre-security lobby in Terminal 2, showed a noticeable amount of dust and other particles—likely from the fire ashes—in addition to the normally expected level of dust.
In order to reach and clean the multiple surfaces of the stacked forms, each with a different shape and location, as well as the hanging wires connected to the ceiling, we included the assistance of the Airport's window washers from Custodial Services, requesting their help to operate an articulated boom lift to allow us to move up, under, over, and out with precise reach and positioning. Unlike the previous project, this cleaning was performed during overnight hours to avoid interruption to passenger movement as the lobby area is part of an active terminal with regular flight activities. With the assistance of my colleague and fellow registrar Amanda Hofstra, the cleaning of both sections of the suspended sculptures was completed in approximately 2.5 hours during the same evening.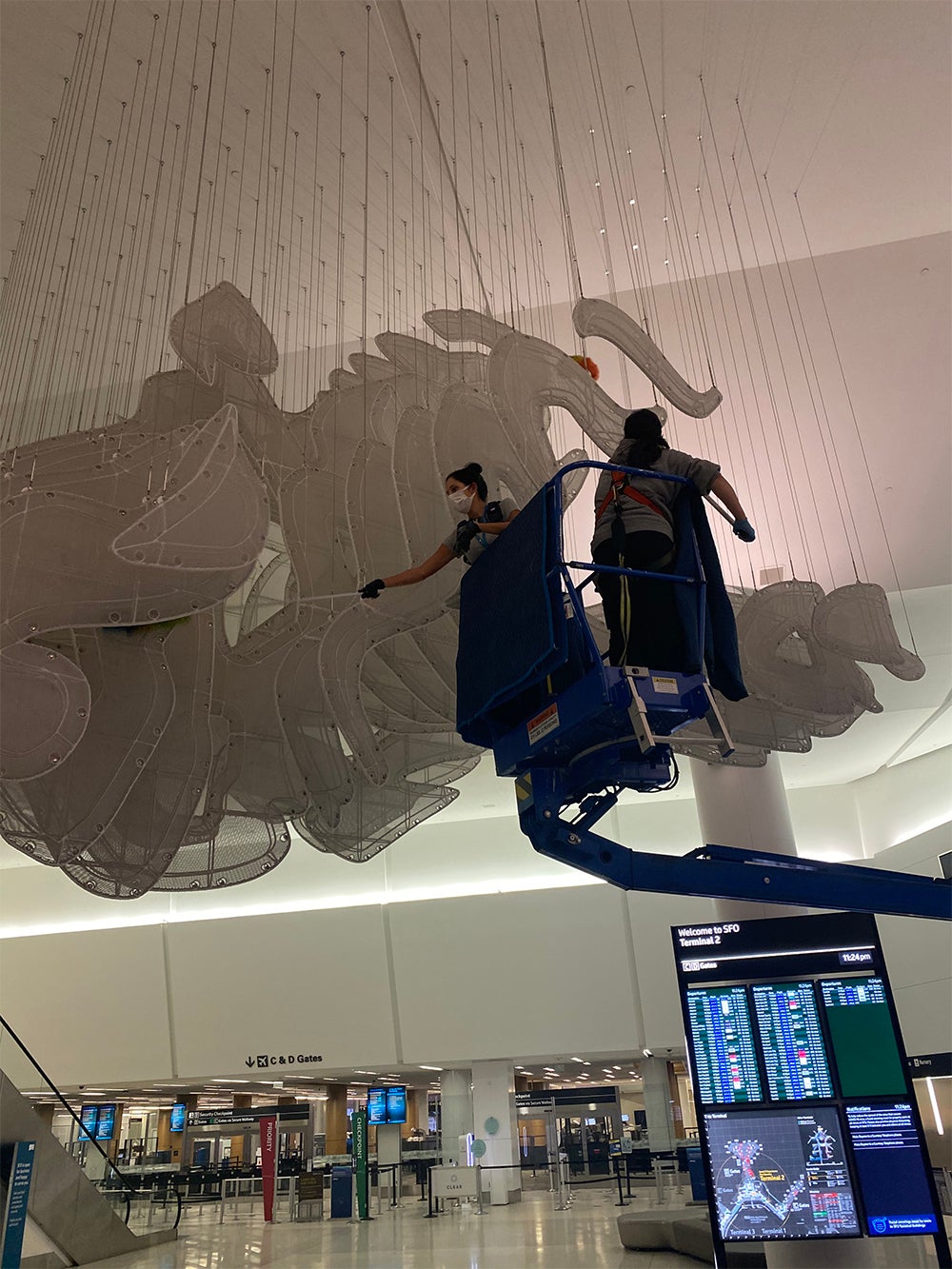 [inset time-lapse video and images]
Topograph I & II  2011, Kendall Buster, powder coated steel tubing; greenhouse shade cloth
Much of the public art at SFO requires only one cleaning session for its regularly scheduled maintenance; however, there are a few exceptions, such as the 10-foot-by-60-foot wall installation of 5,400 unique 3-inch-by-3-inch paintings, wood carvings, tiles, found objects, and cast acrylic cubes, located by a pre-security seating area in the International Terminal. Many of the thousands of blocks are miniature assemblages with incredibly small details. A routine maintenance plan will lay out the wall in sections and divide the cleaning time into several days of multi-hour sessions. This allows the necessary carefulness and attention to detail for a thorough inspection and cleaning of the individual blocks. A good tool kit for this project consists of a set of brushes of various sizes, a vacuum, extender poles with cleaning pad attachments, and step ladders. To track the position and progress of each session, we use a small strip of blue painter's tape to mark the column and row of the last set of blocks cleaned. For this wall, which includes countless individual components, we completed the routine maintenance in 24 hours, over 6 days in 4-hour sessions.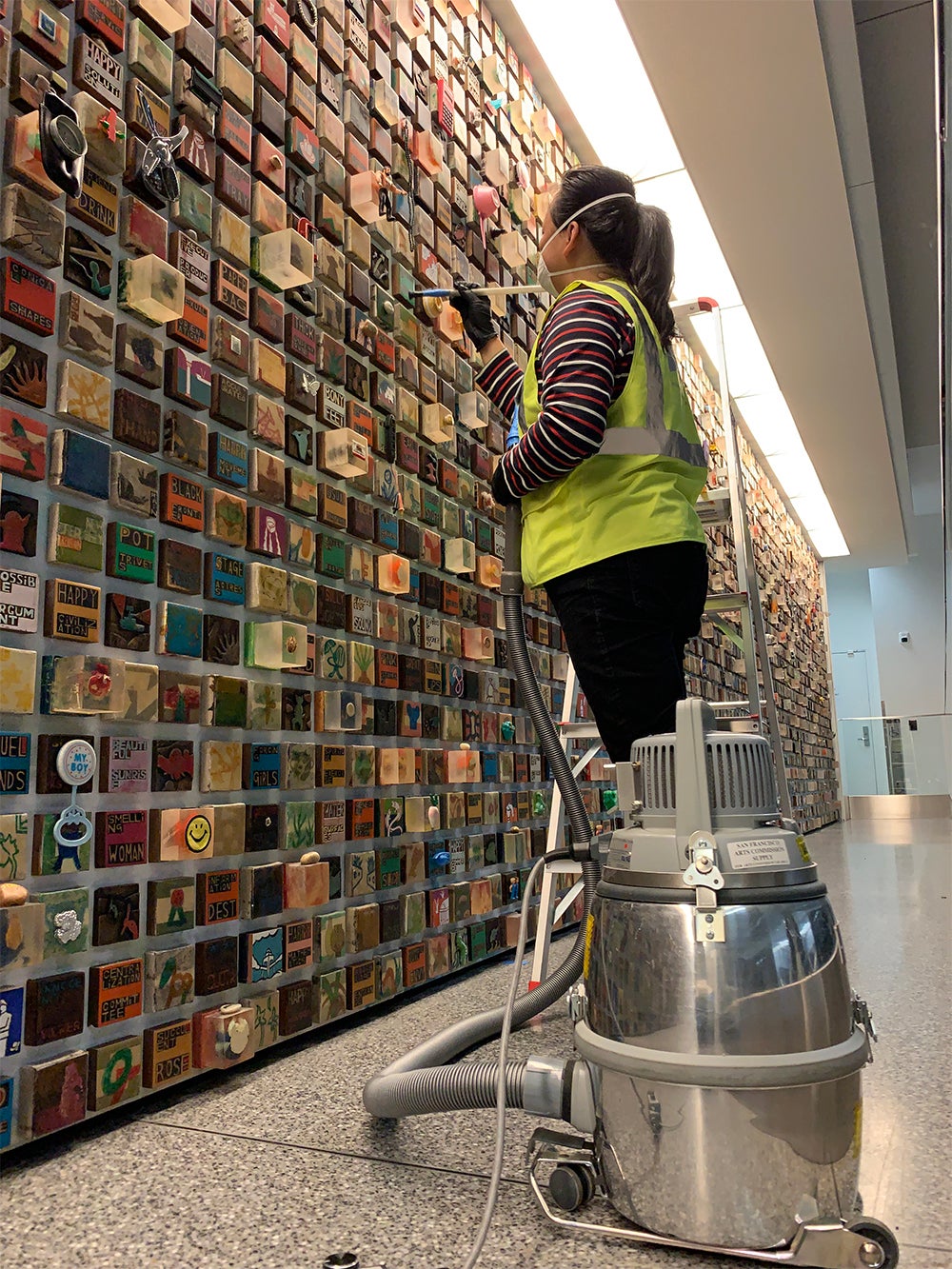 [inset time-lapse video and images]
Gateway  2000, Ik-Joong Kang, mixed media on canvas, wood; ceramic tile, found objects in cast acrylic 
By following a well-planned maintenance schedule to provide thorough routine inspection and cleaning of the artworks, we preserve the San Francisco International Airport's public art collection for the accessibility and enjoyment of the many generations of travelers to come.
Claire Tsai
Associate Museum Registrar
SFO Museum