Objects in Focus: Photographing the Aviation Collection
The permanent collection of SFO Museum explores the history of commercial air transport through a wide representation of objects ranging from early San Francisco Airport furnishings to airline-branded facemasks reflecting current times. Overseen by the Museum's Collections Management staff in a climate-controlled storage facility, the ever-growing collection requires constant attention to ensure its proper and thorough documentation.
An important part of cataloging items donated to SFO Museum involves digitizing them for the Museum's electronic database. The Collections team coordinates studio photography of three-dimensional objects such as airline uniforms and accessory pieces to create a visual record of each object for identification purposes. Access to digital images saves valuable time and helps staff minimize physical handling of fragile items for long-term preservation. Our centralized database allows thumbnail images to be incorporated within customized document templates such as inventory sheets, condition reports, and design layouts for further accessibility. This essential resource also illustrates the overall makeup of the collection in terms of its quality and quantity.

[image]
The Collections team preps airline uniforms for studio photography
The process can be more daunting than most would think, especially when considering the many different types of 3D objects that need to have their picture taken. Unlike a flight log page or aircraft mechanic's license, which can easily rest on a scanner, an airline amenity kit or meal service setting requires a specific studio setup in order to adequately accommodate its depth and size.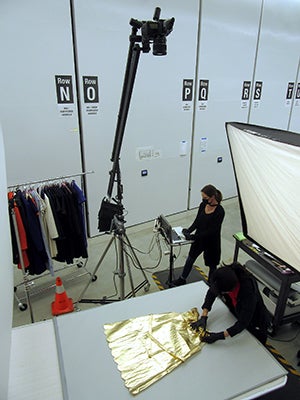 [images]
The studio configuration varies according to object type, utilizing a level perspective for standing objects including shoes, model airplanes, and glassware, and a top-down view for garments and signs
For the first setup, the photographer attaches a digital camera to an extended boom arm that can move up and down. This allows the camera to close in on a small object like a bowtie or move further up for a wider field of view for larger items like a long, heavy winter coat or flag. The second setup situates the camera on a tripod for 3D objects like purses and hats. Another important feature of the camera setup is its lighting. Large, pyramid-shaped softboxes flash when a picture is taken. The flash can be bright, so as a common courtesy, the camera operator counts aloud to "three" before pressing the shutter, to warn others in the room that a flash will be set off.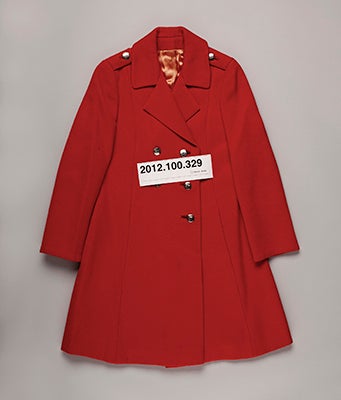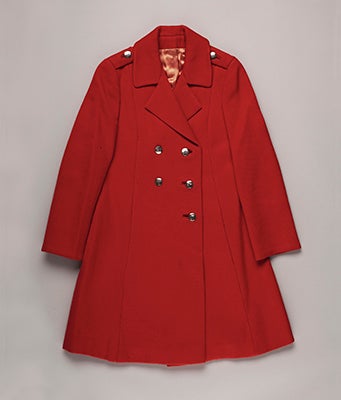 [images]
A "shoot tag" image precedes the studio shot to identify the object, a United Air Lines Hawaiian Sunset flight attendant coat from 1968

[image]
While the camera crew manages the photo station, the rest of the team continues to locate and retrieve items that need a high-quality photograph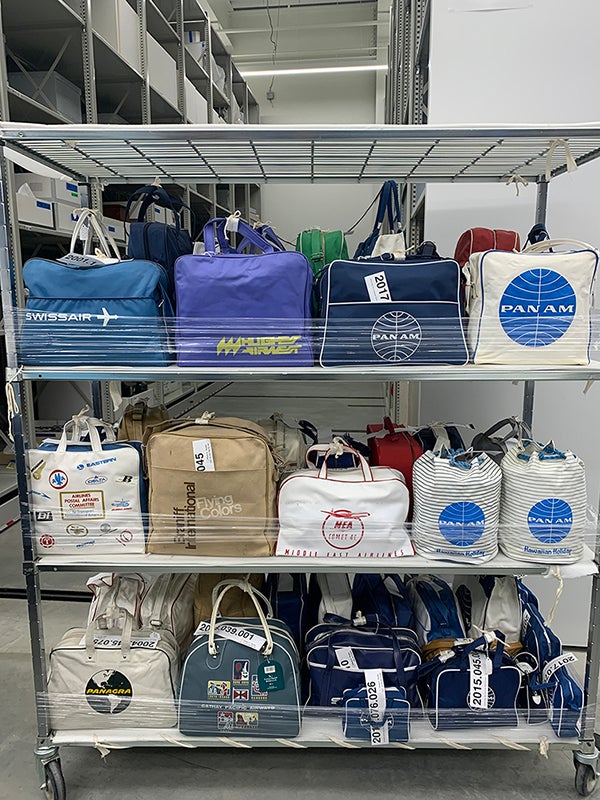 [images]
Airline bags join the assembly line
Throughout the day, team members take turns opening boxes and operating the camera as different objects cycle through. Some of these include bright yellow, high-heeled boots from Hughes Airwest, TWA dresses made of paper, and even promotional toys such as flight attendant dolls and teddy bears. With each different object come different challenges. A registrar unfolds, steams, and props up textile items before refolding, retagging, and returning them to storage. A Pan American World Airways handbag is temporarily stuffed with rolled tissue to give it support. Depending on its complexity, a single object with multiple sides may need up to five or six pictures. Between shots, the studio assistant sweeps the gray backdrop paper with a drafting brush to remove visible surface dust. By the end of each day, the crew takes up to eight hundred pictures. This includes saying "one, two, three" *flash* eight hundred times and hundreds of objects getting unpacked and repacked in a day.

[image]
A Trans World Airlines (TWA) paper dress uniform issued to flight attendants in 1968 returns to its archival storage box after being photographed
A picture may be worth a thousand words, but in this situation, it must also be worth a thousand onlookers. These digital images are intended to be seen and accessed by Museum staff and eventually, the public, providing vital information needed to identify an object, note its condition, and represent the contents of the collection. While this process can seem repetitive, with all the different kinds of objects we see and handle, it keeps the Collections team on their toes and excited for the next object that comes our way.
Melanie Garduno
Registration Assistant
SFO Museum