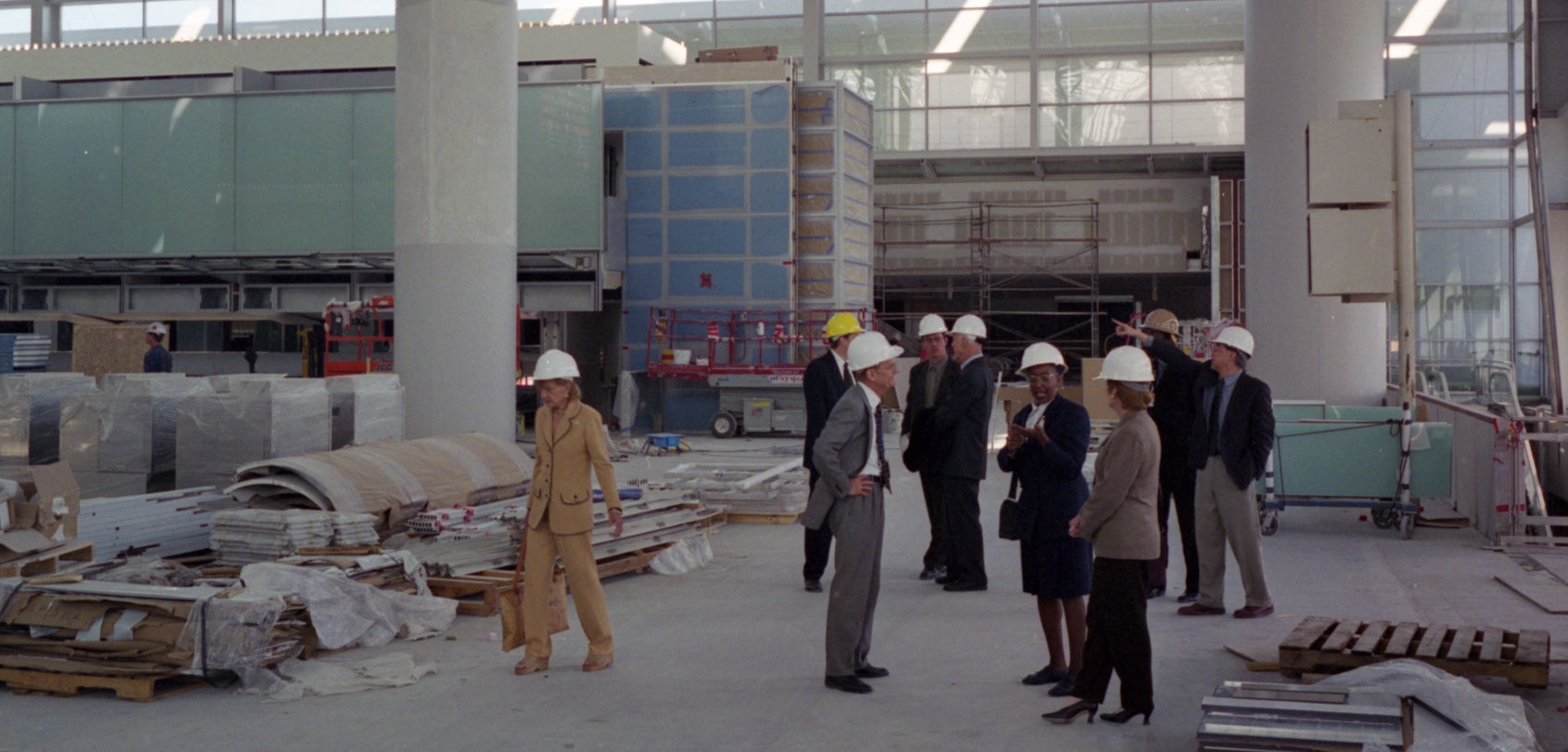 Leadership and Change Management: An Interview with Angela Gittens
[image above]
Angela Gittens (fourth from right) tours the International Terminal under construction, San Francisco International Airport (SFO)  November 15, 1999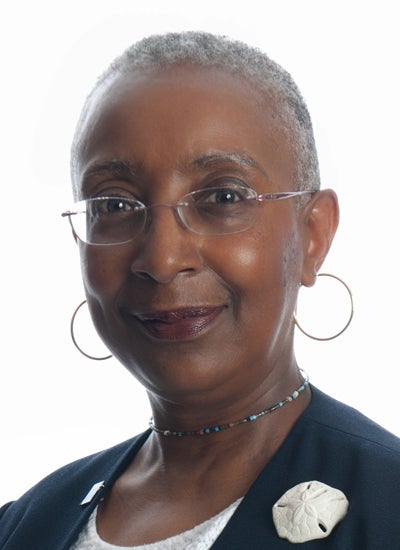 Angela Gittens has been a leader and a change agent in airport management. She began her career in aviation when Airport Director Louis A. Turpen hired her as the Deputy Director for Business and Finance for San Francisco International Airport in 1983. She became the CEO for Atlanta-Hartsfield International Airport in 1993 and was charged with preparing the airport for the 1996 Summer Olympic Games. She left Atlanta to become the CEO at Miami International Airport in early 2001 and describes the changes she had to implement in the aftermath of the September 11th terrorist attacks. She also became the Director General for ACI World (Airports Council International), where she continued to advocate for excellence in airport management until her retirement in 2020.
On behalf of SFO Museum's Oral History Program, I had the privilege of interviewing Ms. Gittens in early 2021. The three interviews follow her life and career path, as well as her insights into leadership and change. Here are some highlights.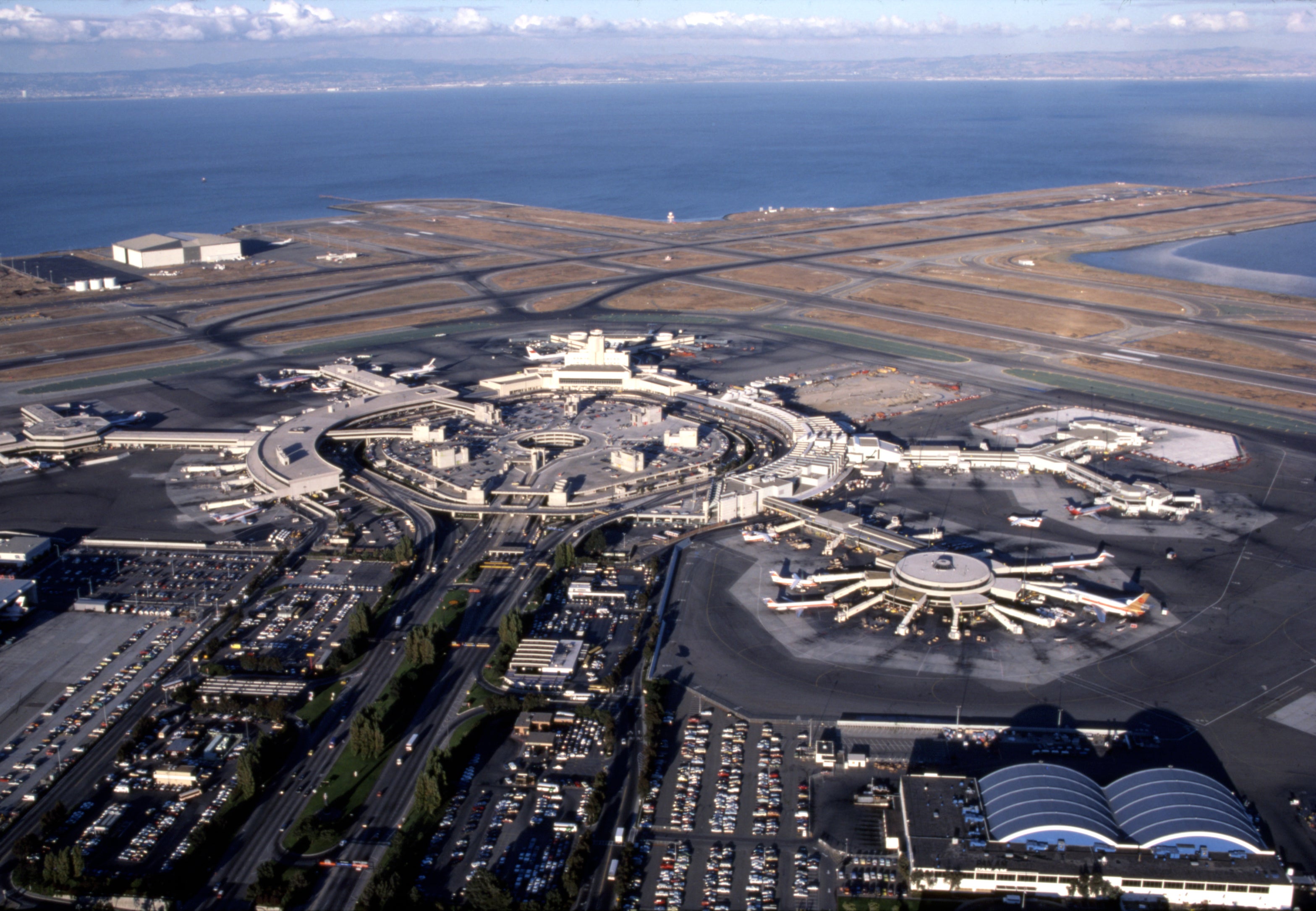 [image]
Aerial view of SFO  c. 1986
She describes the impact of deregulation on airline pricing and routes by the Federal Aviation Administration in 1978, and the changes in airport management that came from that event: 🎤 AUDIO CLIP: Deregulation
"It used to be you [the airport] and the incumbent carriers had twenty, thirty-year time horizons, so when you were doing your development programs, you worked with them. You basically had the same outlook. Now these carriers were dealing with making payroll and, for the most part, except for the dominant carriers at a particular airport, they didn't have time to sit in meetings, to do capital planning and work on the various areas of the airport like they used to. There used to be all these different committees that the airport, the airlines, the concessionaires, all of whom had the same kind of long-term outlooks, would sit on and make decisions about. They no longer had time for that. The airport management now had to step in and take a holistic view of their responsibilities, and also had to strategically plan for what the airport was going to be in service to their community. Now it's not just keeping the runways open, it's not just picking up foreign object debris. You actually were running a business in service for the community that owned and operated you."
She describes an initiative at SFO to increase diversity among airport businesses: 🎤 AUDIO CLIP: SFO Diversity
"One of the things that was a real objective was getting more diversity in the concession program, which had been marked by – and this was typical of airports in those days – having two or three large concessionaires, one for food and beverage and one for retail. We had long-term leases with them, and they took care of everything. So, part of being more positive management of the airport and being more part of the community was to get more diversity into the program and to give smaller entrepreneurs an opportunity to do business at airports. One, it was good for us as an airport to get more competition and more variety in our concession program to offer to the traveling public, as well as doing something for the community in opening up the airport to more businesses."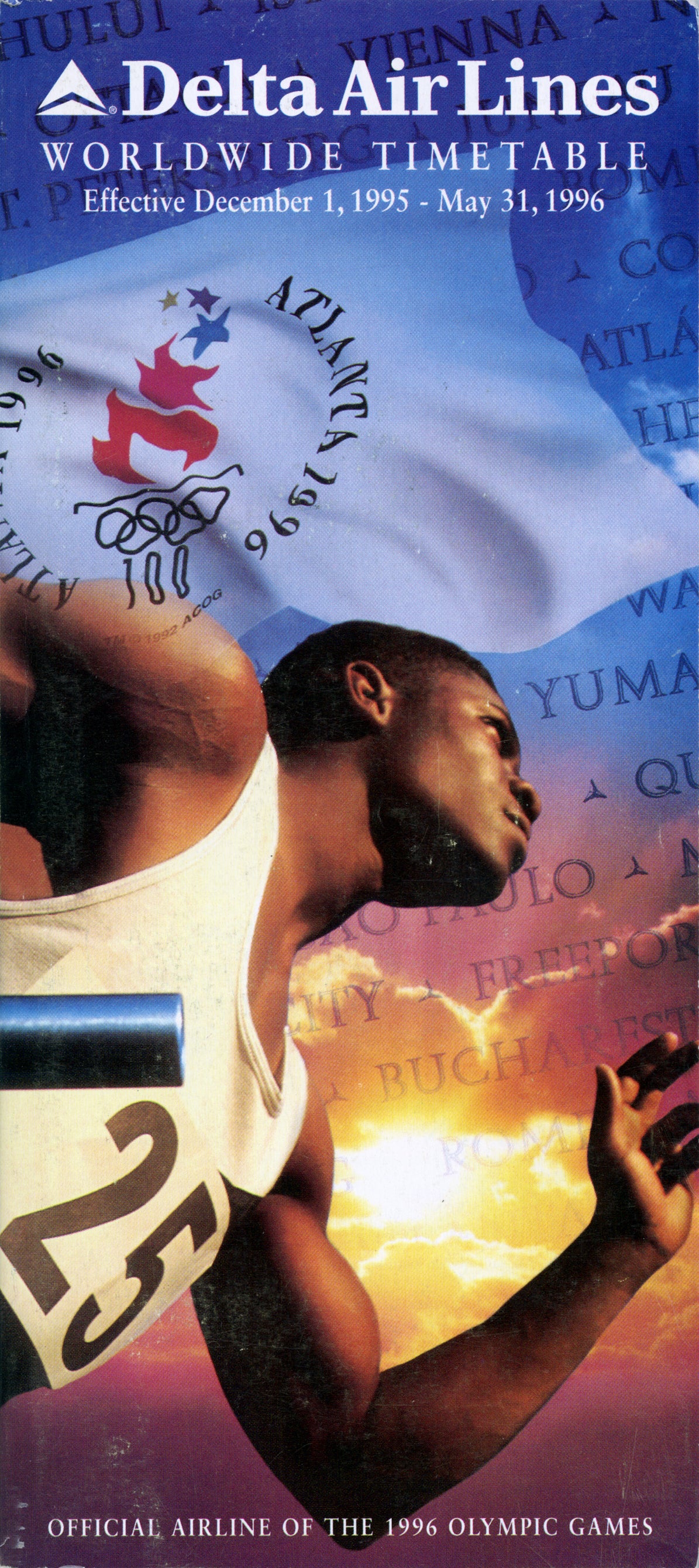 [image]
Delta Air Lines worldwide timetable  1995; SFO Museum, anonymous gift
Ms. Gittens arrived at Atlanta-Hartsfield in 1993, and she describes the situation she came into: 🎤AUDIO CLIP: ATL in 1993
"The airport was very much in the old guard, where you just keep the place open and the airlines run the show. That was coming to a head because the airport, this paragon of what made Atlanta and even Georgia what it is, compared to, say, Alabama, was really starting to fall into a neglected state as a physical facility. A lot of things had to be done at once. And you talk about having to change things. All of my change management background came to the fore in terms of what the priorities had to be, what you needed to spend your time on. The City was a master of bureaucracy, and had these various departments making decisions for the airport that they had no accountability for and no understanding of what the implications were for having a good product. So, it was a real challenge. I mean, it was the most challenging thing I'd ever had to do, and probably the most successful thing I've ever done."

In addition to finishing construction on the new concourse, which she describes in some detail, the airport needed to improve the customer service experience. Along with improving the facilities, she made two changes that had a broad impact on both the employee and customer experience: she empowered employees with information, and she set up a system that recognized excellence in customer service. The community noticed the success of Ms. Gittens and her team: 🎤AUDIO CLIP: Reporting On Service
"The NBC station there in Atlanta had an investigative reporter. He was assigned the airport during the Olympics, and so he would come out to the airport, and he would talk to employees. His name was Bill Liss, and he would talk to, for example, the porters, back when there were porters. Well, the porters knew everything. They paid attention. We made sure to talk to them and plus, they got the regular newsletters. The porters were telling him everything that was going on, and he was so impressed. And so on the nightly news, he was giving all this positive news about what was going on at the airport. That just created this halo around the airport in the midst of all the other stuff that was going on in Atlanta. The City was kind of getting a bad rap, because the City wasn't ready [for the Olympics]. The City had not set deadlines, and things had not gone that well, and so there was a lot of negative reporting about the City. But then there was all this positive, glowing reporting about the airport. And it was primarily because these line workers knew what was going on and felt proud and owned it. They felt they owned it. That was better than hiring a million-dollar PR company to say good things about you. You know, if you can get the janitor to say glowing things, you've got it, because people believe him, right?"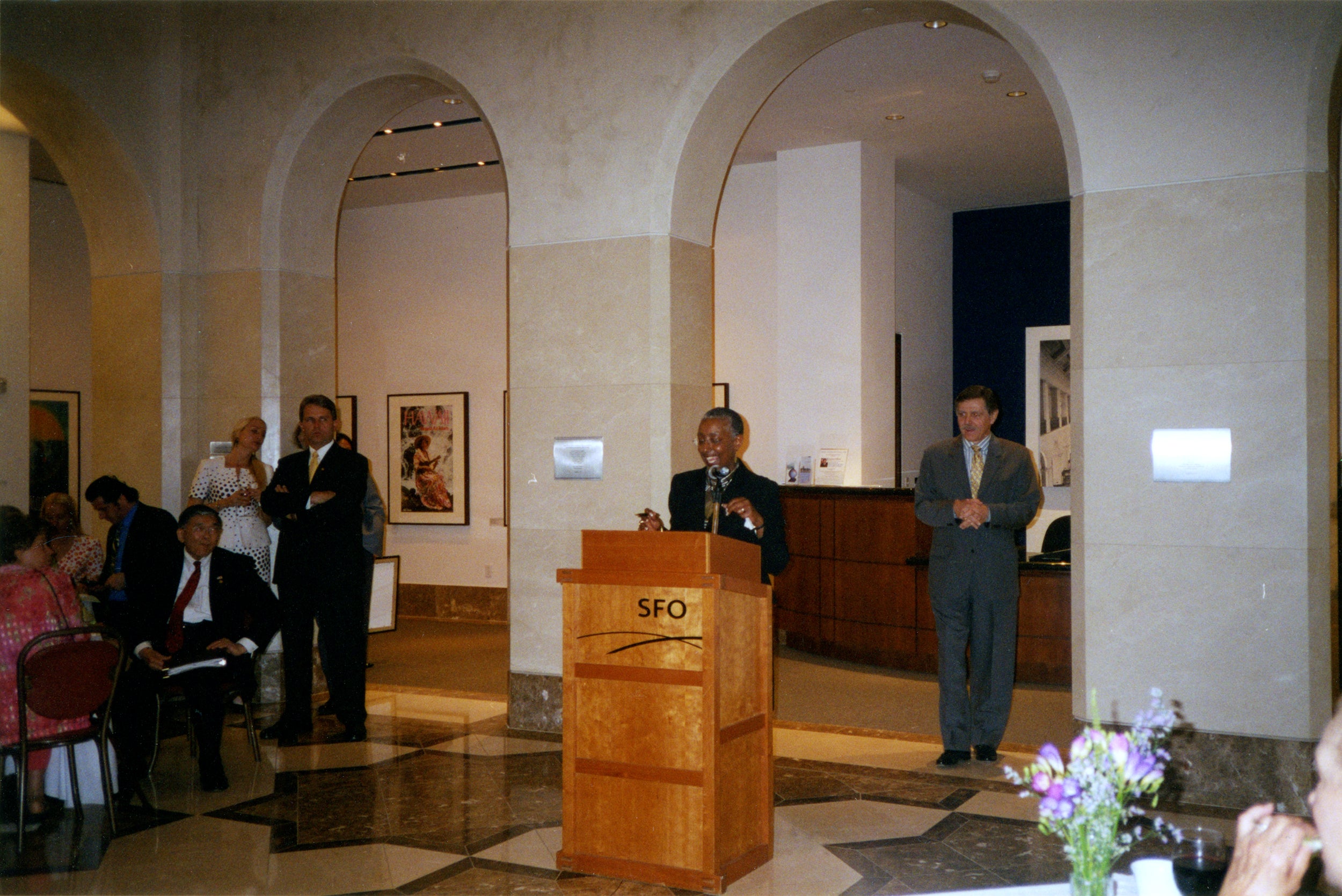 [image]
Angela Gittens speaks at the Aviation Museum & Library, SFO  April 24, 2004
Ms. Gittens discusses diversifying the aviation workforce. More recently, she has been involved in efforts to bring more women and people of color into the industry: 🎤AUDIO CLIP: Developing Diversity 
"So, there are various analyses going on. And one of the things that's come out of the analyses – and this has to do with women, but it would probably also apply to minorities – is that women, and starting as girls, have to be able to see that women are in these roles. If they don't, they don't have any interest in pursuing it… And part of it is that, one, they don't see a pathway in those fields because they don't see women in those fields, and two, they are not guided into those fields. In fact, they may be guided away from those fields, possibly because their teachers and advisors don't see much opportunity for them, or their teachers and advisors have these biases about what girls should do and what boys should do… And similar for minorities. If you don't think that you have a chance because you're black or Hispanic or whatever, then you've got to go where you think you have an opportunity, where you think you have a chance. And if you see something that's all white, well, you probably – either you, yourself, or you get steered away because your advisors – it could be your parents – don't think that you're going to be successful, there will be too many barriers, or that you'll be unhappy if you go into certain fields. And then that might be kind of confirmed with their early experience. It's hard to say. But one of the things we've been looking at in one of these forums that I'm dealing with is, what are the best practices for a company or an organization to be inclusive? Again, for self-interest, you need this talent. Is the culture of your organization or some of your practices, are they repelling candidates of color or women, or failing to retain and promote candidates who are of color or are women?"

She also describes how overall changes in airport management have led to more diversity overall in airport employment: 🎤AUDIO CLIP: Management Change Leads to Diversity
"One of the things in terms of the changes in airport management, it really opened up or broadened the kinds of skills and experiences that were useful. Because as airports were taking more than a mere operational, keep the field open – more than just an operational perspective on their role, then you, a prospective employee, could really come in through a variety of backgrounds. I came in from the hospital because they were looking for business and finance. I was in business and finance, and they were interested in business and finance at the airport. People can come in through public relations, through law, accounting, you know, really a whole range of backgrounds and fields, because an airport, like the city, it needs some of everything. And in turn, then that opens it up more for women and minorities who may not have had the opportunity to have experience in aviation, but they've had experience and/or skills in one of these other fields. So, the changes in airport management also provided an opportunity to get more diversity into airport management."
Angela Gittens has spent her career creating positive change through thoughtful leadership, and we have the privilege of learning from her experiences and insights.
Debbie Kahn
Museum Registrar and Oral Historian
SFO Museum
Oral History Program
Established in 1996, the Oral History Program brings to life through audiovisual media the experiences of service personnel from past and present encompassing all facets of the industry, from operations and guest services to administrative oversight and labor. Recorded interviews document the employee and passenger experience and illustrate the role of the San Francisco Bay Area and Pacific region as a major driver of leadership standards in aviation today. To emphasize the importance of complete representation, the Oral History Program supports the visibility and representation of members of the BIPOC [Black, Indigenous, and People of Color] community, women working in male-coded jobs, and members of the LGBTQ community as part of the larger story of commercial aviation. The interviews are transcribed and bound for permanent placement in the collection of SFO Museum, where researchers and educators have access to these experiences.