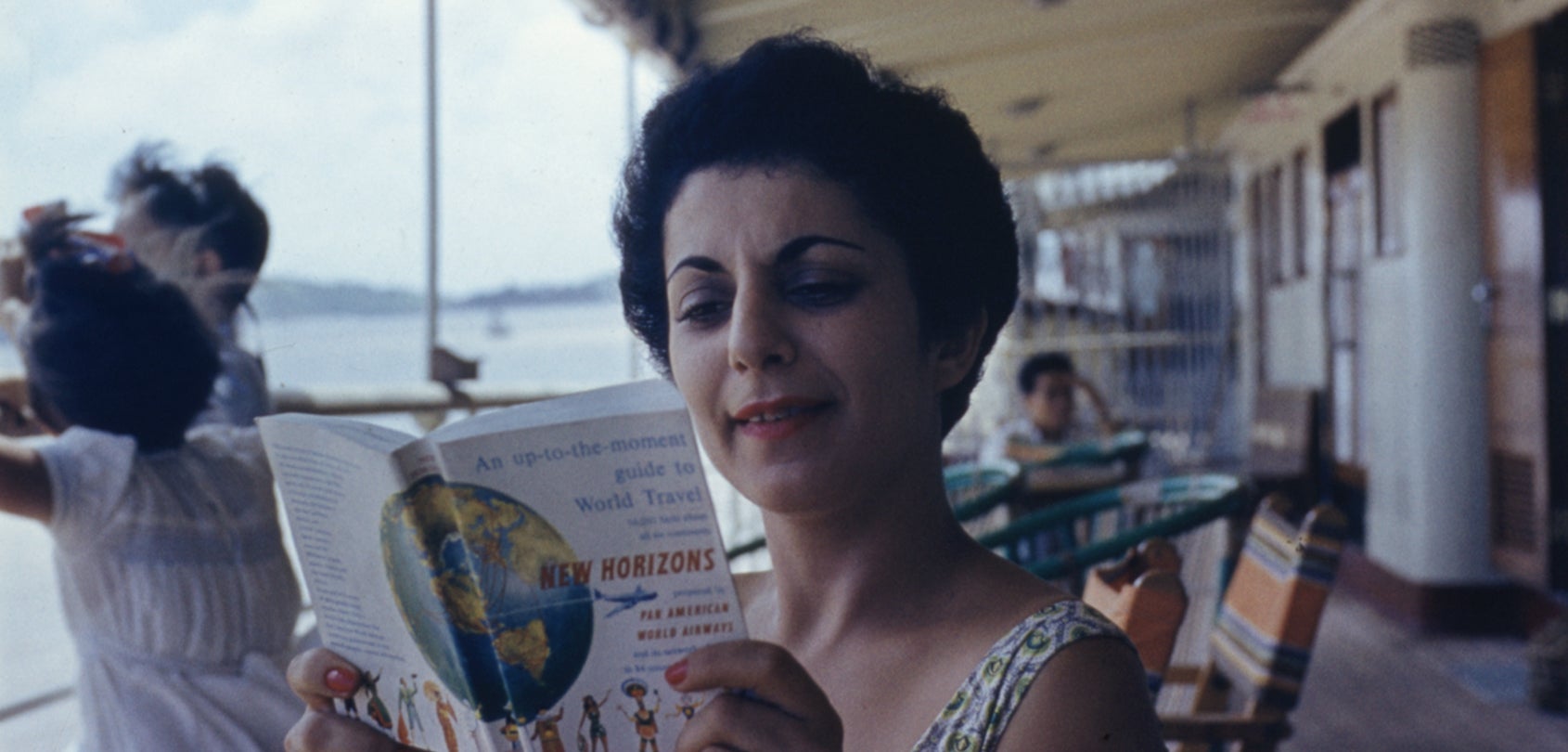 From Evelyn with Love: Travelogue of a Stewardess
As a teenager, Evelyn David aspired to be a concert pianist. The Chicago native and accomplished classical musician, lured by the prospect of traveling abroad to concertize, came of age during a time of dramatic progress for commercial aviation in the United States. With boundless opportunities looming over the horizon, David ultimately set her sights on conquering the global stage as a stewardess for Pan American World Airways.
From 1949 through 1991, she led an illustrious career with Pan Am spanning four decades, traveling to more than 50 countries on six continents, and remaining with the company until its final month in operation. David's experiences and memories, preserved in the form of letters, logbooks, service pins, and a vast array of original photographic images, follow her professional journey as a flight attendant, purser, and in-flight service director. They also broadly reflect the industry's transformation through advancements in labor and technology.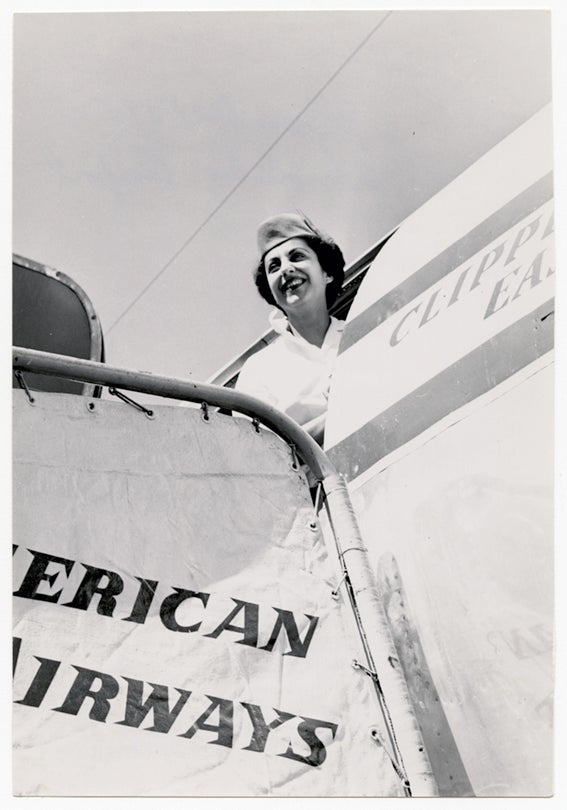 This blogpost features selections from David's personal archive now held in the permanent collection of SFO Museum (SFOM). Housed in the San Francisco Airport Commission Aviation Library and Louis A. Turpen Aviation Museum at San Francisco International Airport (SFO), the collection examines the history of commercial aviation, comprising some 30,000 museum objects, 12,000 books and periodical titles, and 90,000 archival holdings. Located pre-security inside SFO's International Terminal, the facility is modeled after the Airport's passenger lobby from 1937.
When David donated her career items to SFOM, she worked closely with collections staff to ensure the accurate representation of her materials. During the donation intake process, each object underwent a rigorous review to determine its compatibility with the Museum's programming objectives. The unique output of David's life story as it related to SFOM's collecting goals proved a right fit for the institution, owed in large part to her extensive written documentation that helped build a convincing case for inclusion. A meticulous recordkeeper, she provided details regarding the location, date, and subject of every image she took – such as the name and job title of a colleague – which the team then individually numbered and recorded in the Museum's searchable electronic database.

[inset image]
Honolulu, Hawai'i  December 1952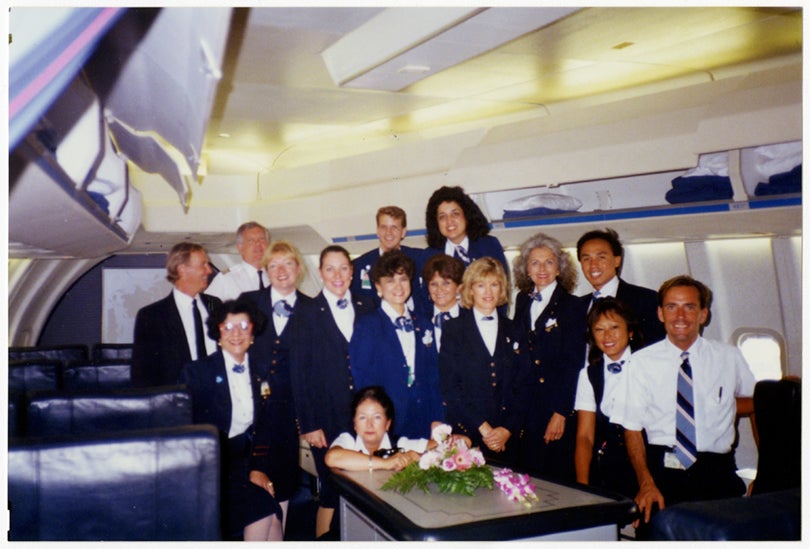 [left image]
Flight service class, Miami, Florida  April 1, 1949
Ernie Trapago (cropped out of frame), Doris Reyes, Fritzie Schiele, Judy Landene, Dorothy Rice, Evelyn David, Helen Sargeant, June Chandler, Barbara Ann Walters, Lynn Lawrence, Betty Moore, Ruth Robinson (kneeling), Doris Ayres, Lee Poline
[right image]
Flight and ground crew at Los Angeles International Airport (LAX) before Pan Am's last flight from Los Angeles to Honolulu (HNL) aboard Boeing 747-100 Clipper Empress of the Skies  September 3, 1991
Evelyn David seated at left
Her color snapshots on 35mm Kodachrome slide film, scanned in-house by SFOM, venture to the world's natural wonders, heritage sites, and other places of interest through the lens of an itinerant in transit. The images convey firsthand various aspects involving the work of a stewardess – the standard term for the occupation until replaced by "flight attendant" in the 1970s – including a sense of camaraderie among peers, a demanding daily schedule across multiple time zones, and the ability to speak different languages. Since David often visited a particular location more than once, collections staff organized the material by time zone rather than chronologically in order to maintain geographic consistency. 
In addition to taking pictures David compiled a diary of self-addressed postcards, some of which are reproduced below, containing handwritten messages to herself back home as mementos of her overseas excursions. The first-person narrative reveals a life's work of dedication, adding a human touch to the story of America's premier international air carrier in the twentieth century. Thanks to the extent of her documentation and level of care with which she maintained her collection, this grouping of images and correspondence effectively showcases David's employment experience while fulfilling SFOM's mission to collect, preserve, interpret, and share the history of commercial aviation.
Tomohiko Aono
Registrar
SFO Museum
All images courtesy of SFO Museum, Gift of Evelyn R. David.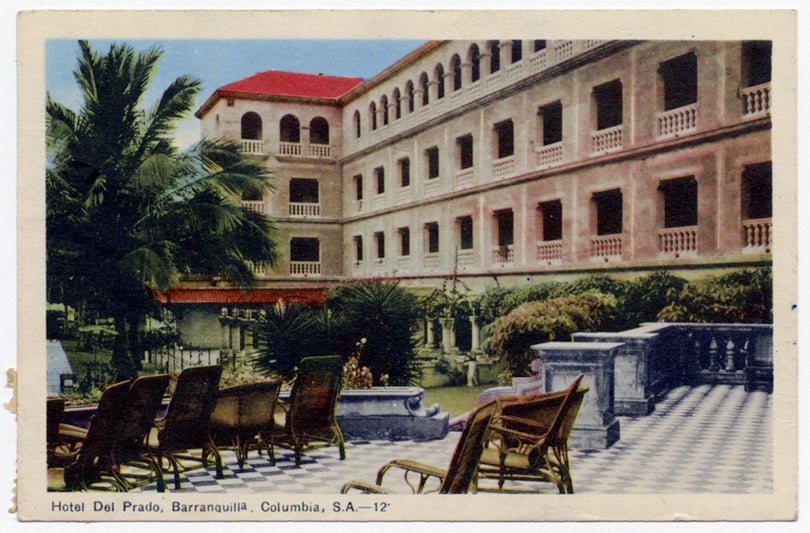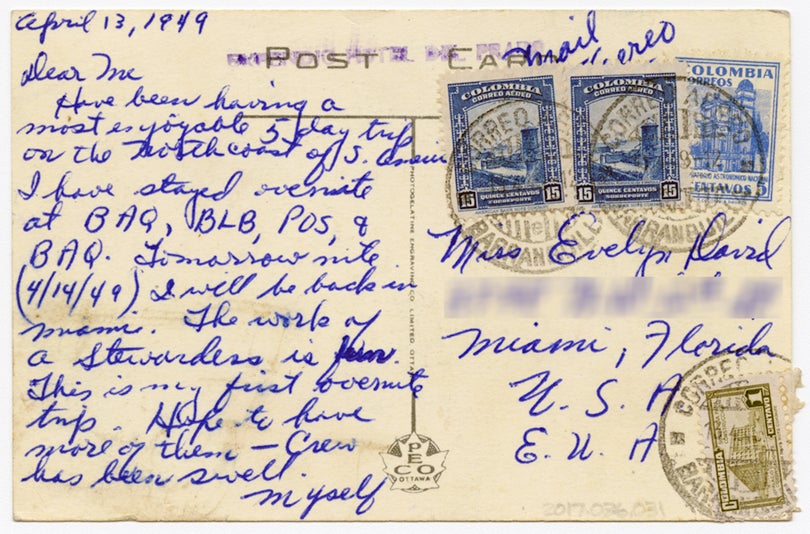 [images above]
Barranquilla, Colombia  April 13, 1949
Dear Me: Have been having a most enjoyable 5-day trip on the north coast of S. America. I have stayed overnite at BAQ [Barranquilla], BLB [Panama City], POS [Port of Spain, Trinidad and Tobago], & BAQ. Tomorrow nite (4/14/49) I will be back in Miami. The work of a stewardess is fun. This is my first overnite trip. Hope to have more of them – crew has been swell. Myself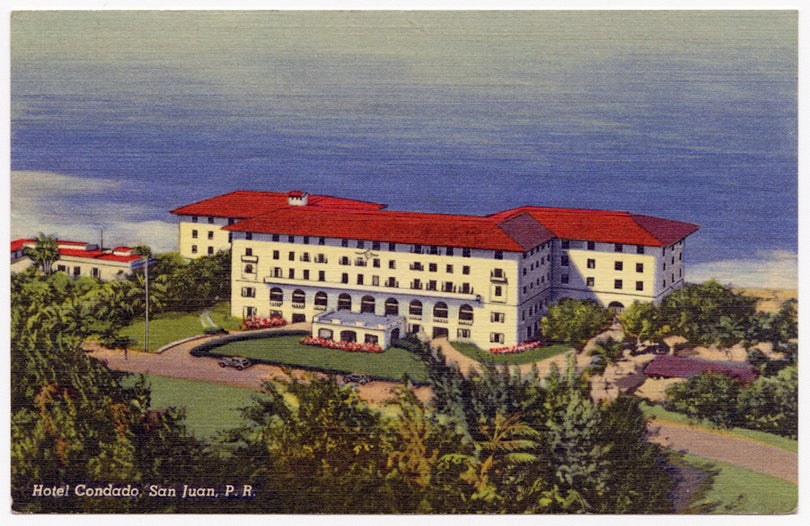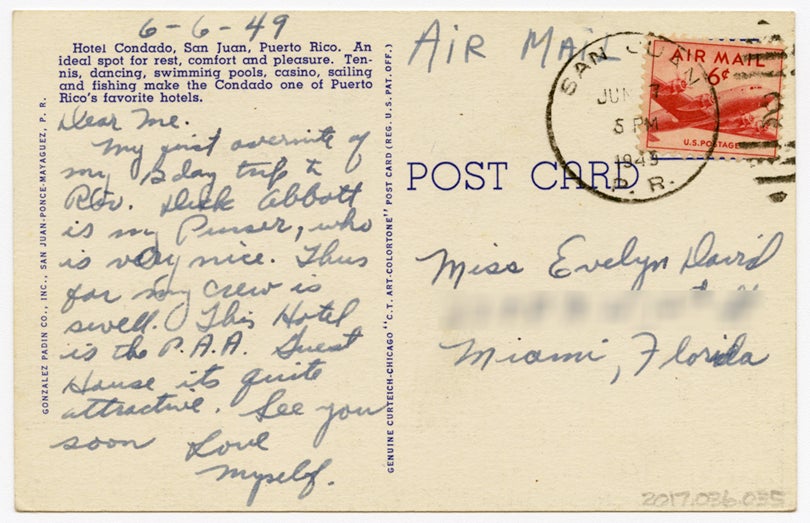 [images above]
San Juan, Puerto Rico  June 6, 1949
Dear Me: My first overnite of my 12-day trip to Rio. Dick Abbott is my purser, who is very nice. Thus far my crew is swell. This hotel is the P.A.A. guest house; it's quite attractive. See you soon. Love, Myself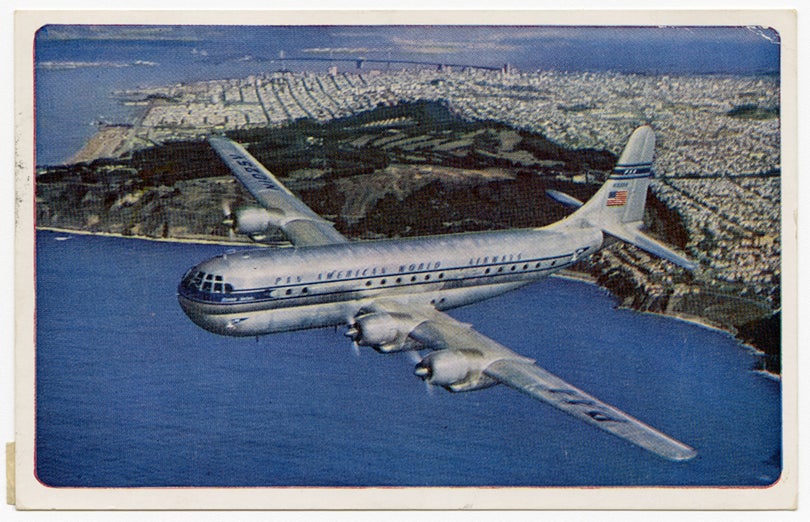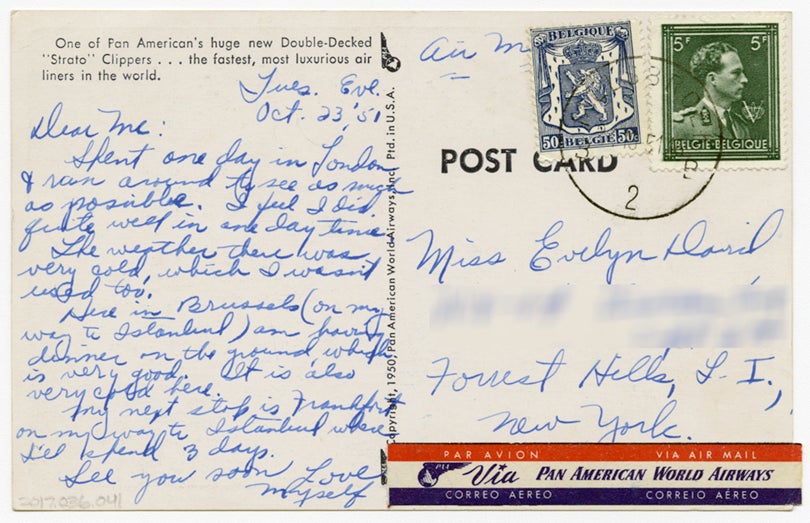 [images above]
Brussels, Belgium  October 23, 1951
Dear Me: Spent one day in London & ran around to see as much as possible. I feel I did quite well in one day's time. The weather there was very cold, which I wasn't used to. Here in Brussels (on my way to Istanbul) am having dinner on the ground, which is very good. It is also very cold here. My next stop is Frankfurt on my way to Istanbul where I'll spend 3 days. See you soon. Love, Myself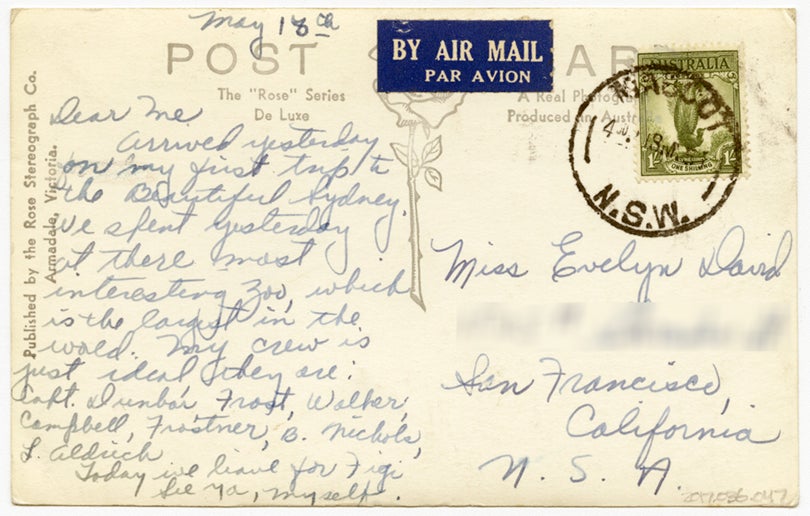 [images above]
Sydney, Australia  May 18, 1953
Dear Me: Arrived yesterday on my first trip to the beautiful Sydney. We spent yesterday at their most interesting zoo, which is the largest in the world. My crew is just ideal – they are: Capt. Dunbar, Frost, Walker, Campbell, Frostner, B. Nichols, L. Aldrich. Today we leave for Fiji. See ya, Myself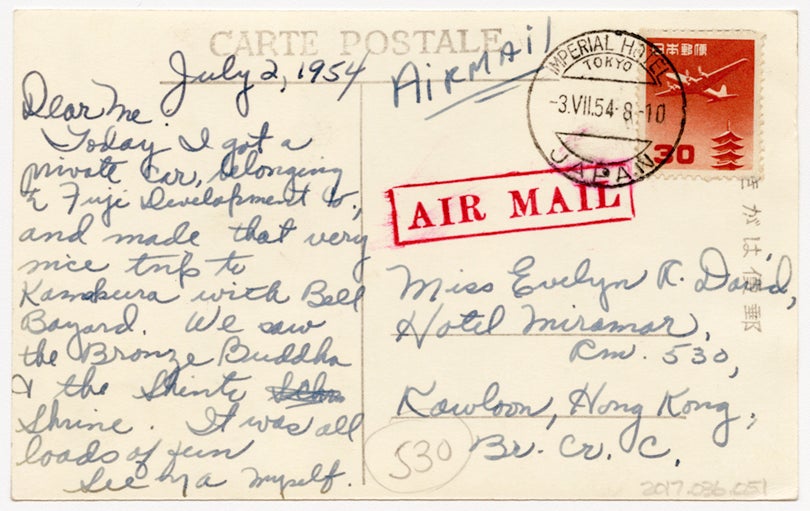 [images above]
Tokyo, Japan  July 2, 1954
Dear Me: Today I got a private car, belonging to Fuji Development Co., and made that very nice trip to Kamakura with Bell Boyard. We saw the bronze Buddha & the Shinto shrine. It was all loads of fun. See ya, Myself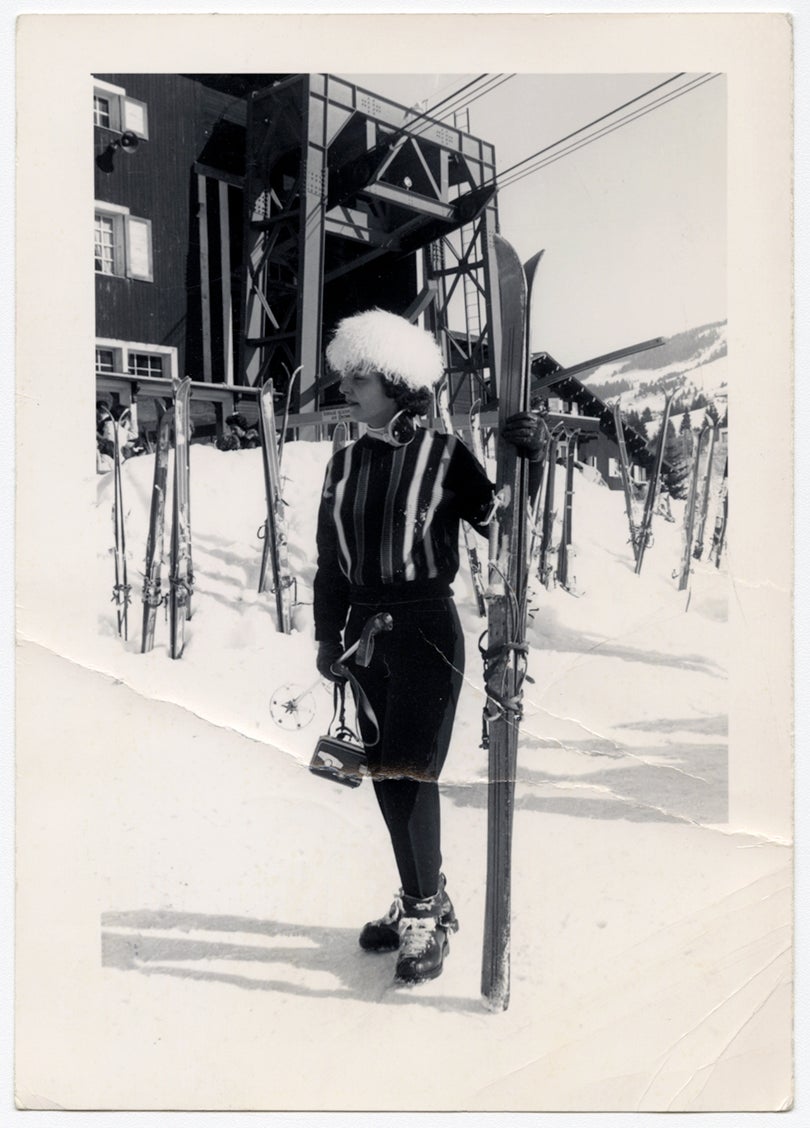 [images above]
Megève, France, postmarked St. Moritz, Switzerland  February 14, 1961
Dear Me – Having a grand time & learning French the difficult way. This is a very French resort & très chic. I arrived here Feb. 4 & leave in the AM for St. Moritz. Someday – hope to return to charming & gracious Megève. See you, Myself. P.S. Mailed this in St. Moritz.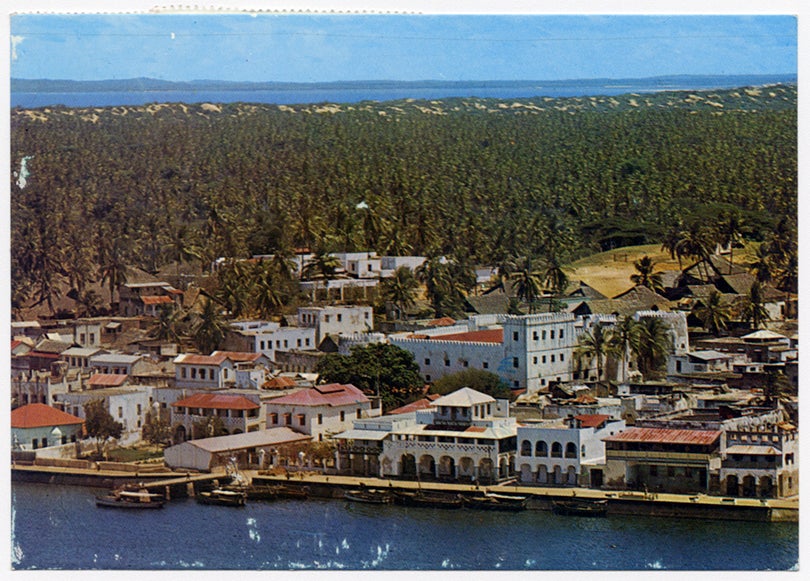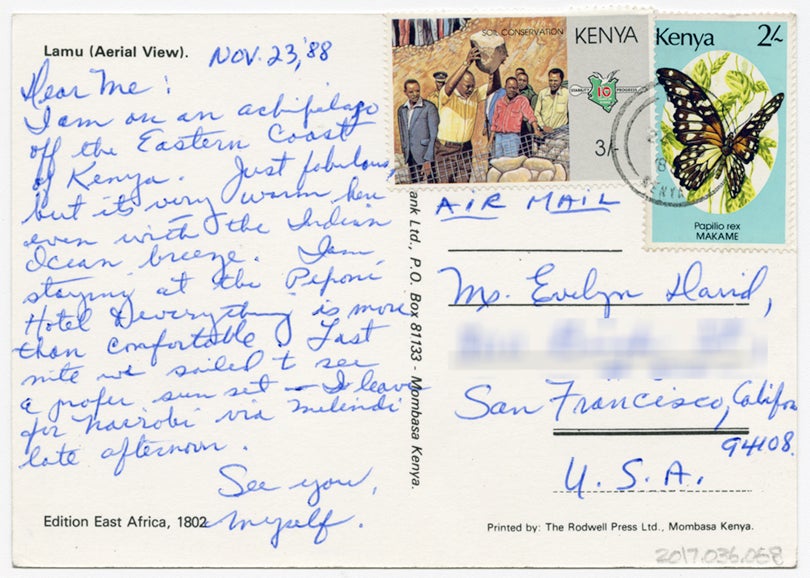 [images above]
Lamu, Kenya  November 23, 1988
Dear Me: I am on an archipelago off the eastern coast of Kenya. Just fabulous, but it's very warm here even with the Indian Ocean breeze. I am staying at the Peponi Hotel & everything is more than comfortable. Last nite we sailed to see a proper sunset – I leave for Nairobi via Malindi late afternoon. See you, Myself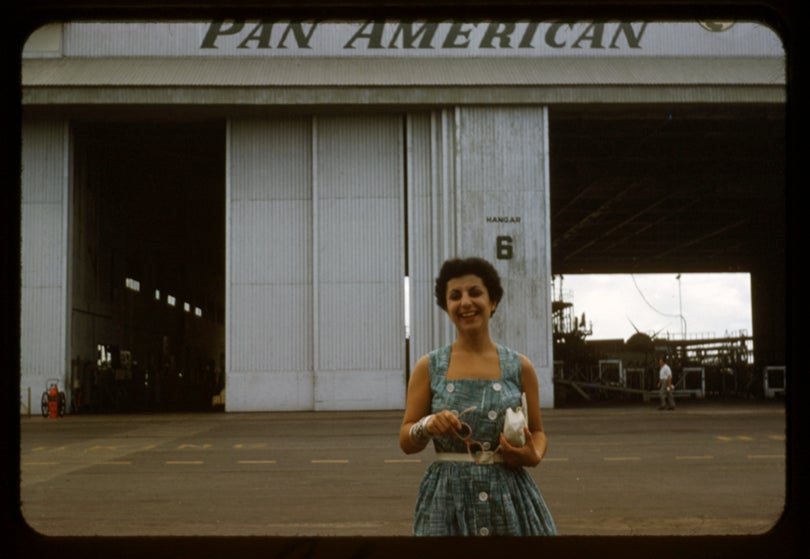 [image above]
Miami, Florida  October 1953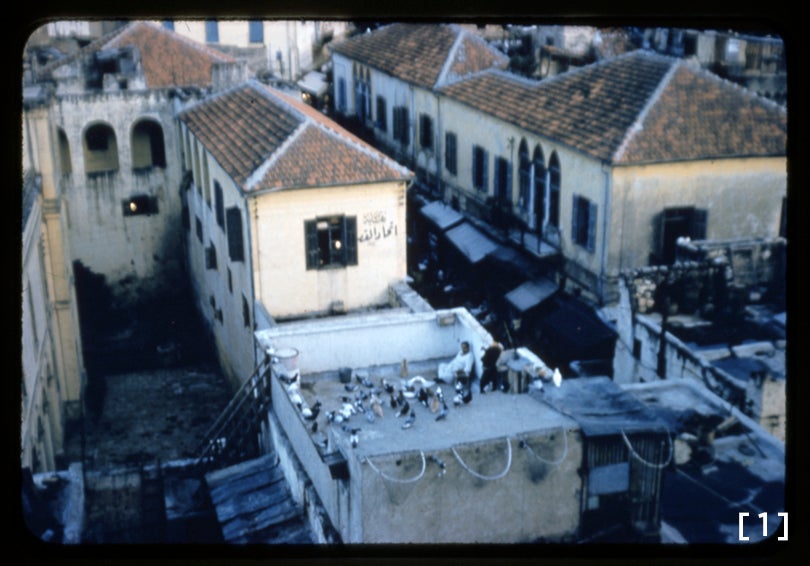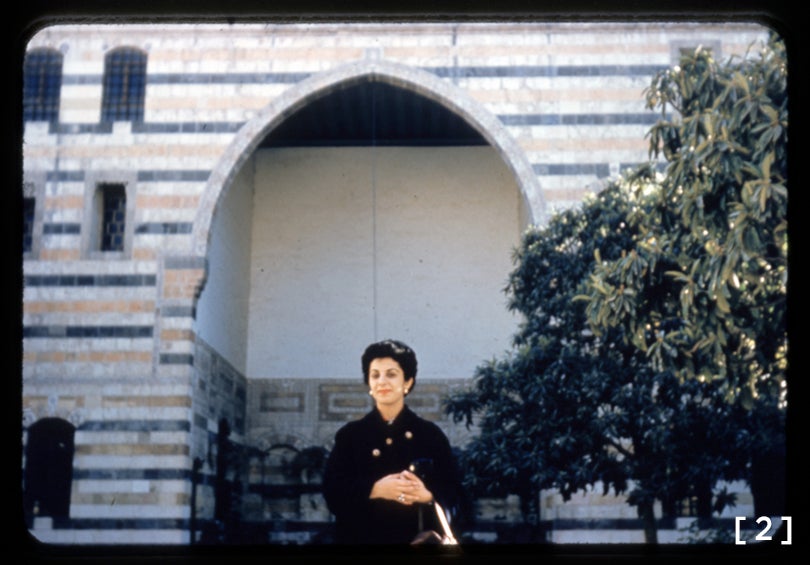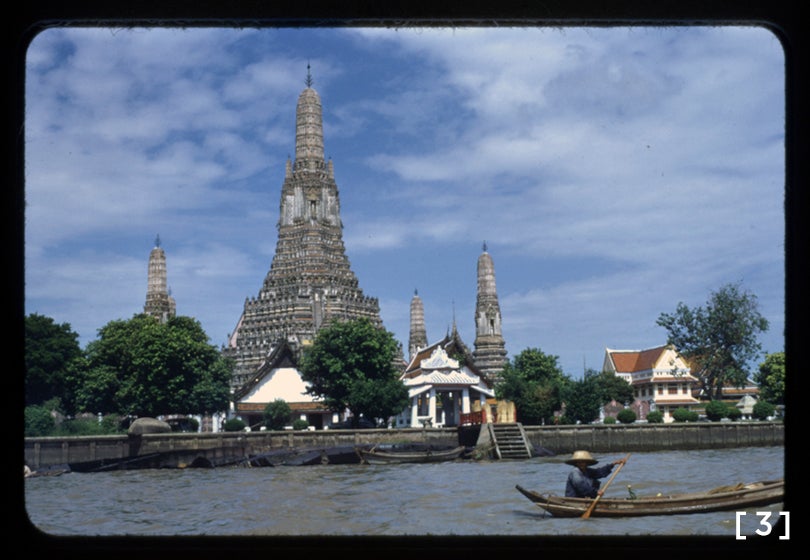 [images above]
[1–3] Beirut, Lebanon | Damascus, Syria | Bangkok, Thailand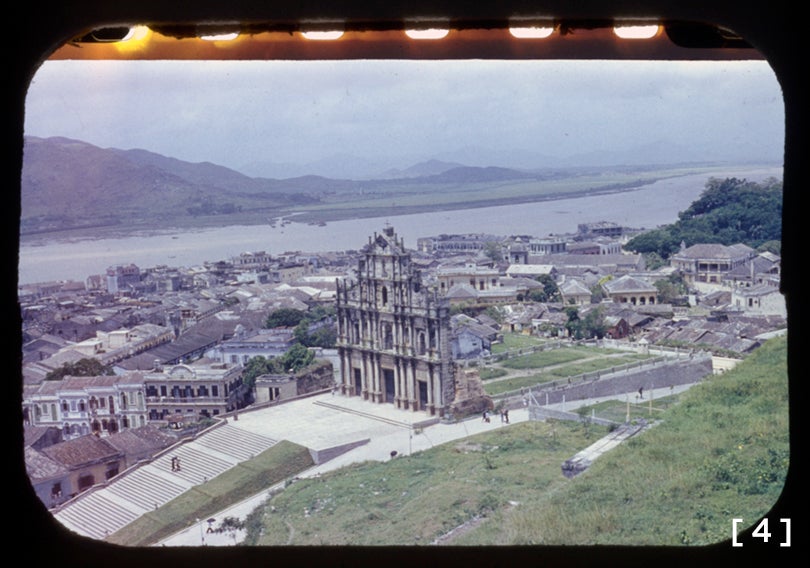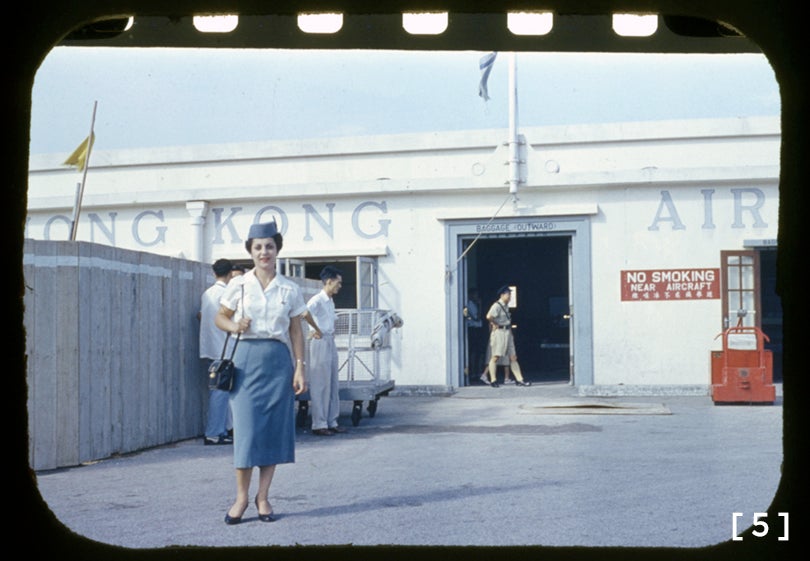 [images above]
[4–6] Macao | Hong Kong | Nadi, Fiji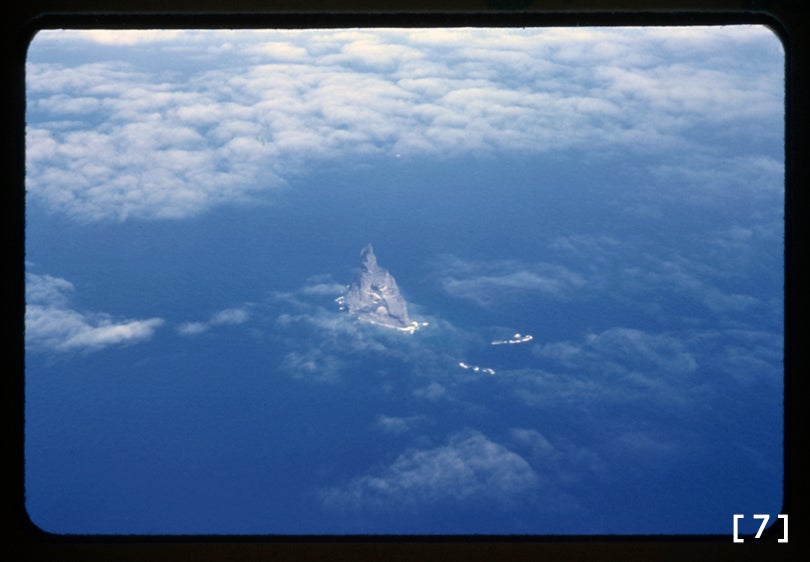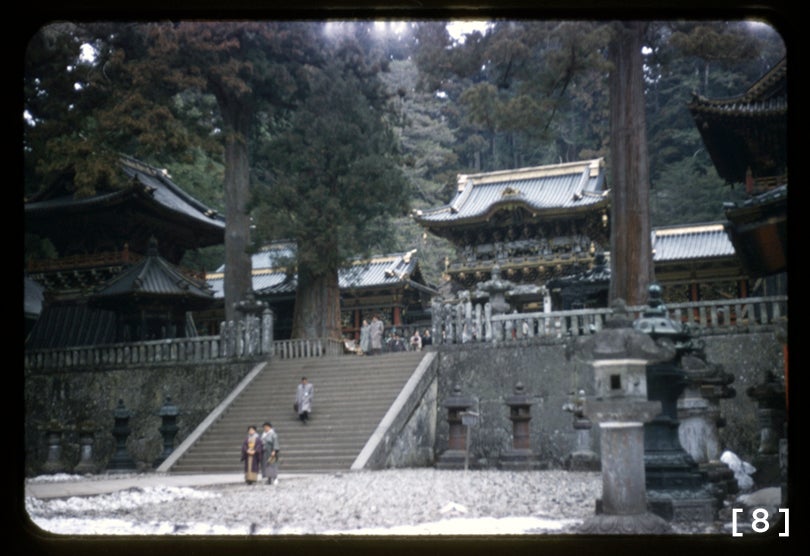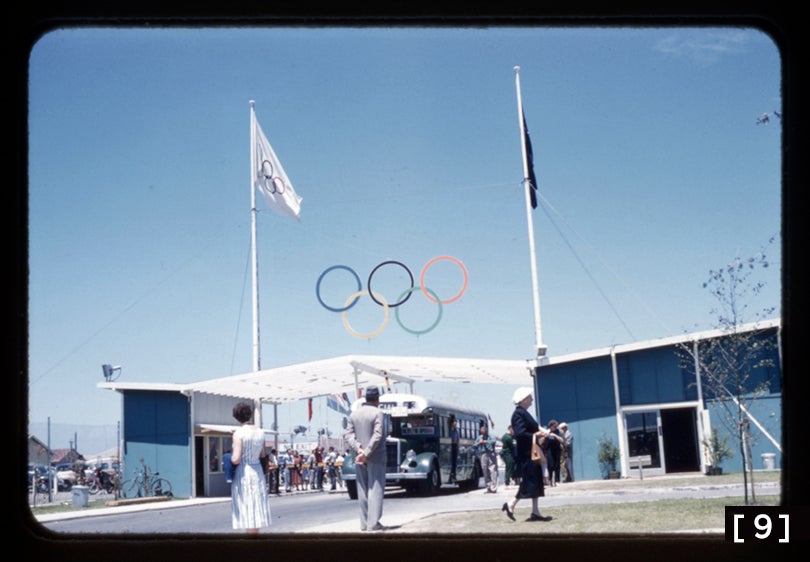 [images above]
[7–9] Ball's Pyramid, Tasman Sea | Nikko, Japan | Melbourne, Australia