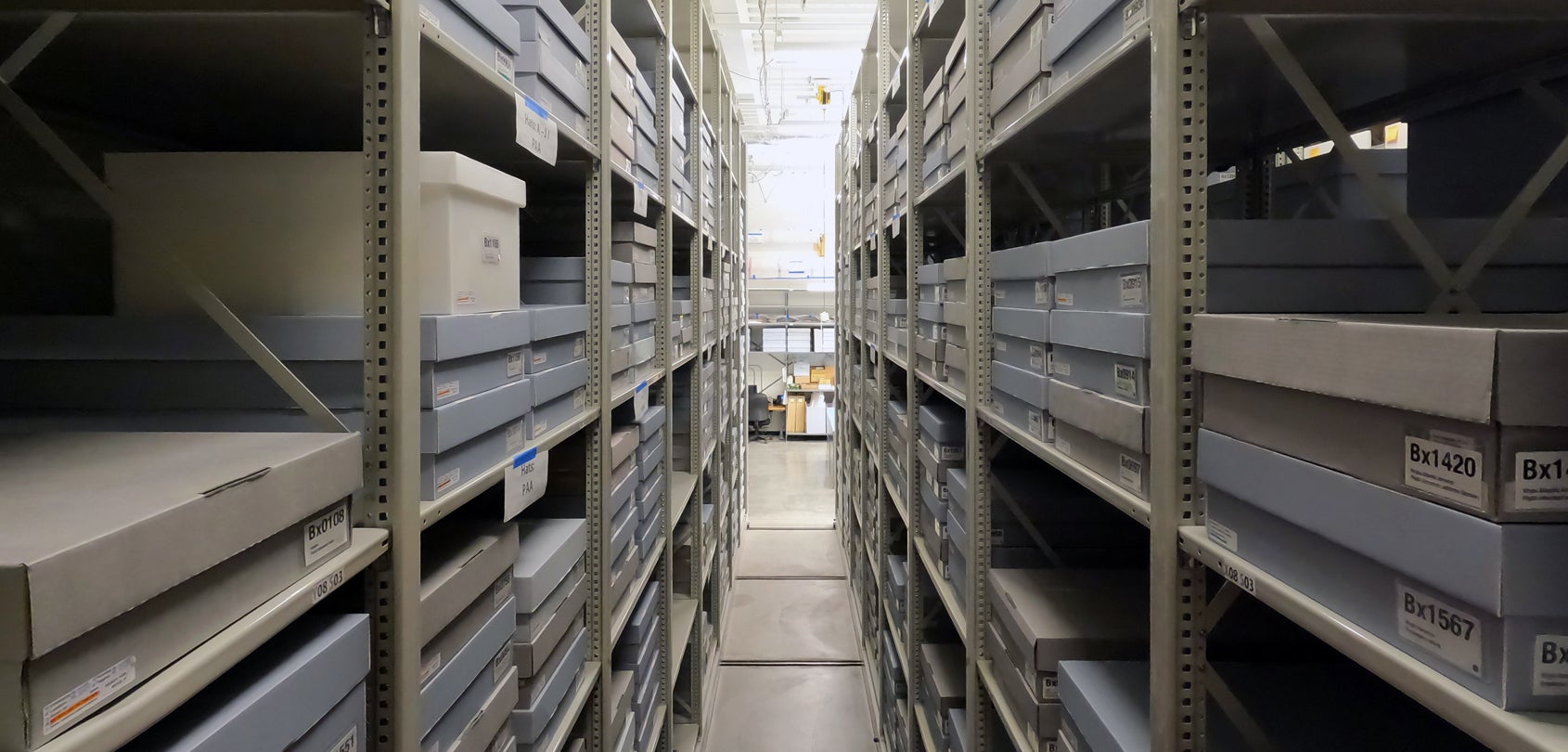 Destination SFO: A Labor of Love
[image above]
Collections storage facility, SFO Museum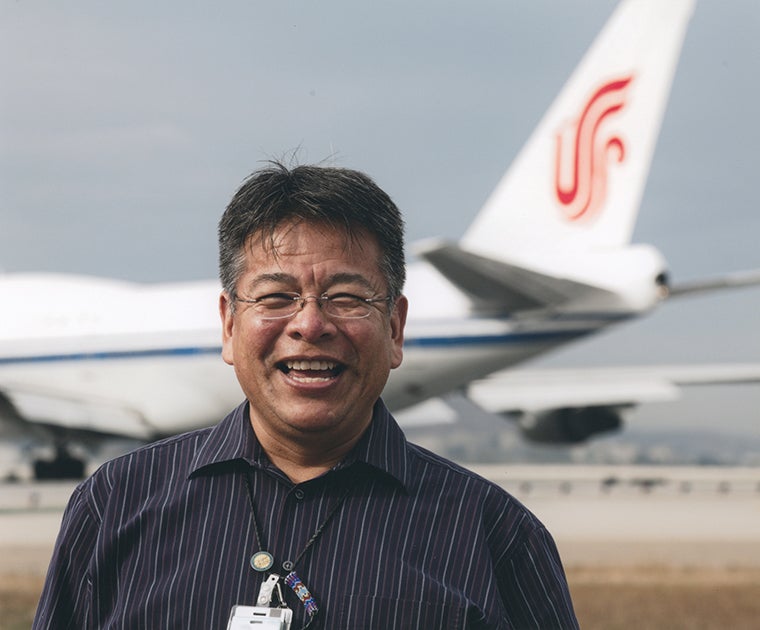 If you had told me when I moved to San Francisco in 1998, "Kenn, you are going to be part of a museum's permanent aviation collection and will love it," I would have thought you were out of your mind. Today, it is a different story, and I admit I love working with the Collections team at SFO Museum. I'm like a little kid in a candy store while handling the three-dimensional airline objects. Working in the SFO Museum aviation collection as Senior Museum Registrar has been a dramatic learning experience.
My hometown is Farmington, New Mexico, near the four corners area where New Mexico, Colorado, Utah, and Arizona meet. Both of my parents are Navajo and were raised on the reservation. My homelife was nontraditional and my upbringing was to respect the Navajo way, especially when we visited my grandfather on the reservation. I started college at the University of New Mexico in Albuquerque. My interest in architecture was short-lived, and this is where I started my journey of majors from special education to art education, to fine arts. I transferred to the University of Colorado Boulder, majoring in Fine Arts. In my last semester, I didn't want to graduate with a Bachelor of Fine Arts (BFA), so I purposely failed a class because I did not know what to pursue after receiving my degree. I could either continue for my Master of Fine Arts (MFA) or flip burgers all day, neither of which I wanted to pursue.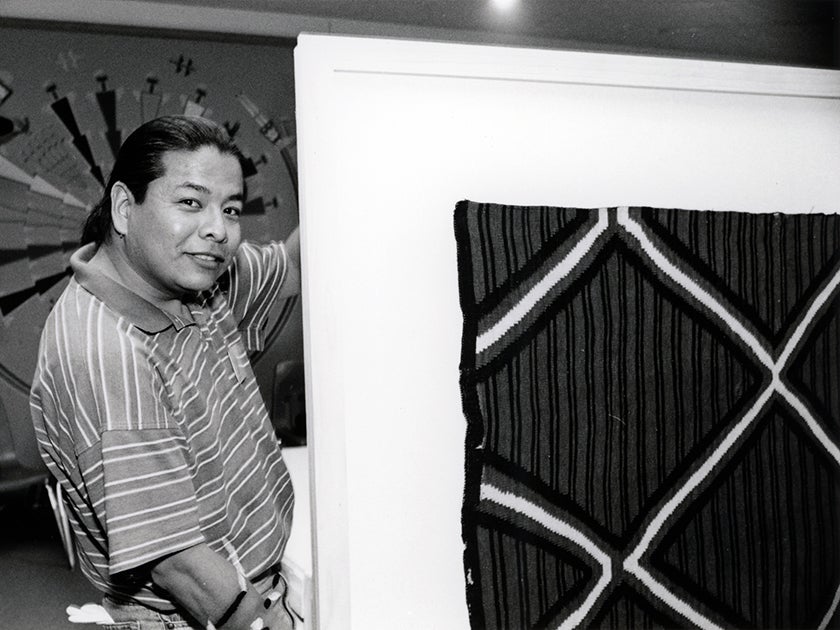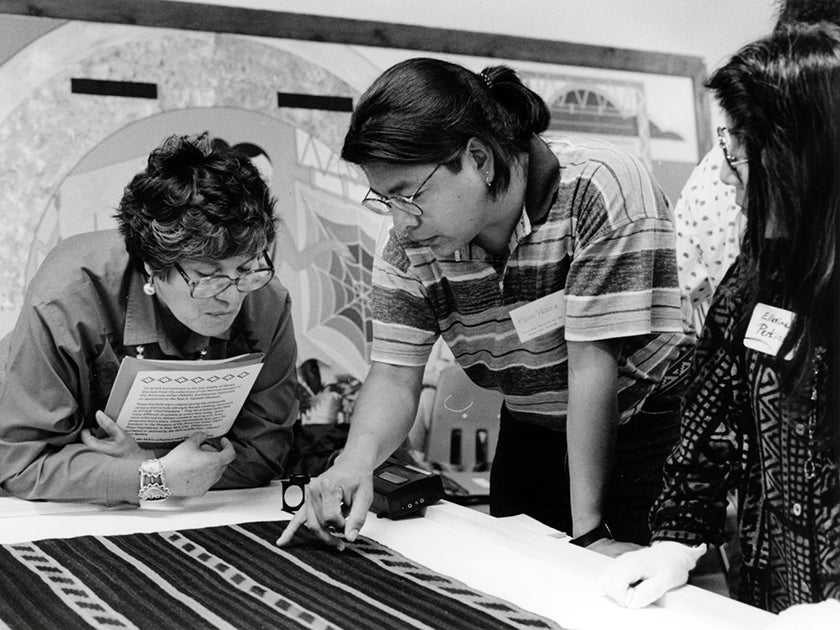 [images]
NMAI's Navajo textile workshop at Navajo Community College, now Diné College, Tsaile, Arizona  1996
At this time, I was advised to apply for an internship at the Smithsonian Institution in Washington, DC. I am grateful that I decided to follow through because my application was accepted. This is where my museum career started. I was fortunate to be positioned in two museums: the National Museum of American History and the National Museum of American Art. I saw different kinds of art objects and met people who took care of the artifacts and fine art in the back rooms of the storage collections. To survive in a city like Washington means you need to network like it's going out of style. Through my network, I was contacted by the National Museum of the American Indian (NMAI) for a receptionist position in the Director's office. Starting at this position at NMAI was essential because I met, over the phone, the different voices of the museum world calling to talk to Mr. Richard West, former director of NMAI.
Later I moved to New York City to continue my career with NMAI. I had been promoted to the Registration Department as the loan officer for the collection. At the time, the collection was housed in the Bronx. (Today, it resides in Suitland, Maryland.) While living in New York, I visited other museum collections throughout the city and was amazed to see their major exhibitions and how their collections were housed.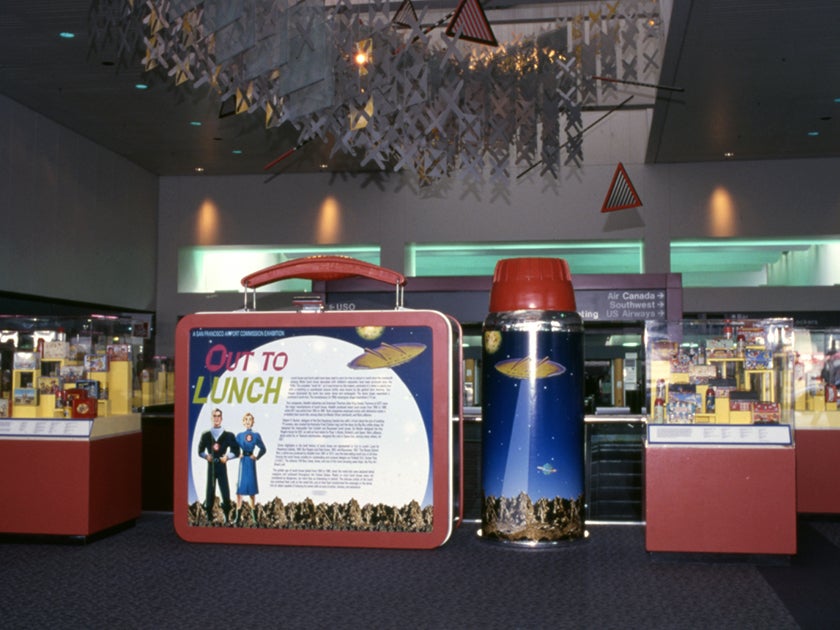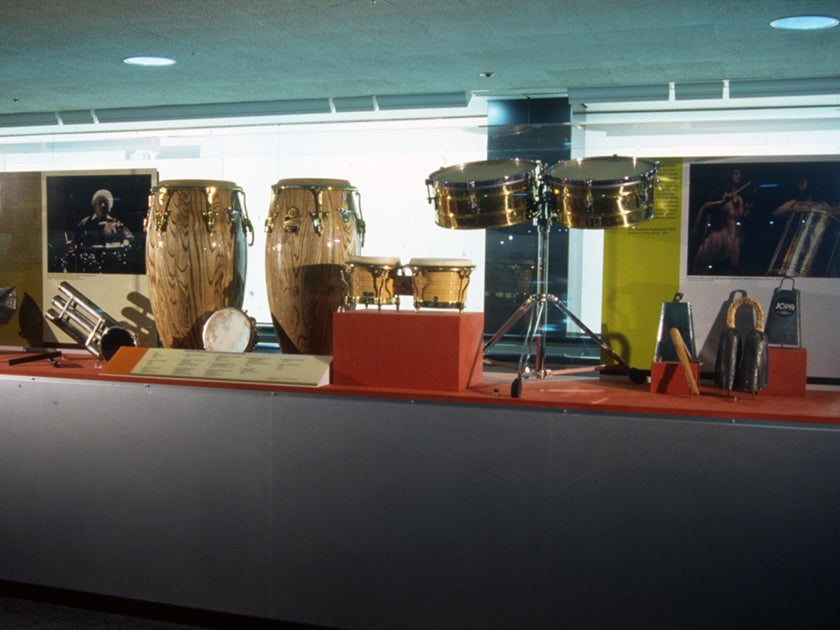 [images]
Temporary exhibitions at San Francisco International Airport (SFO): Out to Lunch (left) and Journey into the Spirit of Percussion  2000
In 1998, I accepted a registration position at the San Francisco Airport Museums, today known as SFO Museum (SFOM). I started on the exhibition side of the Museum, managing loaned objects for different types of exhibitions seen throughout the Airport's terminals. In 2005, I transferred from the exhibition program to become the registrar for the aviation collection. My knowledge of airlines was nominal at the time. I had to quickly learn how to process donations by sorting, categorizing, cataloging, and housing incoming objects, while building a trusted network of professional contacts associated with Pan American World Airways, United Airlines, Trans World Airlines (TWA), Delta Air Lines, Boeing, and more.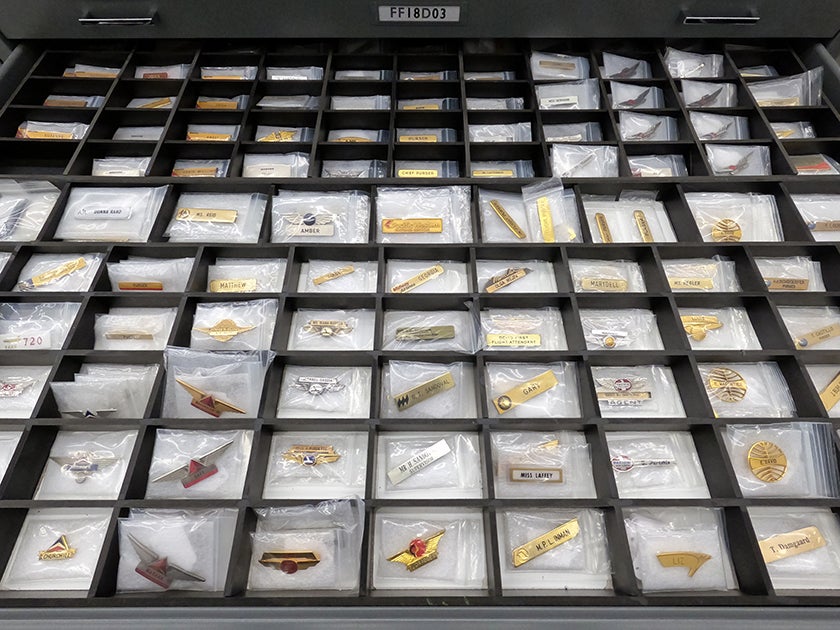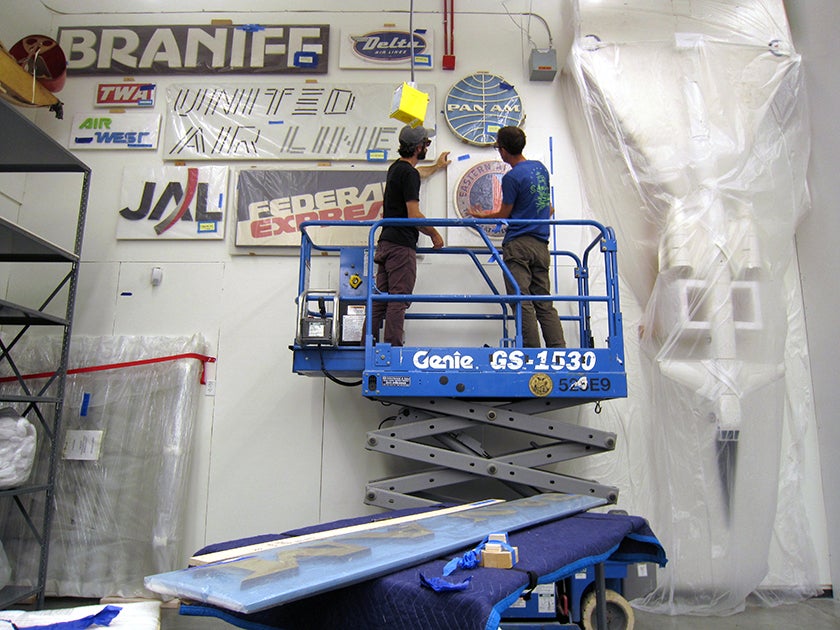 [images]
Our mission: To collect, preserve, interpret, and share the history of commercial aviation
SFOM's collection consists of small airline uniform buttons to oversized aircraft models and everything in between. Over 153,000 objects make up the three areas of SFOM's collection: the aviation library, paper archives, and three-dimensional objects. They are made of many different materials, including paper, wood, metal, leather, ceramic, glass, plastic, and fabric. Imagine being responsible for cataloging every item in the collection's database—from passenger amenity kits to inflight serving utensils—which involves photographing, measuring, and describing each individual object. Each step must be taken carefully, which can be overwhelming if you are alone. Fortunately, I work with a team where each one of us brings our own skills, passion, and dedication to the table.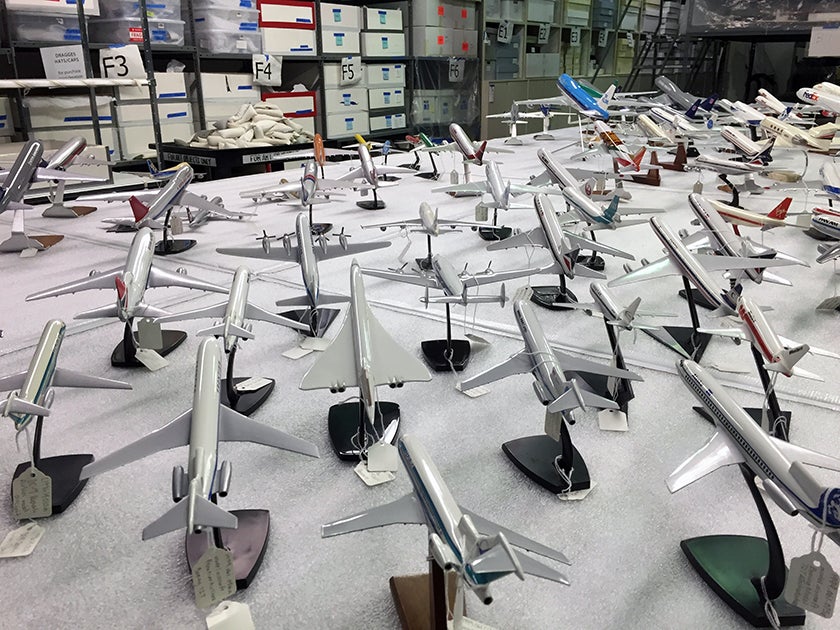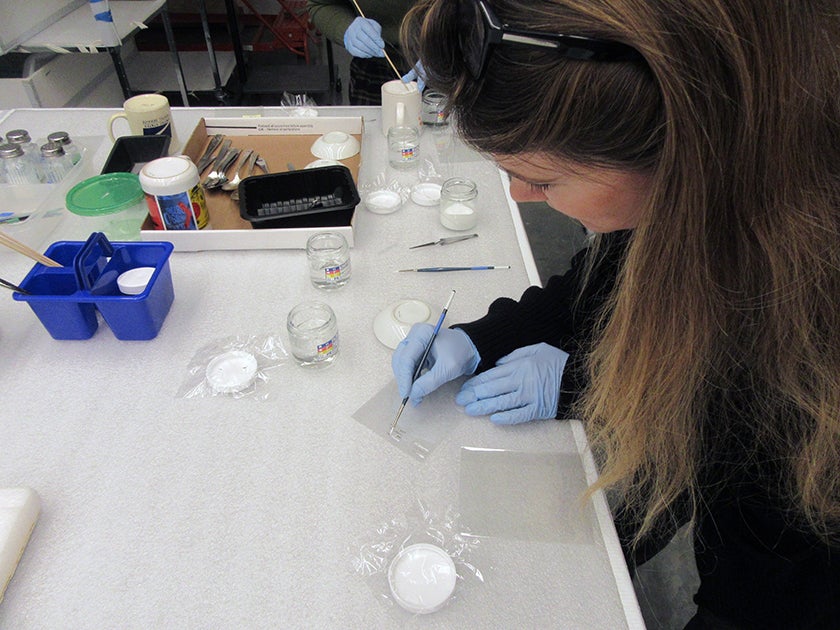 [images]
Numbering collection objects with archival tags and other labeling methods
Over the years, my knowledge of airline logos, uniform pieces, wings, meal service items, and airline bags (to name a few) has grown tremendously. Developing the Museum's aviation exhibitions has provided me with the opportunity to partner with other aviation museums, active and retired airline employees, and collectors, to source objects or to ask for clarification on an object. One of my favorite exhibitions was Fashion in Flight: A History of Airline Uniform Design (2016). As registrar, I oversaw the installation of 70 dressed forms in four galleries illustrating the history of stewardess, air hostess, and flight attendant uniforms, a complex role requiring extensive research and attention to detail. To ensure accurate representation of each uniform ensemble, I consulted with experts in the field to determine the correct placement of scarves and other accessory items across different eras, resulting in one of our most successful and popular exhibitions.


[image]
Installation view (partial) of Fashion in Flight: A History of Airline Uniform Design, International Terminal G  2016
In 2020, with the onset of the COVID-19 pandemic when we could not meet in person, I convened a monthly virtual meeting with my network of aviation museum friends, collectors, and airline employees. Participants joined from different parts of the United States and beyond. I asked each to share an object onscreen as a "show and tell" from their collection, such as, "Bring something from your collection that has an animal." It was amazing to see what everyone presented to the group. At times you would see a few individuals leaning into their screen to get a closer look. The meetings gave us a chance to connect during a challenging time for aviation and museums alike. Later that year, I was invited to speak remotely to the Museum Studies class at the University of Colorado Boulder to share my professional experience with the students. I also attended various SFO employee livestream events.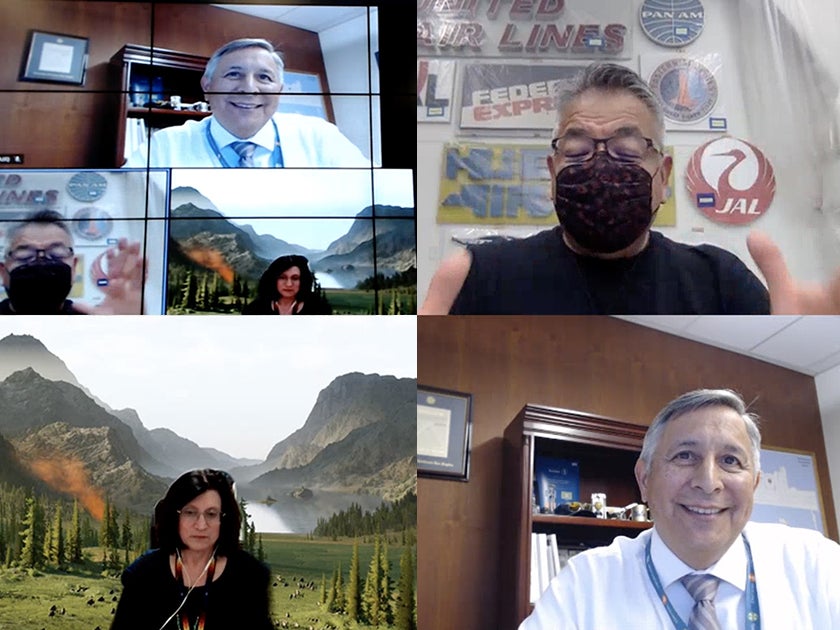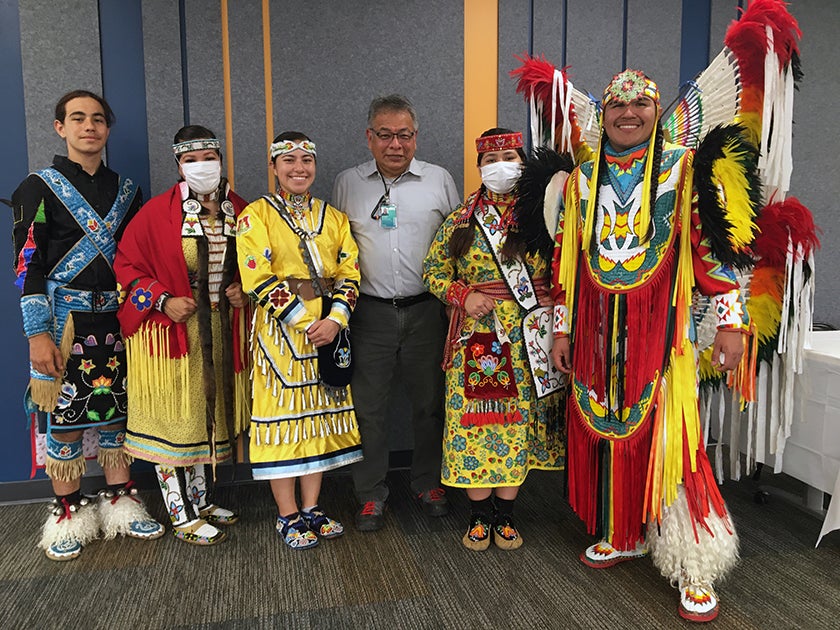 [images]
Participating in SFO noontime forum in observance of Native American Heritage Month  November 29, 2021 | With Native dancers in regalia at colleague's retirement celebration  2022
We continue to receive donation offers on a regular basis. I remember answering a call routed from the front desk:
"Kenn, there is a visitor here with a Pan Am coat who is offering to donate it to the collection."
I reply, "What color is it? Navy blue or powder blue?"
"Powder blue."
"Look at the label. Does it say 'Don Loper' or 'Don Loper of Hollywood'? And what is the condition?"
"'Don Loper of Hollywood,' and it is in good condition."
"I will be right there. We only have one."
Thanks to my familiarity with SFOM's collection focus and the aviation knowledge I have gained over the years, I am able to answer the question quickly and facilitate the donation of this vintage uniform piece to the collection.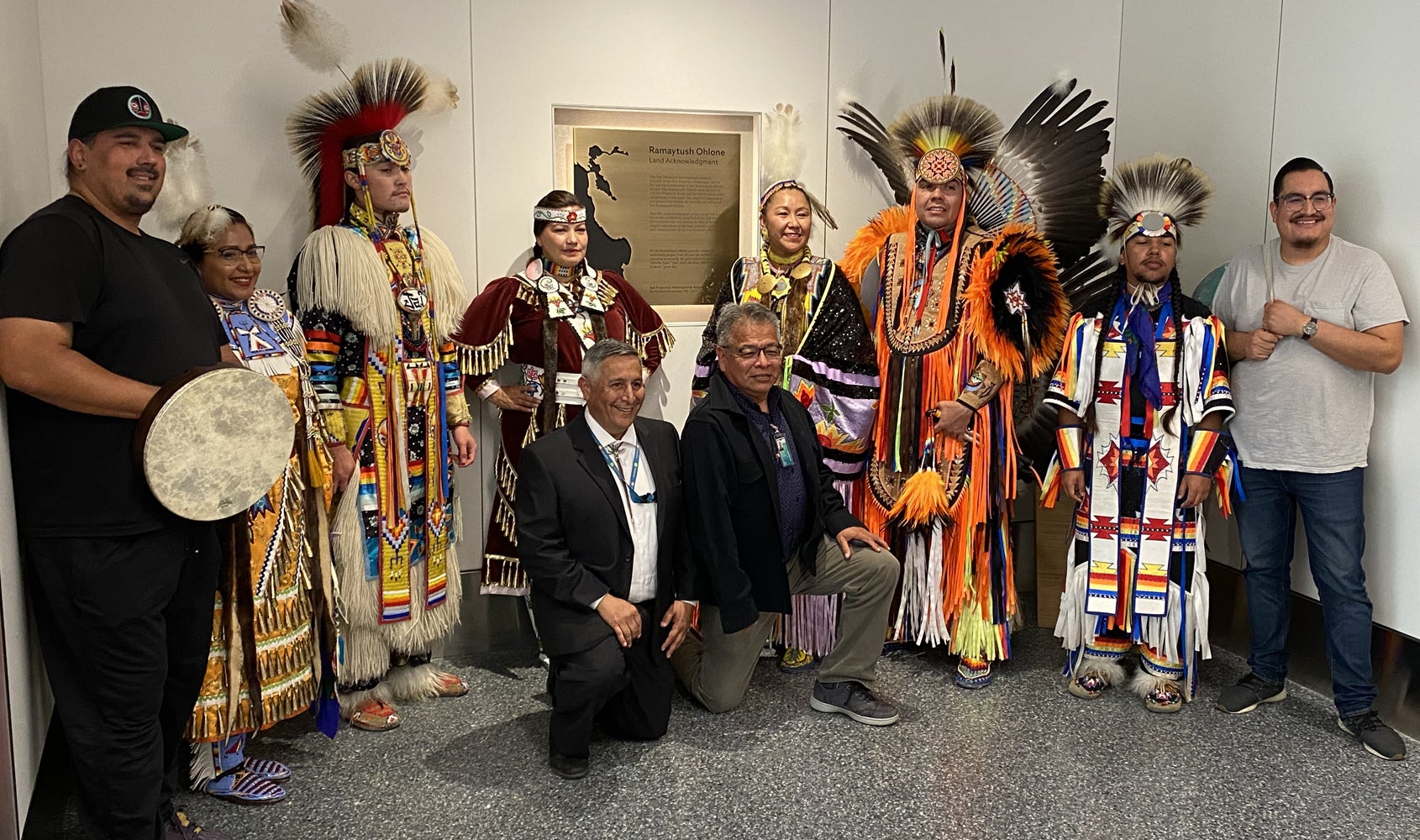 [image]
Ramaytush Ohlone Land Acknowledgment Dedication Ceremony at SFO  November 16, 2022
With twenty-five years of experience at SFO Museum, I see my work as essential to preserving the story of commercial aviation. Our staff sets standards of organization and excellence that I am proud of, not only for the work I do, but to lay the groundwork for future generations of museum professionals. I have to say that if it were not for the team I work with, this would not be fun. I sometimes receive the comment, "You have a fun job." I smile and think to myself, "You know, I do!"
Kenn Yazzie
Senior Museum Registrar
SFO Museum