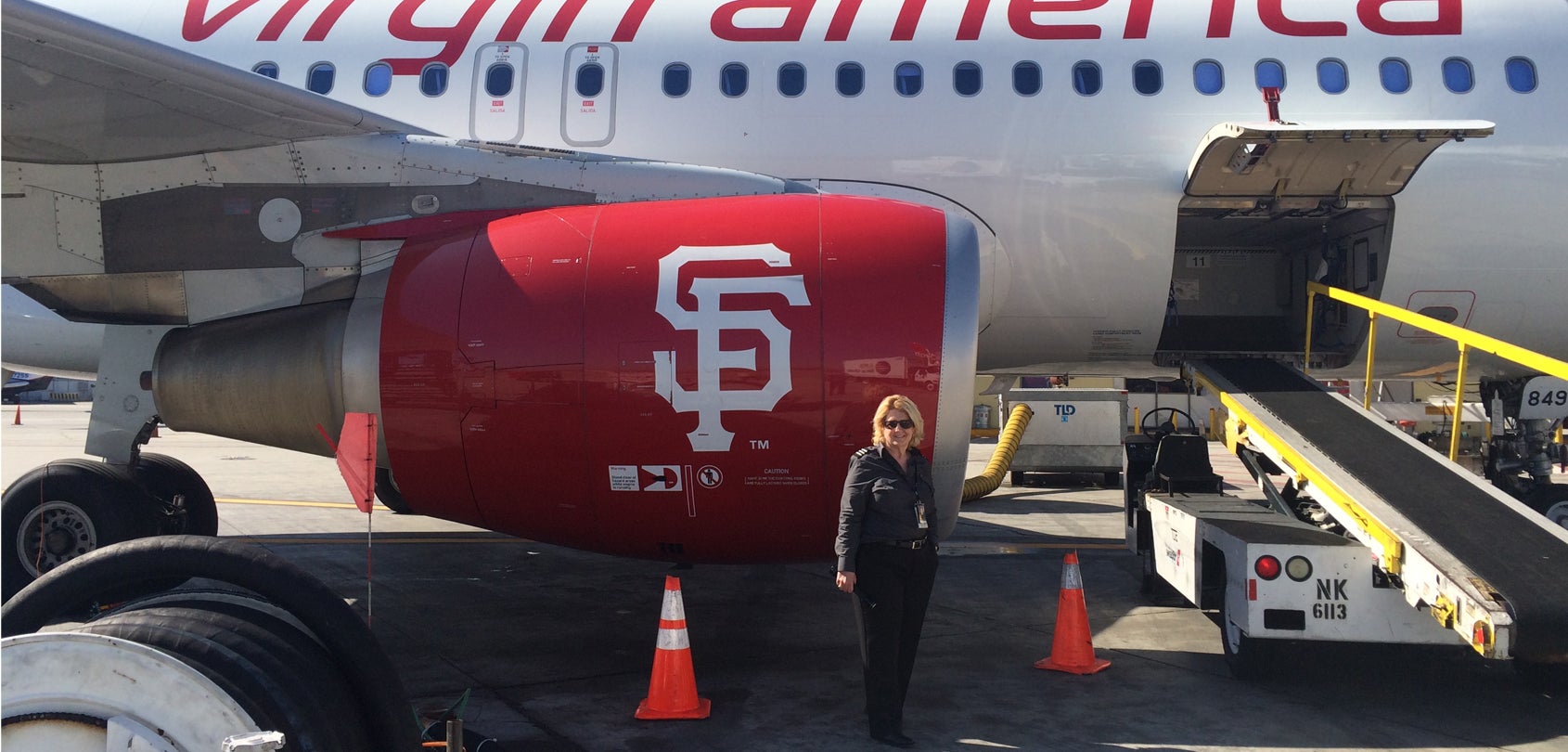 City of Champions: Celebrating the NFL, MLB, and NBA at SFO Museum
[image above]
Virgin America first officer Karen McNally standing in front of Airbus A320-214 N849VA Fly Bye Baby, Los Angeles International Airport (LAX)  2016
SFO Museum, Gift of Captain Karen Lee McNally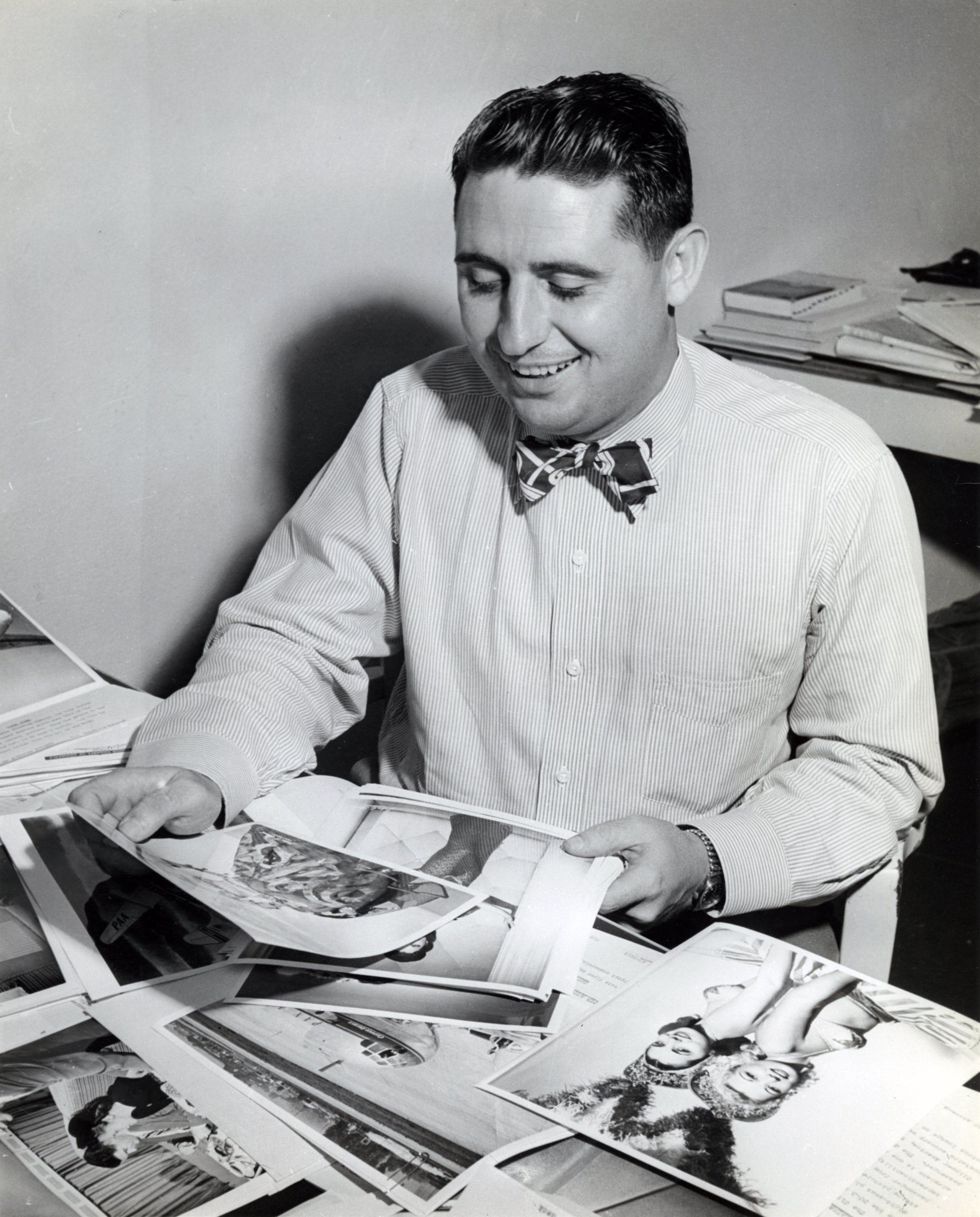 As head of public relations in the sales office of Pan American World Airways in San Francisco, George Pottorff saw a competitive advantage working for the "World's Most Experienced Airline." The diehard football fan knew when the right moves on the field could lead to big scoring opportunities on game day. In June of 1954, Pottorff returned from a photo op with boxer Carl "Bobo" Olson, the world middleweight champion who departed from San Francisco Airport via Clipper for a tune-up fight in Honolulu, when he landed his next assignment.
Red and gold
Later that summer, Pan American would charter the San Francisco 49ers from Tucson—following an NFL exhibition game versus the Pittsburgh Steelers at Arizona Stadium—back to SFO with the team's latest top-tier acquisition, a mule named Clementine. The four-legged mascot was scheduled to stop briefly for a media appearance at SFO's brand-new Terminal Building before heading to Kezar Stadium to cheer on the home team at kickoff.
Pan American marked the occasion with this likeness of the 49ers' newest member planting a rally flag on a Boeing 377 Stratocruiser for the return flight home: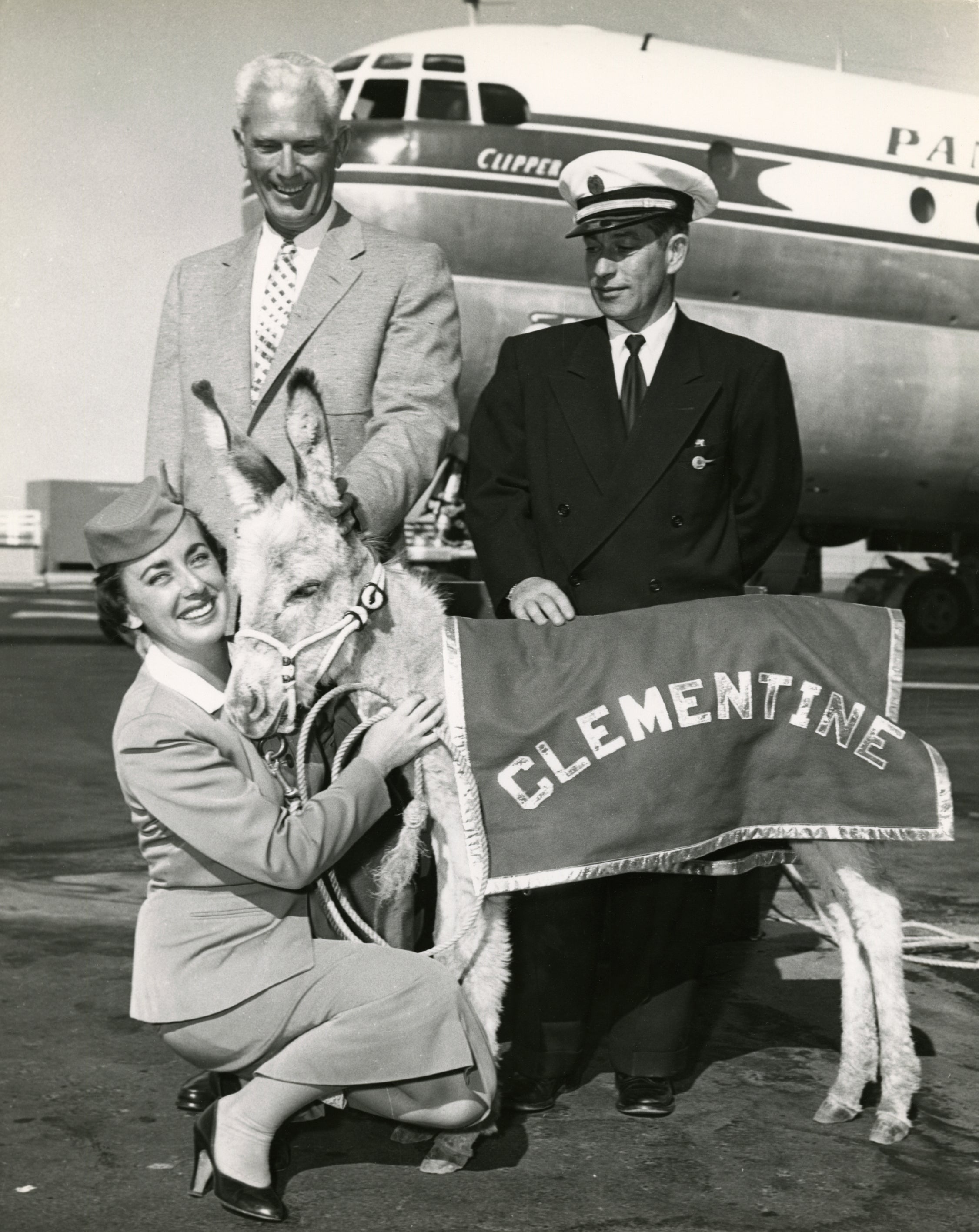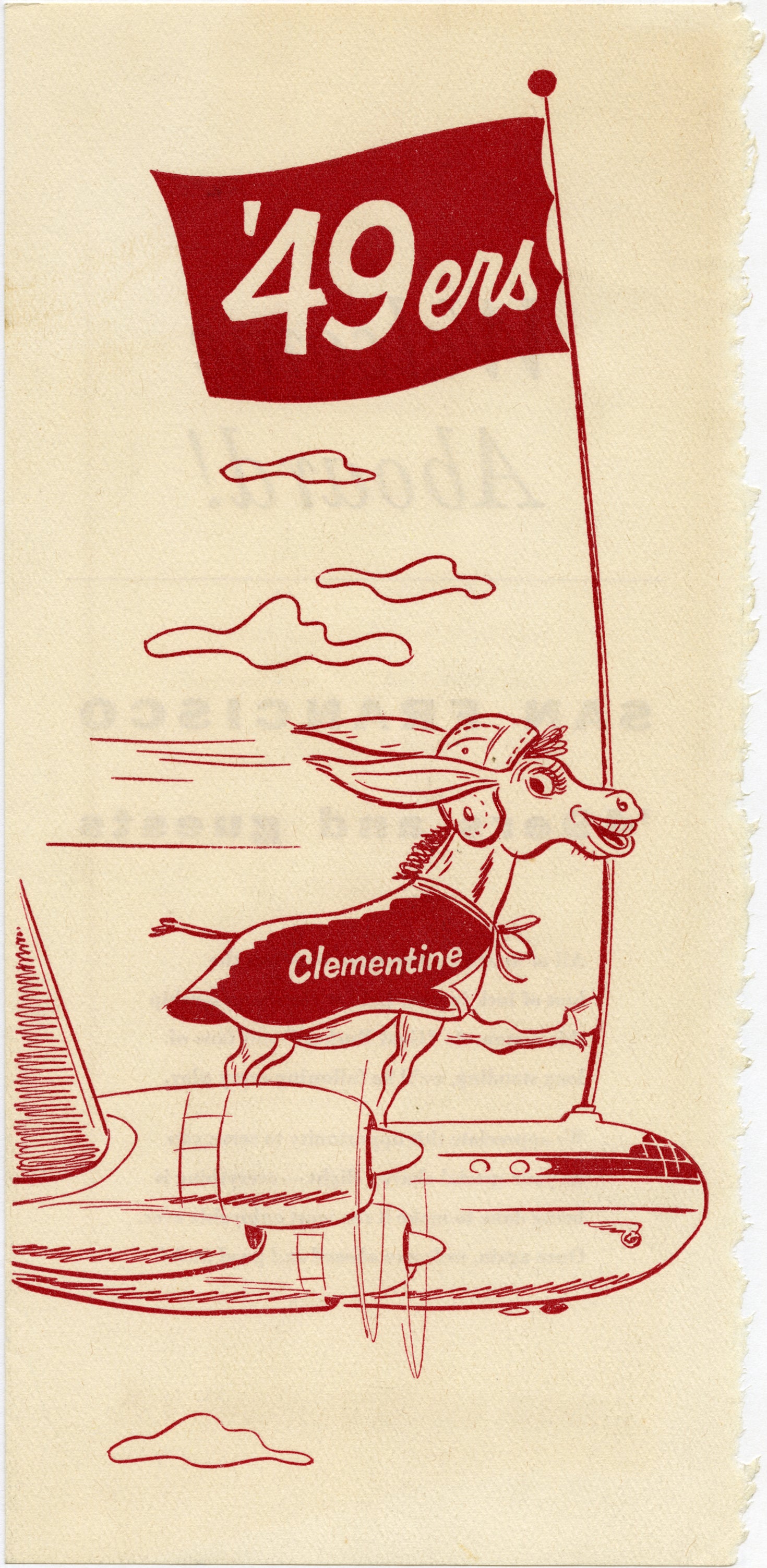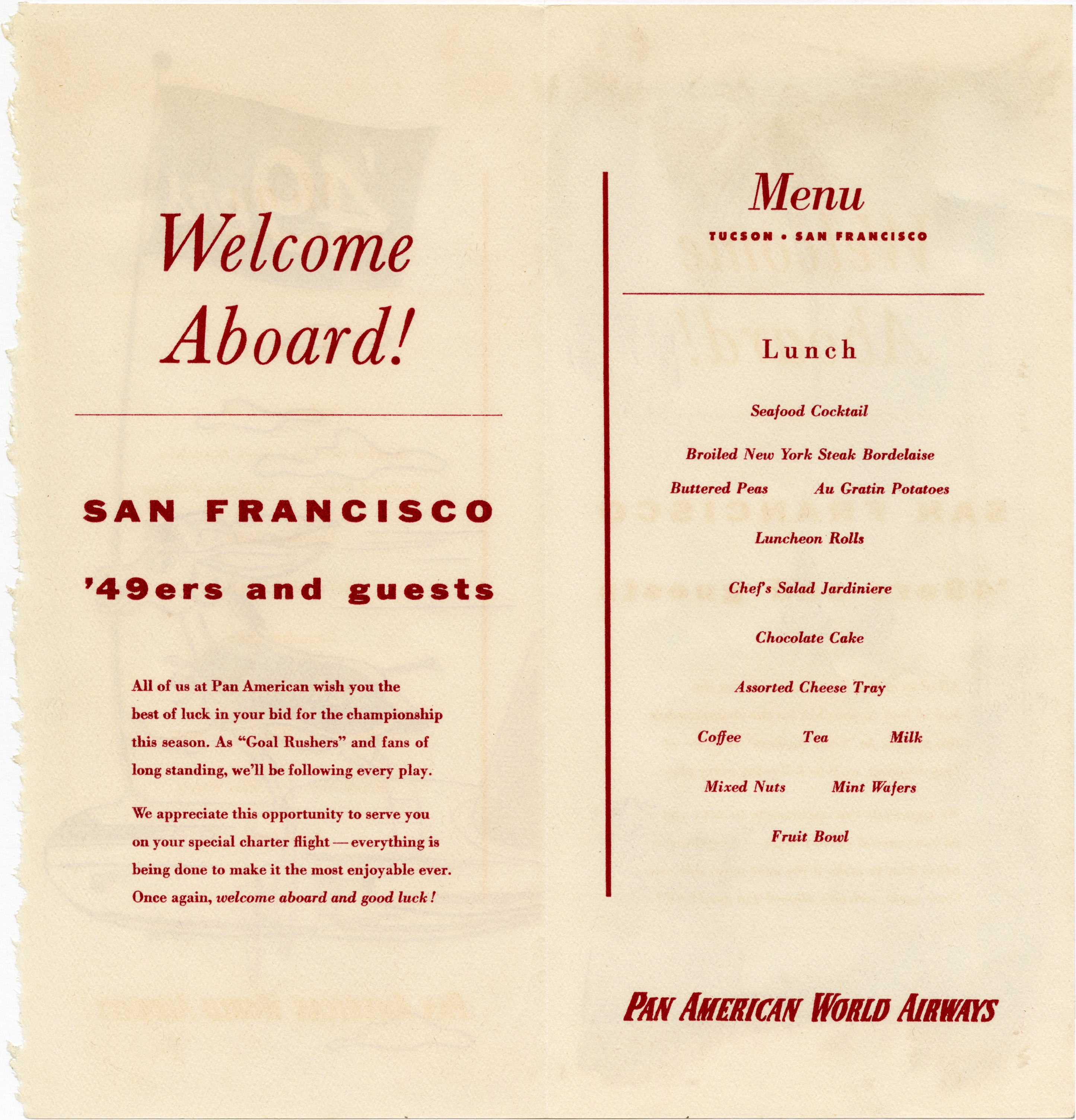 [images]
Clementine steps onto the airfield with Pan American World Airways stewardess Janece Johnson, captain Guy McCafferty, and San Francisco 49ers head coach Buck Shaw in front of Boeing 377 Stratocruiser N1023V Clipper Golden Gate, San Francisco International Airport (SFO)  September 1954; SFO Museum, Gift of the Pottorff Family in memory of George B. Pottorff, Jr. | Pan American World Airways charter flight menu, Tucson to San Francisco  September 1954; SFO Museum, Gift of the Pottorff Family in memory of George B. Pottorff, Jr.
[image]
San Francisco 49ers posing in T formation in front of Pan American World Airways Boeing 377 Stratocruiser N1023V Clipper Golden Gate, Tucson Airport (TUS); first row, left to right: wide receiver Billy Wilson (84), right tackle Bob St. Clair (79), right guard Bruno Banducci (63), center Bill Johnson (53), left guard Nick Feher (67), left tackle Leo Nomellini (73), wide receiver Gordy Soltau (82); second row, left to right: right halfback Hugh McElhenny (39), quarterback Y. A. Tittle (14), fullback Joe Perry (34), left halfback John Henry Johnson (35)  September 1954; SFO Museum, Gift of the Pottorff Family in memory of George B. Pottorff, Jr.
Pictured standing in the second row is the offensive unit known as the Million Dollar Backfield, comprised of quarterback Y. A. Tittle, fullback Joe "The Jet" Perry, and halfbacks Hugh McElhenny and rookie John Henry Johnson, who combined for a record 2,498 rushing yards and 28 rushing touchdowns that season. The group is still the only full-house backfield with all four members inducted into the Pro Football Hall of Fame.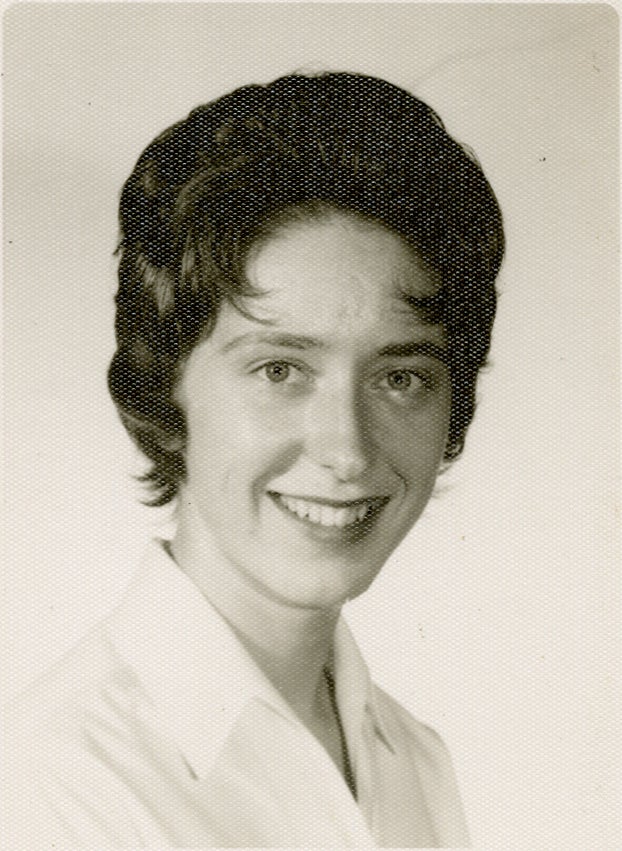 Orange and black
Eleven days after the Niners' exhibition game in Tucson, MLB's New York Giants seized the National League pennant, going on to sweep the favored Cleveland Indians in the 1954 World Series. During Game 1 of that matchup, Willie Mays made his legendary over-the-shoulder catch to prevent runners from advancing in the eighth inning of a tied game on the way to an extra-inning victory by the Giants. Four years later, the team relocated to San Francisco, first to Seals Stadium at 16th and Bryant streets—former home of the Seals and Mission Reds of the Pacific Coast League—then on to Candlestick Park for opening day in 1960.
In October of that year, Sandra Herrmann embarked on a four-decade career with Capital Airlines and United Airlines, serving in two Military Airlift Command (MAC) campaigns, videotaping her work in the galley of a Boeing 747, and assembling a scrapbook album of flight attendant memorabilia unrivaled even among SFO Museum's comprehensive holdings of airline career documents. Containing the autographs of notable names in politics, sports, and entertainment, the collection immortalizes Herrmann's service to her countless passengers, famous and ordinary alike.
Many of the players on this UAL flight were teammates the previous year, in 1962, when Tony Bennett left his heart in San Francisco and the Giants clinched their first National League pennant since moving west. Three of them—Mays, McCovey, and Cepeda—are now enshrined in Cooperstown. A fourth future Hall of Famer on the team, pitcher Juan Marichal, is curiously absent here.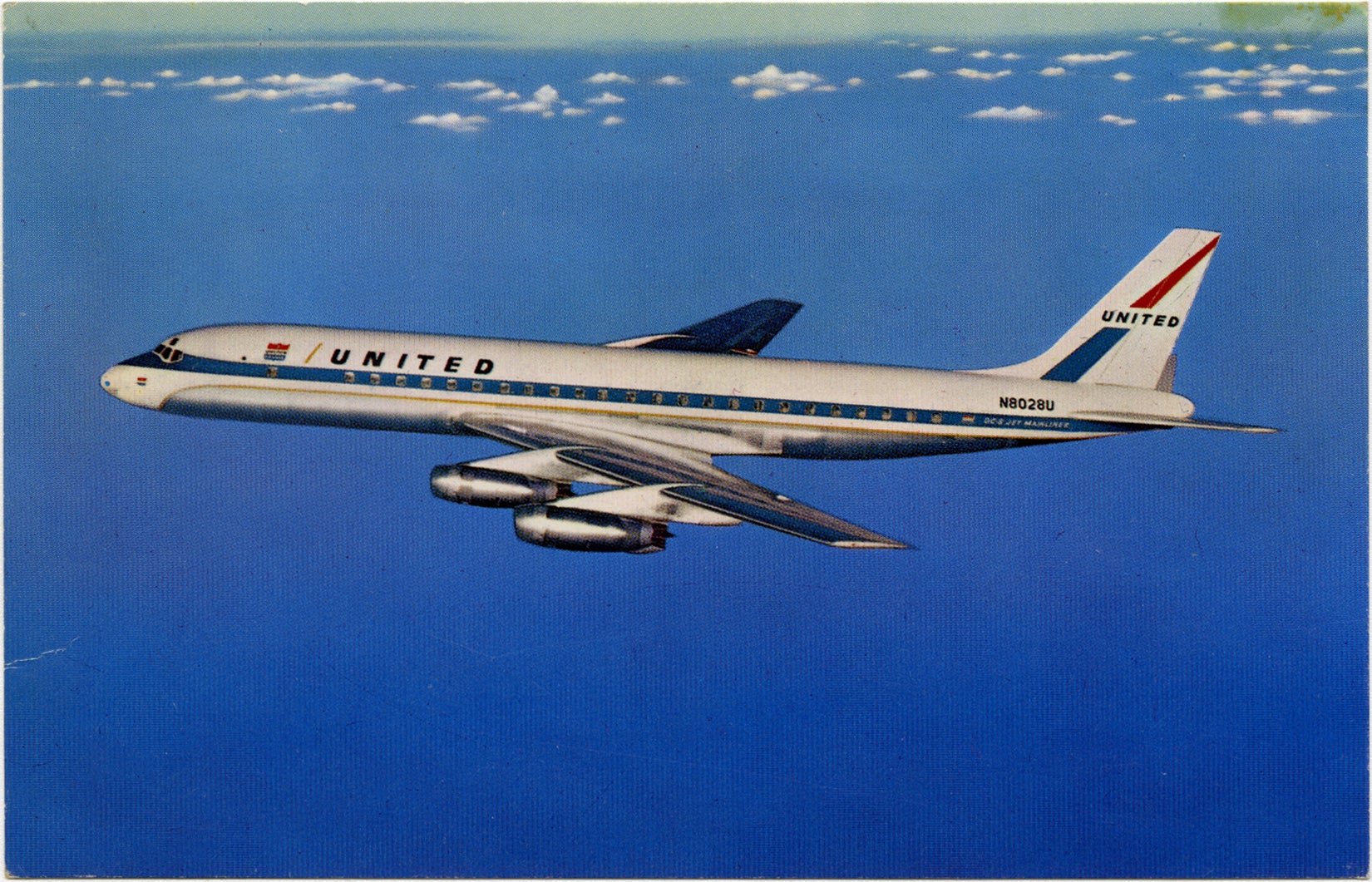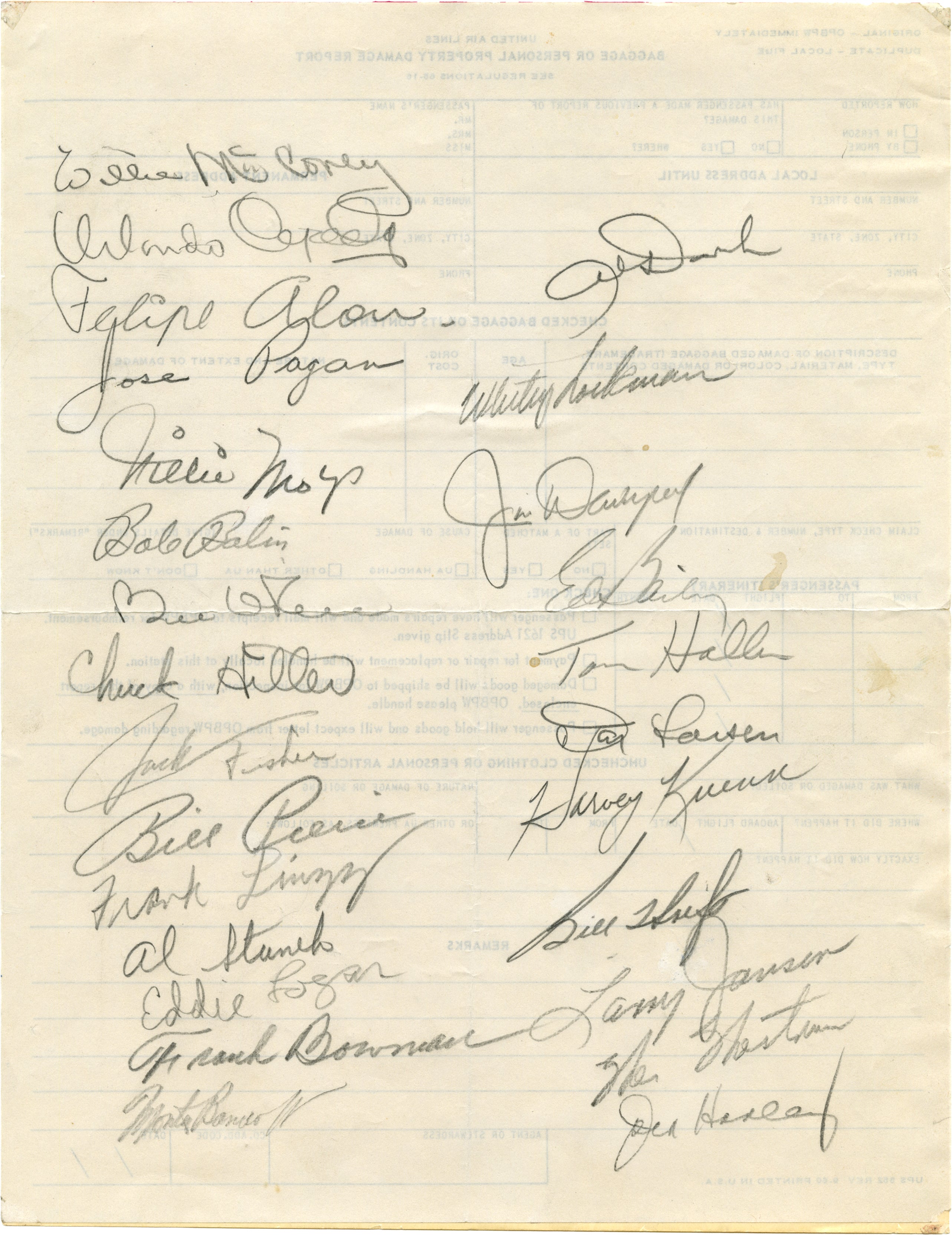 [images]
United Air Lines Douglas DC-8 Jet Mainliner postcard  1963; SFO Museum, Gift of Sandra Herrmann | Reverse side of United Air Lines baggage damage report form autographed by San Francisco Giants team members; left column: left fielder Willie McCovey (44), first baseman Orlando Cepeda (30), right fielder Felipe Alou (23), shortstop José Pagán (15), center fielder Willie Mays (24), pitcher Bobby Bolin (42), pitcher Billy O'Dell (31), second baseman Chuck Hiller (26), pitcher Jack Fisher (22), pitcher Billy Pierce (19), pitcher Frank Linzy (36), pitcher Al Stanek (48), Eddie Logan, trainer Frank Bowman, [...]; right column: manager Alvin Dark (1), third base coach Whitey Lockman (3), third baseman Jim Davenport (12), catcher Ed Bailey (6), catcher Tom Haller (5), pitcher Don Larsen (18), third baseman Harvey Kuenn (7), pitcher Billy Hoeft (20), pitching coach Larry Jansen (46), first base coach Wes Westrum (9), [...]  1963; SFO Museum, Gift of Sandra Herrmann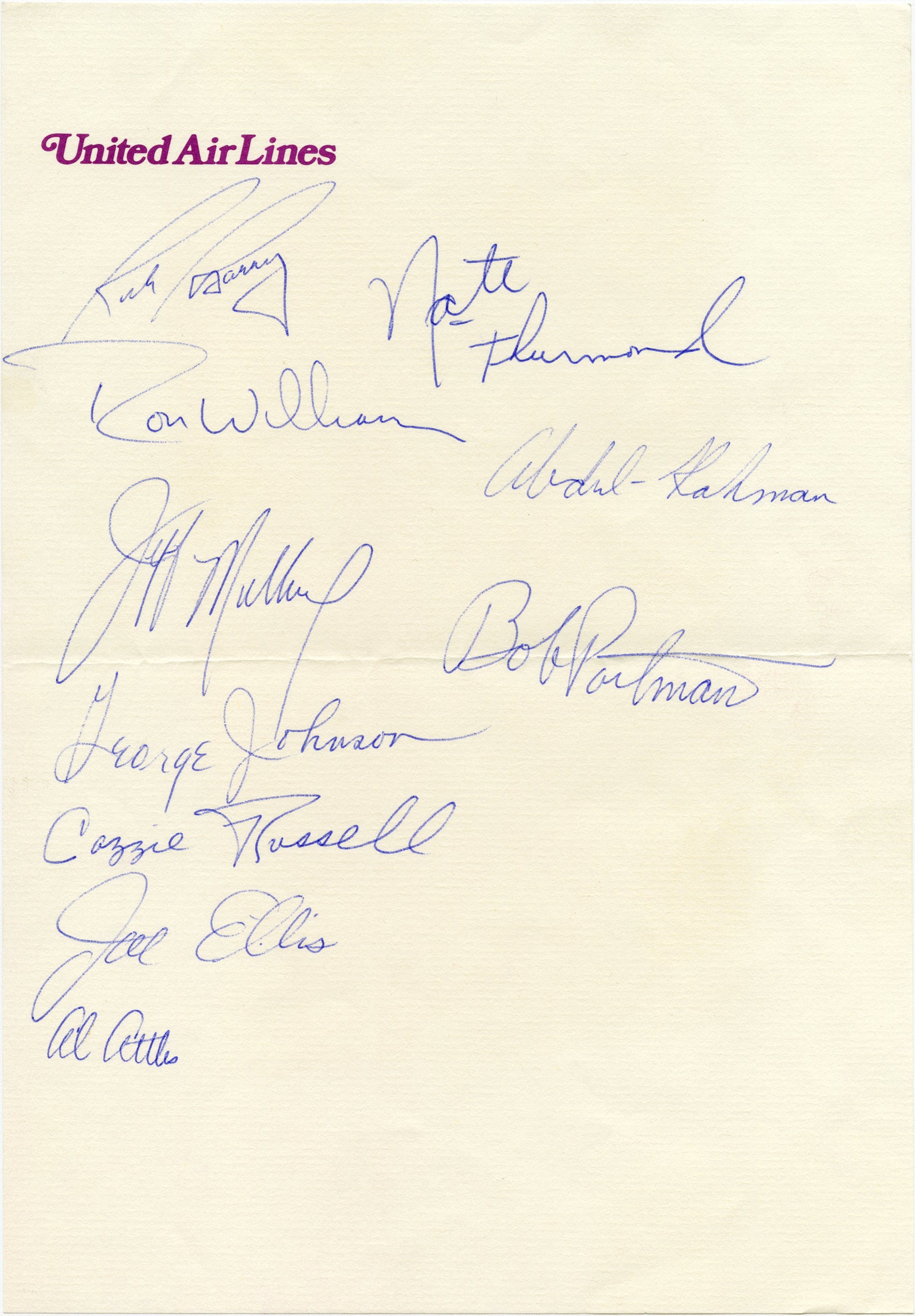 Blue and gold
Also in 1962, the Philadelphia Warriors moved to the Bay Area, scheduling home games at the Cow Palace in Daly City and nearby venues in San Francisco before competing exclusively at Oakland Arena as the Golden State Warriors. First-round draft pick Rick Barry (1965) leads the roster here with seven-time NBA All-Star Nate Thurmond on this airline stationery dating to the 1972-73 season.
The lineup includes Mahdi Abdul-Rahman and Jeff Mullins, gold medalists at the 1964 Summer Olympics in Tokyo, and Warriors head coach and former point guard Al Attles, who propelled his underdog team to the 1975 NBA Finals, pulling off a stunning upset over the Washington Bullets to become the second Black American coach after Bill Russell to win an NBA title.
[image left]
United Air Lines stationery paper autographed by Golden State Warriors team members; left column: small forward Rick Barry (24), point guard Ron Williams (21), shooting guard Jeff Mullins (23), center George Johnson (52), small forward Cazzie Russell (32), power forward Joe Ellis (31), head coach Al Attles; right column: center Nate Thurmond (42), point guard Mahdi Abdul-Rahman (44), small forward Bob Portman (33)  1972/1973; SFO Museum, Gift of Sandra Herrmann
'Goal rushing' with flying colors
The 49ers defeated the Steelers 37-14 in that exhibition game on September 15, 1954, finishing the season third in the NFL Western Conference with a 7-4-1 record. The organization would become the first NFL team to earn five championships, prevailing over the San Diego Chargers in Super Bowl XXIX in 1995. The Giants have raised the Commissioner's Trophy three times in San Francisco—2010, 2012, and 2014—while the Dubs capped off their 1975 NBA title with franchise victories in 2015, 2017, and 2018. Through triumph and adversity, the storied tradition of professional sports in the San Francisco Bay Area continues to inspire the faithful, taking the thrill of play-by-play action on the field and the court to the skies.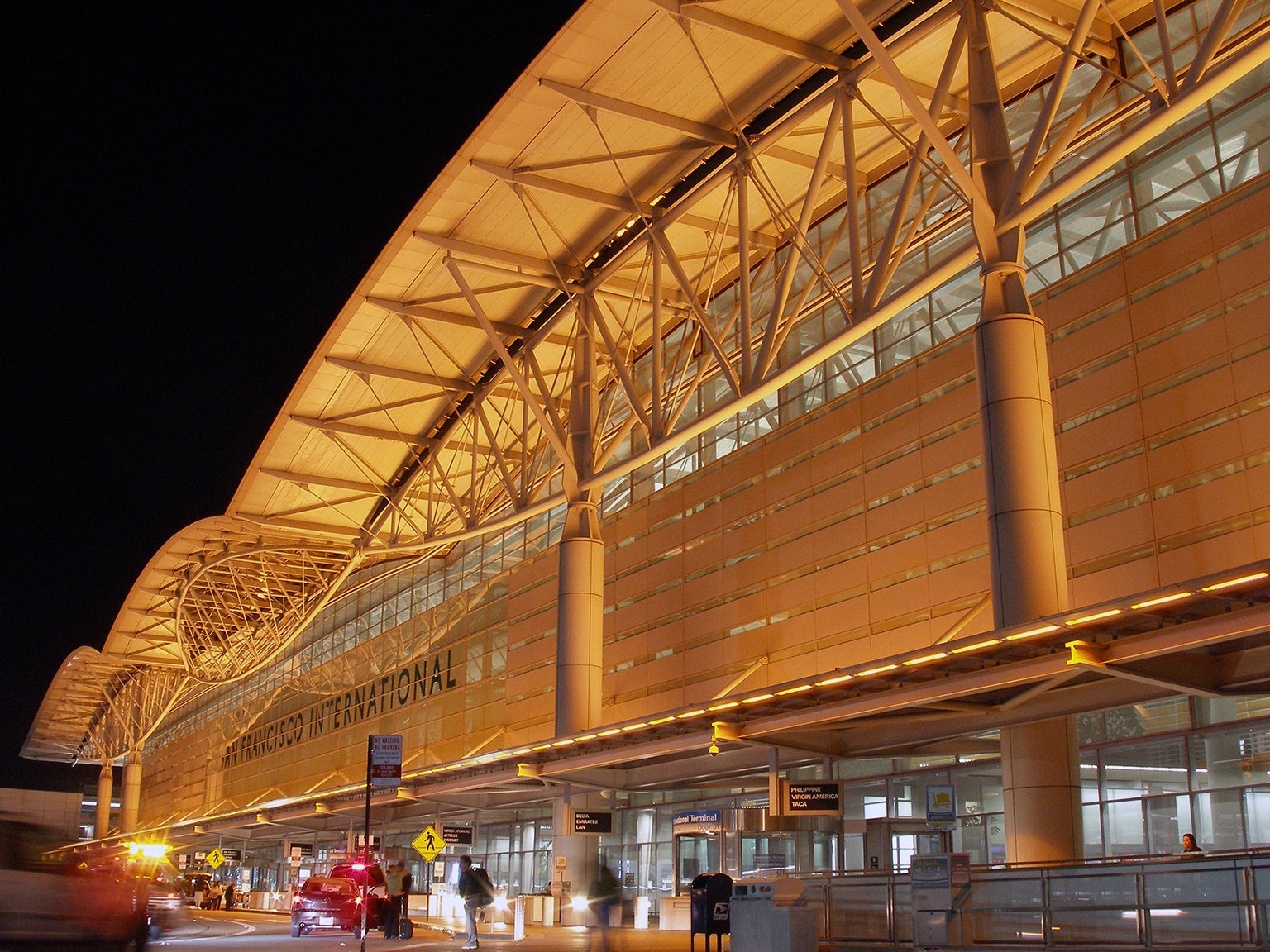 [image]
SFO awash in the orange and black during Game 4 of the 2010 World Series between the Texas Rangers and San Francisco Giants  October 31, 2010; SFO Museum
Tomohiko Aono
Registrar
SFO Museum
In conjunction with the 75th anniversary of the San Francisco 49ers in 2021, SFO Museum presented the exhibition, From Kezar to Candlestick: The Photography of Frank Rippon, in Terminal 3 from September 30, 2021 through January 9, 2022.