Apr 01, 2009 - Sep 01, 2009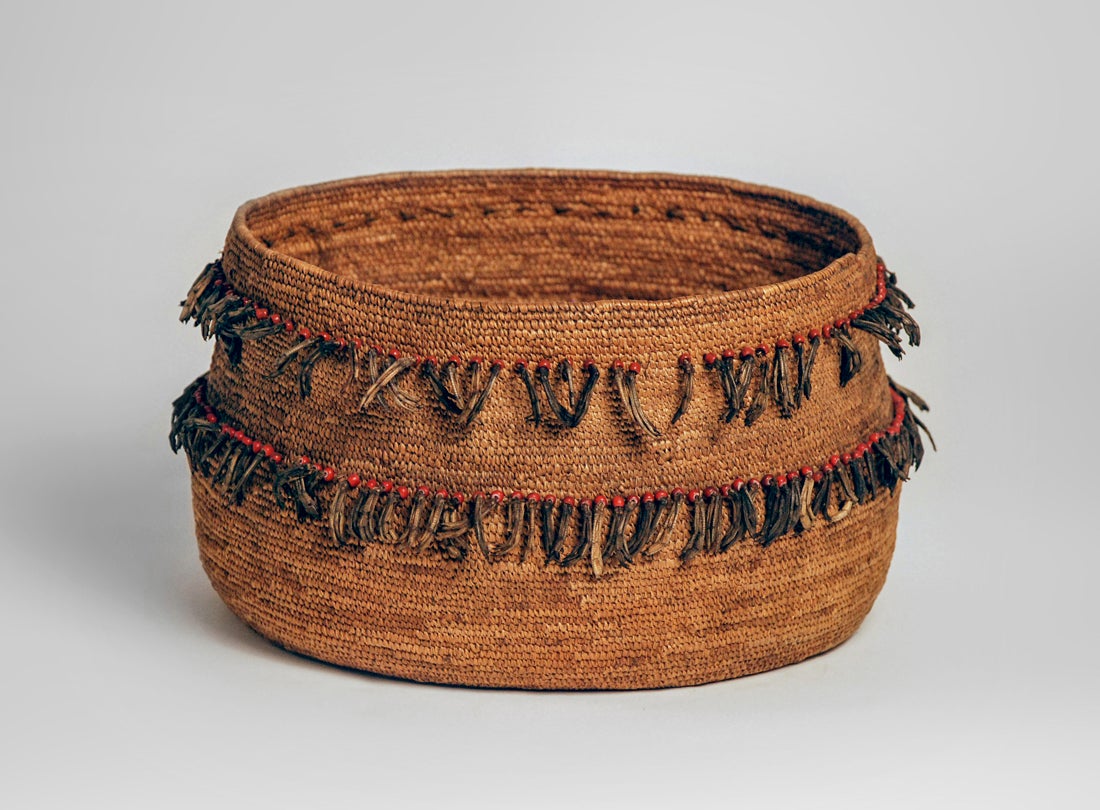 1 of 12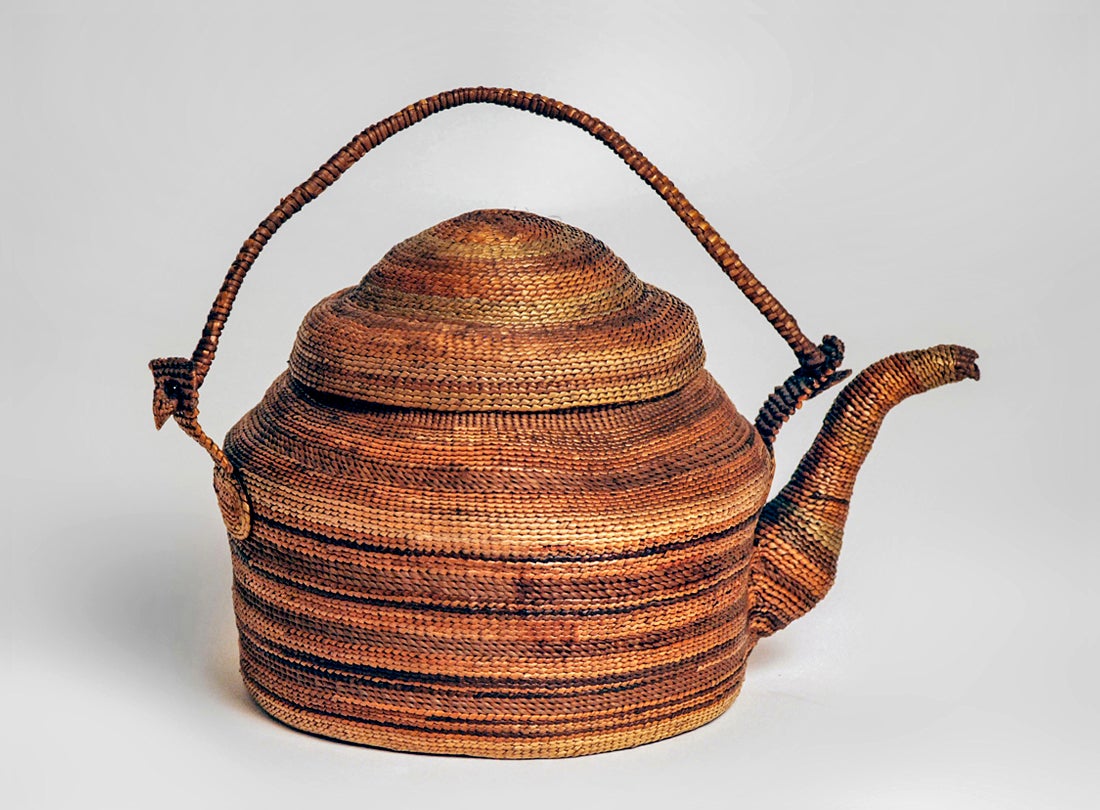 2 of 12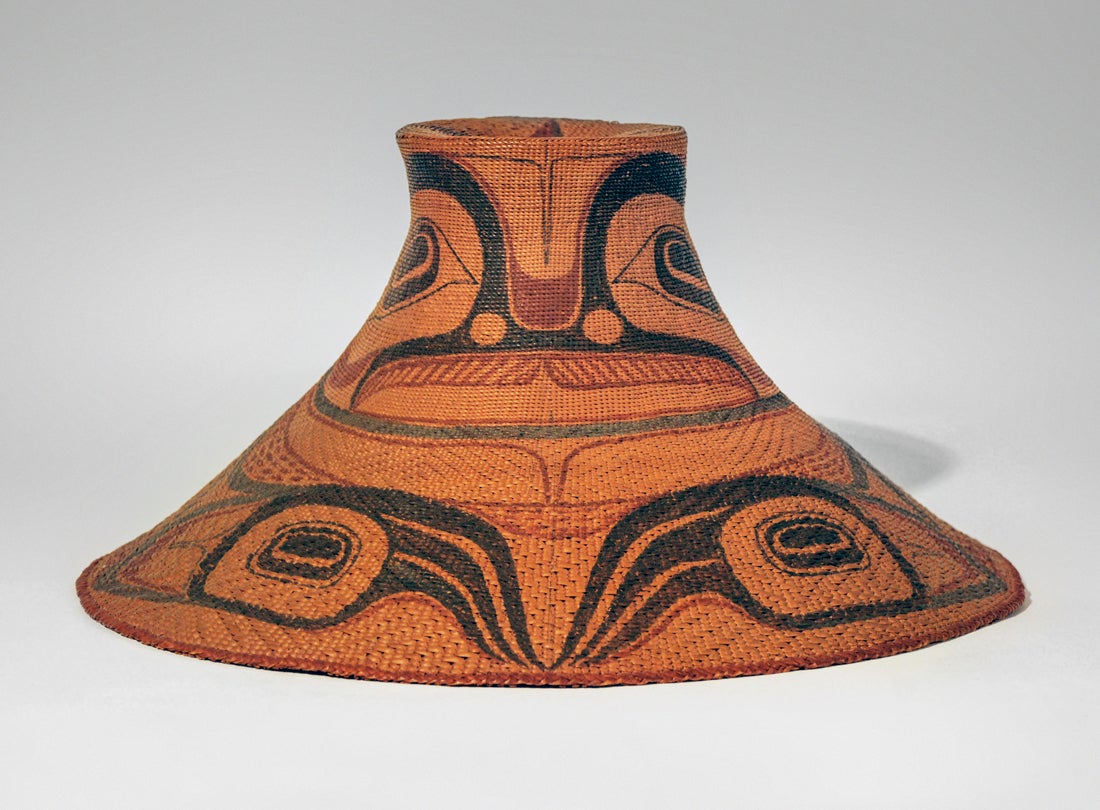 3 of 12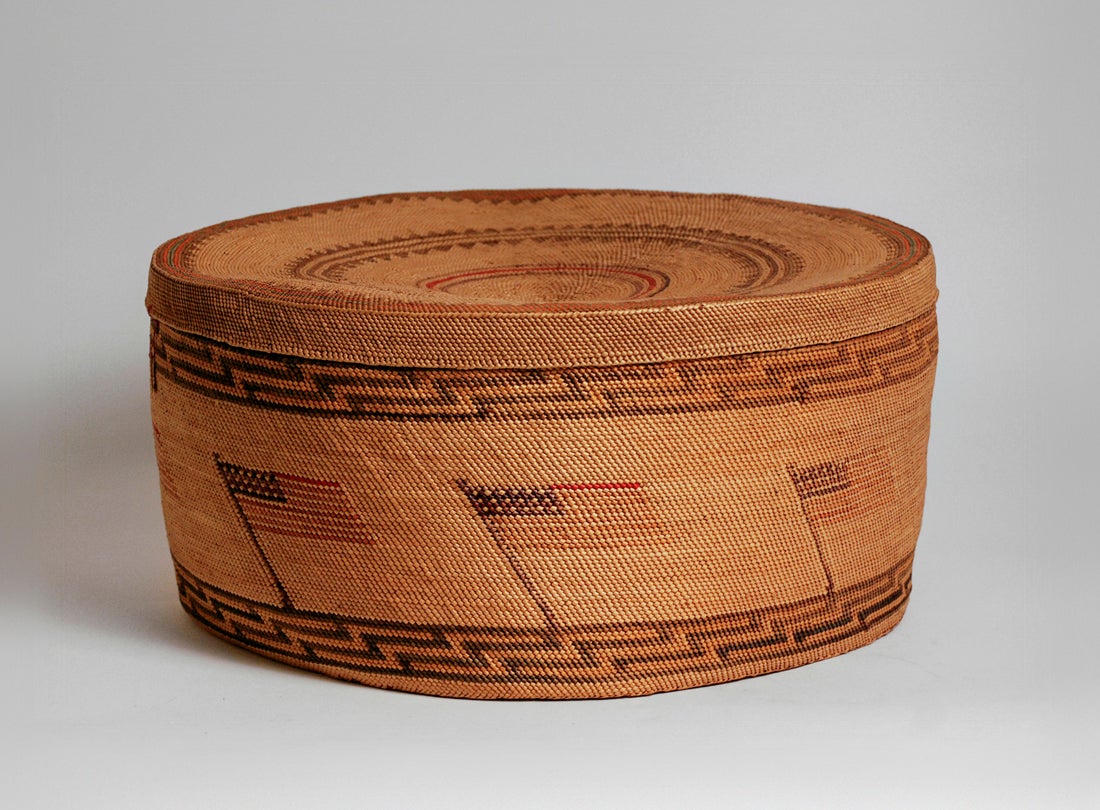 4 of 12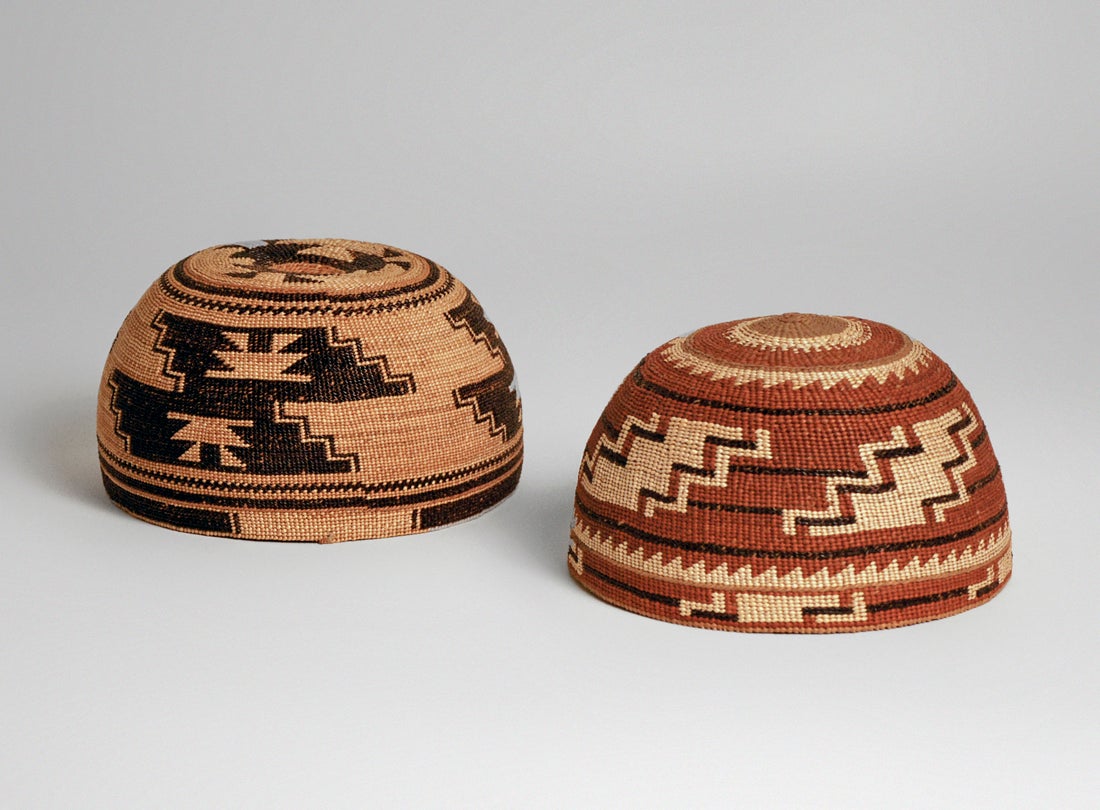 5 of 12
6 of 12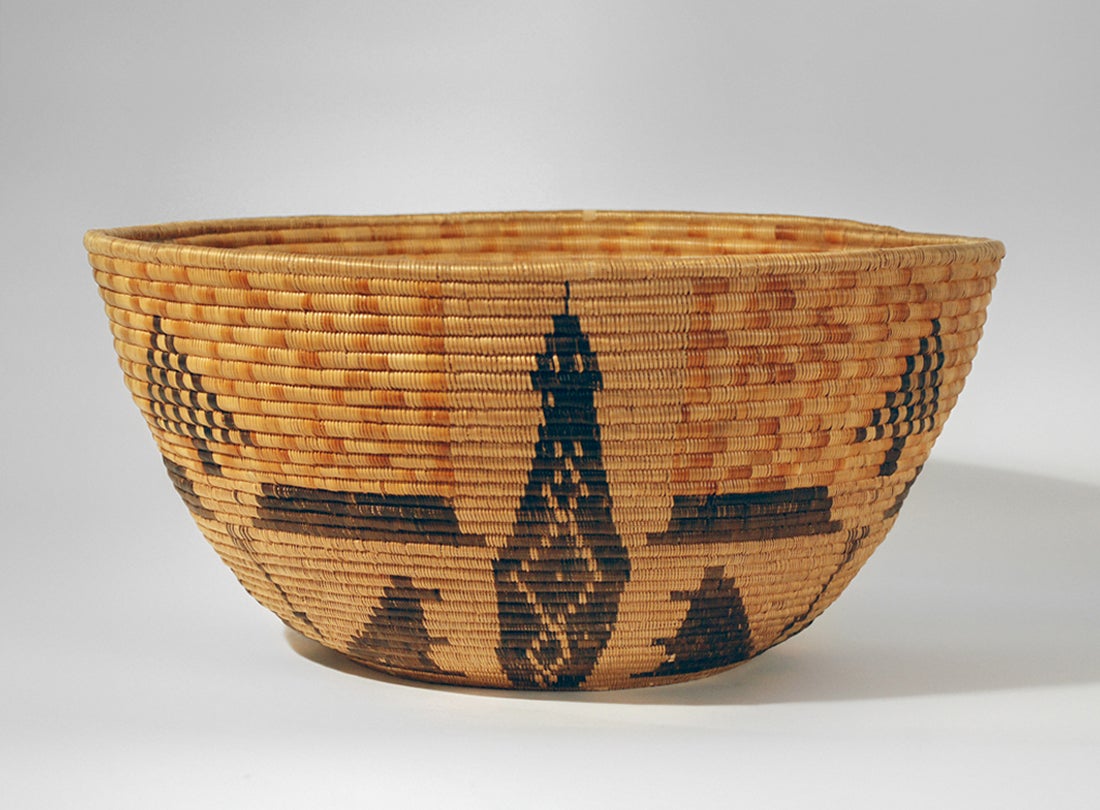 7 of 12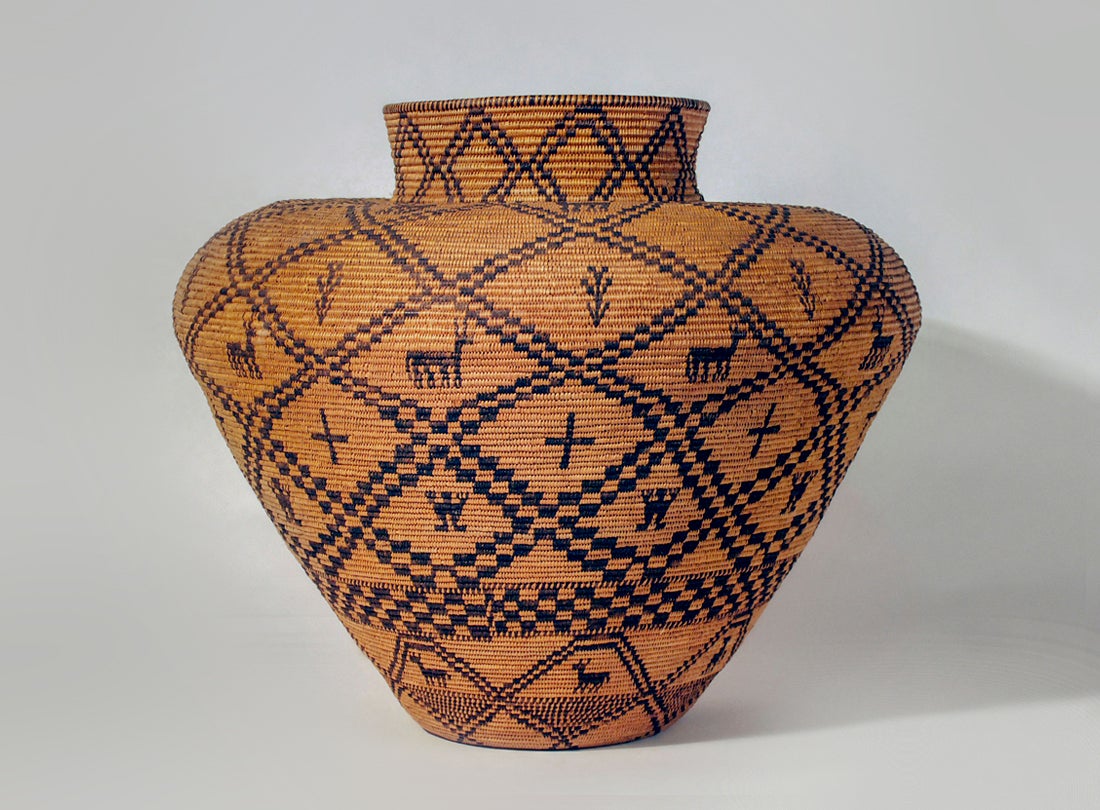 8 of 12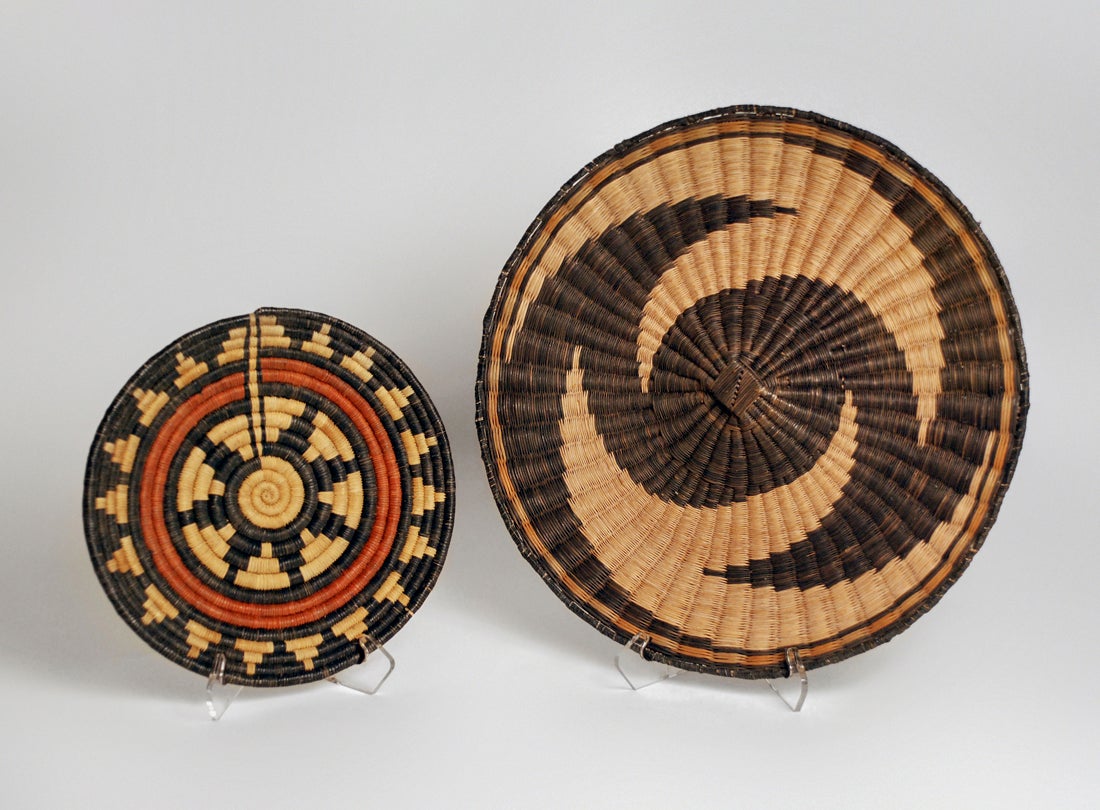 9 of 12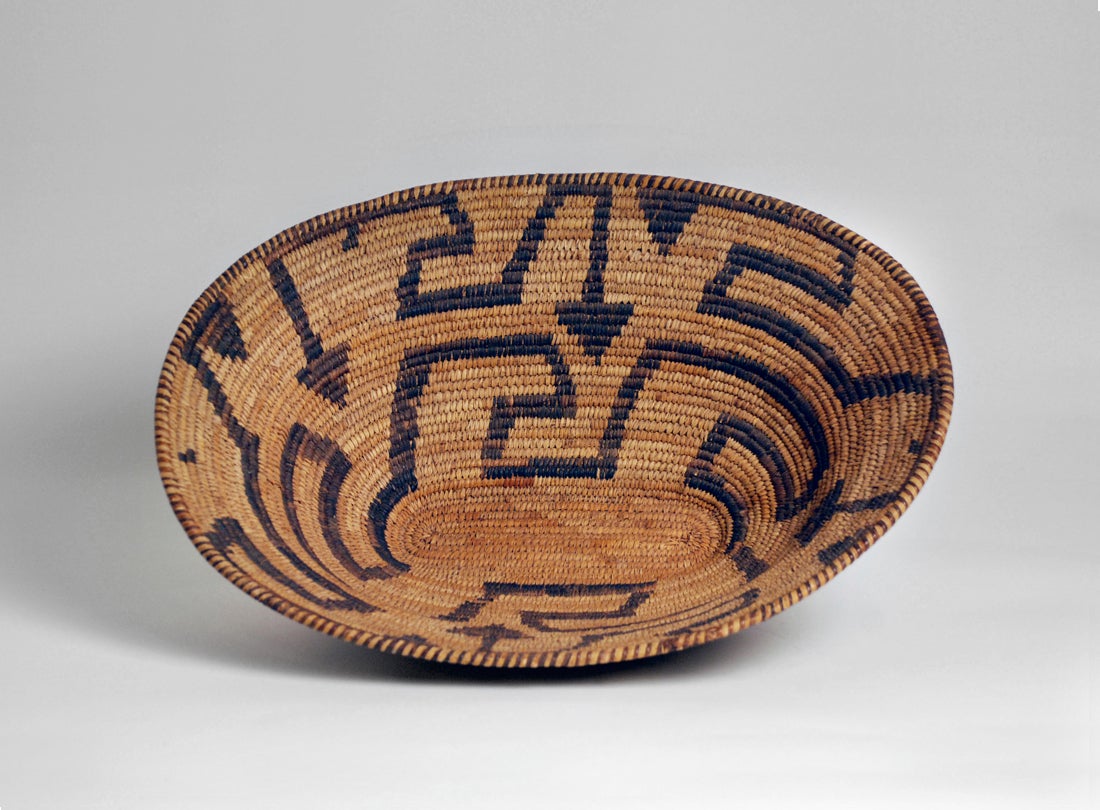 10 of 12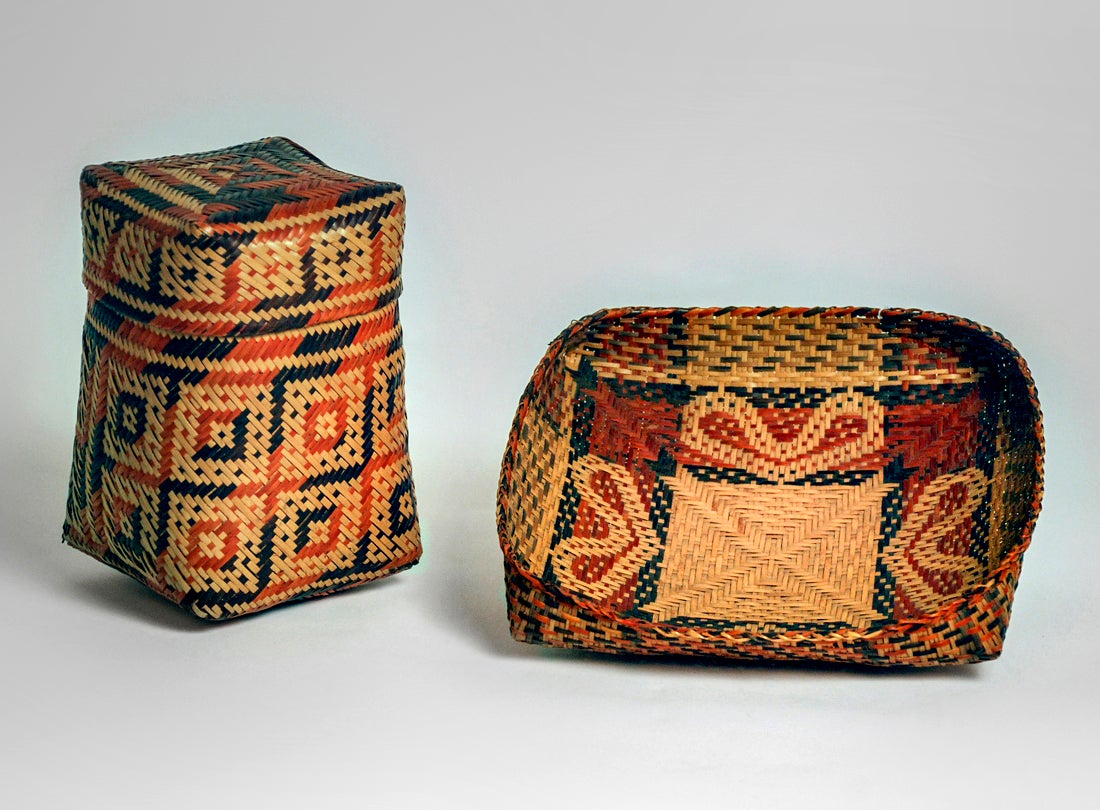 11 of 12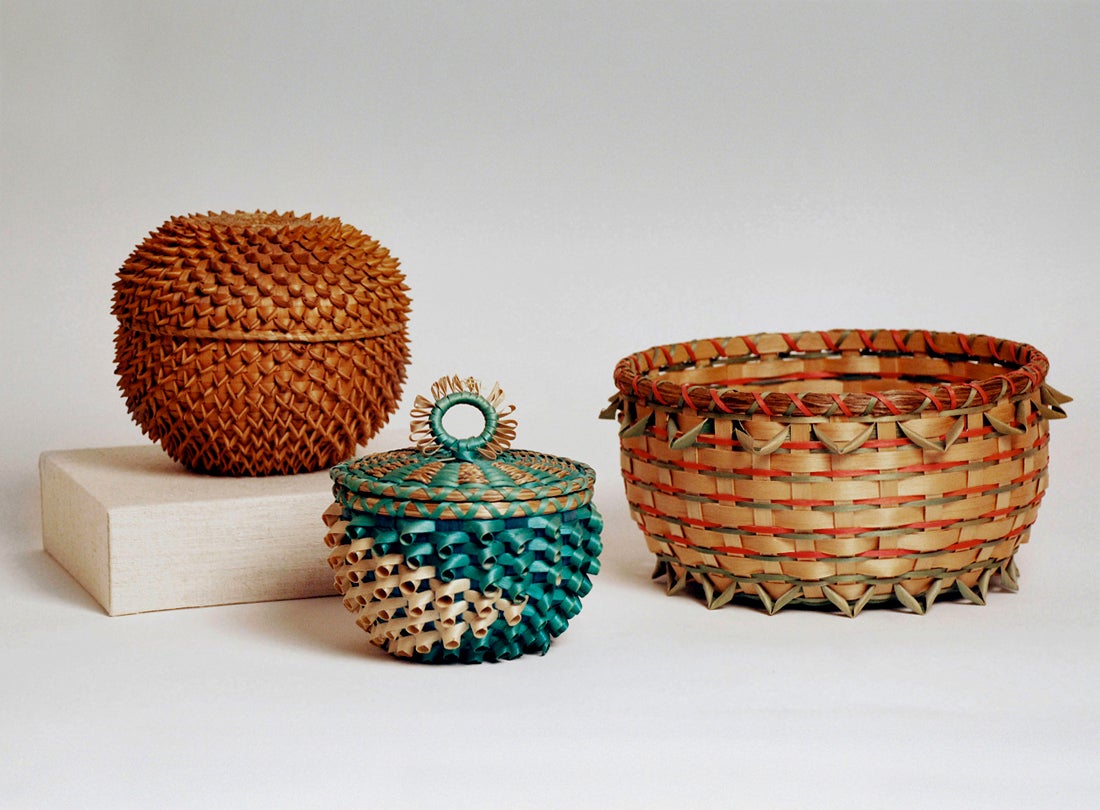 12 of 12
Basket  c. 1868–1898
probably Yup'ik
Southwest Alaska
wheat grass, phalarope feet, beads, sinew, sealskin
2–4667
L2008.4401.041
Natives of the Aleutian Islands and the Yup'ik of Southwest Alaska used dried wild rye grass to weave a variety of twined and coiled items such as bags, baskets, socks, and matting. Early travelers to the Aleutian Islands praised the inhabitants richly colored and exquisitely woven baskets. Captain Cook commented on "the strong and beautiful" grass baskets of the Aleutian islanders during his visit in 1778. Variations in basket weaving techniques and designs occurred on each island. The basket makers on the western islands garnered the most attention, particularly in the remote village of Attu. 
Traditionally, weavers split blades of grass with their fingernails. In 1791, a Russian traveler recounted how a woman let her index fingernail grow "to a great length, until it [was] as sharp as a lancet" in order to split grass for baskets. Some Aleutian baskets were so finely woven that there were over fifty stitches per inch. Weavers sewed design motifs on baskets with embroidery floss, wool yarn, or colored grass. 
The peak of Aleutian basket production occurred from the 1880s through the 1930s, when steamers and other ships frequently stopped at Unalaska and other Aleutian Island ports. During this time, women sold baskets to collectors and tourists. Popular forms included lidded baskets, purses, cigar cases, miniature baskets, and napkin rings with bright embroidery patterns.
Basket-shaped teakettle  before 1898
Tlingit
Port Etches Sound, Alaska
spruce root, grasses, dye
Collection of the Phoebe A.  Hearst Museum of Anthropology,
University of California at Berkeley
2–6514a,b
L2008.4401.032a,b
The Tlingit of southeastern Alaska created remarkable twined baskets with spruce roots. The baskets were frequently woven upside down, suspended from a pole. False embroidery, a decorative overlay, supplied the eye-catching designs on the surface of the baskets. The stems of a variety of grasses and maidenhair fern were used for false embroidery. Weavers harvested grasses in the summertime when the stalks were thin and tender. They were bleached in boiling water until the bright green faded to a yellowish color and then left to dry for several days. Grasses were then dyed with natural, and later, commercial dyes. 
Around 1880, tourism and access to inexpensive American goods led to the decline of utilitarian basketry. Instead, the Tlingit began to make baskets for sale. Many wealthy Americans developed a taste for exotic parlor furnishings. It became fashionable to have an "Indian room" or an "Indian corner" in one's living room that was decorated with artifacts such as Native American rugs, basketry, and pottery. Railroad and steamship lines encouraged Americans to travel to unfamiliar locations and acquire genuine Native American handicrafts directly from the makers rather than from catalogs. Sea cruises from San Francisco or Seattle to Alaska became popular. 
The Tlingit wove smaller, more decorative baskets to serve this new clientele. Whales, eagles, birds, fish, and other figurative designs were featured. Berry-picking and rattle-lid baskets were in high demand for several decades. Rattle-lid baskets, or "something inside baskets," came equipped with lids filled with seeds, pebbles, or lead shot, which caused a rattling sound when the baskets were shaken. Glass bottles and other ordinary objects were woven over and transformed into eccentric basketry items. Weavers also received inspiration for new basketry shapes from common household articles such as teakettles.
Hat  before 1920
Made by Isabella Edenshaw (1866–1926) and painted by her husband Charles Edenshaw (c. 1839–1920)
Haida
Queen Charlotte Islands, British Columbia, Canada 
spruce roots, paint
Collection of the Phoebe A.  Hearst Museum of Anthropology,
University of California at Berkeley
2–14271
L2008.4401.036
The Haida of the Northwest Coast made decorative hats from Sitka spruce roots. Occasionally the rim was adorned with a multi-strand braid, and a headband was woven inside the hat. A person of rank usually owned a hat painted with crest designs. Prior to commercial paints, hats were colored with charcoal and other natural pigments. During celebrations, the wealthiest members of the community wore more finely woven hats with wider brims and complex designs. The most highly prized decorative hats featured a column of rings that rose from the crown. Rings served as status symbols. Men wore more coarsely woven hats during rainy weather and on canoe trips, which were waterproofed with a thin coat of paint. 
The Haida produced many other outstanding basketry items from Sitka spruce roots. The long, straight roots were ideal for splitting and twining into a variety of basketry forms. The process of root digging and preparation was labor- intensive. Weavers used a digging tool to uplift roots located just below the surface of the soil. Roots were then coiled and stored for the trip home. Before the roots dried, weavers placed them on the hot coals of a fire. The roots were then carefully turned with a long stick until the bark peeled and the sap boiled away. The cooked bark was removed by pulling the root through a split stake. As the weaver pulled the root through the narrow opening, the bark was stripped away. The white inner roots were then split once and coiled and stored or split additional times into strands for twining. The Sitka spruce continues to grow along the Northwest Coast, and basketry materials are still gathered and prepared in this manner today.
Basket with lid  20th century
Nuu-chah-nulth 
Vancouver Island, British Columbia, Canada 
varied plant materials, dye
Collection of the Phoebe A.  Hearst Museum of Anthropology,
University of California at Berkeley
2–33869a,b
L2008.4401.023a,b
For centuries along the Northwest Coast, the Nuu-chah-nulth and Makah used both twining and plaiting techniques to make baskets, nets, and other accessories. Basketry was used in shellfish and root gathering trips as well as whaling activities. Aside from early whaling hats, however, few examples of decorative basketry have survived prior to the advent of the souvenir basket.
In the late 1900s, both the Nuu-chah-nulth and Makah began to produce a variety of twined, lidded baskets for the tourist trade from cedar bark and beargrass. Tourists used these baskets to hold coins, jewelry, or other trinkets. Weavers wove both traditional and contemporary designs into baskets. Makah and Nuu-chah-nulth baskets reflected their whaling culture. Weavers incorporated whaling scenes onto lively souvenir items including mats, bags, basketry-covered abalone shells, and bottles. To more readily appeal to tourists, weavers also wove baskets with American and Canadian motifs such as the United States flag. 
Introduced to the region in the nineteenth century, beargrass, or tlii-sikum in Nuu-chah-nulth, literally translates to the "white grass of Washington." The Nuu-chah-nulth preferred to use this grass to weave baskets because of the hard, bright, shiny surface of the material. Beargrass came from Washington and was traded to Vancouver Island. Migrant workers employed in orchards and hop fields in Washington also brought back the material to sell. 
Basketry caps  c. 1890s–1920s
Yurok
Northwestern California
varied plant materials
Collection of the Phoebe A.  Hearst Museum of Anthropology,
University of California at Berkeley 
1–164418, 1–70955
L2008.4401.069, L2008.4401.070
Yurok basket weavers of the California Klamath River region wove finely- twined baskets. Weavers formed warps from hazel sticks, willow, or split alder and used various tree roots for the wefts. In addition to creating a variety of utilitarian basket forms that were functional and beautiful, women made decorative basketry caps for personal adornment. Many other Northern Californian Indians, such as the Karuk, also crafted basketry caps.
Yurok women wore simple basket caps on a daily basis. Fancier basketry caps showcased the weaver's artistic talent and technical skills. Caps worn during special occasions and ceremonial dances featured the most complex and exquisite designs. Yurok weavers carefully wove basketry caps in shades of black, brown, and yellow. Generally, women made dress caps with a plain, two-strand twining technique featuring a row of three-strand or lattice twining at the top and another row a half inch from the rim of the hat. These two rows divided the hat into three distinct areas with the major design in the middle. 
Weaving was hard work and required a great deal of skill and patience. Basketry materials were always soaked in water before use. Women did little weaving in the summertime because the hot weather dried out the materials quickly and required the strands to be continually remoistened. Windy weather also dried out materials and proved troublesome for the weaver. Basketry caps and other baskets developed bulges and grooves after being held for long periods during the weaving process. To smooth out depressions, women soaked baskets in water and then pounded the baskets back into shape. Weavers then set baskets aside to dry in the sunlight or by the fire.
Basket  1900
Pomo
Northern California
varied plant materials, feathers
Collection of the Phoebe A.  Hearst Museum of Anthropology,
University of California at Berkeley
1–235177 
L2008.4401.065
Basket  early 20th century
Pomo
Geyserville, California
varied plant materials, beads, abalone shells, feathers, clamshell
Collection of the Phoebe A.  Hearst Museum of Anthropology,
University of California at Berkeley
1–469
L2008.4401.062
The Pomo of Northern California produced some of the most exquisite twined and coiled baskets in the world. Pomo weavers have long been known for their gift or "jewel" baskets, which they embellished with feathers, beads, abalone shell pendants, and clamshell beads. Weavers usually used willow or hazel for the foundation and sedge root for the stitching and coiling. Bowl- and canoe-shaped baskets, and miniature baskets, which demonstrated the weaver's skill, were common forms. Pomo weavers mastered the technique of attaching bird feather quills under a coiling stitch in order to feather the surface of their basketry.
The Pomo have so far perfected this form of decoration that they are able to cover their baskets completely with feathers, and good basket makers can so place them that the surface of the basket has almost the smoothness of the breast of a bird itself.
Samuel A. Barrett, Pomo Indian Basketry, 1908
Red feathers came from woodpecker crests, black feathers came from quails, and mallard ducks supplied green feathers. Yellow feathers from the meadowlark also ornamented baskets. Blue, orange, and brown feathers from other local birds occasionally supplied additional color enhancements. 
While some baskets were entirely covered with feathers, weavers also wove bold geometric designs into baskets and used feathers and beads to accent their designs. Shell and magnesite beads, disk-beads of the clamshell, and abalone shell beads served as borders on the opening of baskets. When small, white-glass trade beads became available to the Pomo in the nineteenth century, weavers sewed them onto dark design areas with cotton thread. 
Women wove most fine baskets, but men made openwork bird and fish traps. Gift baskets were a collaborative effort, as men obtained the feathers and made the clamshell disc beads. Feather baskets served as symbols of wealth and were given as gifts. They were also used for ceremonial occasions.
Bowl-shaped basket  before 1923
Made by Guadelupe Arearas 
Cahuilla
Southern California
varied plant materials, dye
Collection of the Phoebe A.  Hearst Museum of Anthropology,
University of California at Berkeley 
1–70083
L2008.4401.075
The Cahuilla produced some of the most attractive baskets in Southern California. Before the 1870s, Cahuilla women wove coiled baskets for use in domestic life. The size and shapes of the baskets were dictated by their function. By the 1880s, the number of Euro-American settlers to the area increased, and the Cahuilla continued to make baskets for personal use as well as for sale. Cahuilla baskets were most actively collected between 1890 and 1920. California anthropologists were more interested in traditional designs and forms, while collectors preferred innovative shapes, colors, and designs. The basketry the Cahuilla produced during this period reflects all of these influences.
Weavers used juncus, sumac, willow, and other plant materials to make coiled baskets. Women boiled elderberry stems and sea blite stems or used hot mud to make black dye. After contact with Euro-American settlers, the Cahuilla gained access to commercial dyes and indigo. Weavers also began to use coffee grounds and walnut shells to produce black dye.
Before the turn of the twentieth century, weavers preferred simple, geometric designs. New designs included lizards, eagles, snakes, insects, flowers, stars, and mission bells. Weavers also began to make baskets in novel shapes, some of which may have been inspired by metal and porcelain containers. Additionally, women created ollas or vase-shaped baskets that resembled traditional Cahuilla pottery forms.
Olla  late 19th–early 20th century
Apache (probably Western)
Arizona
varied plant materials
Collection of the Phoebe A.  Hearst Museum of Anthropology,
University of California at Berkeley
2-18363
L2008.4401.058
The Western Apache have long been known throughout the Southwest for their impressive coiled and twined basketry. They made little pottery historically; instead, they relied on basketry containers. The Western Apache even stored water in twined, pitched jars. Beginning at five or six years old, young girls learned how to weave from their grandmothers or mothers and practiced weaving with yucca leaves. 
Weavers made coiled baskets with strong foundations of willow or cottonwood that they sewed together with willow or yucca. Mature devil's claw seedpods were collected and split, and then used to create black basketry designs. An awl made of bone, steel, or iron was the only tool used during the weaving process, aside from a steel knife, which was used to prepare materials, split sewing splints, and trim loose ends. 
By the 1880s, weavers made most of their baskets for sale to collectors. The Western Apache made coiled ollas as well as large shallow baskets with intricate designs. Ollas ranged from miniatures to forms as large as forty inches in height. It took weavers several months to make the over-sized forms. Only the most ambitious and skilled weavers could accurately weave complex designs into such large, symmetrical baskets. In 1905, an anthropologist recounted the notable prices that some of them garnered, "one, thirty eight inches in height and very well made, was sold by the woman who made it, for fifty dollars.'' During the 1920s, women began to weave smaller ollas, which were more popular and took less time to make. 
Plaque  before 1966
Hopi
Arizona
yucca splints, galletta grass, dye
Collection of the Phoebe A.  Hearst Museum of Anthropology,
University of California at Berkeley
2–34340
L2008.4401.098
Plaque  late 19th–20th century
Hopi
Arizona
rabbit brush, dunebroom, dye
Collection of the Phoebe A.  Hearst Museum of Anthropology,
University of California at Berkeley
2–18608
L2008.4401.055
The Hopi of northeastern Arizona continue to weave some of the finest basketry in the Southwest. Round basketry trays referred to as plaques are the most frequently produced form. On the Second Mesa, weavers create coiled plaques made from yucca splints and galletta grass. On the Third Mesa, plaques are wicker-plaited from rabbit brush and dunebroom (or siwi in Hopi) in bold patterns and bright colors.
Plaques are used to repay favors, and they are also given as awards to winners in footraces. The Hopi incorporate plaques in various ceremonies and women's dances, and special plaques are made for newborns, toddlers, and young girls. Weavers also make plaques for use in "paybacks" for a Hopi bride's wedding robes. 
The wedding payback is the most important use for Hopi plaques. The groom's family weaves the bride's wedding robes. In return for the wedding ensemble, the bride's family reciprocates with a generous repayment of plaques and foodstuffs. Although she receives assistance from her female relatives, it often takes many years for a bride to weave all of the plaques, which can range from twenty to over one hundred. Once complete, the bride displays the plaques on a wall at her mother's house for the groom's family to admire while the two families enjoy a meal together. The following day, the plaques are delivered to the male relatives who supplied the bride's wedding robes.
The bride always weaves three special plaques as part of the gift. The wedding plaque, the largest, is heaped high with white cornmeal and is delivered to the groom. Second-Mesa wedding plaques contain a star or flower design in white, green, and black, while wicker plaques contain a variety of brightly colored geometric patterns. A smaller, sweet cornmeal plaque is packed with yellow cornmeal. The third plaque, a simple piiki tray, is delivered with piiki, a wafer-thin corn bread. Additional plaques vary in size and design. 
Bowl-shaped basket  20th century
Papago
Arizona
varied plant materials
Collection of the Phoebe A.  Hearst Museum of Anthropology,
University of California at Berkeley
2–51763
L2008.4401.050
Unlike their close relatives the Pima, the Papago inhabited the drier, central area of the Sonoran Desert in Arizona where willow and cattail were scarce. Older Papago baskets were made with a foundation of beargrass or yucca, while willow made up the walls of the basket. The Papago traded with the Pima to the north for the willow material. Weavers used devil's claw to form the dark design elements on baskets, which they gathered in the desert or cultivated in the summertime. 
It remains difficult to distinguish between older Pima and Papago baskets because of the proximity of the tribes, intermarriage, and trading of materials. While there were differences in the plants used by the Pima and the Papago, the manufacture of the basket "start" was very similar. Both groups employed a four-square or plaited knot. The plant bundles were then wrapped around this start and stitched together with various fibers. Weavers of both tribes wove firm, watertight baskets. Women pounded the walls of baskets with stones or hammers to flatten and smooth the surface.
In the mid-1880s, when railroads were established and tourists began to travel to the Southwest, a cash market for Papago basketry developed. By the early 1900s, Papago weavers replaced willow with yucca, which was more readily available and easier to work with. New designs, forms, and open-stitch techniques were developed for the tourist trade. Nontraditional shapes included wall plaques, lidded baskets, and wastepaper baskets. Weavers also made baskets with figurative designs or words spelled out in English. The Papago continue to produce more baskets than most Native American tribes. 
Basket with lid  late 19th–early 20th century
Chitimacha
Louisiana
cane, dye
Collection of the Phoebe A.  Hearst Museum of Anthropology,
University of California at Berkeley
2–14328a,b
L2008.4401.012a,b
Fanner  basket late 19th–early 20th century
Chitimacha
Louisiana
cane, dye
Collection of the Phoebe A.  Hearst Museum of Anthropology,
University of California at Berkeley
2–10334
L2008.4401.011
The Chitimacha of Louisiana have long been credited as some of the finest southeastern basket weavers. They wove baskets for personal use and traded baskets with their nearby neighbors beginning in the eighteenth century. The Chitimacha also traveled to urban centers such as New Orleans to sell their baskets. 
Currently (as of 2009), four active Chitimacha weavers produce baskets in Louisiana. Once solely a women's occupation, two of the present-day weavers are male. John Darden and his wife, Scarlett, along with John's sister, Melissa Darden, and their friend Raymond Thomas, all specialize in distinctive Chitimacha designs and forms. 
As youths, the Dardens observed their grandmothers and mothers making baskets and gathering materials. When these older weavers died, the Dardens realized that Chitimacha basketry was nearing extinction. In response, each of them began to recall what they had learned as children; they also studied old patterns and techniques. Through trial and error, each of them mastered the art of Chitimacha basket weaving. 
Swamp cane, the local name for river cane in the lowland South, is gathered locally. Weavers use only their hands, teeth, and a knife to split and peel the cane. The Chitimacha continue to make single- and double-weave baskets in many shapes and sizes. Double-weave baskets are usually made with a lid and are woven inside and out with a diagonal stitch. Single-weave shapes include heart-, elbow-, and bowl-shaped baskets as well as fanner and sifter baskets.
Yellow, red, and black are the customary colors used in Chitimacha baskets. Black dye comes from the black walnut, red from the dock plant, and yellow from a lime solution, although weavers also employ commercial dyes. Special names describe various design patterns, such as alligator entrails, blackbird's eyes, and worm track. In addition to traditional basketry, weavers currently make a variety of contemporary forms, which include cigarette and eyeglass cases, as well as clutch purses. 
"Pineapple" basket  20th century
Micmac
Meramechi, North Cumberland County, New Brunswick, Canada
wood
Collection of the Phoebe A.  Hearst Museum of Anthropology,
University of California at Berkeley
2–13587a,b
L2008.4401.093a,b
Basket  1973
Made by Lillian Stevens
Passamaquoddy
Indian Township Reservation, Maine
wood, sweet grass, dye
Collection of the Phoebe A.  Hearst Museum of Anthropology,
University of California at Berkeley
2–61990a,b
L2008.4401.007a,b
Basket  before 1978 
Made by Mrs. Sam Goose
Maliseet
Tobique, New Brunswick, Canada
wood, sweet grass, dye
Collection of the Phoebe A.  Hearst Museum of Anthropology,
University of California at Berkeley
2–61993
L2008.4401.092
Native people of the Northeast have constructed baskets for centuries from a variety of local materials. In the seventeenth century, northeastern tribes began to trade basketry items to European settlers and explorers. Plaited woodsplint baskets, referred to as "fancy" baskets because of their highly decorative forms, were sold door-to-door and at markets beginning in the mid-eighteenth century. Similar baskets were made by various tribes throughout the Northeast from New England, to New York, parts of the Midwest, and Canada. 
By the mid-1800s, Native groups frequently relocated to tourist spots and resorts during the summer months to sell baskets and other handicrafts. At the same time, Native northeastern basketry reached new artistic heights. Weavers crafted brightly-colored baskets with commercial dyes and complicated weaves. Wefts of different widths or colors formed patterns, or wefts were twisted to produce curls, and sweet grass was also incorporated into baskets. These lively baskets were heavily sought after by Victorian collectors. Common forms included trinket and sewing baskets, watchcases, wall pockets, pincushions, and miniature baskets. 
The Great Depression led to a decline in basketry sales and production in the 1930s. In recent decades, however, Native northeastern basketry has experienced a revival. Some young weavers have developed new styles and designs, and many men now also make baskets. The Maine Indian Basket Weavers Association is dedicated to preserving and promoting basketry arts of the Maliseet, Micmac, and Passamaquoddy. In addition, several Canadian Micmac bands have formed arts and crafts cooperatives to make, sell, and export their basketry.