May 18, 2019 - Feb 03, 2020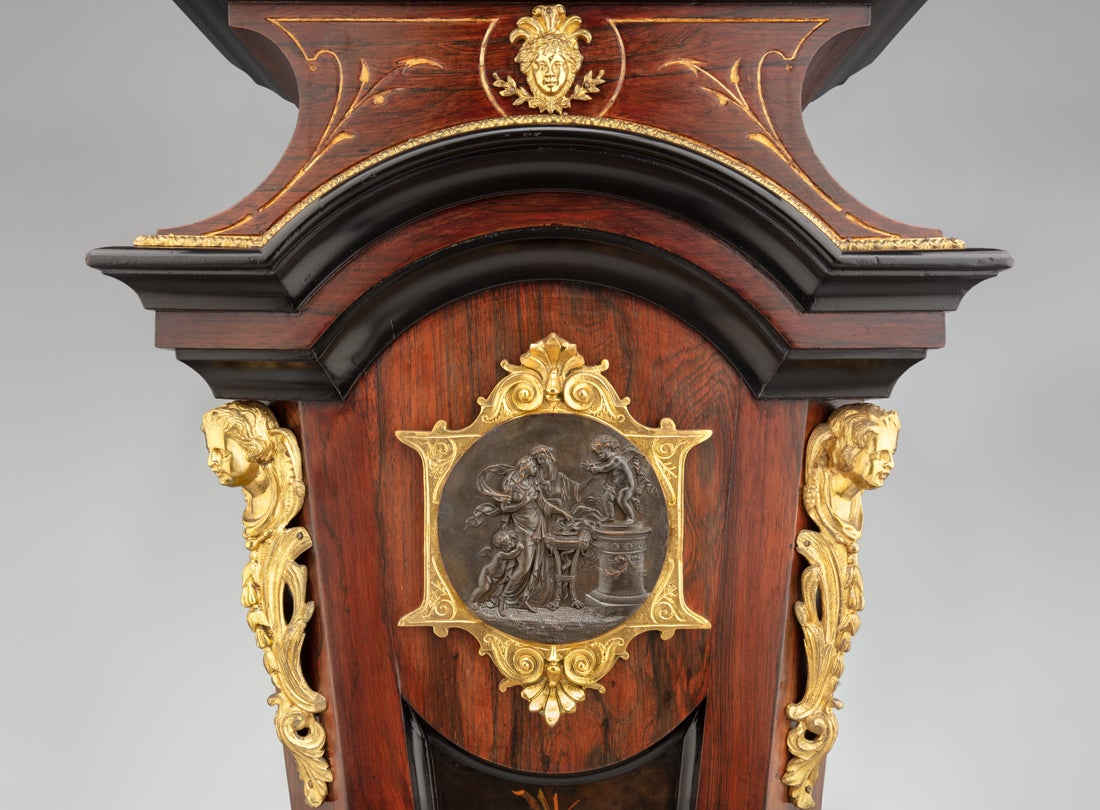 1 of 6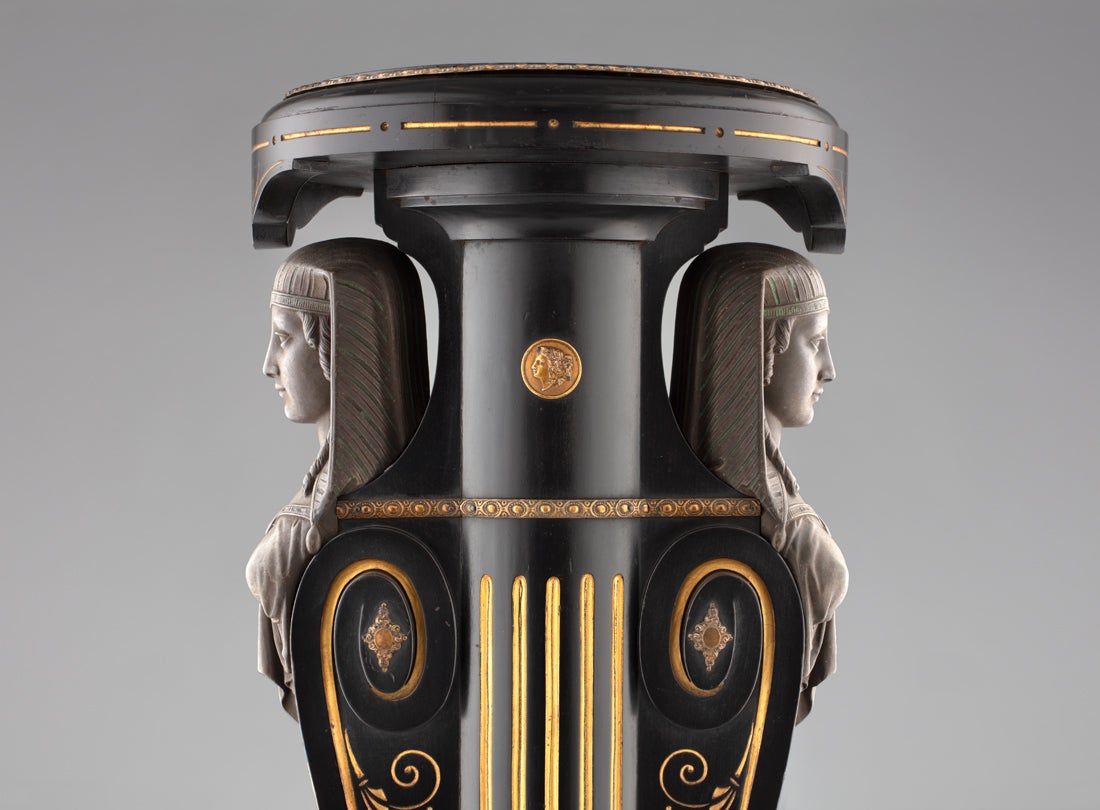 2 of 6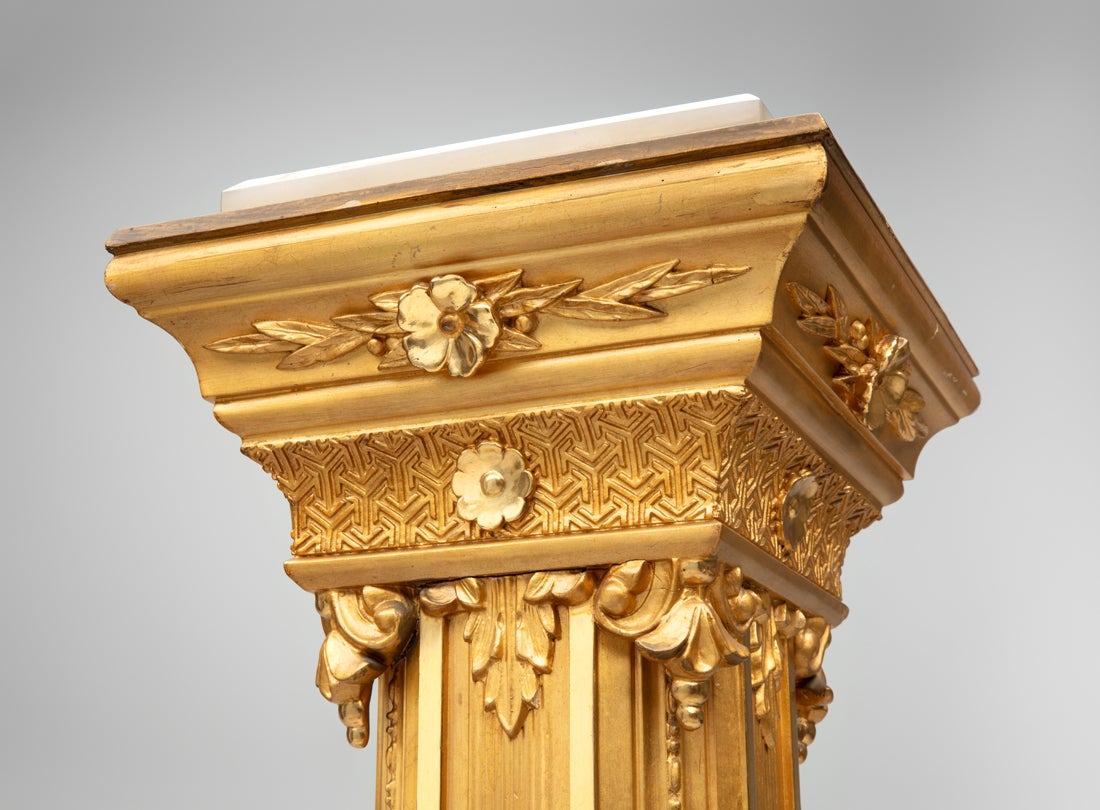 3 of 6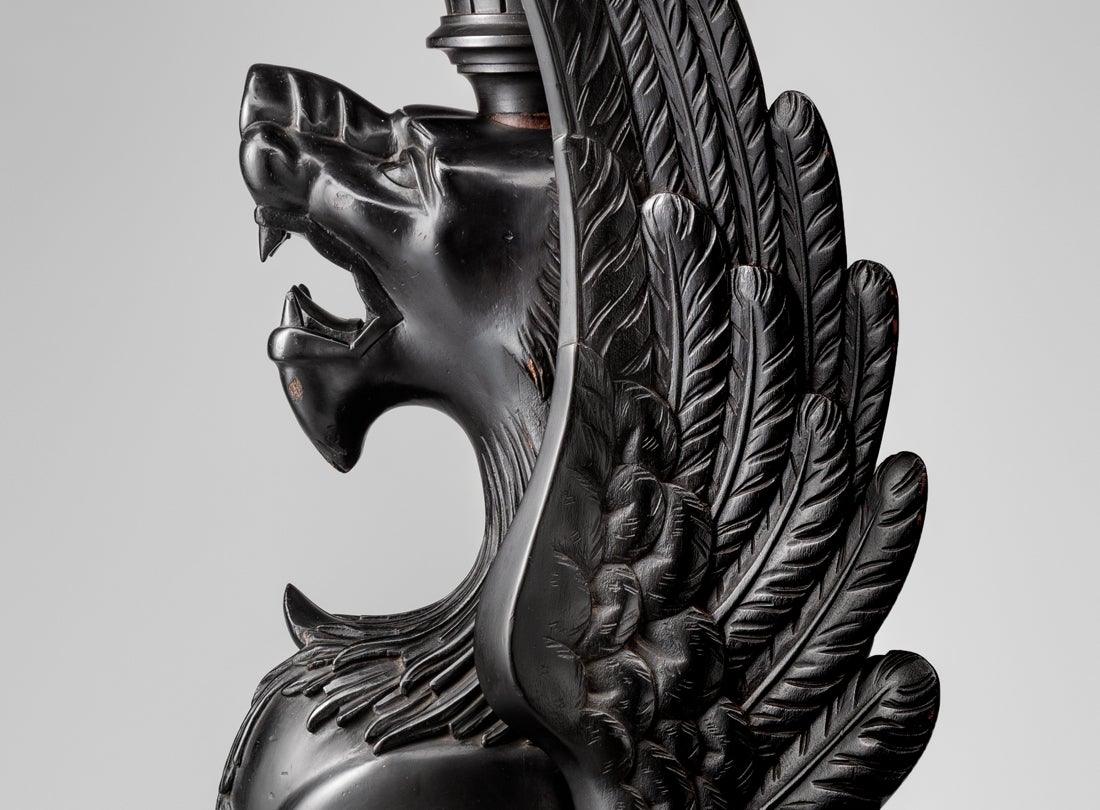 4 of 6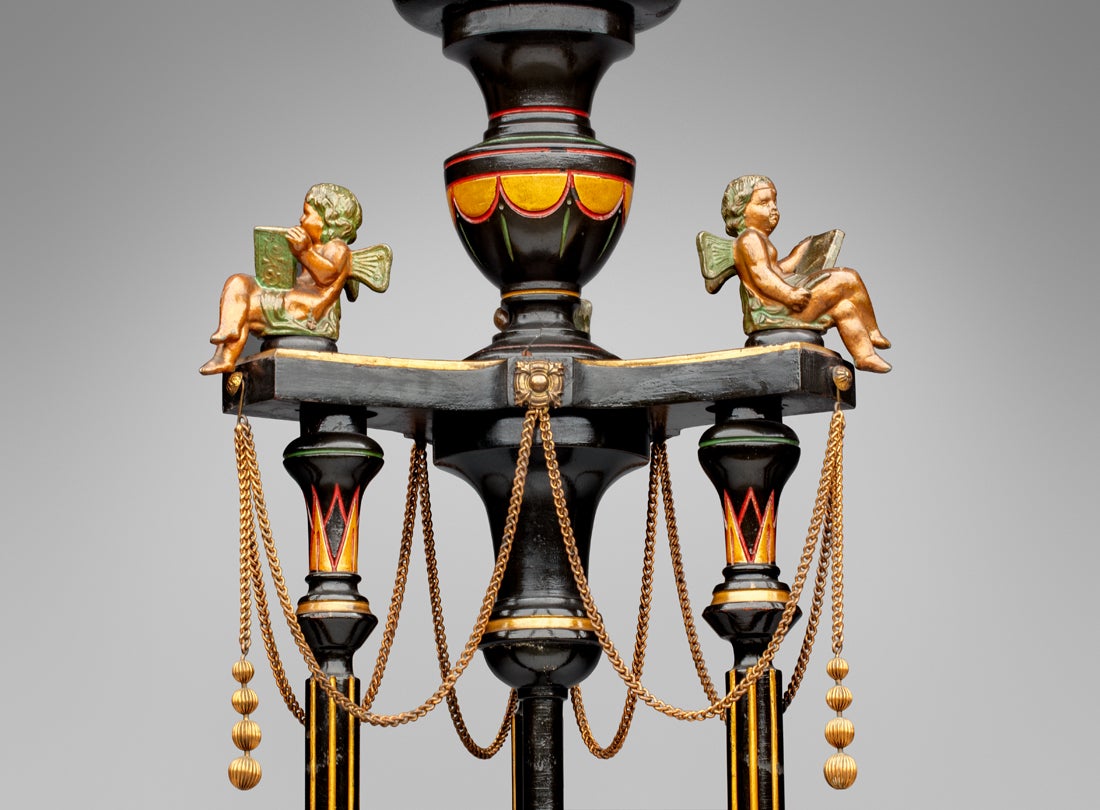 5 of 6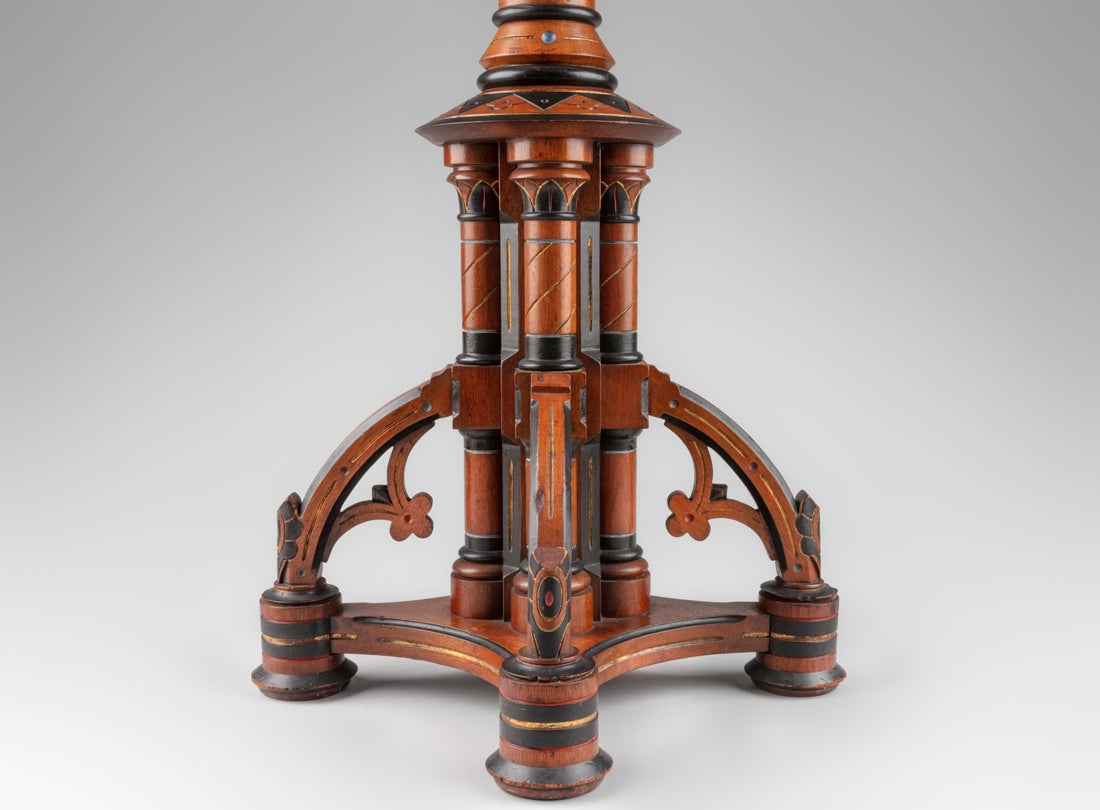 6 of 6
Renaissance Revival pedestal  c. 1860–70
unknown maker
possibly New York
rosewood and rosewood veneer with ormolu mounts and marquetry
Courtesy of Ian Berke
L2019.0101.004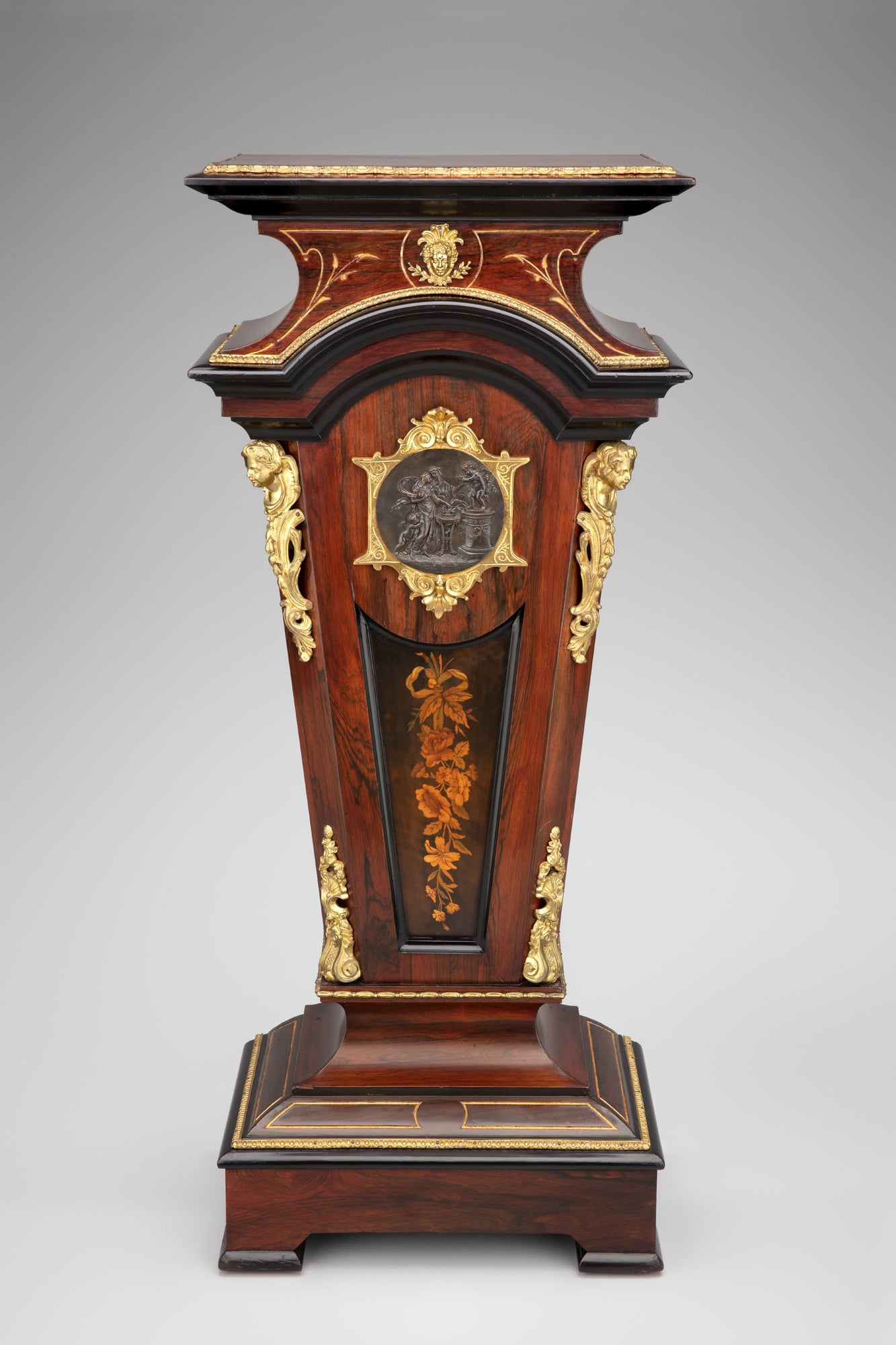 Renaissance Revival, the most ubiquitous furniture style following the Civil War, drew inspiration from the Renaissance of the fifteenth and sixteenth centuries as well as the classical world. Nineteenth-century archaeological discoveries in Greece, Italy, and Egypt prompted designers to adapt and reinterpret designs and motifs from the past. Renaissance Revival's rather masculine characteristics and grand scale make it easy to identify. Decorative elements took precedence over functionality. Mythical creatures, garlands, foliage, wild game, classical busts, scrolls, tassels, and portrait medallions appeared in high-relief carving. The incorporation of columns, pediments, and pilasters enhanced pieces. Gilded incising, marquetry, burled panels, wood veneering, ebonized wood, and marble tops commonly embellished pieces. Furniture was typically made with dark woods, such as walnut and rosewood. 
Egyptian Revival pedestal  1870s
Kimbel & Cabus
New York
ebonized wood with gilded incising and cast metal figures
Courtesy of Michaan's Auctions, Alameda, CA
L2019.0102.003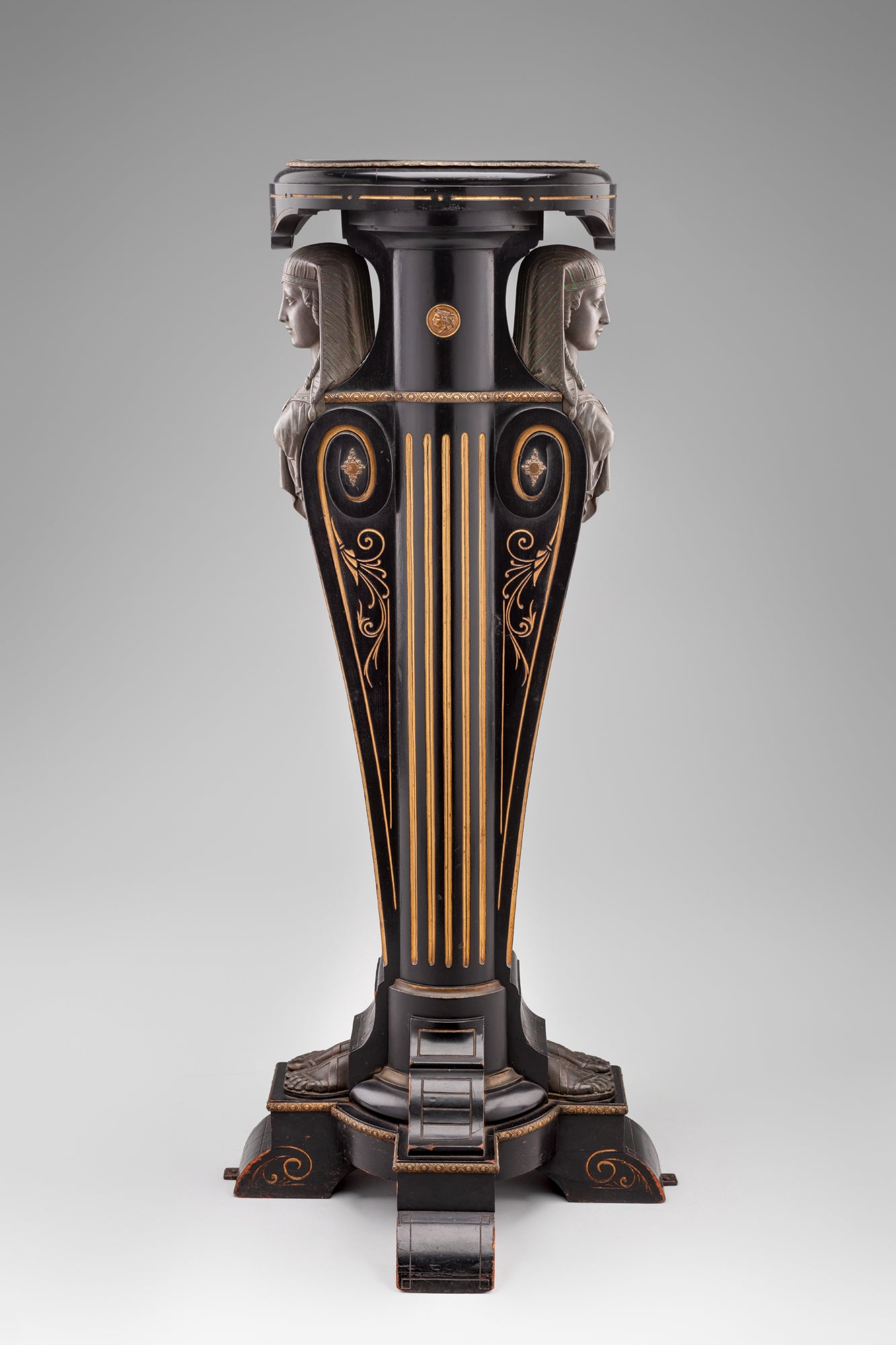 Napoleon's Egyptian campaign (1798–1801) ignited an inextinguishable fascination with ancient Egypt. In 1822, French scholar Jean-François Champollion first deciphered hieroglyphics when he translated the Rosetta Stone. In 1869, the Suez Canal opened in Egypt, connecting the Mediterranean and Red seas. Archaeologists and scholars continued to publish numerous accounts of their discoveries in Egypt throughout the century. Theater productions of the highly acclaimed opera Aida, set in ancient Egypt, debuted in Cairo in 1871 and New York in 1873. Additionally, a number of world's fairs included Egyptian displays.
This exposure to Ancient Egypt inspired the Egyptian Revival, a design style that permeated western decorative arts and furniture in the nineteenth century. Egyptian-inspired designs provided an exotic alternative to other fashionable styles of the Victorian era. Obelisks, hieroglyphs, sphinxes, pyramids, scarabs, and lotus blossoms were popular motifs. Imagery was construed and adapted in different ways, from literal interpretations to fanciful artistic motifs. In furniture, Egyptian Revival pieces rarely comprised a full suite; rather they served as statement pieces.
Pedestal  c. 1870s
unknown maker
United States
gilded wood
Courtesy of Michaan's Auctions, Alameda, CA 
L2019.0102.007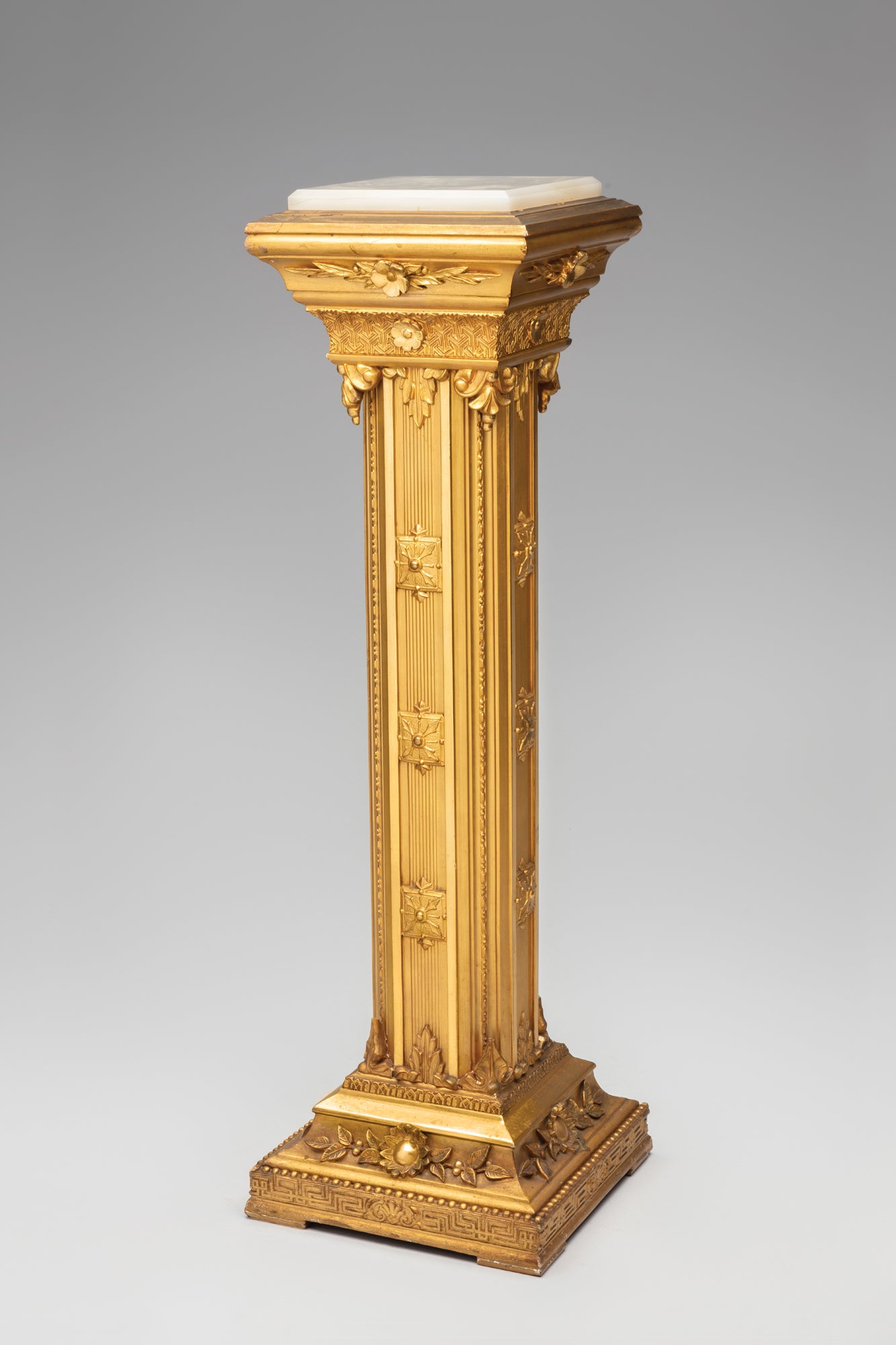 Gilding, which has existed since ancient times, entails applying extremely thin sheets of gold to the surface of another material. Gilding produces the appearance of solid gold, without its expense or weight. The lavish sheen left by gilding suited Victorian tastes where it was often used to accent furniture or applied more opulently over entire extravagant pieces, such as this pedestal. Much of the furniture of the Victorian era was accented with bronze paint to imitate gilding.
Because gold leaf retains its characteristic metallic luster over time, unlike gold paint, it is relatively easy to identify on flat surfaces. A variety of techniques are used in gilding depending on the surface material. Before adhering gold leaf, the surface of the object must first be well cleaned. Appropriate fill materials such as gesso, a mixture of glue and chalk, are then applied to create a smooth base on which to lay the gold leaf. Once the fill materials have been dried and smoothed, the delicate gold leaf is painstakingly applied before being burnished.
Griffin pedestal  c. 1870s–80s
unknown maker
possibly New York
ebonized wood
Courtesy of Michaan's Auctions, Alameda, CA
L2019.0102.002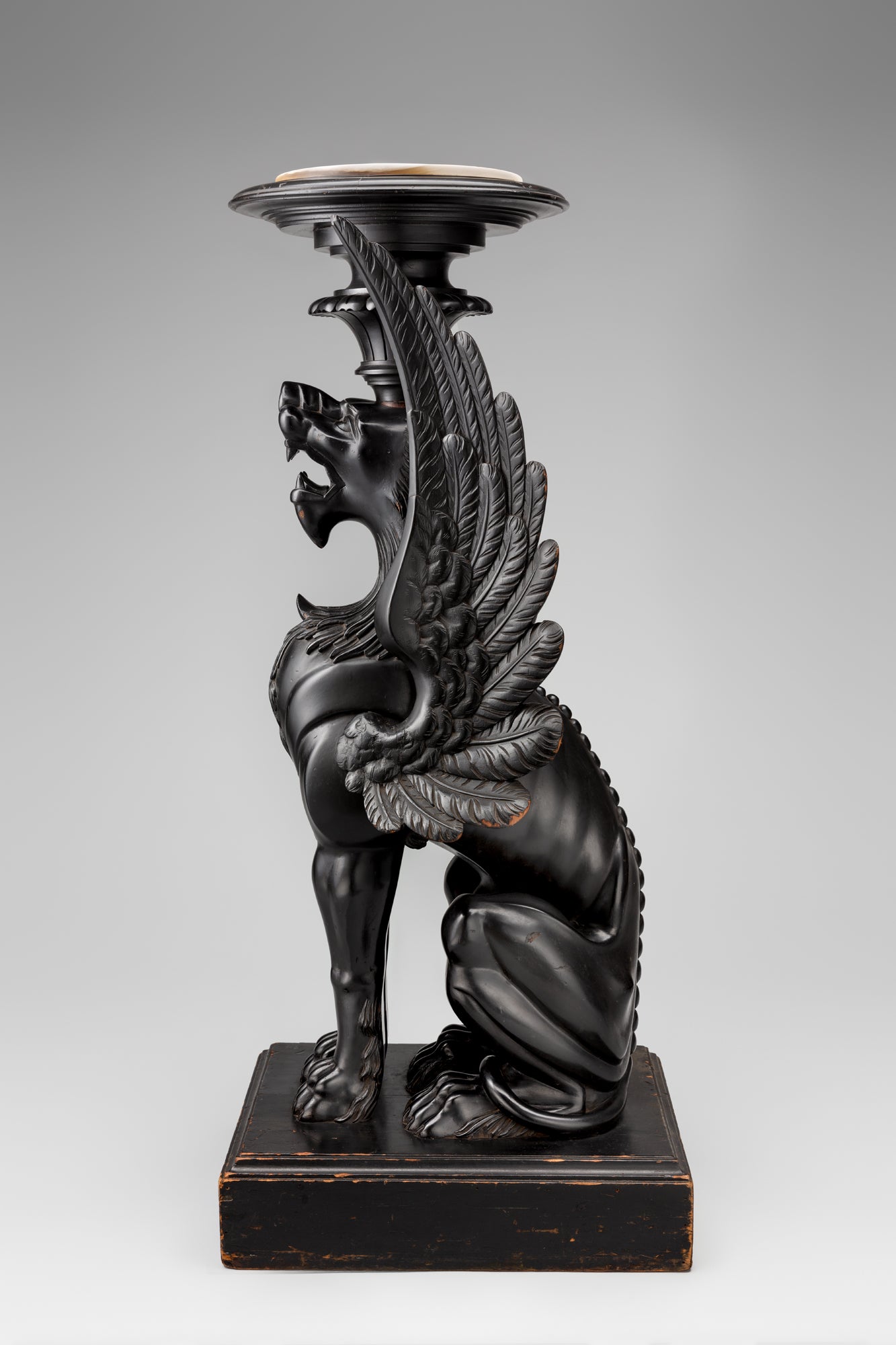 Animals, both mythical and real, have appeared in fine and decorative arts and architecture for centuries. In addition to serving as decoration, they have also conveyed a wealth of symbolism. The griffin has the body and tail of a lion and the head and wings of an eagle. It may be grouped with other fantastical beasts such as the dragon, phoenix, and sphinx. Historically, griffins symbolized royalty and served as protectors of the dead. The griffin also keeps a watchful eye, while evoking strength, courage, vigilance, and perseverance. Griffin sculptures frequently appear in medieval-era church architecture. This ebonized pedestal, in the form of a robust, dramatic griffin commands attention and would have certainly competed with any sculpture placed upon it.
Renaissance Revival pedestal  c. 1865–75
Kilian Brothers
New York
ebonized wood with gilding, polychrome, and cast cherubs
Courtesy of Ian Berke
L2019.0101.010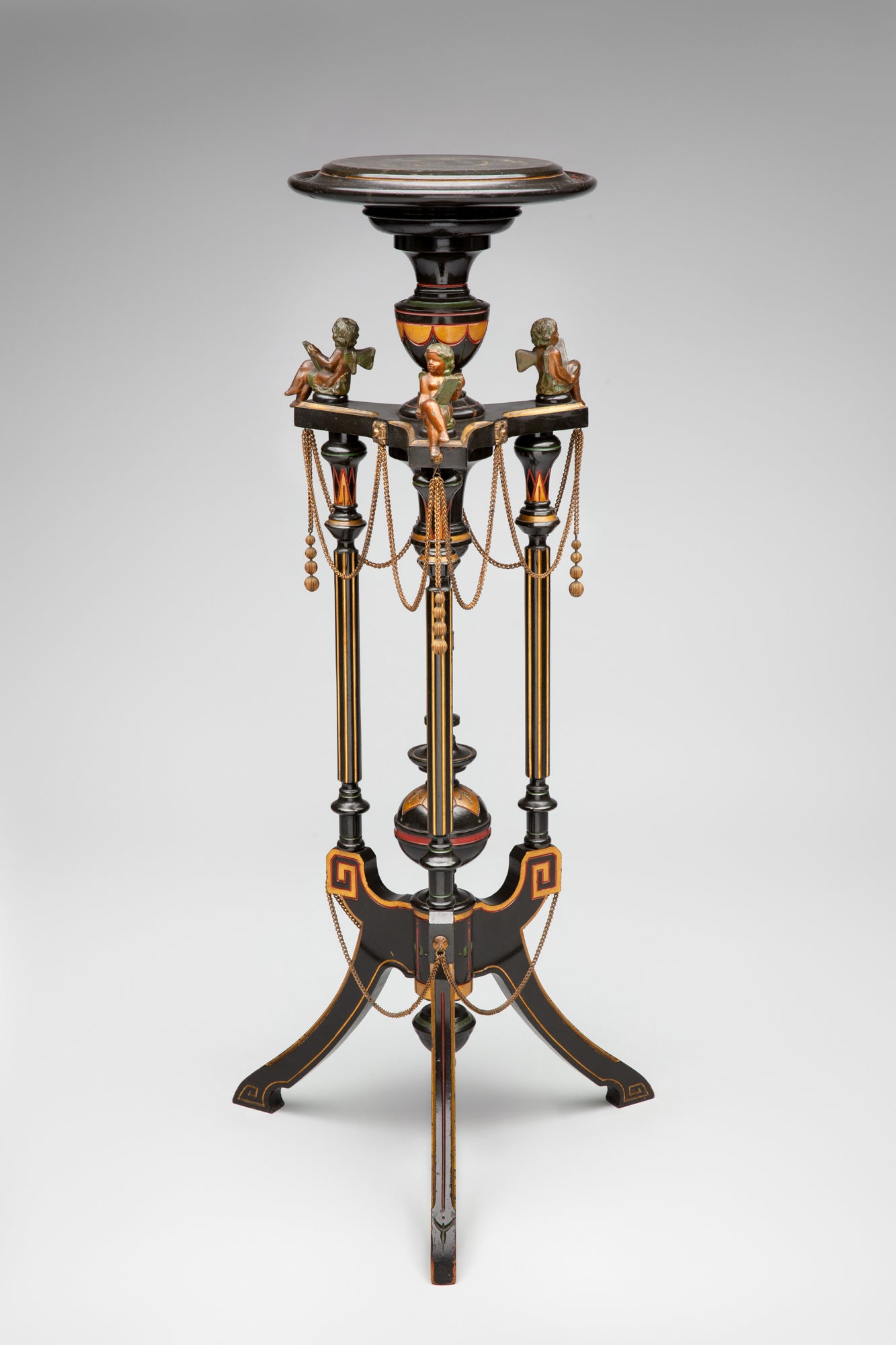 In response to the Victorians' love of collecting and eclectic display, furniture firms also produced smaller, shorter stands to display all manner of items—from plants, vases, and candleholders to smoking paraphernalia. Such stands might grace drawing rooms, hallways, and parlors. Plant stands often have a rim encircling their tops. Kilian Brothers, a furniture firm based in New York that competed with cabinet makers such as Herter Brothers and Pottier and Stymus, produced a variety of plant stands with lively decorative details. This ebonized plant stand features polychrome painted decoration and gilding. Greek fretwork adorns the bottom of the pedestal while winged cherubs grace either side; gold chains drape from their feet.
Modern Gothic pedestal  c. 1880–85
probably Kilian Brothers
New York
walnut with ebonized and gilded accents
Courtesy of Ian Berke
L2019.0101.007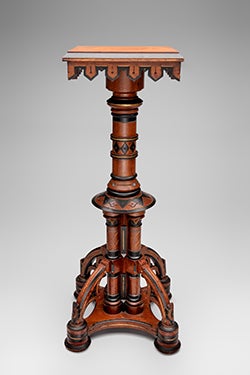 American Modern Gothic furnishings evolved from the nineteenth-century English design reform movement in England. English proponents such as Charles Locke Eastlake (1836–1906) and Bruce J. Talbert (1838–81) advocated for "honest" furniture construction with discernible joinery, simple finishes, quality materials, and modern adaptations of medieval motifs. Talbert's influential publication Gothic Forms Applied to Furniture, Metal Work, and Decoration for Domestic Purposes (1867) showed furniture in modern medieval-style interiors, which served as a resource for American designers and consumers. The 1876 Centennial International Exhibition in Philadelphia further encouraged the novel style, particularly due to Kimbel and Cabus' smartly arranged drawing room, which was entirely composed in the Modern Gothic style. Modern Gothic furniture commonly features carved architectural elements in the Gothic fashion such as pointed arches, crockets and finials, and scrolling leafage.