Jan 26, 2019 - Aug 04, 2019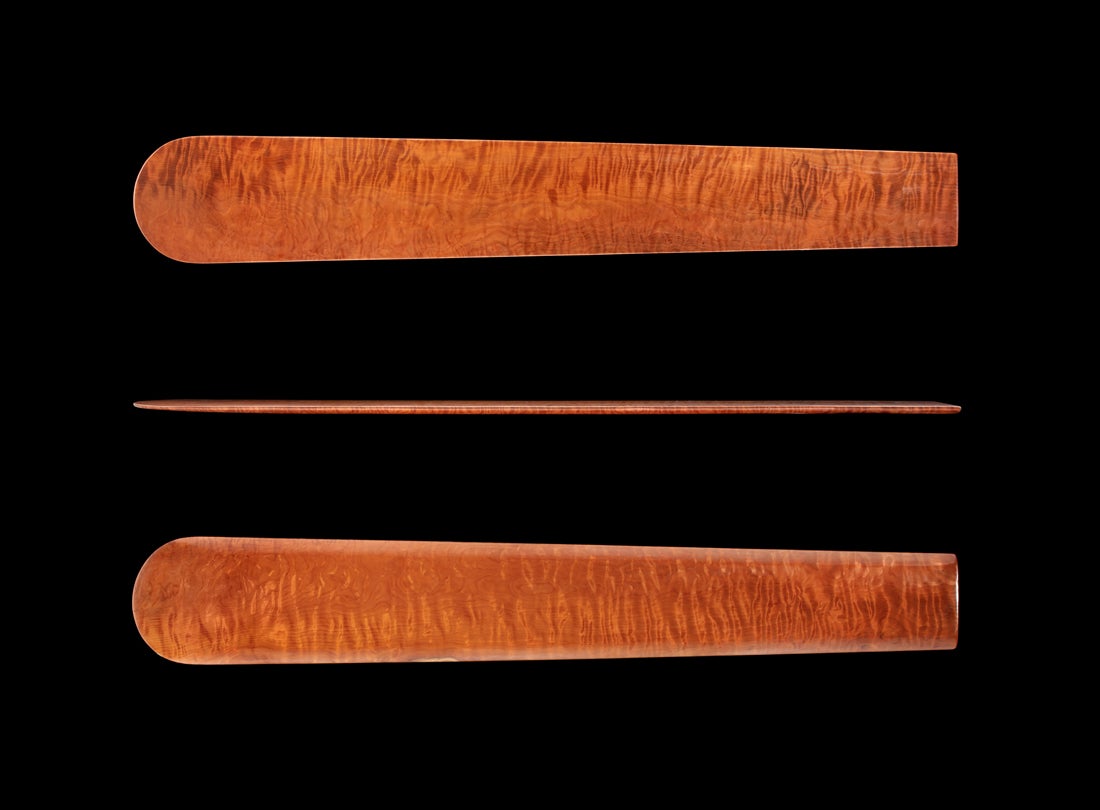 1 of 6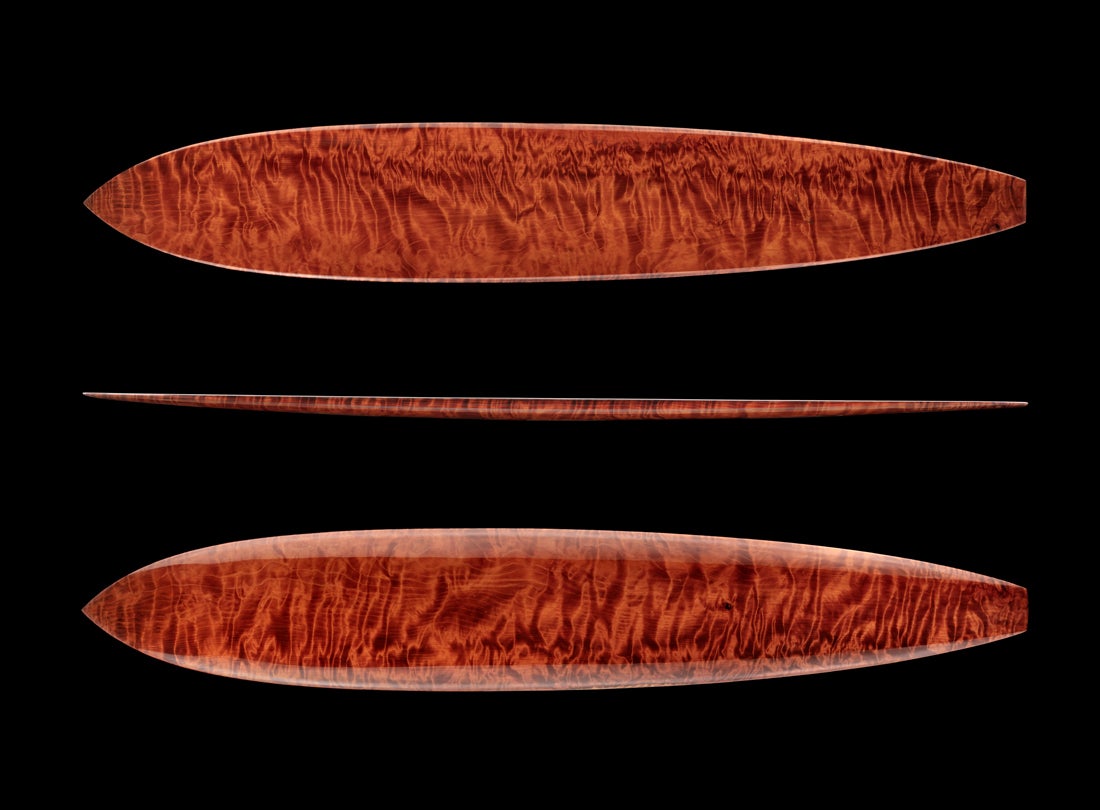 2 of 6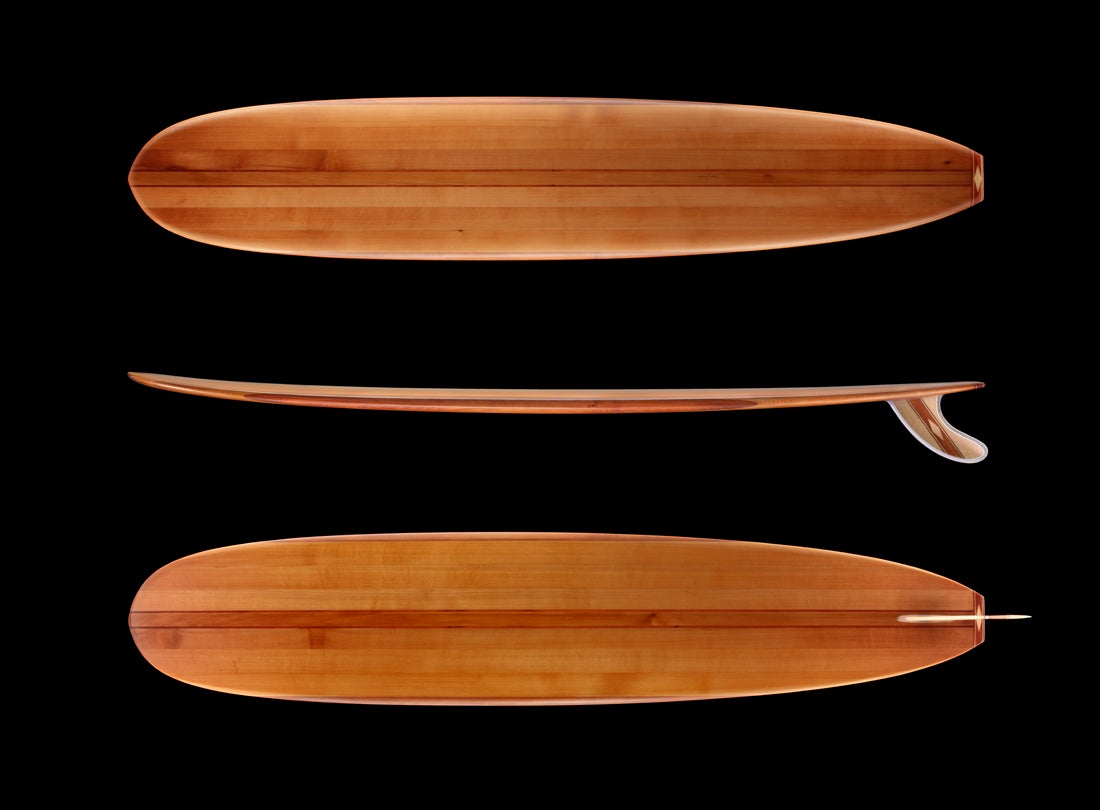 3 of 6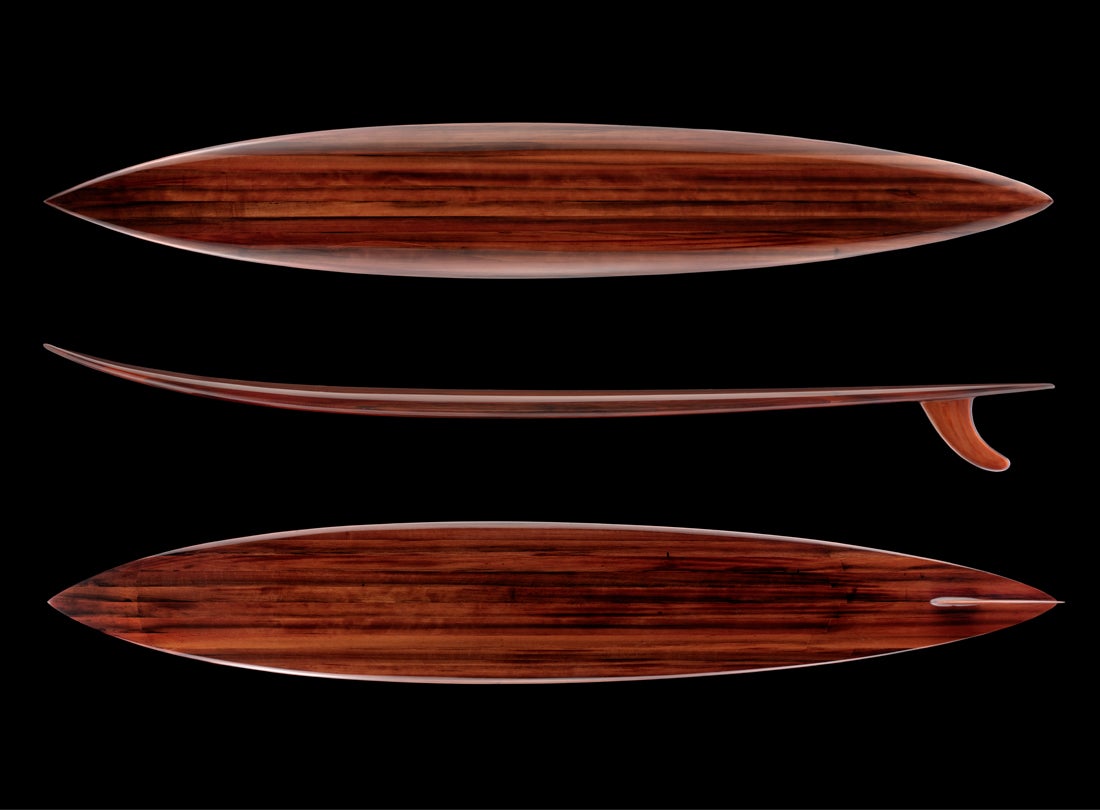 4 of 6
5 of 6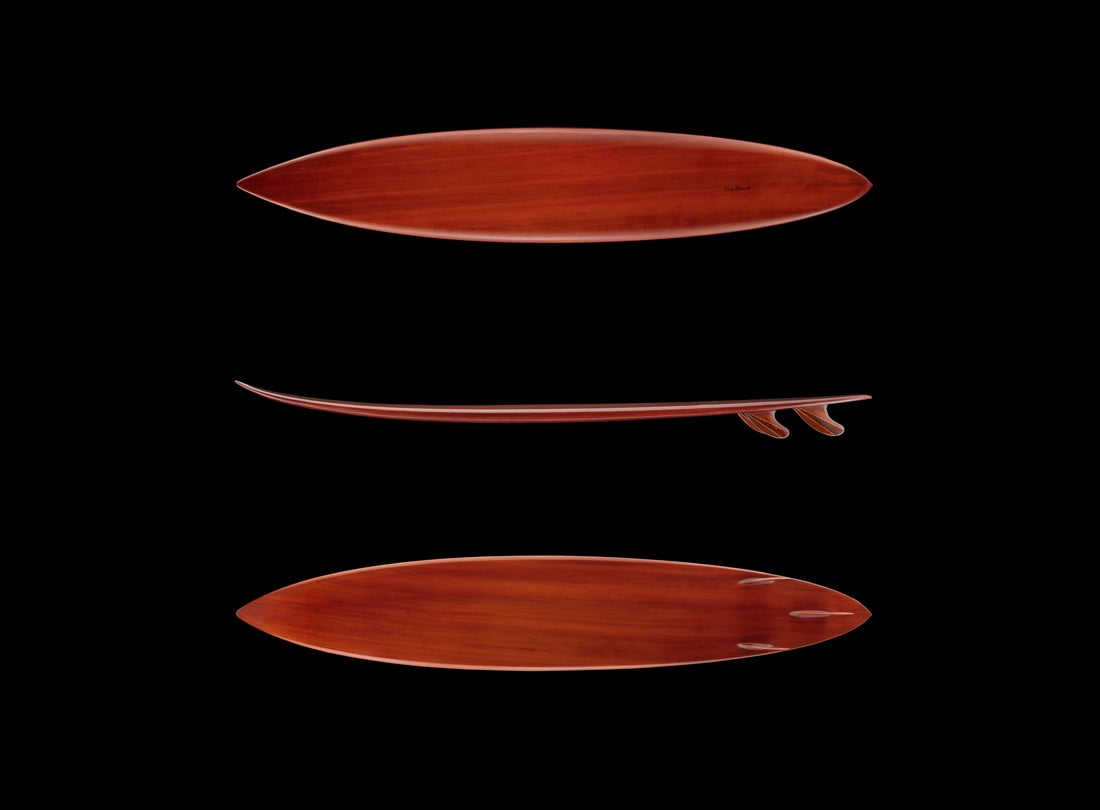 6 of 6
Pūua 2013
Tom "Pōhaku" Stone (b. 1951)
curly redwood
Courtesy of Charles Pyle
L2018.2803.014
Native Hawaiian surfing originated approximately one thousand years ago, imported from Tahiti by the Polynesian people who settled the Hawaiian Islands. He'e nalu, which translates to "wave sliding," is a culturally distinct form of surfing that grew into a popular pastime for men and women of all ages in Hawai'i. He'e nalu was also the sport of ancient Hawaiian royals. King Kamehameha I (1758–1819) and Queen Ka'ahumanu (1772–1832) are said to have surfed together, side-by-side, on long olo surfboards that were reserved for chiefs and royalty. Made from koa or wiliwili wood, these massive olo boards could exceed twenty feet in length and weighed upwards of 150 pounds.
Ali'i comprised a noble class of kings, queens, chiefs, and chiefesses from the Hawaiian Islands. Ali'i were the most accomplished surfers and dedicated much of their time to perfecting the art of he'e nalu. Competitive events ranked the prowess of native surfers and drew contestants from across the islands. Surfers and spectators often bet on the outcome of competitive events and waged highly prized items including canoes, fishing nets, and at times, their own lives. Common Hawaiians enjoyed surfing on many types of ancient boards. Short paipo belly boards such as the uma were utilized for smaller surf. Omo boards could be ridden prone or while standing up. Sleek and maneuverable, stand-up alaia and pūua boards were preferred for higher speeds and larger surf.
Hot Curl c. 2006
Donald Takayama (1943–2012)
tiger stripe redwood, fiberglass, resin
Courtesy of Charles Pyle
L2018.2803.002
Hot curl surfboards provided the stability that was necessary to angle into surf and ride in the curl of the wave. The evolution of the hot curl design began on a glassy day in 1934 near Diamond Head on O'ahu. As Fran Heath (1917–2006) and John Kelly (1919–2007) attempted to ride the pristine, overhead waves at Brown's Beach, the wide tails of their conventional, redwood plank boards would slide out and send them towards the rocky shore. During a break for lunch, Kelly and Heath reshaped one of their boards with an axe, drawknife, and plane—narrowing the rear by thirteen inches and giving the lower surface of the tail a v-shaped profile that resembled a boat's hull. Kelly recalled, "by mid-afternoon we were back out there with this board. I caught a wave and the tail just dug in and I went right across, and we figured something had happened."
Longboard c. 2015
Dudley "Hap" Jacobs (b. 1930)
western red cedar, old-growth redwood, basswood, fiberglass, resin
Courtesy of Tom Albright
L2018.2805.001
By the early 1950s, Southern California shapers were creating thin, rounded boards with side profiles that were curved upward at the nose and tail. These easy-riding Malibu Chip boards were perfectly suited for the smaller surf that is common at places like San Onofre and Malibu. In the 1960s, lightweight and cost-effective polyurethane foam and fiberglass surfboards revolutionized the surfing industry. Hermosa Beach surfer-shaper Dudley "Hap" Jacobs (b. 1930), who partnered with Dale Velzy (1927–2005) in the mid-1950s to make balsa boards, manufactured high-quality surfboards from polyurethane foam. Jacobs' shaping talent and acute business sense made his business one of the most successful and influential of the booming 1960s longboard era.
Big Wave Gun c. 2005
George Downing (1930–2018)
wine-tank redwood, fiberglass, resin
Courtesy of Charles Pyle
L2018.2803.001
During the 1950s, surfers explored the north and west shores of O'ahu in search of bigger waves. Hawaiian-born George Downing (1930–2018) was an expert waterman, shaper, and surfer who possessed an extensive knowledge of the ocean. In the 1940s, Downing was one of the few hot curl surfers to ride at Mākaha, an isolated big wave spot on the west side of O'ahu. The largest waves at Mākaha proved too powerful for the finless hot curl surfboards popular during the era, and in 1949, Downing created the Rocket. This ten-foot-long balsa board featured hot curl streamlining, modern fiberglass construction, and a fin box that allowed Downing to experiment with interchangeable fin designs.
Word traveled about Downing's Rocket, and in 1950, Murray "Buzzy" Trent (1929–2006) made his way from California to Hawai'i. While surfing at Mākaha, Trent rode a narrow, twelve-foot-long balsa and fiberglass board that was purpose-built for big waves by surfer-shaper Joe Quigg (b. 1925). Trent referred to the board as a gun, and over the next few years, big wave surfboard design was refined as riders surfed even larger spots along O'ahu's North Shore such as Waimea Bay. Today, the specialized boards used to paddle into big surf are still referred to as guns. The George Downing gun featured here was created in the same shape as the board that Downing's son, Keone Downing (b. 1953), used to win the 1990 Eddie Aikau Big Wave Invitational at Waimea Bay.
Pipeline Gun c. 2013
Gerry Lopez (b. 1948)
wine-tank redwood, fiberglass, resin
Courtesy of Joseph Filippi
L2018.2807.005
Located on the North Shore of O'ahu, Pipeline produces some of the world's most powerful hollow waves. Pipeline is best known for the short and spectacular "tube rides" that envelop surfers within the curl of the wave before they are expelled in a dramatic burst of water and mist. Waves that exceed ten feet in height break in water that is only six feet above a black-lava reef, making wipeouts extremely hazardous. Surfer-shaper Gerry Lopez (b. 1948) redefined tube riding at Pipeline. Born in Hawai'i and raised in Honolulu, Lopez spent much of his youth surfing at Waikīkī. By the early 1970s, Lopez rode Pipeline with an unmatched, fluid style that made surfing one of the world's most dangerous breaks appear Zen-like.
"Betsy" Tow Board c. 2010
Dick "RB" Brewer (b. 1936)
sequoia redwood, fiberglass, resin
Courtesy of Jan Petersen
L2018.2806.004
Tow surfers utilize specially designed boards and motorized equipment to ride some of the largest and most powerful waves on earth. By towing into takeoff position behind jet skis, these surfers achieve the high speeds that are necessary to catch waves that can exceed thirty feet in height. Due to the water velocity and wind generated by these waves, foot straps are used to keep riders in place. Jet skis retrieve tow surfers after each ride and reposition them back into the lineup before the next large wave rolls through. In 1992, Laird Hamilton (b. 1964), Darrick Doerner (b. 1957), and Buzzy Kerbox (b. 1956) pioneered tow surfing at Pe'ahi, a reef break known as Jaws on the North Shore of Maui that was not considered ridable in extremely large surf. That year, Dick Brewer (b. 1936) created "Betsy" for Hamilton and Doerner, the first modern tow board designed with a full-concave bottom profile and reduced tri-fin setup.