Mar 10, 2018 - Nov 04, 2018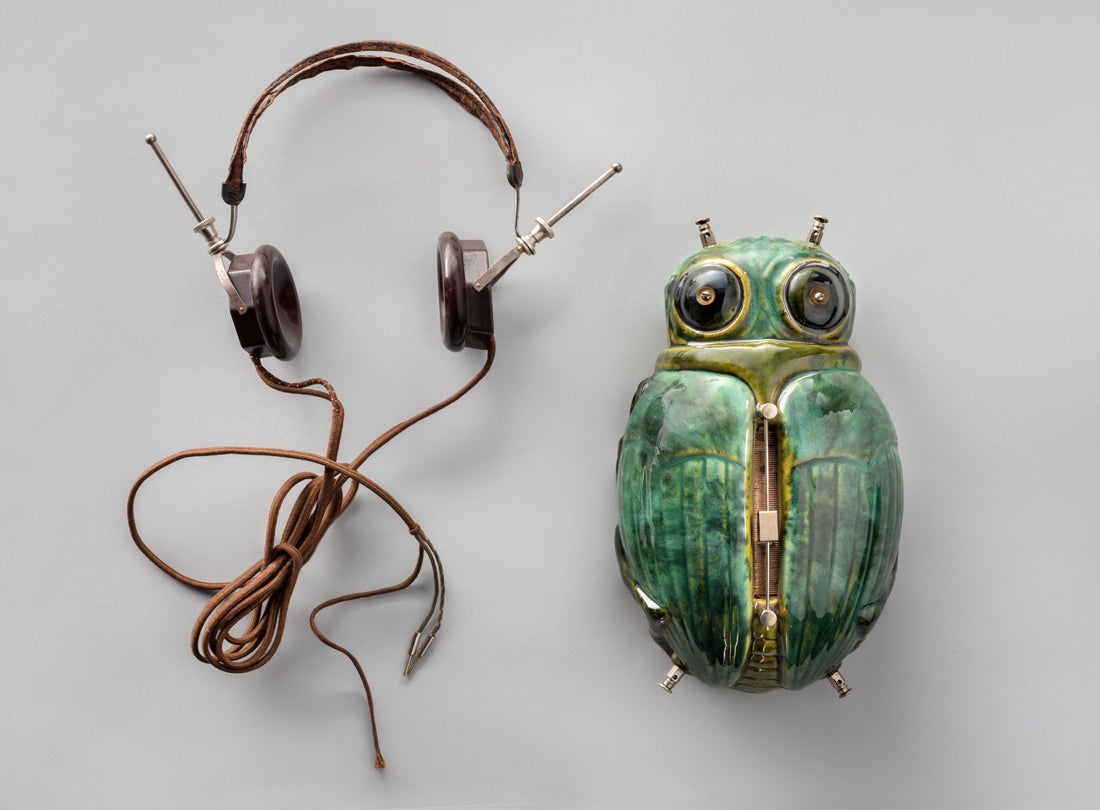 1 of 12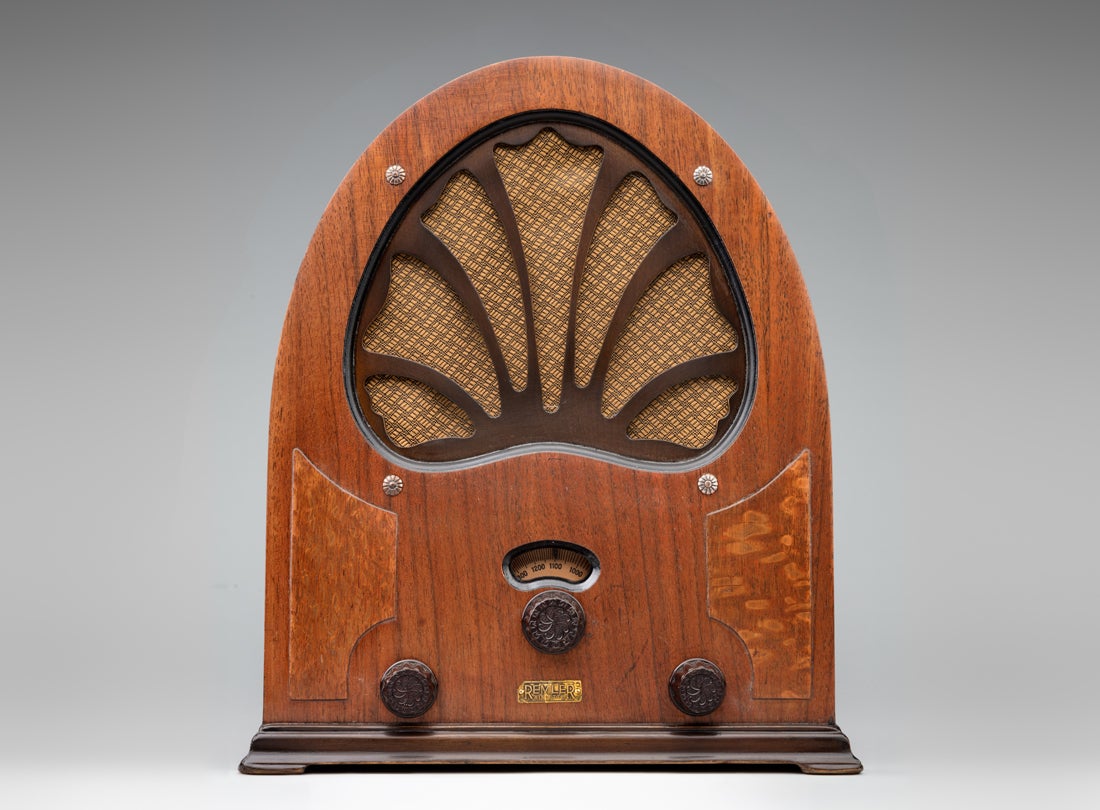 2 of 12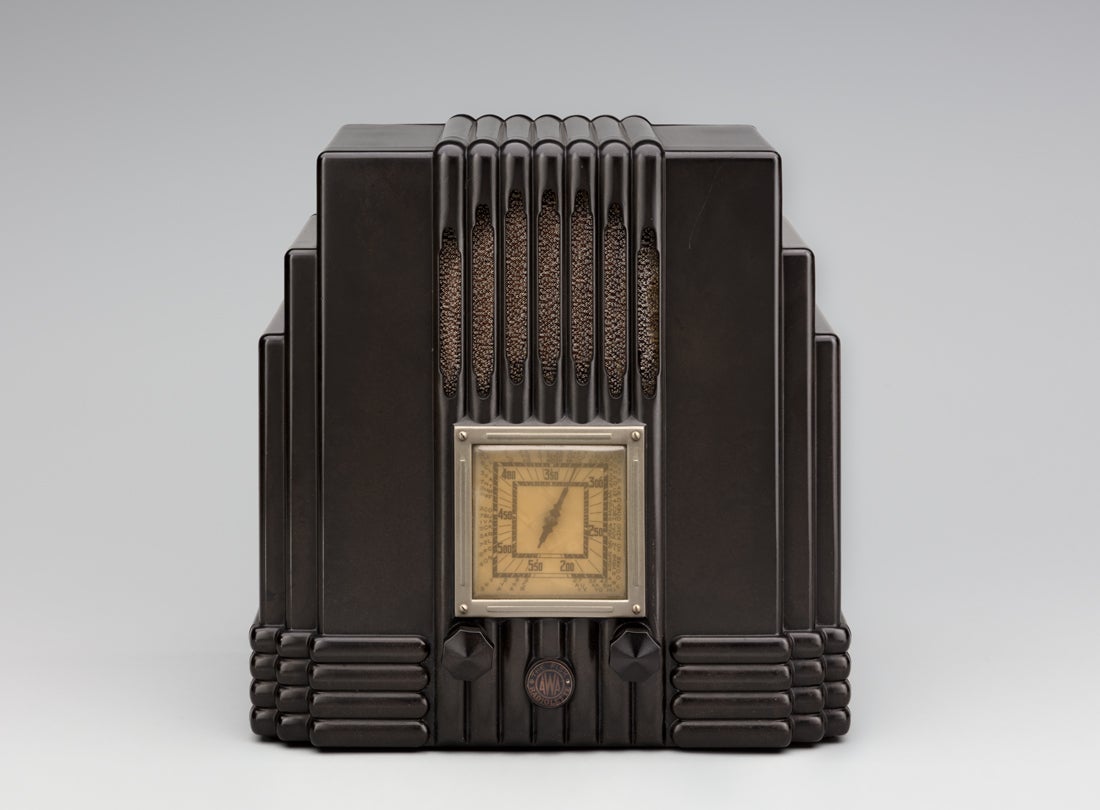 3 of 12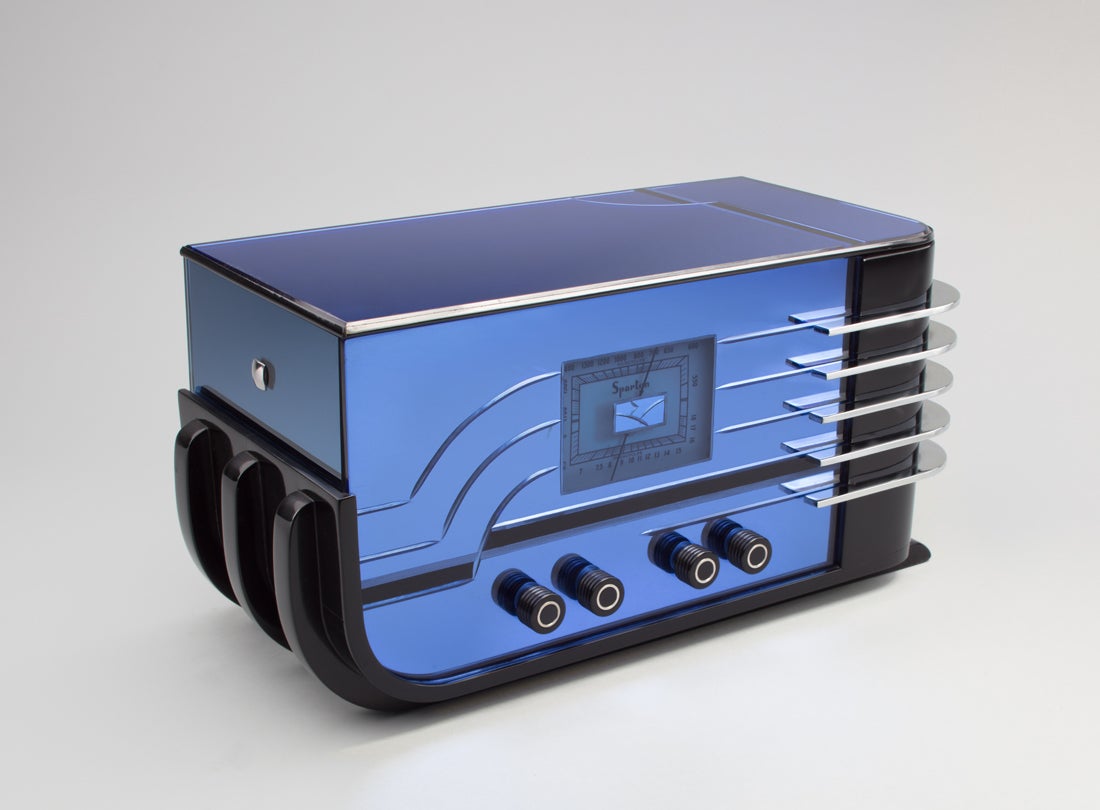 4 of 12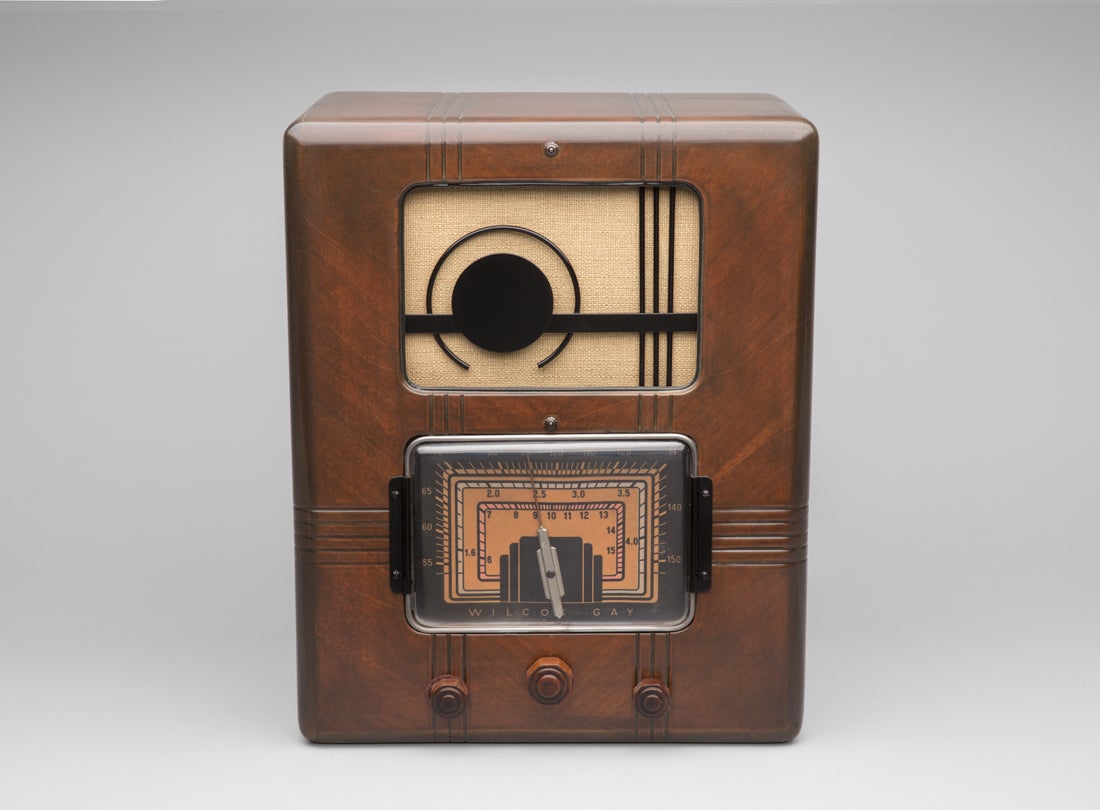 5 of 12
6 of 12
7 of 12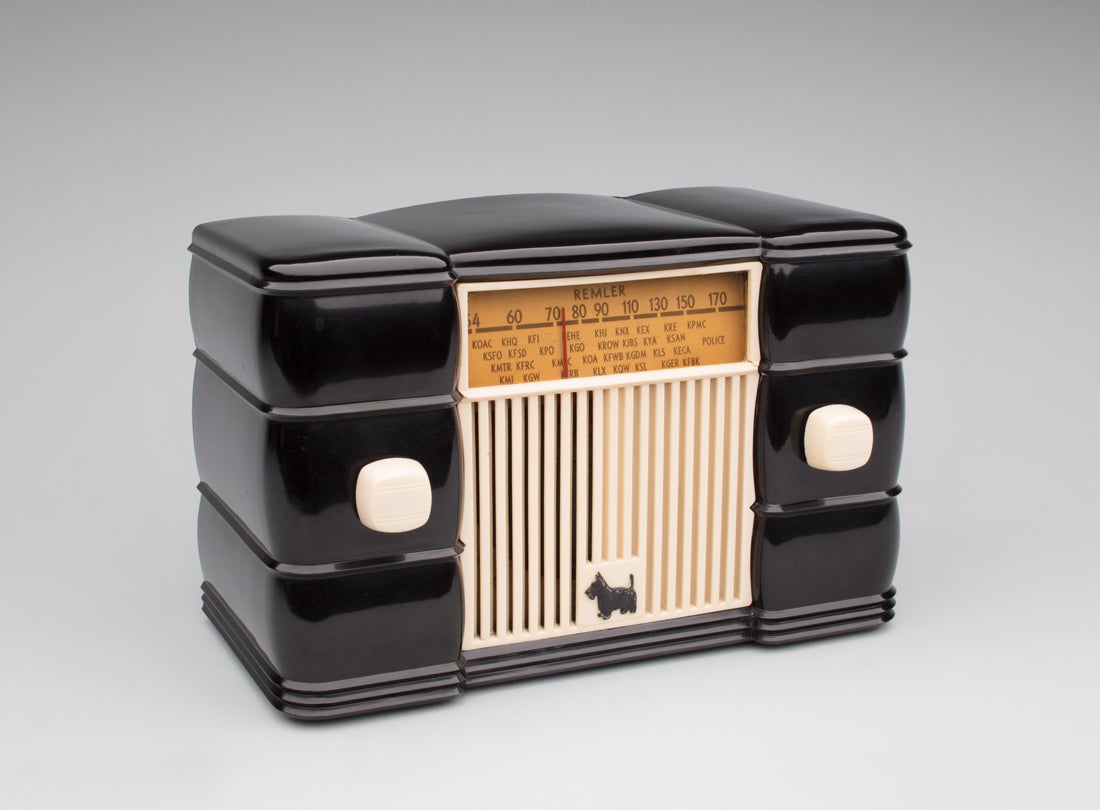 8 of 12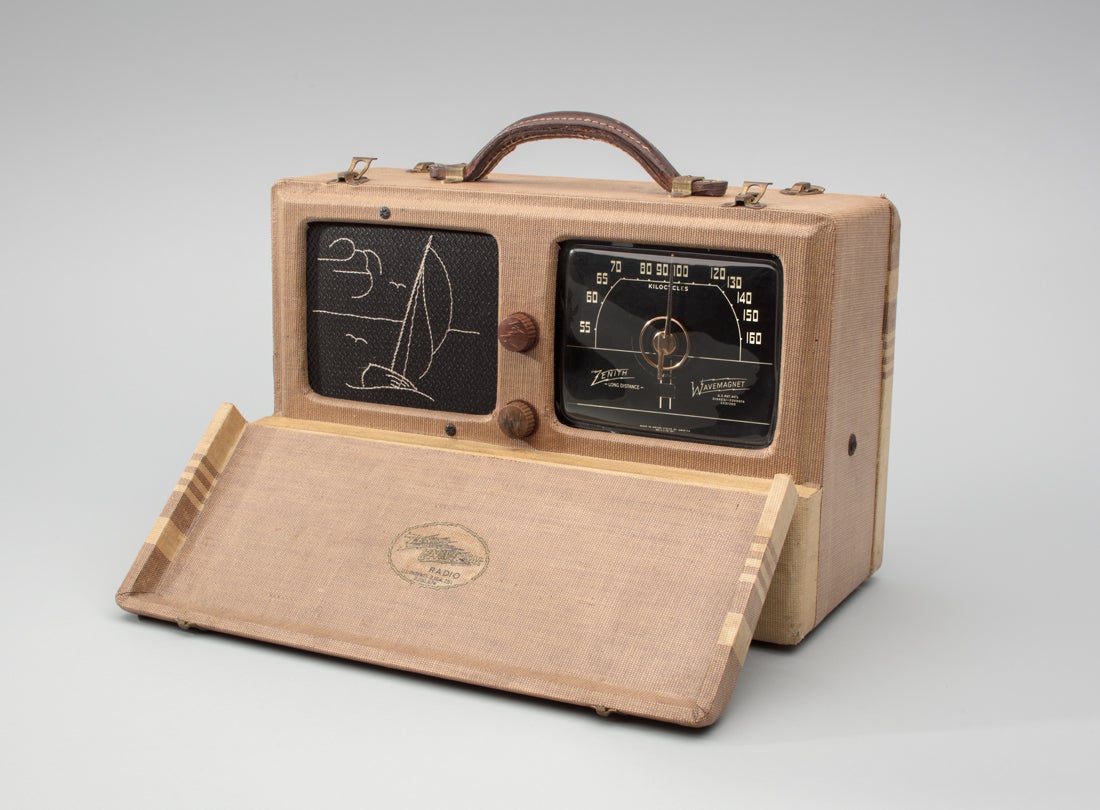 9 of 12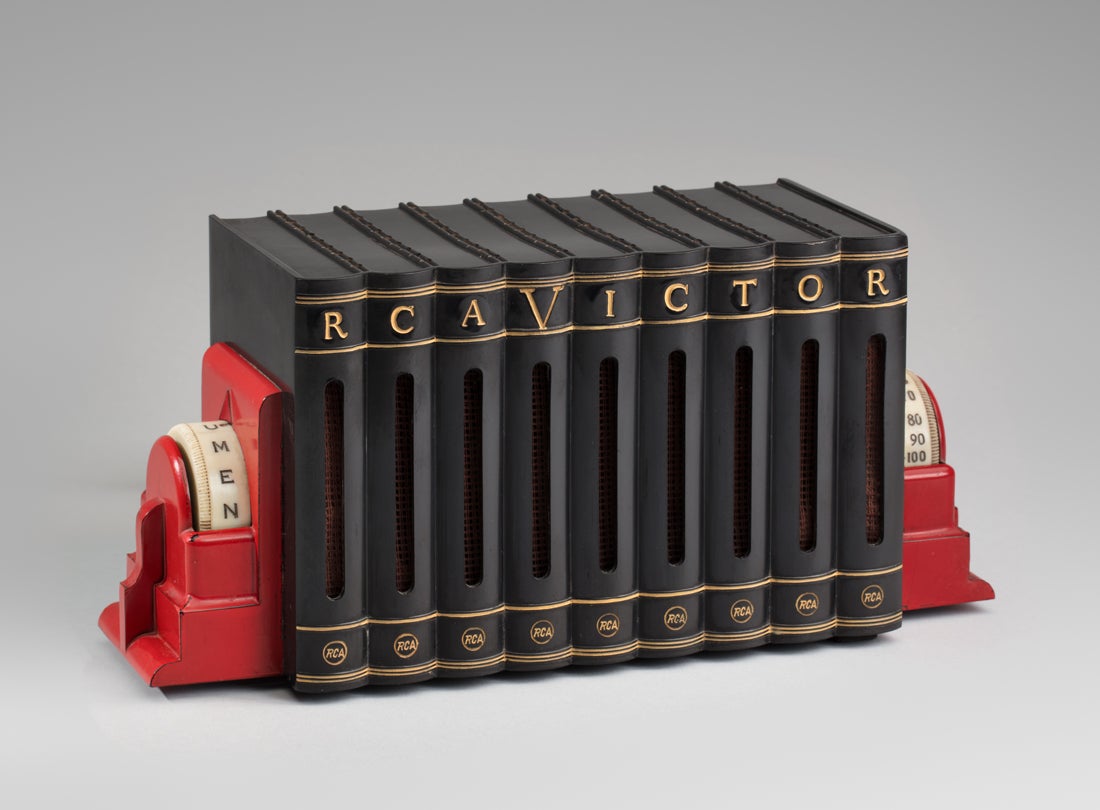 10 of 12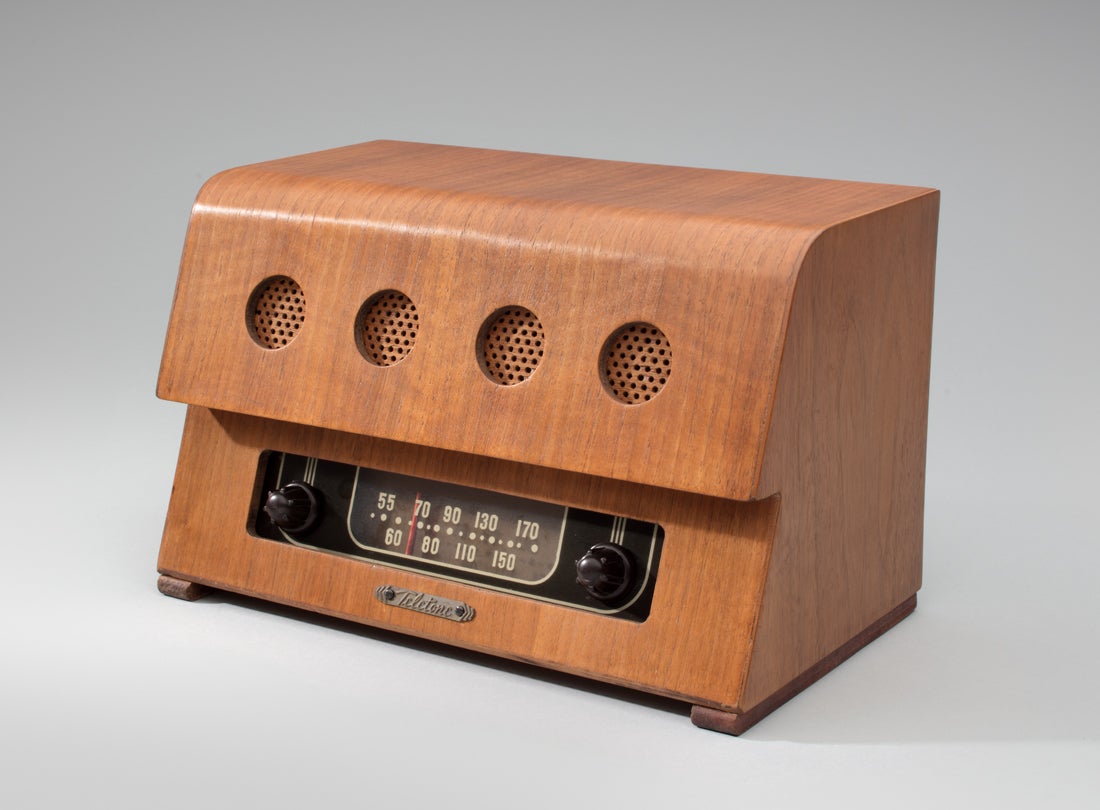 11 of 12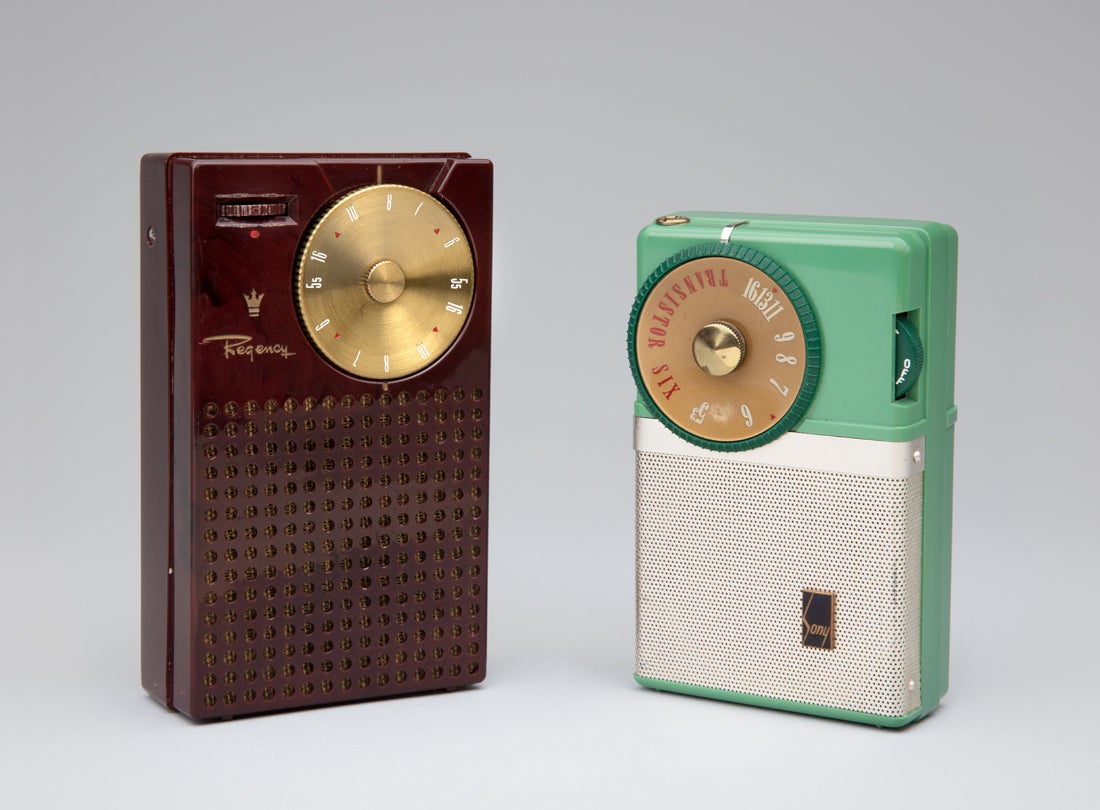 12 of 12
The "Mystic" Radio Bug and headset  c. 1927
Brush Research Laboratories
Zanesville, Ohio
ceramic, glaze, plated metal, Bakelite
Courtesy of Steve Kushman
L2018.0302.002a–b
Crystal sets received radio signals during the earliest days of broadcasting. These simple radios did not operate from batteries or household current-they relied on a semi-conductive mineral known as a crystal and simple circuitry to harness energy directly from radio waves in the air. Crystal sets required a large antenna and a good ground connection to be effective. Due to their low output, crystal sets could not power speakers and listeners wore headsets.
Model 21 "Minuette"  1932
Remler Company Ltd.
San Francisco
wood, brass, Bakelite, plastic, fabric
Courtesy of Jaime Arbona
L2018.0307.001
Radio became a mainstream media in the United States during the 1930s. Technologies such as single dial tuning and alternating household current simplified radio operation, while streamlined manufacturing methods and mass production made radios more affordable. Local broadcasting increased, network programming expanded, and people turned to radio as their preferred source of news and entertainment. During the Great Depression, radio sales soared as the airwaves provided cost-effective entertainment. Cathedral radios are perhaps the most iconic style of radio from this booming era. Nicknamed for their resemblance to the interior arches of the great European cathedrals, they were simply constructed of thin plywood and decorative veneers molded over arched wooden frames.
R29 Fisk Radiolette  1935
Amalgamated Wireless Australasia (AWA)
New South Wales, Australia
Bakelite, plastic, plated-metal, enameled-brass, fabric
Courtesy of Steve Kushman
L2018.0302.017
Bakelite was the first plastic used to make radio cases, allowing for sleek, modern designs not possible with wooden construction. Invented in 1907 by Belgian-born chemist Leo Hendrik Baekeland (1863-1944) at his home laboratory in Yonkers, New York, Bakelite was the tradename for a molded plastic, thermosetting phenolic resin. Lightweight, non-flammable, easily molded, and an excellent electric insulator, Bakelite was made by mixing phenol and formaldehyde, which hardened and was then crushed into powder. Reinforcing fillers including asbestos and wood flour were added to the powdered mixture and poured into a mold under intense heat and pressure. While the color of Bakelite was initially a translucent amber, the addition of fillers and heat in the manufacturing process changed the plastic into its characteristically opaque, dark brown color.
Sparton 558–B "Sled"  1937
case designed by Walter Dorwin Teague (1883–1960)
The Sparks-Withington Company
Jackson, Michigan
mirrored glass, wood, lacquer, chrome-plated metal
Courtesy of Steve Kushman
L2018.0302.025
Mirrored-glass radios embody 1930s style and luxury. Influenced by the Art Deco movement, these unique sets represent a striking departure from traditional radio design. Mirrored radios were often based on the chassis of wooden or plastic tabletop models, re-housed in angular cases with beveled, mirrored panels attached by decorative fasteners. Working with silver, blue, peach, or green mirrored-glass, designers employed glass etching and contrasting materials to dramatic effect. Sparton sets made from 1935 to 1939 by The Sparks-Withington Company are the most intricate and collectible. Designed by famed industrial designer Walter Dorwin Teague (1883–1960), Sparton radios combined mirrored glass in trademark colors such as Midnight Blue and Old Rose with asymmetrical etching and streamlined shapes. Introduced in 1937 as a deluxe tabletop set, the iconic Sparton 558–B exemplifies Art Deco styling with its sweeping lines, chromed trim, and black-lacquered accents on etched, mirrored glass.
Model A–15  c. 1936
Wilcox-Gay Corporation
Charlotte, Michigan
wood, painted metal, aluminum, plastic, fabric
Collection of California Historical Radio Society
L2018.0303.024
Radios gained a place of prominence in the home and office during the 1930s. No longer regarded simply as functional items, radios became decorative statements and reflected modern trends in style and technology. The finest radio sets were influenced by popular aesthetic movements such as Art Deco, with designs rendered in streamlined and asymmetrical shapes. Finely crafted wooden cabinets with carefully radiused corners housed more powerful and advanced electronics. These artfully designed, wood-case sets were the flagships of tabletop radios and paired contrasting grill cloths with bright metals and lacquered woods. Many radios featured modern typefaces and stylized tuning indicators, such as the Wilcox-Gay A–15, with its multicolored, skyscraper-inspired dial.
Model 400–3 "Patriot"  1940
case designed by Norman Bel Geddes (1893–1958)
Emerson Radio & Phonograph Corporation
New York City
Catalin, plastic
Courtesy of Jaime Arbona
L2018.0307.002
Catalin was the tradename for a cast-phenolic plastic manufactured in a variety of brilliant colors by the American Catalin Corporation of New York City. Catalin radio production was labor-intensive and began with a liquid resin and catalyst that was poured into a casting and cured with heat over time. Once removed from castings, parts were machined by hand and polished to a high gloss. Described by Fortune magazine in 1936 as "the gaudy brother of somber Bakelite," Catalin was first used to make smaller items such as bracelets, chess pieces, and buckles. By mixing and matching the bright and lustrous range of Catalin colors, designers including Walter Dorwin Teague (1883–1960) and Norman Bel Geddes (1893–1958) created radio cases that embodied progress and optimism during the Great Depression. Made from the mid-1930s through the late 1940s, Catalin radios are colorful, visually expressive examples of modern styling and industrial design.
Model C–400  c. 1940
Canadian General Electric Company, Ltd.
Toronto
Plaskon, plastic, fabric
Courtesy of Steve Kushman
L2018.0302.033
Molded plastics allowed for innovative and modern styling in radio design. Bakelite was the first molded plastic used to make radio housings, produced in unfinished brown Bakelite, or with painted coatings that were prone to scratches and paint loss. Other early plastics included Plaskon, the tradename for a urea formaldehyde, molded plastic developed by the Toledo Scale Company in 1929 for lightweight grocery scale housings. While Plaskon was similar in chemistry to Bakelite, it could be dyed and was manufactured in white and a variety of bright colors. As radio technology advanced in the 1930s, mass-produced plastic housings enclosed simpler chassis with smaller vacuum tubes, making radios more attractive and affordable. In the late 1940s, radio companies began using injection-molded plastics pioneered during the Second World War, creating the modern shapes and bright colors indicative of postwar radio design.
Model 49  1936
Remler Company, Ltd.
San Francisco
Plaskon, plastic
Courtesy of Jaime Arbona
L2018.0307.008
The Remler Company manufactured radio receivers in downtown San Francisco for more than three decades. Founded in 1918 by Elmer Cunningham (1889–1965), a local maker of radio vacuum tubes, The Remler Company reorganized in a new plant at 2101 Bryant Street in 1931 and made tabletop radios, console sets, and electrical components. In the mid-1930s, Remler introduced the "Scottie" dog logo, likely influenced by Fala, the famous Scottish terrier owned by president Franklin Delano Roosevelt (1882–1945). Remler's unique styling ranged from plastic-case sets with upholstered-motifs, to radios in striking glass enclosures and modern wooden cases. Some Remlers had a unique "dual" chassis that allowed for AC electricity or DC battery power; others such as the Model 330 portable operated on battery power alone.
Universal 6G601  1942
Zenith Radio Corporation
Chicago
wood, fabric, lacquer, leather, brass, plastic
Courtesy of California Historical Radio Society
L2018.0303.038
From picnics in the park, to outings at the beach or simply relaxing in the backyard, portable radios brought the style and excitement of radio technology outdoors. In 1924, Zenith introduced their Companion model, the first portable, self-contained radio offered by a major manufacturer. Although the Companion featured a revolutionary enclosure that held batteries and a built-in speaker, it was heavy, expensive, and ahead of its time. During the late 1930s, improvements in vacuum tube technology paved the way for modern portable radios. Inspired by fashions in luggage design, these lightweight radios were housed in hinged, wooden cases covered in tweed cloth or textured leatherette. Radios such as the Remler 92 operated on battery power, while most sets were "plug-in portables" that switched from AC household current to battery operation. By 1939, more than 150 portable radio models were available, including Zenith's popular Universal portable complete with a patented "Wavemagnet" aerial antenna. 
X–11 Aladino  1949
Corporación de Radio de Chile S.A. (RCA)
Santiago, Chile
Bakelite, enamel, plastic
Courtesy of Steve Kushman
L2018.0302.038
Novelty radios from the 1930s focused on fitting in rather than standing out. These intriguing radios mirrored objects such as books, statues, model ships, and lamps. Often found on a bookshelf or office desk, novelty sets were designed as fully functional radios and sometimes looked almost indistinguishable from the objects they copied. With the front cover closed, Remler's Model 40 "Book Case" was disguised as a seven-volume set of the History of Nations, complete with a tooled-leather, book cloth cover. Other novelty radios performed two functions. The Model 500 Radio Lamp featured a speaker in the shade and was illuminated by an internal bulb directly below. Novelty radios also advertised products and promoted new technologies. The RCA X-11, a compact, promotional Bakelite radio, used miniature multi-unit tubes that were developed during the Second World War and introduced to the civilian radio market in 1946.
Model 160  1946    
Tele-Tone Radio Corporation
New York
case designed by Charles Eames (1907–78)
Evans Products, Molded Plywood Division
Venice, California
plywood, plastic, brass, metal
Courtesy of Steve Cabella
L2018.0308.002
Mid-century design redefined furniture, housewares, and decorative arts as functional and attractive, modern products. Designers experimented with materials perfected during the Second World War such as aluminum, Plexiglas, plastic, and molded plywood. The husband-and-wife team of Charles (1907–78) and Ray (1912–88) Eames had the greatest impact, perhaps most elegantly with the molded plywood LCW chair introduced in 1946. Using their molded plywood technology, the Eames office designed radio cabinets for companies such as Zenith, Emerson, and Bendix, and from 1946 to 1952, Evans Products manufactured more than 200,000 Eames-designed radio enclosures. While on a business trip in Detroit during the first year of Evans radio production, Charles Eames met Alexander Girard (1907–93), who was designing plywood radio cases for the Detrola Corporation. Girard later joined Eames as a designer for the Herman Miller Furniture Company. By the late 1940s, famed industrial designer Raymond Loewy (1893–1986), who styled everything from Studebaker cars to refrigerators, corporate logos, and the NASA Skylab, was working with molded plywood radio design.
Regency TR–1  1954
Industrial Development Engineering Associates (IDEA)
Indianapolis, Indiana
plastic, brass, leather
Courtesy of Steve Kushman
L2018.0302.045a

 

Model TR–63  1957
Sony Corporation
Tokyo
plastic, plated metal, brass
Courtesy of Steve Kushman
L2018.0302.051
Transistors are far smaller than vacuum tubes and do not require periodic replacement. Bell Laboratories started development of solid-state technology to replace the vacuum tube in 1939 and demonstrated a point-contact amplifier they termed the transistor in 1947. Initially too costly for most products, audio transistors found their first use in hearing aids. In 1954, Texas Instruments partnered with Industrial Development Engineering Associates (IDEA) and created the first transistorized radio. Marketed as the Regency TR-1, it featured a built-in speaker and debuted just in time for the holiday season. One year later, Sony, which takes its name from the Latin word sonus for sound, was created to introduce the TR-55, Japan's first transistor radio. In 1957, Sony marketed their first pocket-sized radio, the TR-63, followed by the popular TR-510 in 1961. Japanese transistor radios were designed for the American market, and sales quickly outpaced heavier and more-expensive examples made in the United States.