Feb 11, 2021 - Sep 19, 2021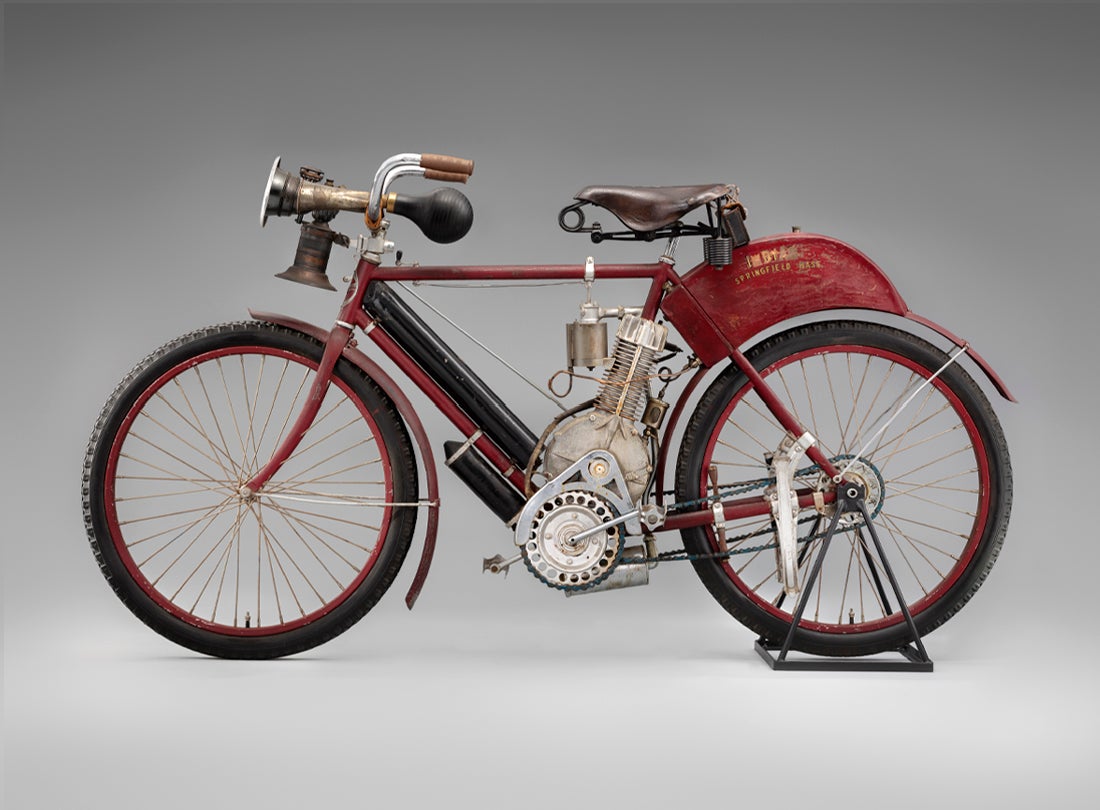 1 of 12
2 of 12
3 of 12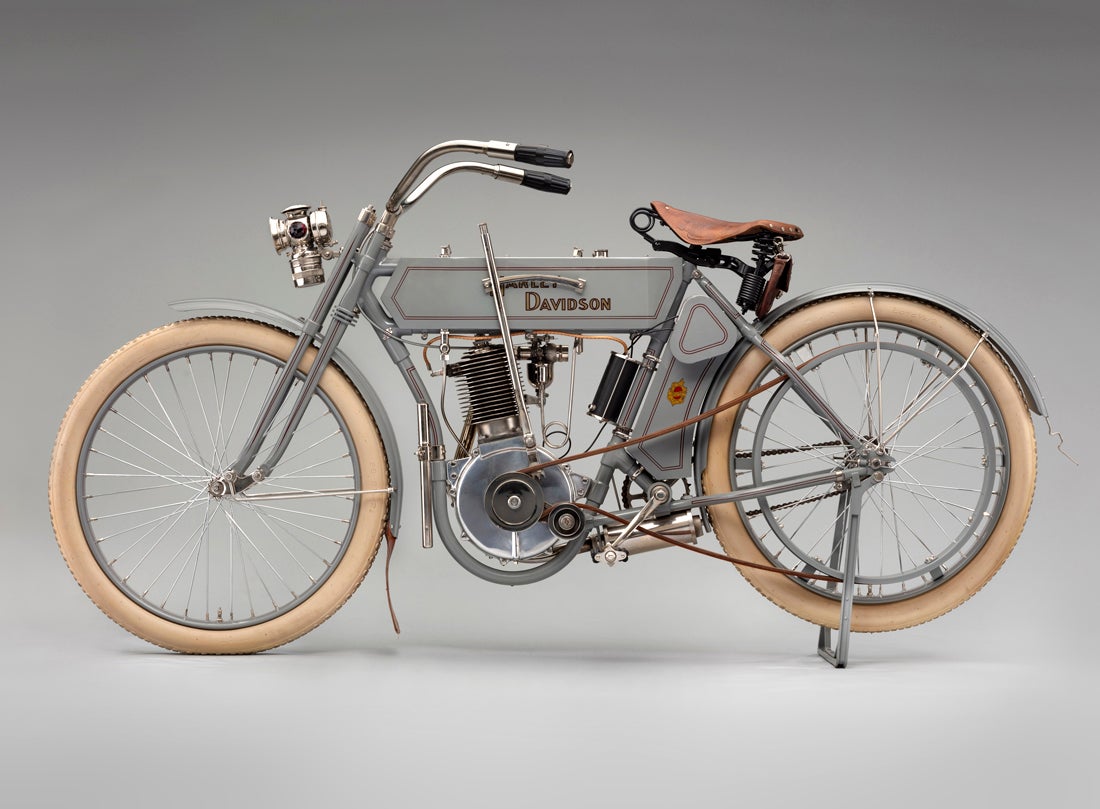 4 of 12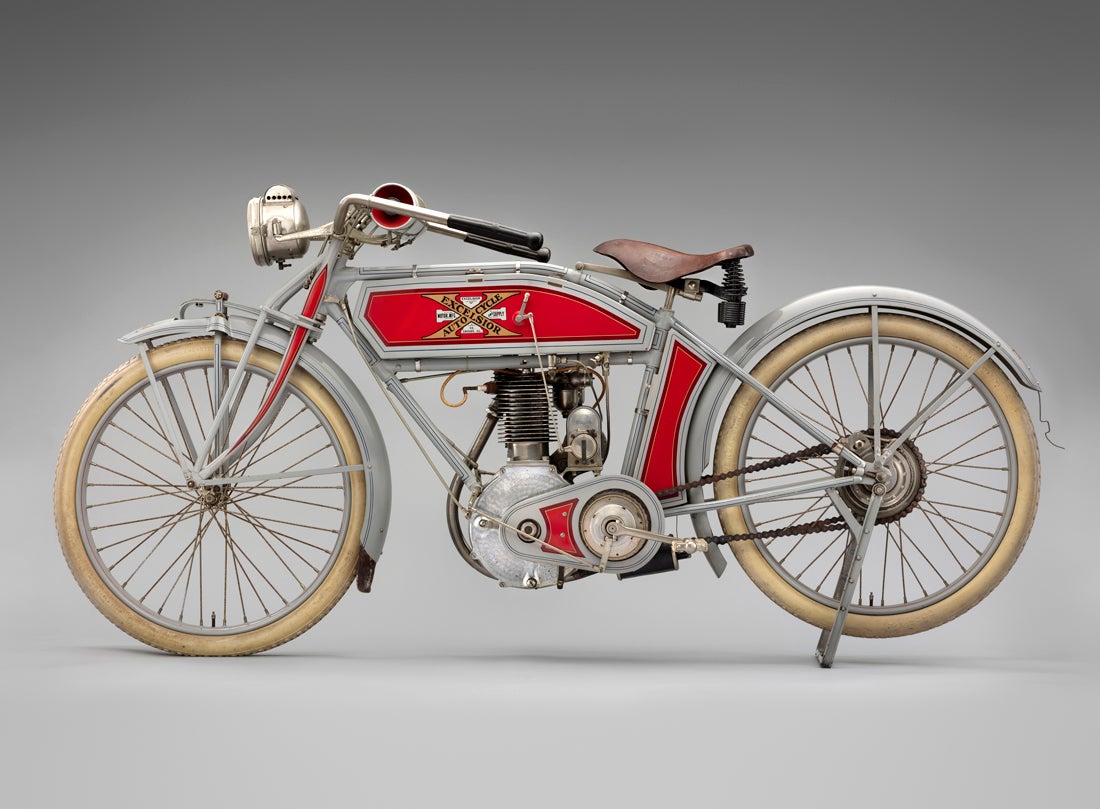 5 of 12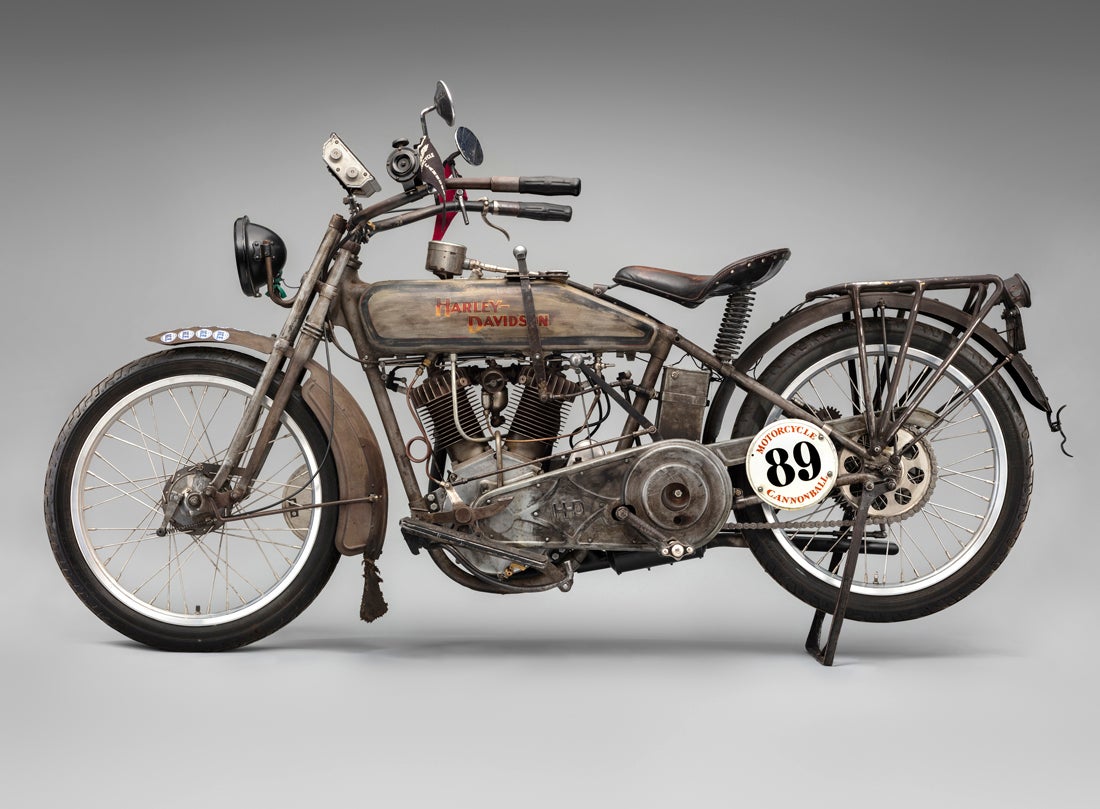 6 of 12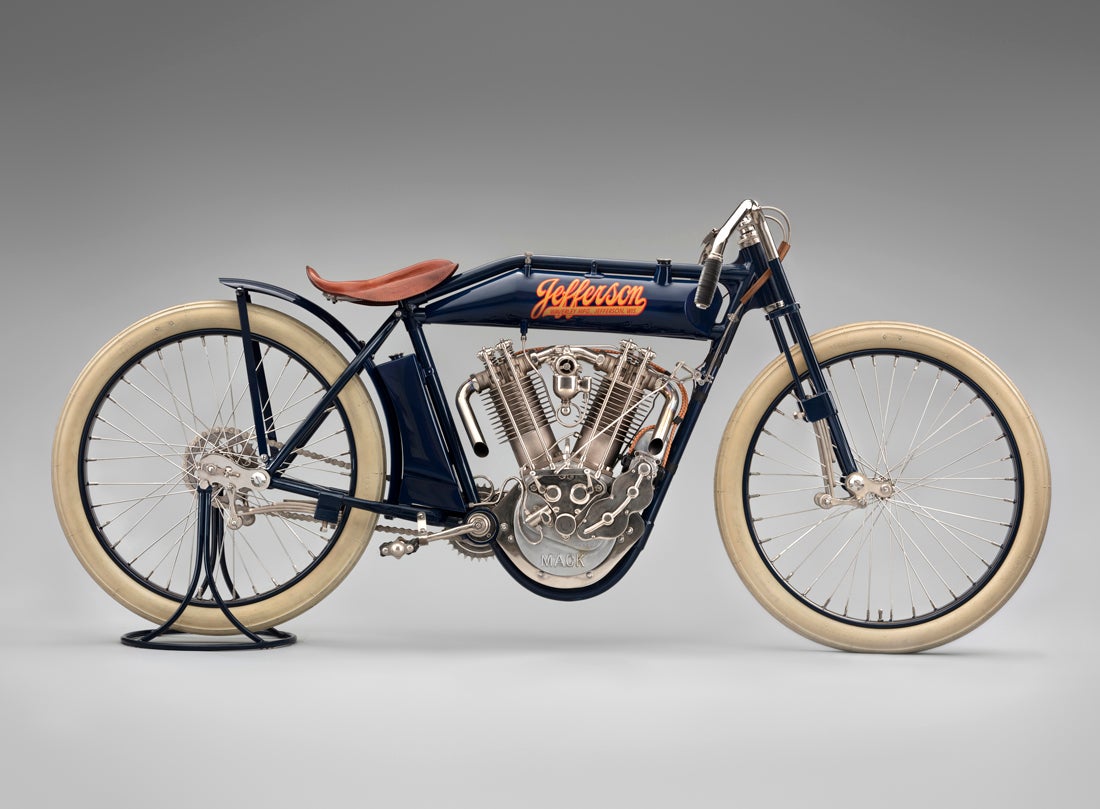 7 of 12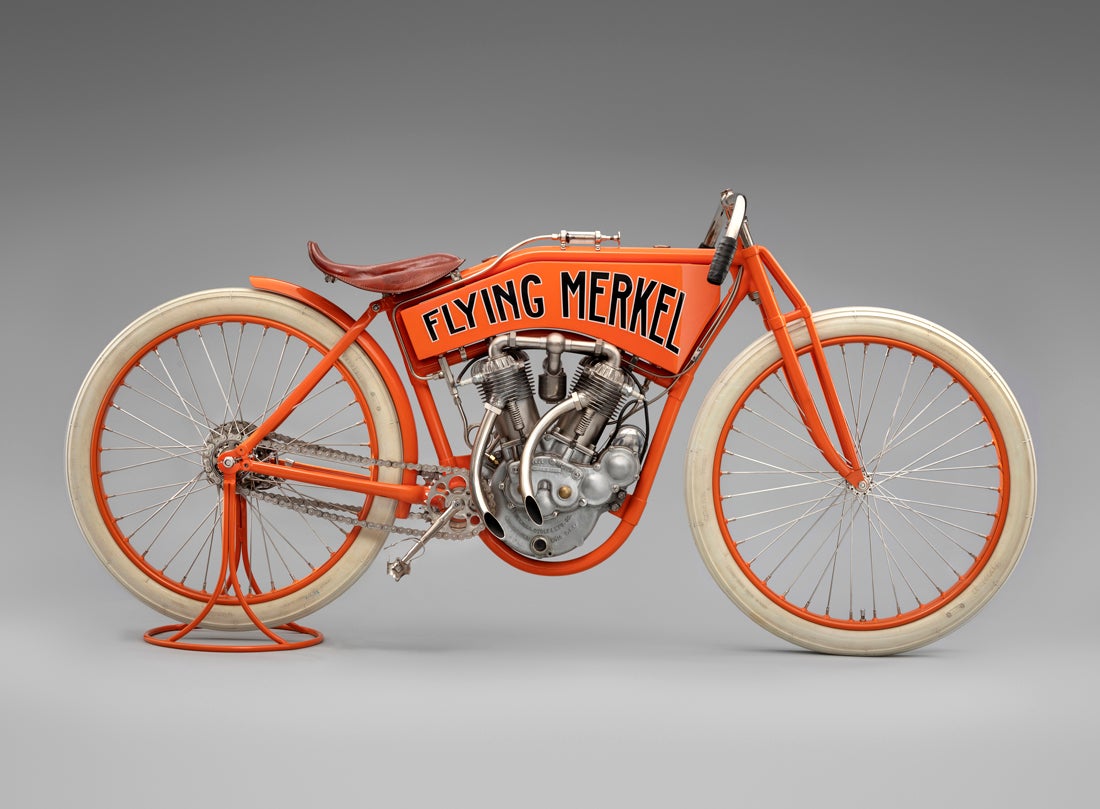 8 of 12
9 of 12
10 of 12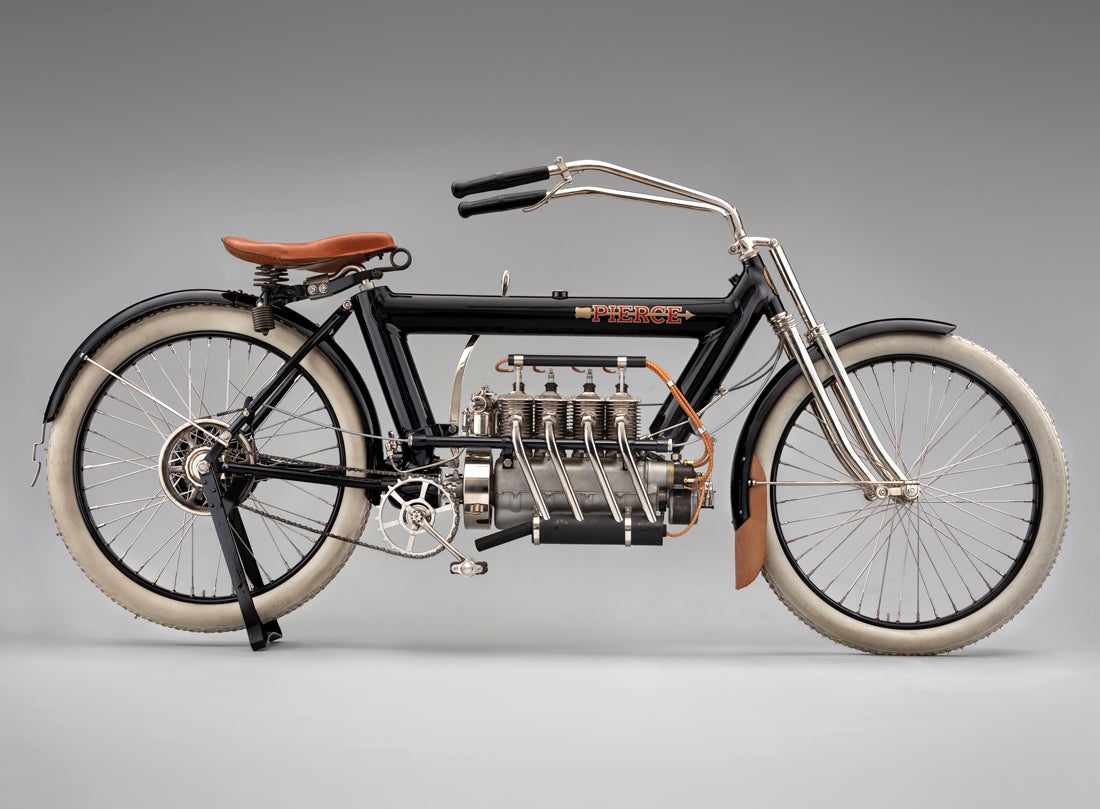 11 of 12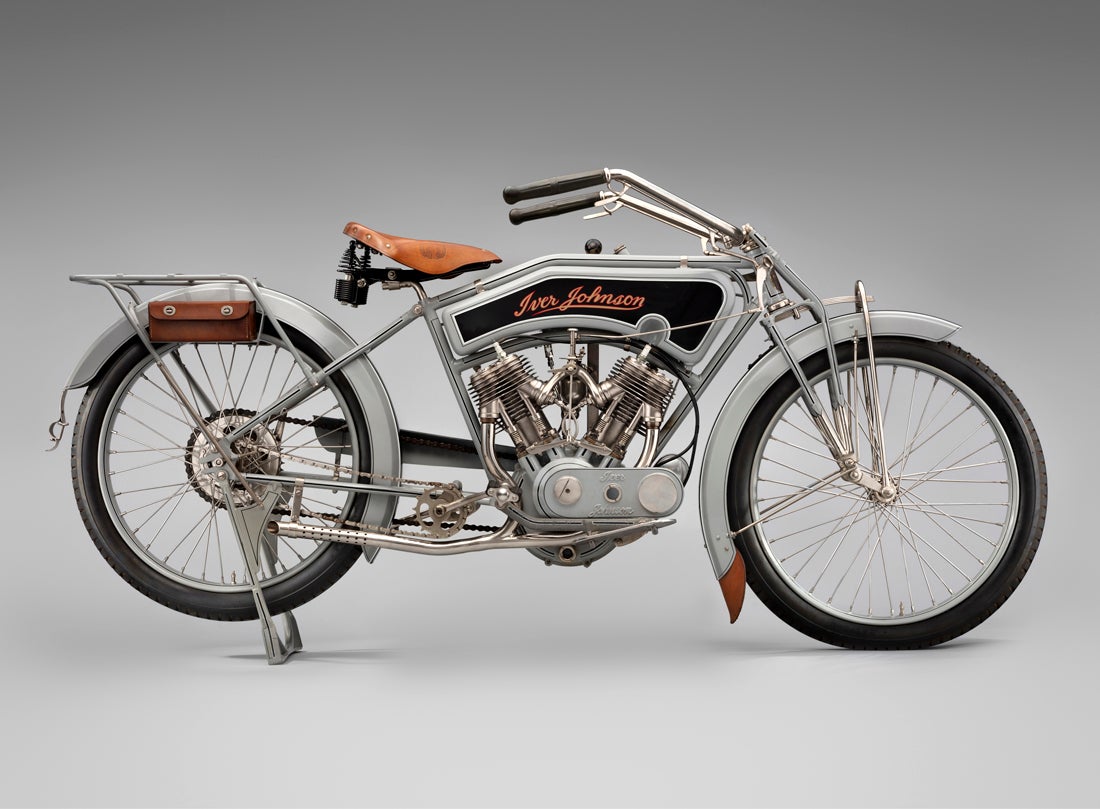 12 of 12
Indian Motocycle  1903
The Hendee Manufacturing Company
Springfield, Massachusetts
Courtesy of Dave Scoffone
L2020.2301.002
Indian Motorcycles
George M. Hendee (1866–1943) was a motorcycle pioneer who began his career as a bicycle racer. The son of a French émigré father and Native American mother, Hendee started racing high-wheeler bicycles at age fifteen, and later progressed to the faster "safety bicycles" that utilized two wheels of the same size. Hendee retired from competition in 1892 and founded a bicycle company in Springfield, Massachusetts. At first, he produced bicycles with imported British parts. By 1897, close to 300 American bicycle companies had flooded the market, and The Hendee Manufacturing Company reduced prices on its models to stay competitive. His best-selling bicycle was the American Indian, named to reflect the bike's domestic manufacture and Hendee's Native American roots. Soon thereafter, Hendee adopted Indian as his primary brand name.
Swedish-born Carl Oscar Hedstrom (1871–1960) was a bicycle racer who also built lightweight racing frames in the 1890s. By the end of the decade, racing bicyclists rode behind motorized pacers in a slipstream that allowed for faster speeds than could be attained by a bicycle on its own. After he adapted an engine to an Orient tandem bicycle, Hedstrom introduced a purpose-built, De Dion-Bouton-powered tandem bicycle pacer in 1900. That year, Hendee, who was a partner in the Springfield Coliseum bicycle board track, invited Hedstrom to pace races. The two struck a deal in 1901 to manufacture a single-seat motor-bicycle for street use, and production began in November using single-cylinder engines that were designed by Hedstrom and made by the Aurora Automatic Machinery Company in Aurora, Illinois. The new Indian "Motocycle" debuted in early 1902. Completed at The Hendee Manufacturing Company's factory in Springfield, the simple, chain-driven machine featured a revolutionary carburetor design patented by Hedstrom that provided outstanding operation and reliability.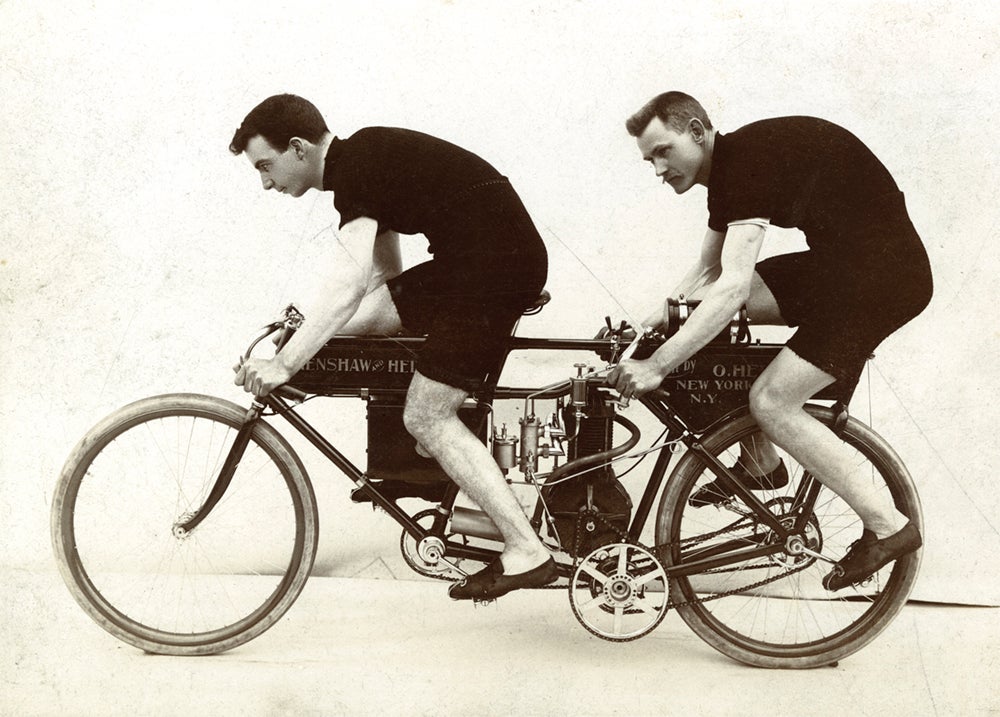 Charles Henshaw and Oscar Hedstrom on a Hedstrom Motor-Pacer  c. 1901
Courtesy of Lyman & Merrie Wood Museum of Springfield History
R2020.2309.001
California Motor Bicycle  1902
California Motor Company, Inc.
San Francisco
Courtesy of Dave Scoffone
L2020.2301.001
George Wyman Rides Cross Country
George A. Wyman (1877–1959) was the first person to cross the United States by motorized vehicle. This was an exceptional feat at the turn of the twentieth century, as gasoline was not readily available and passable roads did not exist in many parts of the country. Undaunted, Wyman departed for his transcontinental journey atop a specially modified California motorcycle on May 16, 1903, from Lotta's Fountain at the corner of Market, Geary, and Kearny Streets in downtown San Francisco. The first major obstacle was deep snow on Donner Pass in the Sierra Nevada mountain range, where Wyman walked his motorcycle through the dark, damp, and freezing snowsheds and tunnels constructed for the transcontinental railway line.
In the absence of roads, Wyman rode much of his journey along railroad tracks and the Overland Trail created for wagon trains and stagecoaches in the 1800s. He encountered deep sand in the deserts and treacherous mud on the flatlands. Wyman often walked his California when conditions worsened, and he pedaled the bike when its engine overheated. Breakdowns were common and crashes punctuated the journey. A broken handlebar at top speed caused one damaging crash, and Wyman steered his motorcycle with a hardwood stick lashed across the handlebars for the next 400 miles until the bike was repaired. After replacing numerous spokes, tires, drive belts, and an engine crankshaft, the California motorcycle's 1 ¼-horsepower engine gave up outside of Albany, New York. George Wyman finally arrived in New York City on July 6 after pedaling the final 150 miles. The 1902 California Motor Bicycle featured above was discovered and restored in the 1970s by newspaper mogul and collector Otis Chandler (1927–2006) and is very likely George Wyman's cross-country machine.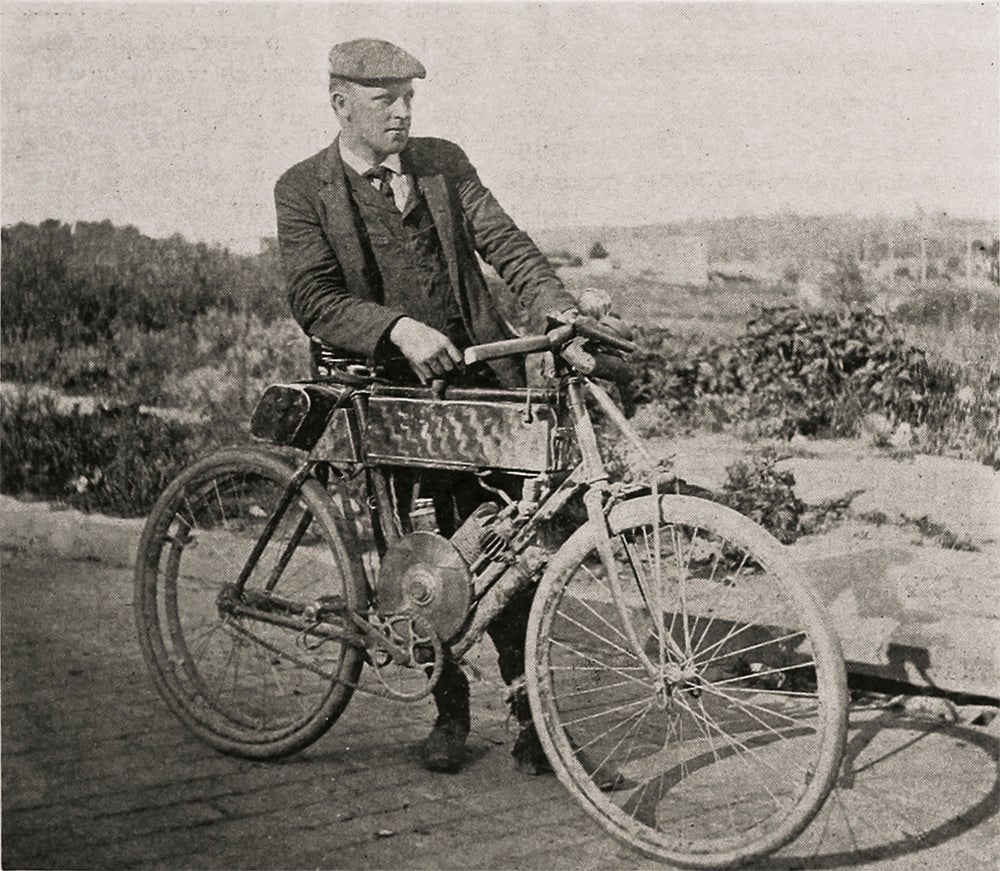 George A. Wyman at the end of his transcontinental ride  July 1903
The Motorcycle Magazine November 1903 | New York
Courtesy of The George Wyman Memorial Project
R2020.2308.001
Curtiss Double Cylinder  1907
G.H. Curtiss Manufacturing Company
Hammondsport, New York
Courtesy of Wes Allen
L2020.2302.002
Curtiss Motorcycles
Glenn Hammond Curtiss (1878–1930) was one of the first manufacturers to design motorcycles that significantly improved on their bicycle heritage. An avid bicyclist and racer himself, Curtiss ran a small manufacturing and retail shop in Hammondsport, New York, in the late 1890s. Sometime around 1901, Curtiss motorized two of his bicycles with engine castings made by the E.R. Thomas Company in nearby Buffalo, New York. Disappointed with the performance of the Thomas engines, Curtiss decided to design and manufacture his own.
In 1902 Curtiss advertised single-cylinder motorcycles, engines, and casting kits under the Hercules brand name, and the following year he was winning races on a powerful new twin-cylinder machine. Curtiss added a twin-cylinder Hercules for the 1904 model year that was capable of an impressive five to fifty miles-per-hour. He dropped the Hercules name in favor of Curtiss in 1906 and received orders for his first aircraft engine, a forty-horsepower, eight-cylinder powerplant that weighed only 150 pounds. In January 1907, Curtiss entered a specially modified racing motorcycle fitted with the new V-8 aircraft engine at the Winter Speed Carnival in Ormond Beach, Florida. Amazingly, he clocked 136 miles-per-hour—the fastest speed anyone had achieved on a motorized vehicle—on the hard-packed sand before the motorcycle's driveshaft broke while traveling over ninety miles-per-hour on the return run. By 1908, Curtiss shifted his attention to aviation and became a pioneering aviator and aircraft designer as well.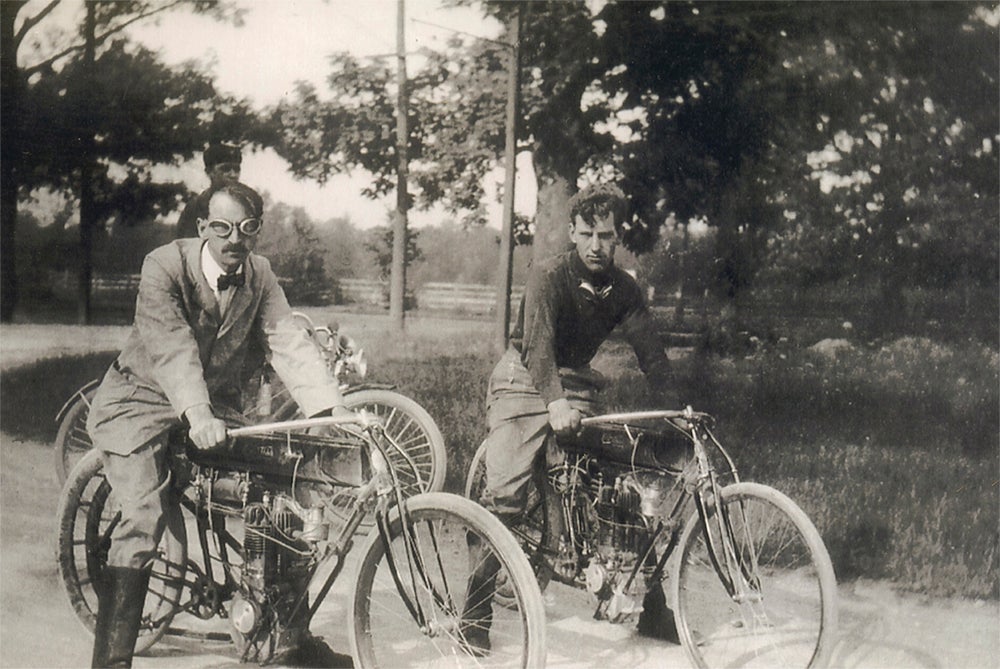 Glenn Curtiss and William Chadeayne on Curtiss motorcycles  c. 1907
Courtesy of Don Emde
R2020.2307.003
Harley-Davidson Model 6  1910
Harley-Davidson Motor Company
Milwaukee, Wisconsin
Courtesy of Dave Scoffone
L2020.2301.003
Harley-Davidson
William S. Harley (1880–1943) along with brothers Arthur (1881–1950), Walter (1876–1942), and William (1870–1937) Davidson constructed the first three Harley-Davidson motorcycles in 1903 in a small workshop located in the backyard of the Davidson family home in Milwaukee, Wisconsin. Although they built just three more of their simple, single-cylinder motorcycles the following year, Harley-Davidson moved to a new building on the company's current Juneau Avenue site and increased production to fifty motorcycles in 1906. Known as the "Silent Gray Fellow," the new model was quiet, reliable, and established Harley-Davidson as a major motorcycle manufacturer.
To keep up with demand, Harley-Davidson moved into a modern 9,520 square-foot production facility in 1910, and by 1913 they produced more than sixty motorcycles per day. Harley-Davidson survives as the only continuously operating company of the approximately 100 motorcycle manufacturers that existed in the United States during the early twentieth century. The 1910 Harley-Davidson Model 6 shown above features an optional carbide headlamp, which is lit by flammable acetylene gas that is produced by a reaction between carbide pellets and water in the base of the lamp.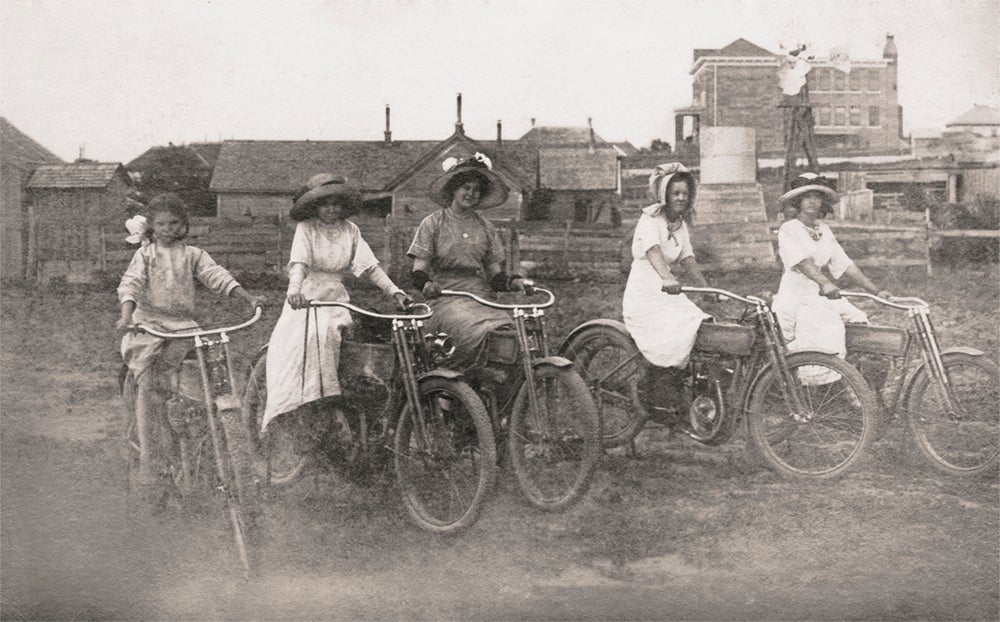 Women on Harley-Davidson motorcycles in McPherson, Kansas  c. 1910
Courtesy of Pat and Cris Simmons
R2020.2304.004
Excelsior Auto-Cycle Model 4B  1912
The Excelsior Motor and Manufacturing Company
Chicago
Courtesy of Nancy Mathews and family
L2020.2303.001
Excelsior
Along with rivals Harley-Davidson and Indian, Excelsior was one of the "Big Three" American motorcycle brands during the 1910s. Like many other motorcycle makers, Excelsior had deep roots in bicycling. Formed in 1876 to distribute sewing machines, The Excelsior Supply Company added bicycles, cycling parts, and accessories to their catalog in the 1890s. The Excelsior Motor and Manufacturing Company formed as a subsidiary in 1907 to enter the motorcycle market. While their first model used a Thor engine built under license, Excelsior introduced the Auto-Cycle in 1908, a new design made at their seven-story facility in Chicago. The 3 ¼-horsepower Auto-Cycle was a success and demand quickly surpassed supply.
Bicycle maker Ignaz Schwinn (1860–1948) purchased Excelsior in 1911 and gave the motorcycle division yet another boost. Under Schwinn's leadership, Excelsior relocated to a new 200,000 square-foot factory and introduced single- and twin-cylinder models with belt- or chain-drive setups. A professional, factory-backed racing team promoted Excelsior's road bikes, and in 1912 at the Playa del Rey motordrome near Los Angeles, Lee Humiston (1889–1949) became the first racer—in an automobile or on a motorcycle—to exceed 100 miles-per-hour on a closed-course track. Production of Excelsior motorcycles continued until 1931, when Schwinn refocused on marketing lower-cost bicycles to a Depression-era public. The four-horsepower 1912 Excelsior single shown above features an optional magneto ignition that did not require battery maintenance or replacement.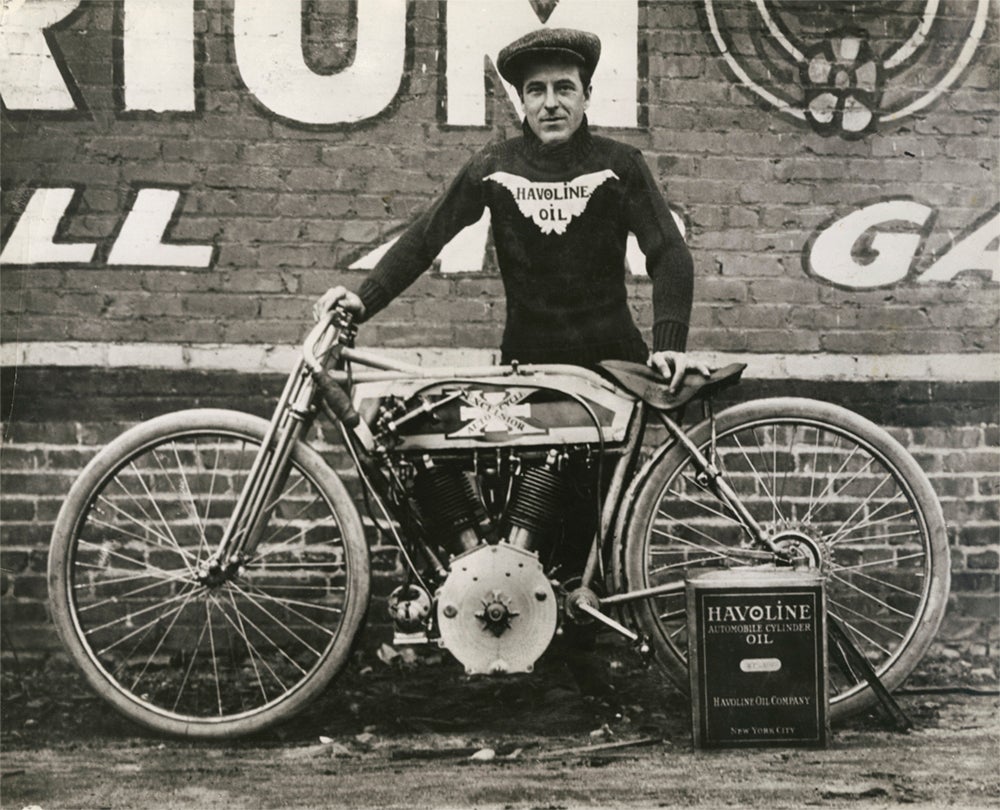 Lee Humiston with his record-setting Excelsior racer  1912
Courtesy of Don Emde
R2020.2307.004
Harley-Davidson Model 11-F, "Effie"  1915
Harley-Davidson Motor Company
Milwaukee, Wisconsin
Courtesy of Pat and Cris Simmons
L2020.2304.001
The Motorcycle Cannonball
The first Motorcycle Cannonball was a 3325-mile endurance run from Kitty Hawk, North Carolina, to Santa Monica, California, held from September 10–26, 2010. The inaugural ride was restricted to motorcycles made from 1916 and earlier and is named after pioneering racer Erwin "Cannonball" Baker (1882–1960), who broke the transcontinental record on a motorcycle in 1914 from San Diego, California, to New York in eleven days—a scorching nine days faster than the previous attempt. The Motorcycle Cannonball was created by motorcycle collector and restorer Lonnie Isam, Jr. (1969–2017) to celebrate the functionality of antique motorcycles. The Cannonball remains the most difficult endurance event in the world for these vintage machines.
Author, antique motorcycle collector, and American Motorcyclist Association (AMA) Hall of Fame member Cristine "Cris" Sommer Simmons (b. 1957) has ridden the Cannonball three times on the 1915 Harley-Davidson 11-F that is featured above. Sommer Simmons' motorcycle is nicknamed "Effie" in honor of Effie (1889–1966) and Avis (1863–1958) Hotchkiss, the first women to ride across the United States on a motorcycle. On May 2, 1915, with mother Avis in the sidecar of a new Harley-Davidson 11-F, they departed Brooklyn, New York, for San Francisco to see the Panama-Pacific International Exposition. Effie and Avis Hotchkiss returned to New York two months later after a remarkable 9,000-mile journey. To safely complete the 2010 Cannonball in the required sixteen days, Sommer Simmons modified her 1915 Harley-Davidson with a larger fuel tank, 1930s VL-style seat, LED lighting, and modern wheels with a front brake. After finishing in 20th place in 2010, Sommer Simmons rode Effie from Atlantic City, New Jersey, to Carlsbad, California, in the 2016 event, and again in 2018 from Portland, Maine, to Portland, Oregon.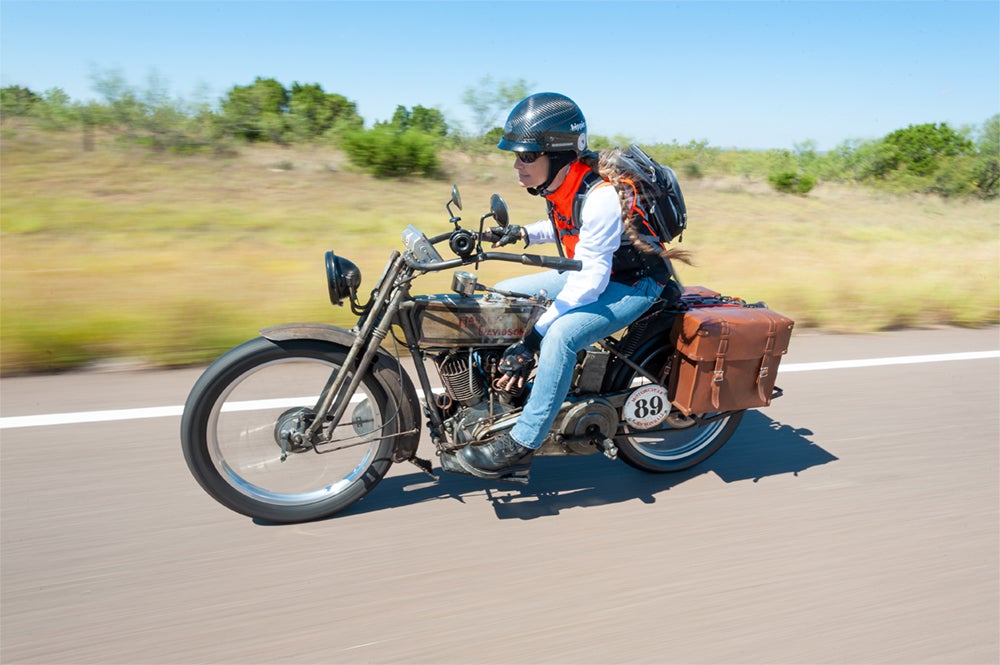 Cris Sommer Simmons on "Effie" and The Motorcycle Cannonball  September 20, 2010
Michael Lichter (b. 1955)
Courtesy of Michael Lichter Photography
R2020.2311.001
Jefferson twin-cylinder racer  1914
Waverly Manufacturing Company
Jefferson, Wisconsin
Courtesy of Chris Carter
L2020.2305.001
Motorcycle Racing
Motorcyclists began racing their machines almost as soon as motorcycles were introduced to the market. The first organized race was held on May 7, 1901, at Agriculture Park, a mile-long horse-racing track in Los Angeles that is now the site of the Los Angeles Coliseum. Four racers on Holley and Orient motor-bicycles entered the ten-lap race, won by Los Angeles motorcycle dealer and bicycle, motorcycle, and automobile racer Ralph Hamlin (1880–1974). The following year, the Alpha Motorcycle Club of Brooklyn, New York, hosted a 250-mile endurance event from New York to Boston. Of the thirty-one racers who took the green flag, only eleven finished the race.
In 1903, motorcycles participated in the Winter Speed Carnival on the hard-packed sand of Ormond Beach in Florida. Although the race was promoted to test the top speed of another new invention, the automobile, Oscar Hedstrom (1871–1960) set the fastest time of the weekend on an Indian motorcycle—a record of one minute and three seconds at an average speed of 57.35 miles-per-hour over the mile-long course. The Federation of American Motorcyclists (FAM) formed that same year to oversee motorcycle events. FAM-sanctioned races appeared across the country, including hill-climb competitions, speed trials, endurance runs, and closed-course races on flat, dirt tracks and banked, wooden ovals. Improvements to twin-cylinder engines, such as the overhead valve arrangement on the 1914 Jefferson racer shown above, allowed riders to exceed 100 miles-per-hour on the largest tracks.
Racing at Tanforan Park, San Bruno, California  July 4–5, 1908
Courtesy of San Francisco Motorcycle Club
R2020.2306.017
Flying Merkel twin-cylinder racer  1912
The Miami Cycle & Manufacturing Company
Middletown, Ohio
Courtesy of Dave Scoffone
L2020.2301.005
Board Track Racing
Board track racing provided exciting competition in the early years of motorcycling. Specialized board tracks known as "motordromes" developed from the banked, wooden bicycle racing tracks, or "velodromes," on which motorcycles also competed. Motordromes were larger and were designed specifically for the high speeds attained by motorcycles. Famed velodrome-builder John Shillington "Jack" Prince (1857–1927) built the first motorcycle board track in 1909. Located just south of Agriculture Park, Prince's Los Angeles Coliseum was an oval track approximately three-tenths of a mile long, banked twenty degrees in the straightaways and up to forty-five degrees in the turns.
Racers at the Los Angeles Coliseum exceeded seventy-five miles-per-hour, yet Prince estimated that a circular track with consistent banking would increase speeds even further. With funding from Indian Motorcycles' Hendee Manufacturing Company, Prince constructed a one-third mile-long track in Springfield, Massachusetts, that boasted speeds in excess of eighty-five miles-per-hour on opening day, July 31, 1909. The following year, Prince constructed a massive, mile-long motordrome at Playa del Rey in Los Angeles, using more than thirty tons of nails and two-million square-feet of lumber. Over the next two years, Prince completed motordromes in Salt Lake City, Chicago, and Oakland, California, while other builders constructed board tracks in cities all over the United States to keep up with the public's "motordrome mania." Then in February 1911, Prince debuted the Los Angeles Stadium, a one-third mile track with an imposing fifty degrees of banking that was just down the road from the "old" Coliseum.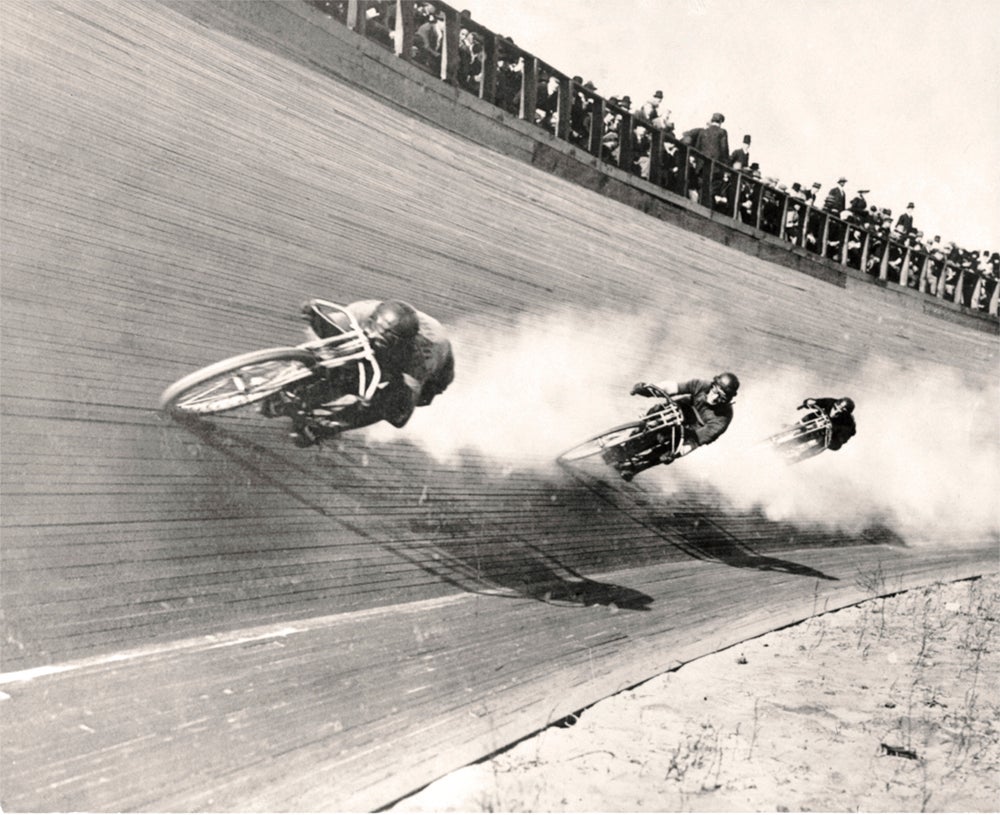 Joe Wolters leads Jake DeRosier and Charles "Fearless" Balke at Los Angeles Stadium   February 11, 1912
Courtesy of Don Emde
R2020.2307.005
Indian 8-Valve racer  1912
The Hendee Manufacturing Company
Springfield, Massachusetts
Courtesy of Dave Scoffone
L2020.2301.004
Racing and Motorcycle Development
In 1911, the popularity of motorcycle racing surged and motordromes drew thousands of spectators at each event. To boost motorcycle sales, manufacturers created factory-backed racing teams and specialized machines that pushed the limits of riding and technology. Motorcycle racing was a risky undertaking in the early years of the sport. As engines generated increasing amounts of horsepower, speeds exceeded the capability of even the best racing tires, and sudden blowouts were common on the track. Racing in excess of ninety miles-per-hour on machines with inadequate tires, marginal suspension systems, and no brakes required extreme skill, determination, and courage.   
A great rivalry ensued between the factory-backed Excelsior and Indian teams with riders such as Jacob "Jake" DeRosier (1880–1913), Charles "Fearless" Balke (1891–1914), and William Edward "Eddie" Hasha (1891–1912). Indian introduced the most technologically advanced motorcycle to date in 1911. Dubbed the "Big-Base 8-Valve," the motorcycle featured a revolutionary overhead valve arrangement of two intake and two exhaust valves per cylinder, which drastically increased performance. Designed strictly for all-out racing, the Indian Big-Base 8-Valve did not include brakes or even a working throttle—only an ignition cut-out switch and adjustable timing advance provided limited speed control. However, after a series of tragic accidents in 1912–13, public interest in motorcycle racing began to wane and the great motordrome tracks faded into history.
Eddie Hasha on his Indian Big-Base 8-Valve racer at Vailsburg Motordrome, Newark, New Jersey  1912
Courtesy of Don Emde
R2020.2307.007
The Flying Merkel Model 470  1914
The Miami Cycle & Manufacturing Company
Middletown, Ohio
Courtesy of Wes Allen
L2020.2302.003
The Flying Merkel
Joseph Frederic Merkel (1872–1958) road-tested his first motorcycle in 1900. Like many early manufacturers, Merkel based his initial design on a small engine attached to a bicycle-like frame with a simple belt-drive to the rear wheel. The Merkel Manufacturing Company of Milwaukee commenced production of an improved model in 1902, and Merkel introduced a stronger loop-type frame with an innovative rear suspension the following year. After he patented a telescoping-fork, spring-loaded front suspension, Merkel merged his company in 1908 with another motorcycle maker, the Light Manufacturing and Foundry Company of Pottstown, Pennsylvania.   
The new Merkel-Light proved successful on the racetrack, and "The Flying Merkel" brand-name was given to their racing machines and applied to all street-going motorcycles. Joseph Merkel continued his tenure as chief engineer and designer when Merkel-Light was purchased by The Miami Cycle & Manufacturing Company in 1911. Working from a new three-story factory in Middletown, Ohio, the company manufactured a powerful twin-cylinder, chain-driven Flying Merkel in 1912. Five new models were available in 1913. They featured redesigned single- and twin-cylinder engines supported internally by ball bearings, along with wider forks, larger tires, and rear mono-shock suspensions similar to those found on modern motorcycles. The 1914 Flying Merkel featured here is equipped with a seven-horsepower twin-cylinder engine, v-belt drive, and optional speedometer driven by the front wheel.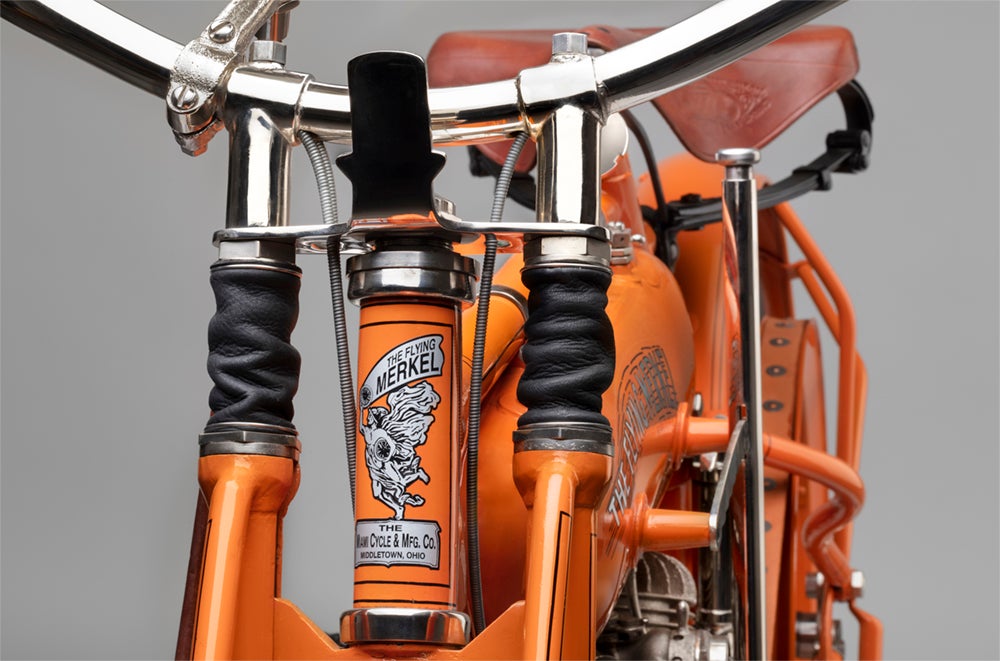 The Flying Merkel Model 470  1914
The Miami Cycle & Manufacturing Company
Middletown, Ohio
Courtesy of Wes Allen
L2020.2302.003
Pierce Four Cylinder  1911
The Pierce Cycle Company
Buffalo, New York
Courtesy of Wes Allen
L2020.2302.005
The Pierce Four
Although motorcycle design progressed steadily through the 1910s, internal combustion engine technology was still in the initial stages of development. Motorcycle engines generated considerable vibration and noise, and riding was generally geared towards the adventurous motorist. The smooth-running Pierce Four Cylinder was an exception. Advertised as "The Vibrationless Motorcycle," the Pierce Four debuted in 1909 at $325, when most other motorcycles sold in the $150 to $250 range. The Pierce Four was based on the Belgian FN four-cylinder motorcycle design and was made by the Pierce Cycle Company, a subsidiary of the Pierce Motor Car Company of Buffalo, New York, known for their luxury automobiles.
The Pierce Four was the first four-cylinder motorcycle made in America, powered by a six-horsepower, forty-two cubic-inch, dual-camshaft T-head engine similar to the Pierce-Arrow automobile powerplant. The Pierce motorcycle's upper frame was constructed from 3 ½-inch tubing with internal partitions for gasoline and oil, while the engine itself spanned the lower frame as a stressed member of the chassis. Power was transferred to the rear wheel by a unique driveshaft rather than a belt or chain, with a revolutionary two-speed transmission and automatic clutch added in 1910. While the motorcycles sold well, production costs exceeded sales revenue and the Pierce Four was discontinued in 1914.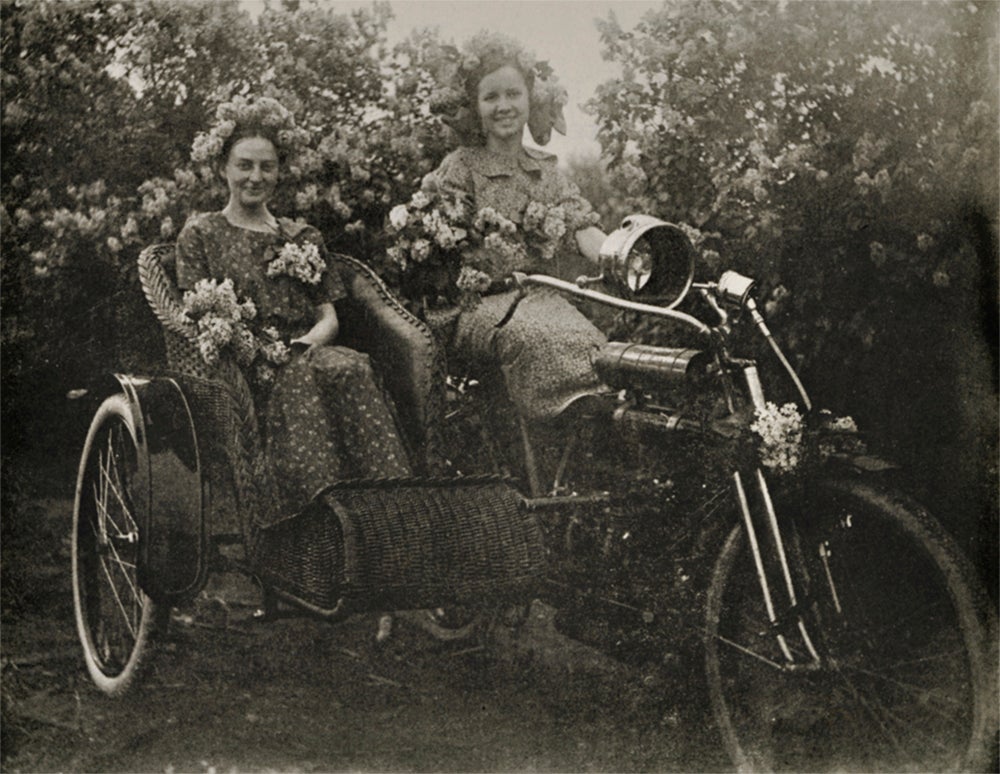 Two women on a Pierce Four and sidecar  c. 1910
Courtesy of Pierce-Arrow Museum
R2020.2314.001
Iver Johnson Model 15–7  1915
Iver Johnson's Arms and Cycle Works
Fitchburg, Massachusetts
Courtesy of Pat and Cris Simmons
L2020.2304.002
Riding Early Motorcycles
Early motorcycles demand special characteristics of their owners and riders. One has to be athletic enough to manually start the engine and to pedal-assist the motorcycle during mechanical troubles or after a breakdown. Riders must also be mechanically minded in order to operate the non-standard controls found on these primitive vehicles. While procedures vary between makes and models, to start an early motorcycle, the carburetor is primed with fuel, the ignition timing is adjusted, the throttle is set, and the compression is partially released to ease the force required to either pedal- or kick-start the bike while on its stand.
Once the rider is underway, careful attention must be paid to road conditions, other vehicles, and pedestrians, as early motorcycles do not have front brakes and rear braking is sufficient at best. Suspension systems are stiffly sprung with very little travel, which means an unforeseen pothole can easily throw the rider from the machine. Tire technology was also in its preliminary years, and the "clincher" wheels and tires that were originally used are notoriously prone to blowouts. Two- and three-speed transmissions on later models provide the rider with added complexity, as shifting is accomplished by moving a lever mounted near the fuel tank in concert with a clutch. Yet there is an allure to riding these early machines that still captivates riders and collectors, just as it had more than a century ago. In addition to their timeless aesthetic and design, the sound, smell, and experience of riding an early motorcycle is like no other.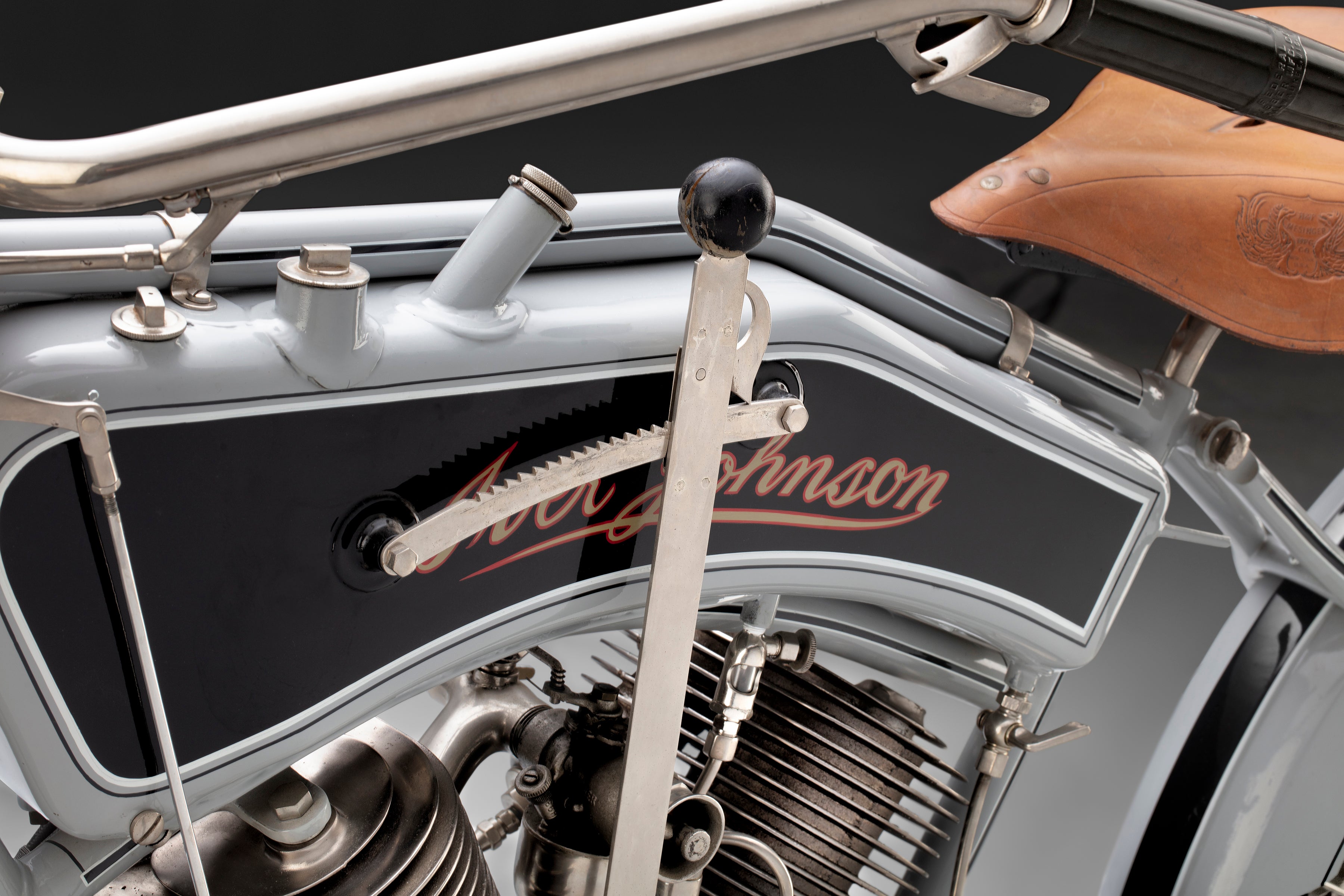 Iver Johnson Model 15–7  1915
Iver Johnson's Arms and Cycle Works
Fitchburg, Massachusetts
Courtesy of Pat and Cris Simmons
L2020.2304.002