California Studio Craft: featuring works from the Forrest L. Merrill collection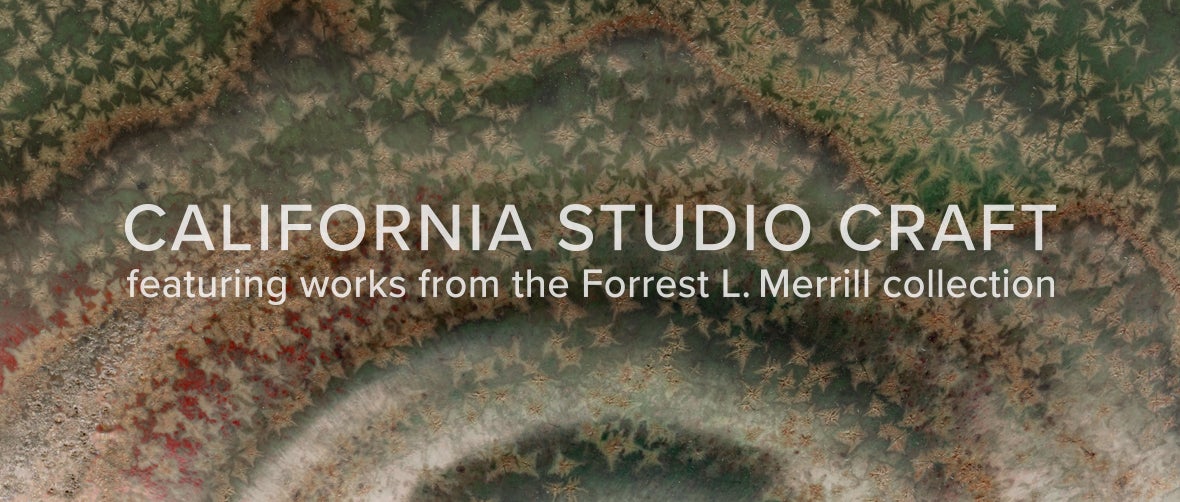 Jun 15, 2019 - Feb 23, 2020
California Studio Craft: featuring works from the Forrest L. Merrill collection
Studio craft combines the characteristics of traditional, handmade craft with the refined qualities of fine art. Made by professional artist-craftspeople who work in a variety of media, studio craft includes both utilitarian items and more experimental pieces that focus on aesthetics over function. For many, studio craft is an imaginative and personal expression that encourages creativity through the exploration of time-tested materials and techniques. The finest objects evoke emotion and exhibit the process of making along with evidence of the artist's hand.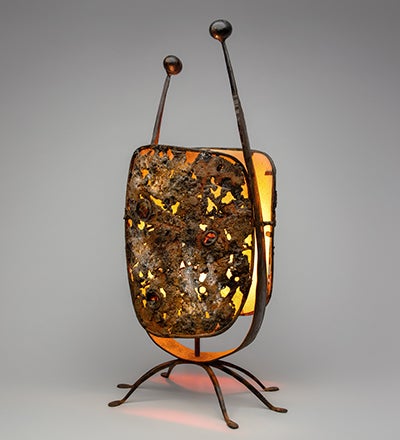 During the mid-20th century, studio craft began to thrive in California. Working with materials including clay, fiber, wood, metal, and glass, studio craft makers pioneered new directions in their respective media. With the support of college programming, exhibitions, and a burgeoning consumer market, makers utilized an artistic focus that bound craft more closely to the fine arts. A revolutionary studio craft movement emerged, and as the scene expanded around Southern California and the San Francisco Bay Area, other cities throughout the nation took notice.
California craft makers produced an array of modern, regionally unique items. Glen Lukens (1887–1967), who founded the ceramics department at the University of Southern California in 1933, was known for the "California Color" range of glazes that he formulated from minerals found in the state's desert regions. Laura Andreson (1902–99), a Los Angeles-based potter who experimented with crystalline glazes, assembled a ceramics program for the University of California, Los Angeles, a short time later. Some of the state's pioneering craft makers, such as the husband-and-wife team of Otto (1908–2007) and Gertrude (1908–71) Natzler, immigrated from Europe and brought with them centuries of European methods for working with clay.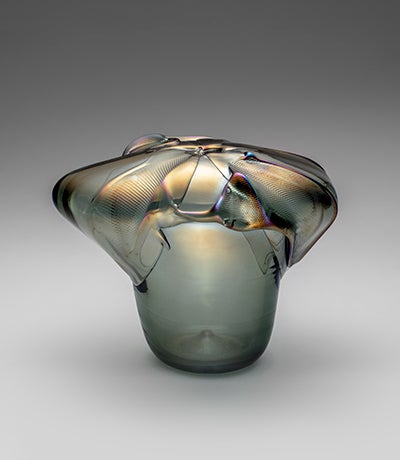 Numerous makers have left their own indelible marks on California studio craft. Educator and sculptor Peter Voulkos (1924–2002) ushered ceramics towards a more expressive aesthetic. Marvin Lipofsky (1938–2016) and Robert Fritz (1920–86) founded the first studio glass programs in the state's college system. June Schwarcz (1918–2015) took enamels to new heights with her experimental, electroformed vessels. Bob Stocksdale (1913–2003) set the bar for woodturners with his simple-yet-elegant forms. Kay Sekimachi (b. 1926) continues her innovative work as a fiber artist with masterful on- and off-loom textiles. These are a few of the many foundational makers who have created and redefined California studio craft over the past six decades.
This exhibition was made possible through a generous loan from Forrest L. Merrill. Thank you to Forrest L. Merrill for his support of this project, and to the Marvin Lipofsky Estate and Modern i Shop for their additional loans.
©2019 by San Francisco Airport Commission. All rights reserved.