March 2013 - October 2013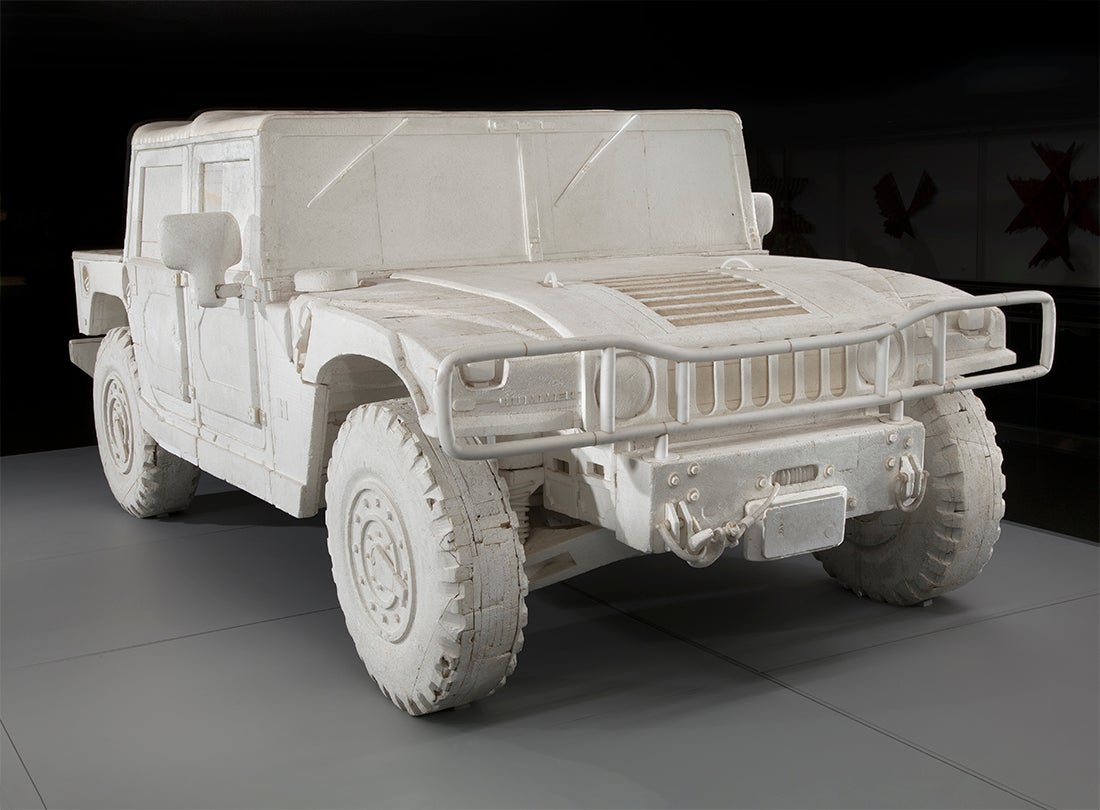 1 of 11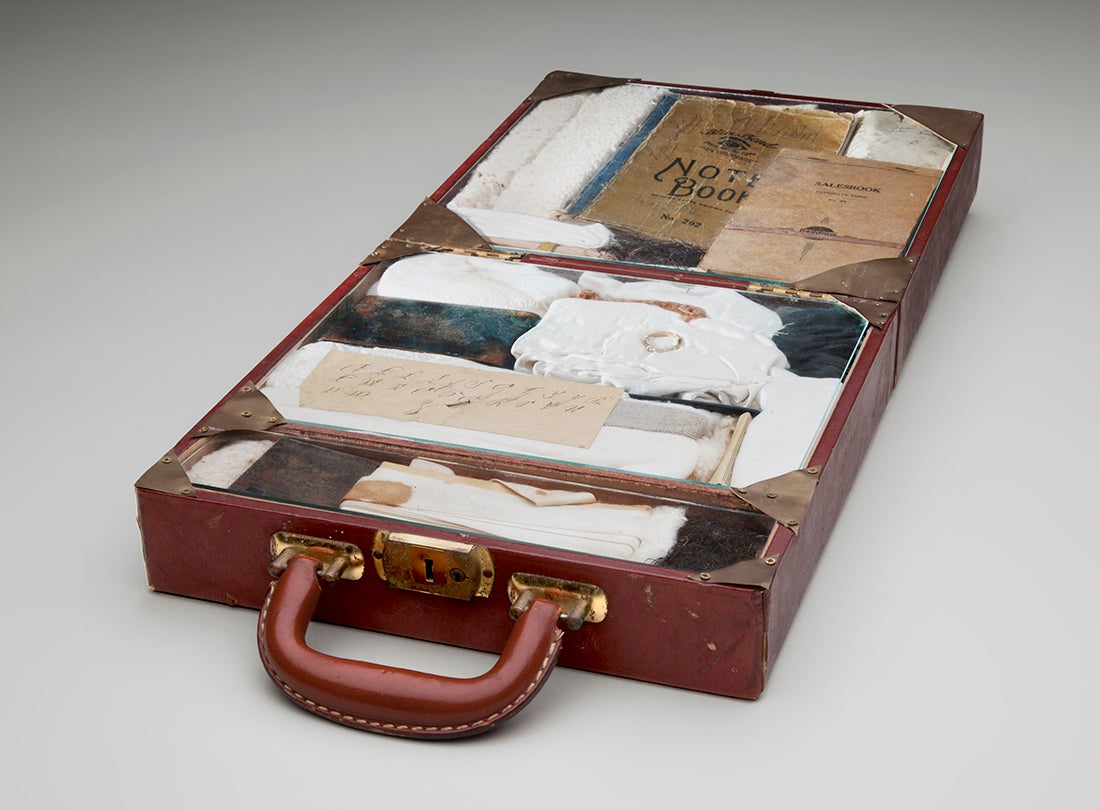 2 of 11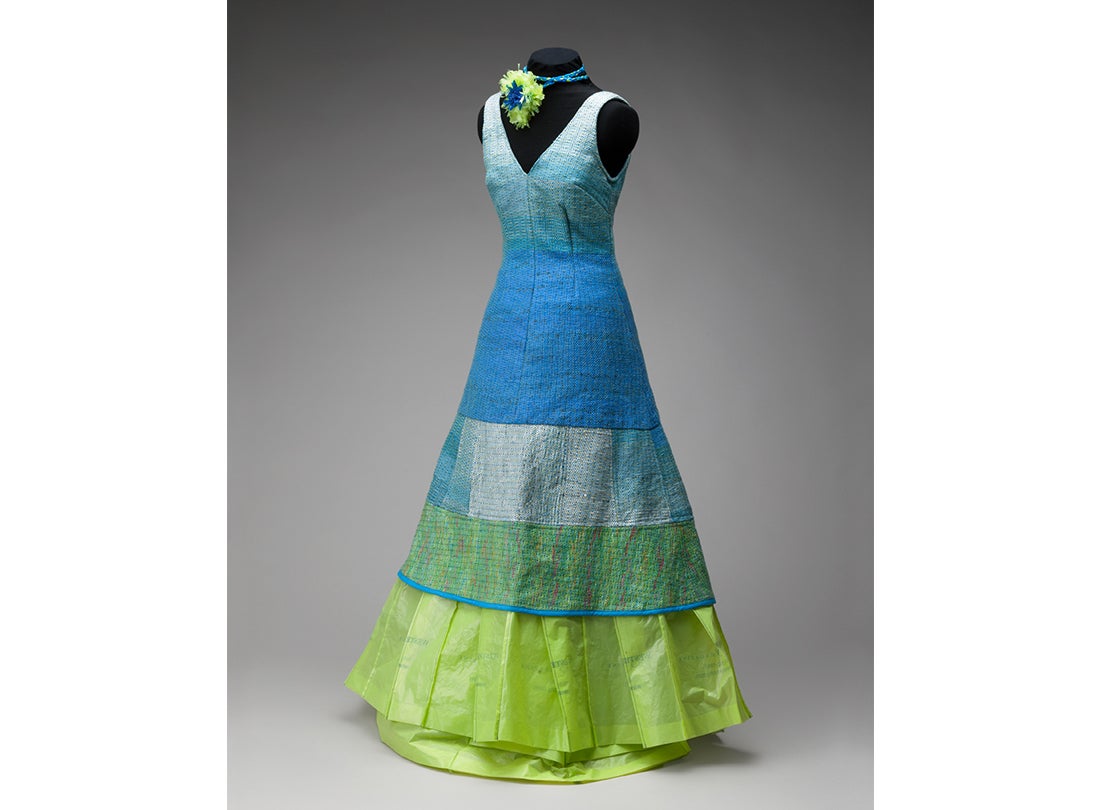 3 of 11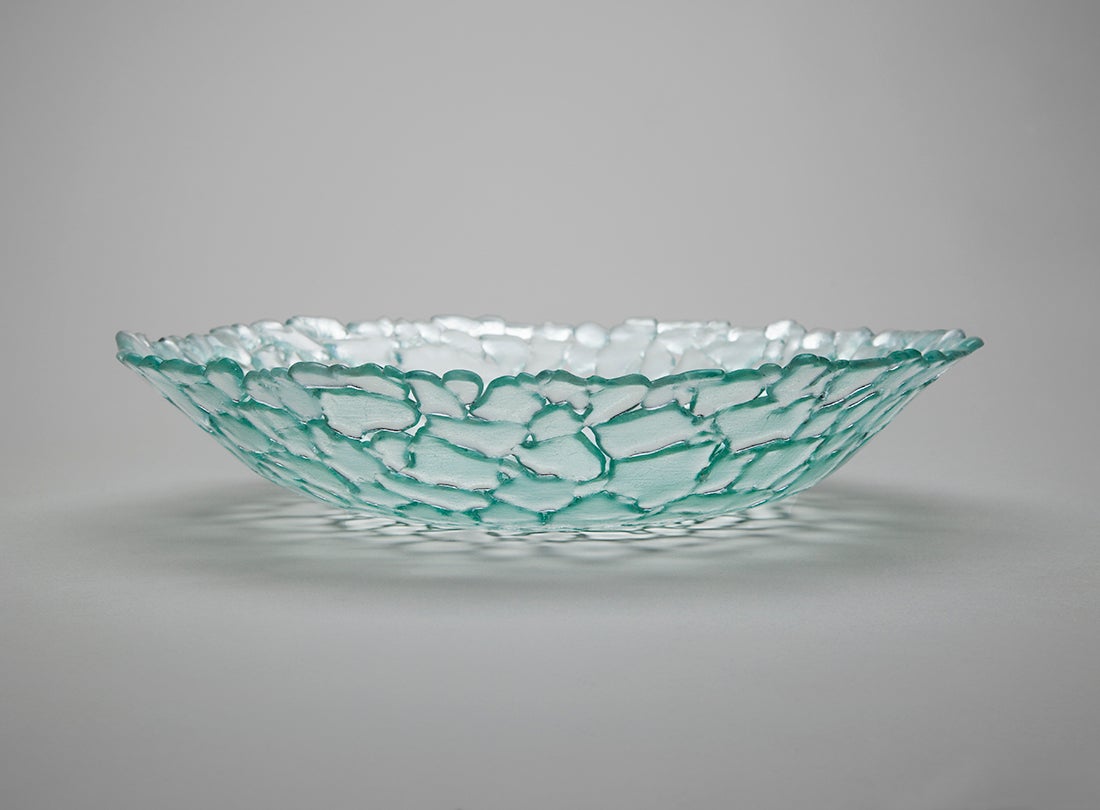 4 of 11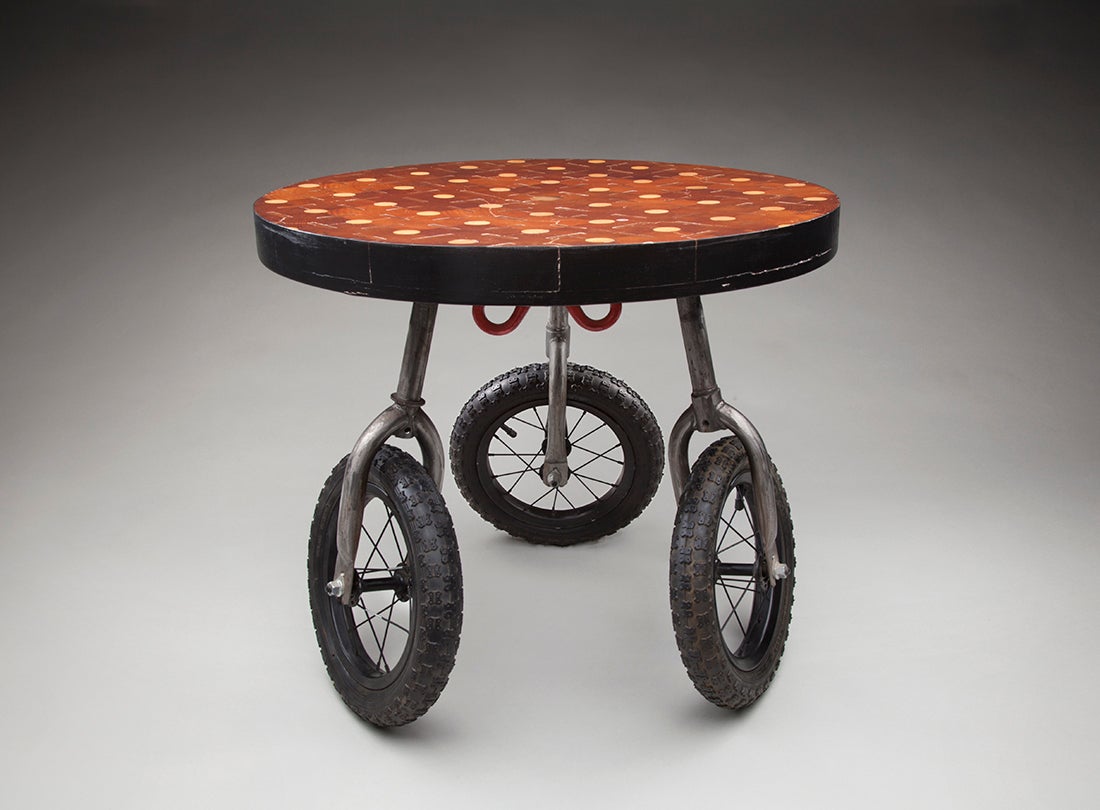 5 of 11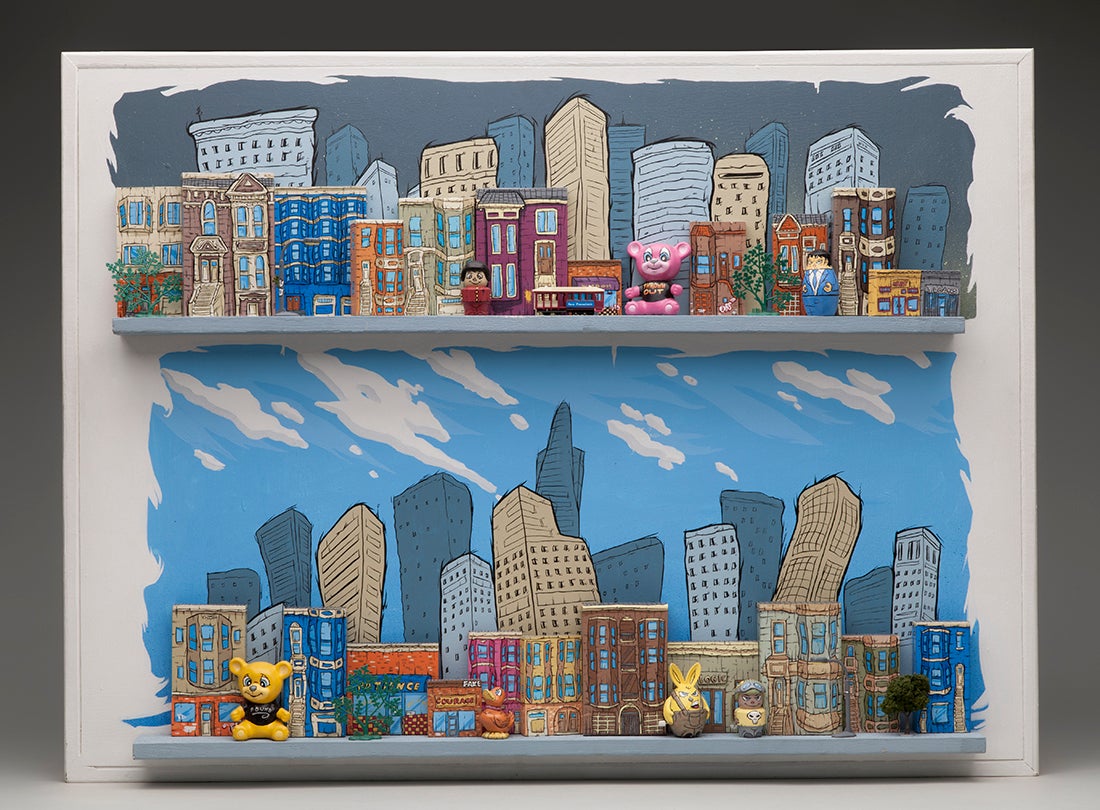 6 of 11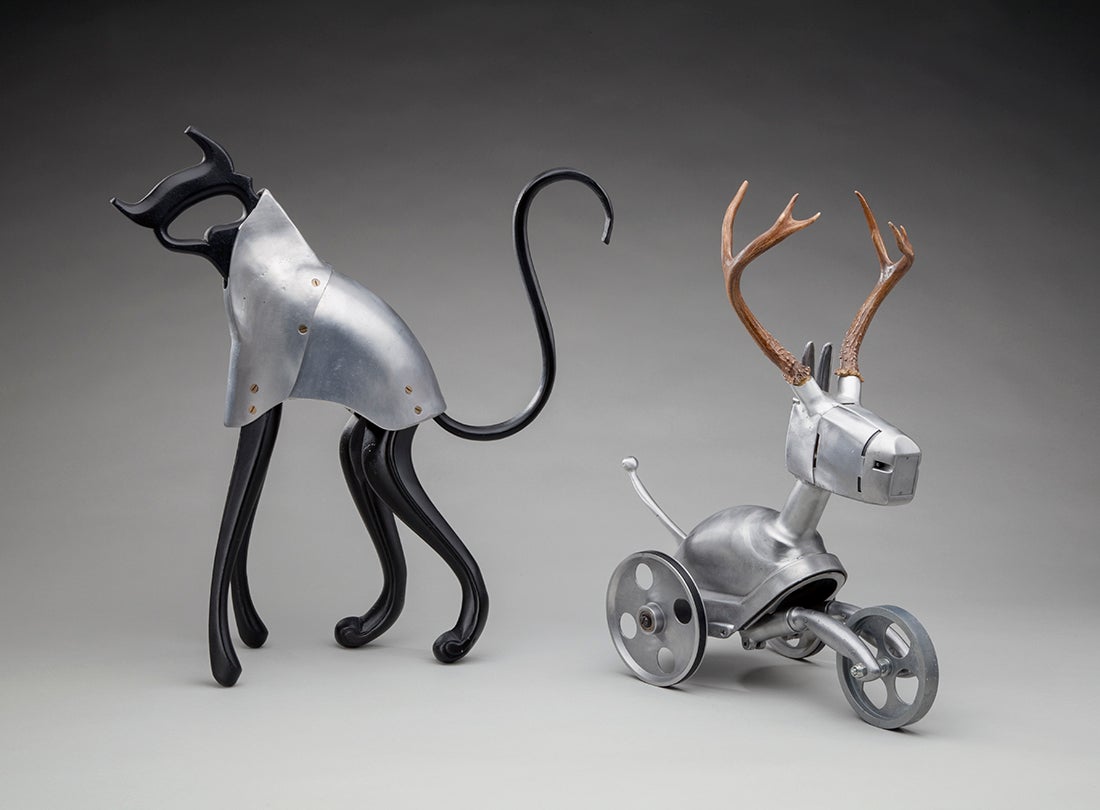 7 of 11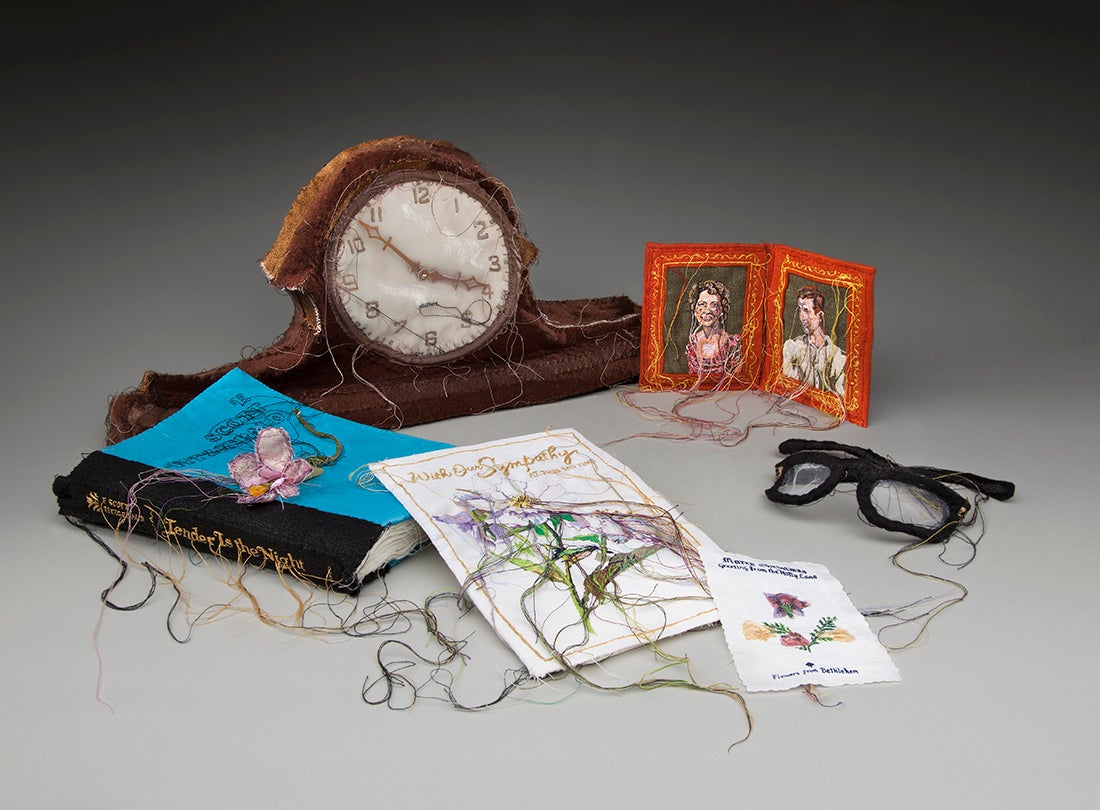 8 of 11
9 of 11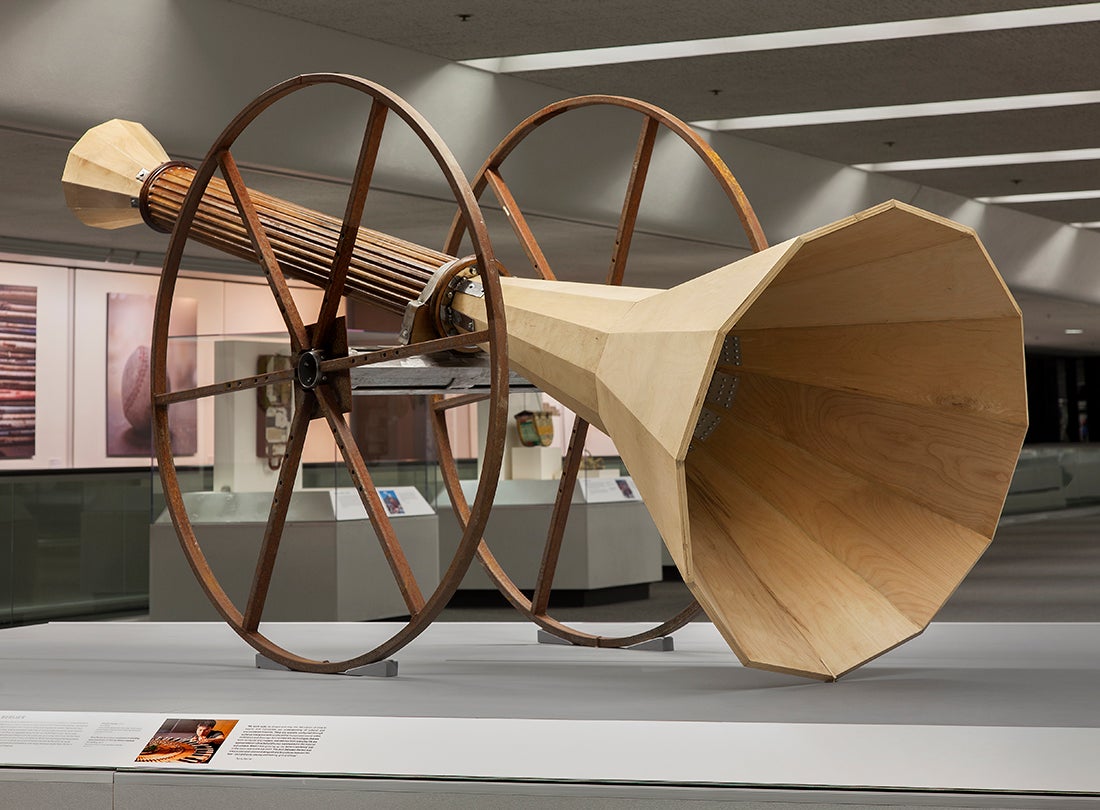 10 of 11
11 of 11
Styrofoam Hummer H1 (low milage, always garaged) 2005
Andrew Junge
Styrofoam, lumber, steel
Courtesy of the artist
L2012.3517.001
Andrew Junge
When Andrew Junge began his residency, he was impacted by the amount of Styrofoam that entered the waste stream and decided to make something from this rightfully maligned material that would be a metaphor for consumption and waste—and so the Styrofoam Hummer was born. The life-sized replica of the civilian and military vehicle was constructed from hundreds of pieces of packing material that he formed into blocks, assembled, and hand-shaped. Since its creation, the work has been exhibited at venues including the Exploratorium in San Francisco, the San Francisco Arts Commission Gallery, the Tampa Museum of Art, and the Art Center of Sarasota, Florida.
In addition to the Hummer, Junge also made mixed-media sculptures and maintained a daily record of his time that was prompted by an auspicious dump find—a blank 82-day scrapbook that paralleled the exact number of days of his residency. He filled the book with self-referential drawings and descriptive texts of his daily experiences. Junge received an M.F.A. from the California College of the Arts and is currently the chair of the Visual Arts Department at the Oakland School for the Arts.
"Objects have power, they are invested with meaning and purpose by their makers. They carry with them stories of past use, past users, and often a history we, as their temporary custodians, can only guess at. This point becomes ever more poignant in the face of our capitalist/consumerist culture. We throw so much stuff away. Cool stuff." –Andrew Junge
Burden of Nostalgia 2002
Dee Hibbert-Jones
wood, glass, cloth, paper, thread, leather, found objects
Collection of Recology San Francisco
L2012.3501.011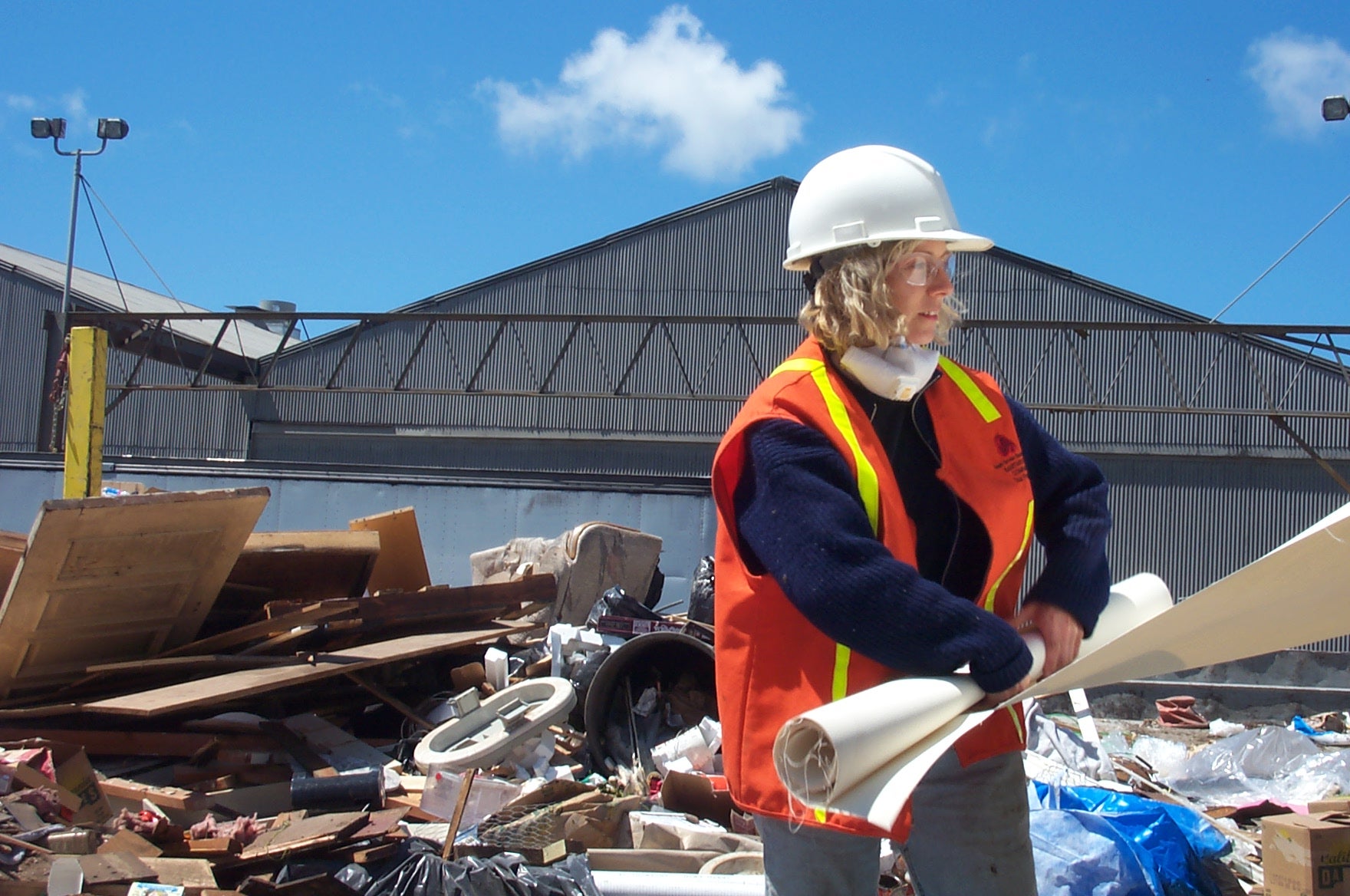 Dee Hibbert-Jones
During her residency, Dee Hibbert-Jones was particularly interested in using found objects that suggested personal narratives, and she created sculptures from these materials to explore the ways we manage, romanticize, and manipulate past experiences. She turned old suitcases and small boxes into symbolic time capsules filled with objects. In one instance, she peeled back the side of a suitcase to reveal the packed contents, as if dissecting human lives. She also worked with chairs—stuffing one, entitled Hoarding, full of letters and papers, and rendering others into emaciated, collapsing forms by carving away at their frames. Hibbert-Jones received an M.F.A. from Mills College and is an assistant professor of art at the University of California, Santa Cruz.
"The outer layers of my sculptures, often dilapidated and deteriorating, protect frail interiors. Each is subject to inevitable decay, like the human body, which I frequently reference. I use organic materials, building up layers in each sculpture. The outer material layers may appear strong, but are, in fact, fragile and defenseless." –Dee Hibbert-Jones
Evening News 2004
Sandy Drobny
plastic bags used to deliver The Wall Street Journal and The New York Times
Collection of Recology San Francisco
L2012.3501.016
Sandy Drobny
For more than twenty-five years, textile artist Sandy Drobny has maintained a weaving studio, creating work for private clients and gallery exhibitions. While at the dump, she continued weaving, but instead of fiber, she worked with a variety of scavenged materials including caution tape, twist ties, plastic shopping bags, and inner tubes, fashioning a series of aprons and other garments. Incorporating found materials such as children's drawings, Drobny added narrative or biographical components to her pieces. For the apron, Ramona, which has a waistband made from rubber gloves, she included a found typewritten note to a domestic worker detailing chores to be completed. Her full-length gown made from the ubiquitous bags used to deliver newspapers was worn during the performance of Recology artist Nathaniel Stookey's Junkestra at the San Francisco's Herbst Theater in 2007. Drobny received a B.S. in design from the University of California, Davis, and teaches art to kindergarten through fifth-grade students at a private Berkeley academy.
"The most interesting materials to work with seem to be non-traditional…I'm completely obsessed with plastic; the tackier, the better. Ordinary items such as shopping bags, shower curtains, rubber gloves, kitchen sponges, and hair curlers are used as ingredients for construction. The apron is one of my favorite garment forms, as it has special significance as a symbol of women's work and our many struggles." –Sandy Drobny
The Healing (bus shelter glass bowl) 2012
Reddy Lieb
fused tempered glass
Courtesy of the artist
L2012.3514.001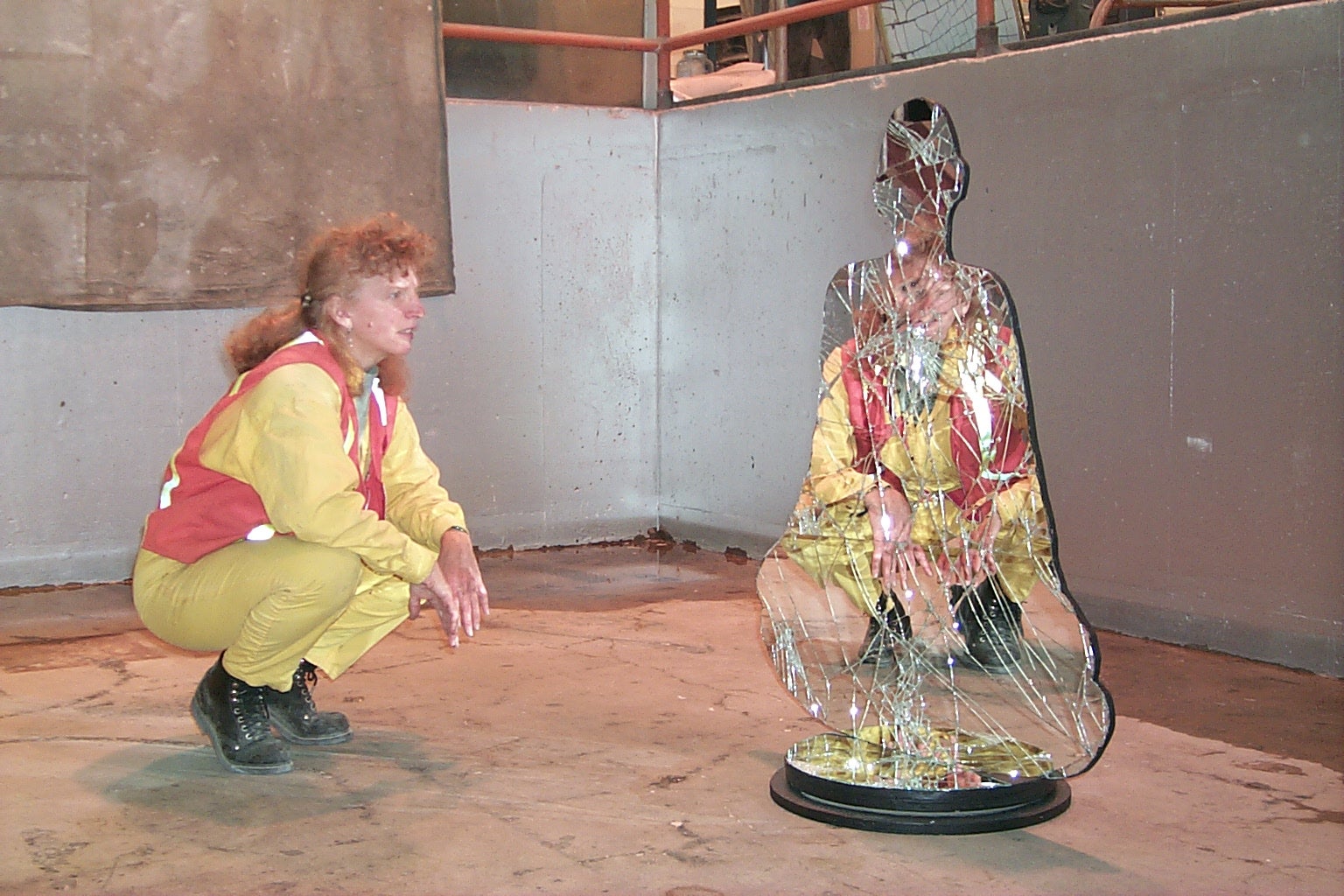 Reddy Lieb
Glass artist Reddy Lieb worked with scavenged glass and mirrors to make abstract sculptural works that reference Greek and Roman mythological characters. During her residency she also used the kiln, designed by previous artist Penelope Comfort Starr, to make bowls and platters from broken bus shelter glass. Artist in Residence Program staff members continue to make these bowls and platters today and donate them to organizations that auction them at fundraisers. Lieb received an M.F.A. from the California College of the Arts and studied at the Pilchuck Glass School. In 2007, she collaborated with Linda Raynsford on a public art wall relief for the Glen Park Branch Library in San Francisco.
"The world is in constant flux and how we recreate our lives within the context of community at this time is what interests me. I see technology, the double-edged sword of this century, as being the necessary means for engaging interaction. I've used sound and video in some of my more experimental works. Yet it is glass, the medium that I continue to be fascinated with, that acts as a lens to focus on the importance of being in balance with the earth and restoring this feminine consciousness in the world." –Reddy Lieb
The Re-Cycle Table 2005
Mike Farruggia
redwood, ironwood, bicycle parts
Collection of Recology San Francisco
L2012.3501.019
Mike Farruggia
Mike Farruggia, who received a B.F.A. in wood/furniture from the California College of the Arts, used his skills as a woodworker to interpret functional objects like tables, benches, and clocks through found materials. Farruggia scavenged items including an old fire escape made from redwood, and cleaned, milled, and sliced the materials to reveal their patterns and history; in some cases he juxtaposed different woods to create parquet designs. Bicycles were a recurrent theme. He made the elongated Bicycle Bench, which is located in the Recology sculpture garden, as well as the metaphorical Tandem Bike for Couples—two bicycles welded together at their midpoint, facing in opposite directions. Following his residency, Farruggia was commissioned to make furniture and conference tables for Recology's corporate offices. CEO Mike Sangiacomo's desk, credenza, and bookcases are all made from scavenged materials, and the top of each conference table is a collection of one recyclable material—glass, metal, paper, or plastic—sealed in low-VOC resin.
"Working, playing, thinking and being at the dump has been overwhelming. The sadness of the waste created by our society fused with this unbelievable opportunity to be creative in a truly awesome studio has left me reeling. My heart is beating faster. My brain is being fertilized." –Mike Farruggia
City Scape 2005
Sirron Norris
wood, paint, plastic
Collection of Recology San Francisco
L2012.3501.020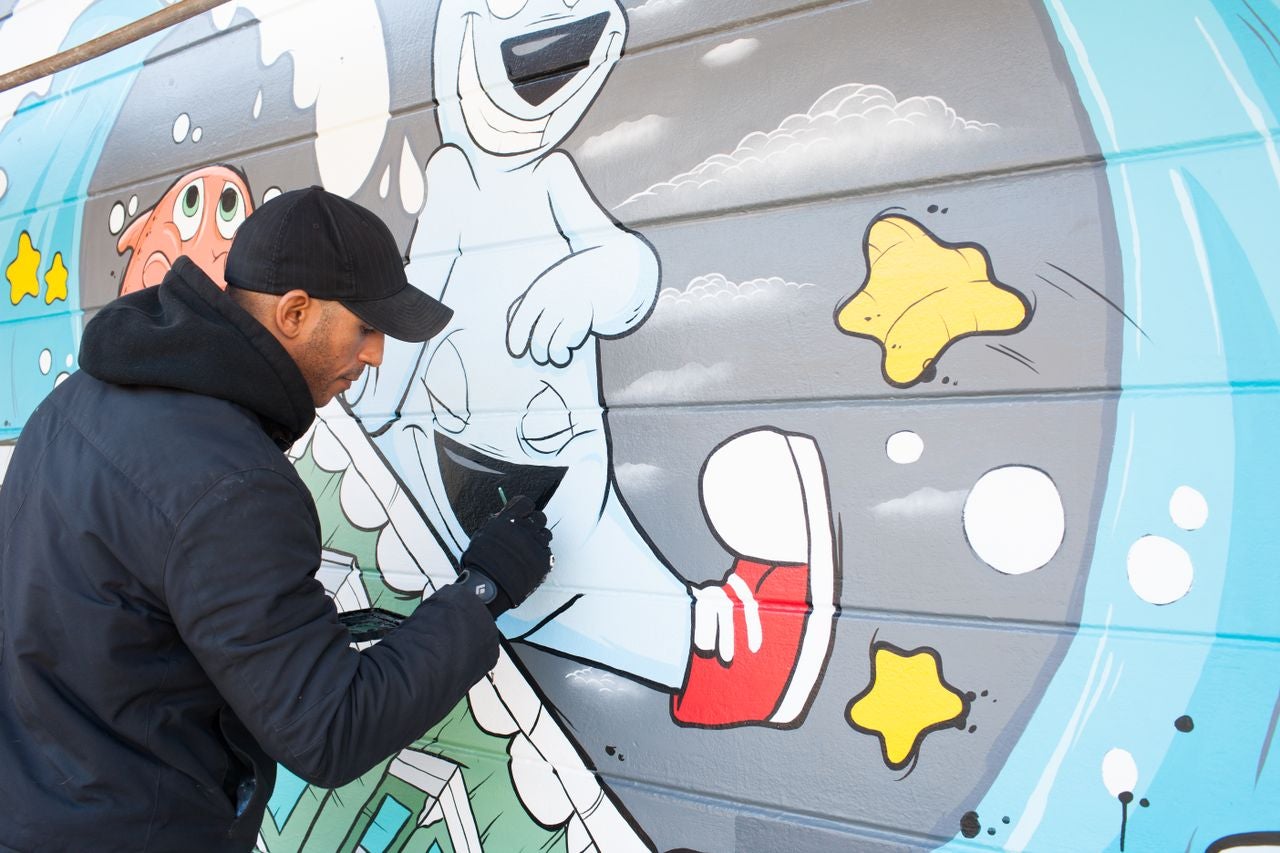 Sirron Norris
As a painter, illustrator, and muralist, Sirron Norris combines anonymous yet oddly familiar animal characters with urban or industrial environments in a distinctive style. Using the language of cartoons, he is able to address issues in a way that is simultaneously non-threatening and subversive. While at Recology, Norris appropriated small figurative toys, repainting them to create a new line of little people and animals. He painted blocks of found wood to resemble San Francisco architecture, building small city streetscapes in which his characters reside. The work touches on issues of gentrification and displacement within the city, and slogans on his animal characters' t-shirts, such as "thrown out" point to larger issues of disposability not only of objects but of people in today's society. Norris' work has been exhibited in San Francisco at the Yerba Buena Center for the Arts and the de Young Museum, and he has produced several public murals in San Francisco. Norris operates a gallery and studio space in San Francisco's Mission District where he offers cartooning classes for youth.
"The use of cartoons to express thoughts or belief is a large part of our social and political editorial process. The freedom one has to express an idea through arbitrary means is the basis of cartoons as art form and a motor for its inevitable extension into future styles." –Sirron Norris
Catmonkey 2007
Nemo Gould
saw handle, chair legs, food processor, bean scoop, vacuum cleaner motor cover
Courtesy of JD Beltran
L2012.3521.001

Impala 2007
Nemo Gould
electric sander, band saw, projector, vacuum cleaners, meat grinder, motorcycle clutch lever, antlers, garlic press, conduit cover
Collection of Recology San Francisco
L2012.3501.026
Nemo Gould
Nemo Gould creates kinetic, figurative sculptures from found parts, disassembled machinery, and common household items. Just reading a list of materials used for a piece—electric sander, band saw, projector, vacuum cleaners, meat grinder, motorcycle clutch lever, antlers, garlic press, conduit cover—is enough to make one smile. The works themselves also may elicit this response, as they are often imbued with their own distinctive personalities and, as the result of the clever use of vintage materials, they sometimes have the look of an alien or robot from a 1950s science-fiction film. Gould, who received an M.F.A. from the University of California, Berkeley, has described his sculptures as an attempt to reconcile the innocent wonder of youth with the dull complexity of the adult experience. His work has been featured in national media and exhibited widely.
"A 'found object' is just a familiar thing seen as though for the first time. By maintaining this unbiased view of the objects I collect, I am able to create forms and figures that fascinate and surprise . . . Incorporating consumer detritus with my own symbology, they are the synthesis of our manufactured landscape and our tentative place within it—strong and frail at the same time." –Nemo Gould
Clock, Pocket Photos (Man & Woman), Plastic Flower, Tender in the NIght (Book), Glasses, Flowers for Bethehem, With our Symphathy (Greeting Card) 2011
Lauren DiCioccio
hand-embroidery on cotton, felt, wool, satin, organza
Courtesy of the artist Lauren DiCioccio and Jack Fischer Gallery
L2012.3510.001-.007
Lauren DiCioccio
Lauren DiCioccio makes meticulously crafted artworks that replicate everyday objects. She describes her subject matter as things that are "obsolescing," such as newspapers or handwritten letters—forms increasingly abandoned in favor of more expedient and impersonal technological options. With a desire to memorialize these items, she has chosen the methodical and perhaps also obsolescing methods of sewing and embroidery and used scavenged fabrics and threads while at the dump.
DiCioccio draws parallels between her work and 17th century Dutch and Flemish still life vanitas paintings, which present mundane objects—an extinguished candle, a fading flower—as symbols for death and the brevity of life. Similarly, DiCioccio's interpretations of objects found in the dump, such as travel postcards, books, and record albums, speak to the transitory nature of 20th century pleasures. Other works include incandescent light bulbs, sheet music, greeting cards, as well as fabricated dead mice and rabbits. Works are similar in scale to their source objects and threads are left dangling in the detailed embroidery, as if the artworks were slowly unraveling before us. DiCioccio received her B.A. at Colgate University and is represented by Jack Fischer Gallery in San Francisco.
"My work investigates the physical beauty of common mass-produced objects as they approach obsolescence. Ubiquitous items of day-to-day life—the newspaper, 35mm slide, or hard-cover book, for example—are quickly becoming cultural artifacts as these media change modes due to technology and the hope for a less wasteful lifestyle. Approaching sculpture, painting, and tedious handicraft with an air of lightness, I aim to remind viewers of the importance of our relationships with these simple but intimate objects of everyday life and to provoke a pang of nostalgia for their familiar physicality." –Lauren DiCioccio
Jackrabbits 2012
Beau Buck
fur, silk, tapestry, denim, leather, wire armature
#52 (fur), #54 (denim): Collection of Recology San Francisco
L2012.3501.035.01-.02
#53 (tapestry): Courtesy of the artist
L2012.3513.001
Beau Buck
Beau Buck has cited identification with animals as an important component in his art, so it is no wonder that the work of bees producing honey was a metaphor for his creative process while at Recology. He likened the materials in the dump to nectar, a raw material waiting to be transformed, and indeed performed a bit of alchemy turning disparate fabrics and metals into cohesive artworks. Buck's work conjures up notions of an earlier era—before answers to everything were available at our fingertips—a time filled with lore and a reverence for the unknown, tinged with romanticism and mysticism. Working with bits of scavenged fabrics, leather cut from boots, antique fur coats, worn denim, and tattered Persian rugs, Buck constructed a grouping of life-sized jackrabbits. Each rabbit takes on a distinct character, and this collection of desert drifters, fading beauties, and wily explorers seems gathered to silently lament an earlier era or the passing of a friend. Each is imbued with the histories and stories associated with the materials assembled to create it. Buck holds a B.F.A. from the Rhode Island School of Design and has exhibited on the East Coast and in California.
"There is a story about Gram Parsons, the musician, who died and whose body was stolen by friends and buried somewhere in Joshua Tree National Park. Occasionally hikers and fans will make a pilgrimage into this desert looking for his unmarked grave. On one such visit, as the story goes, some hikers out exploring stumbled into a small clearing and suddenly saw a meeting of Jackrabbits, silently grouped in respect, who fled upon discovery."
–Beau Buck
Acoustic Locator 2012
Terry Berlier
metal wheels, galvanized metal, steel, wood column, wood shelves, airline tie-down strapping, wood glue
Courtesy of the artist
L2012.3511.001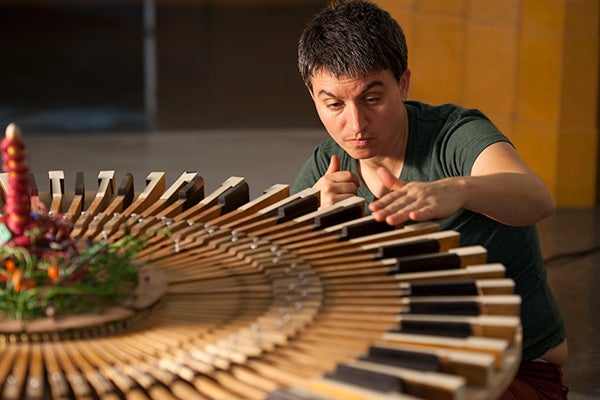 Terry Berlier
It is not unusual that artist Terry Berlier is interested in how history and time mediate our understanding of ingenuity. Berlier's own ingenuity is a main component of her work, and she frequently employs mechanical or scientific methods in sculptures that are often kinetic or physically engage the viewer. Past works have addressed nuclear storage facilities, time as recorded in tree rings or core samples, as well as issues of queer identity, interpersonal relations, and how we negotiate being human in a technological age. Berlier asks, "...as innovations alter how we perceive and interact with the world, are we coming closer to or farther from understanding each other and the world around us?" Also of interest to Berlier are sound and the instruments and machines involved in its production. An underlying current of humor can also be found in her work, along with an appreciation for failed inventions and camaraderie with those that have made them. Berlier is Assistant Professor of Sculpture at Stanford University.
"My work seeks to dissect and map the fabrication of time to expose and manipulate our understanding of cultural and environmental histories. These are spatially configured through audience interaction with sculpture that incorporates sound, video, installation and drawings. Found materials, technologies that are both vernacular and modern, and detritus from everyday life are appropriated or subverted and humor is embedded in the material and content. When I was growing up my father's workshop was in the room next to the toy room. The door between the two was always open and I did not distinguish any boundaries between the two—toys and tools, playing and making, girls and boys."
–Terry Berlier?>
Last Dive at the Farallones 2013
Ethan Estess
wood, Styrofoam, wood flooring adhesive, super glue, screws, and rope
Courtesy of the artist
L2012.3509.001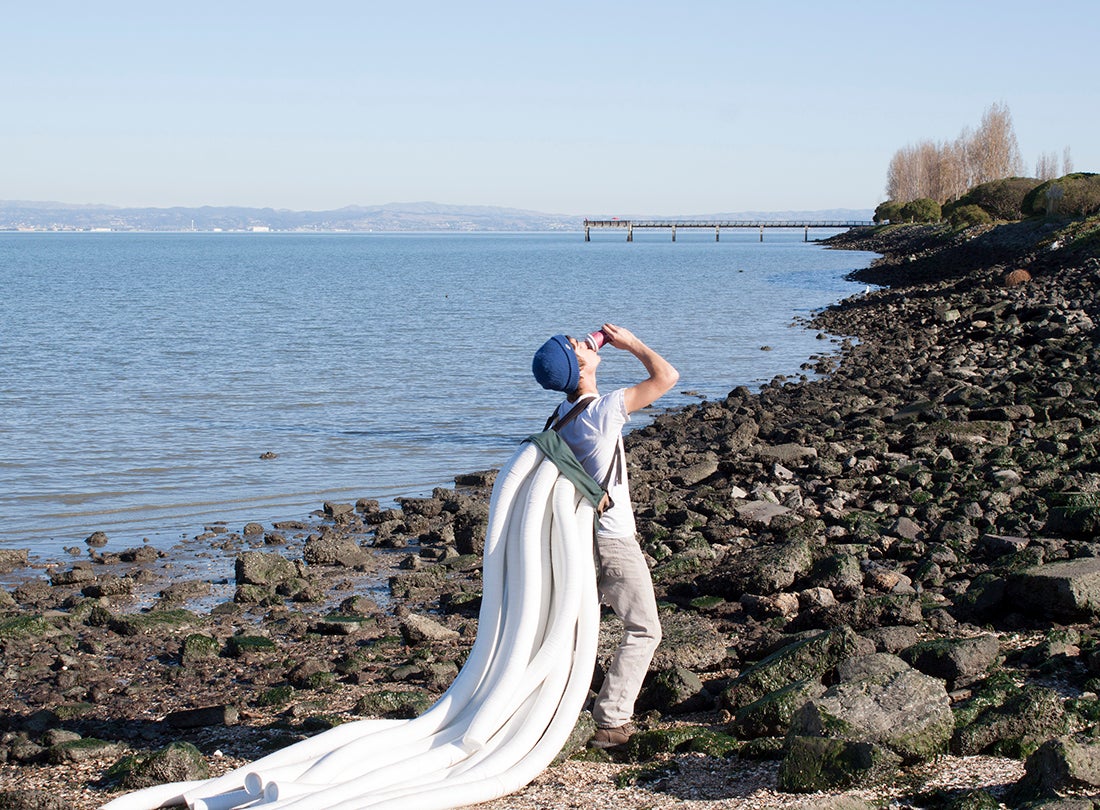 Ethan Estess
Ethan Estess used sculpture to address environmental issues, particularly the perilous state of our oceans, during his student artist residency at Recology. Estess completed Last Dive at the Farallones: 100,000 marine mammals killed per year while pursuing a masters degree in an interdisciplinary environmental science program at Stanford University. Estess used materials evocative of the ocean environment and was also drawn to the copious amount of plastics found in the Public Disposal and Recycling Area, in particular, items that were never used, such as cases of coffee cup lids he incorporated into another artwork. A year after receiving his degree, he now balances an active art practice in his Pacific Grove studio with his work studying tunas and sharks in the conservation research department of the Monterey Bay Aquarium. After finishing his residency at Recology he continues to draw inspiration from reclaimed objects he salvages from municipal dumps, beaches, and roadways, visualizing social and environmental narratives with his multi-media installations.
"If there is one thing that I have discovered by studying the ocean, it is that it is greatly imperiled - it is treated both as humanity's waste bin and its fast food joint. As a result, most of my works tell narratives about environmental science issues, from marine plastic pollution to shark conservation. My focus is on appealing to the basic emotions of the viewer such that they can understand the scientific concepts at play and internalize the gravity of humanity's impact on the global ecosystem." –Ethan Estess