Nov 18, 2017 - Jul 15, 2018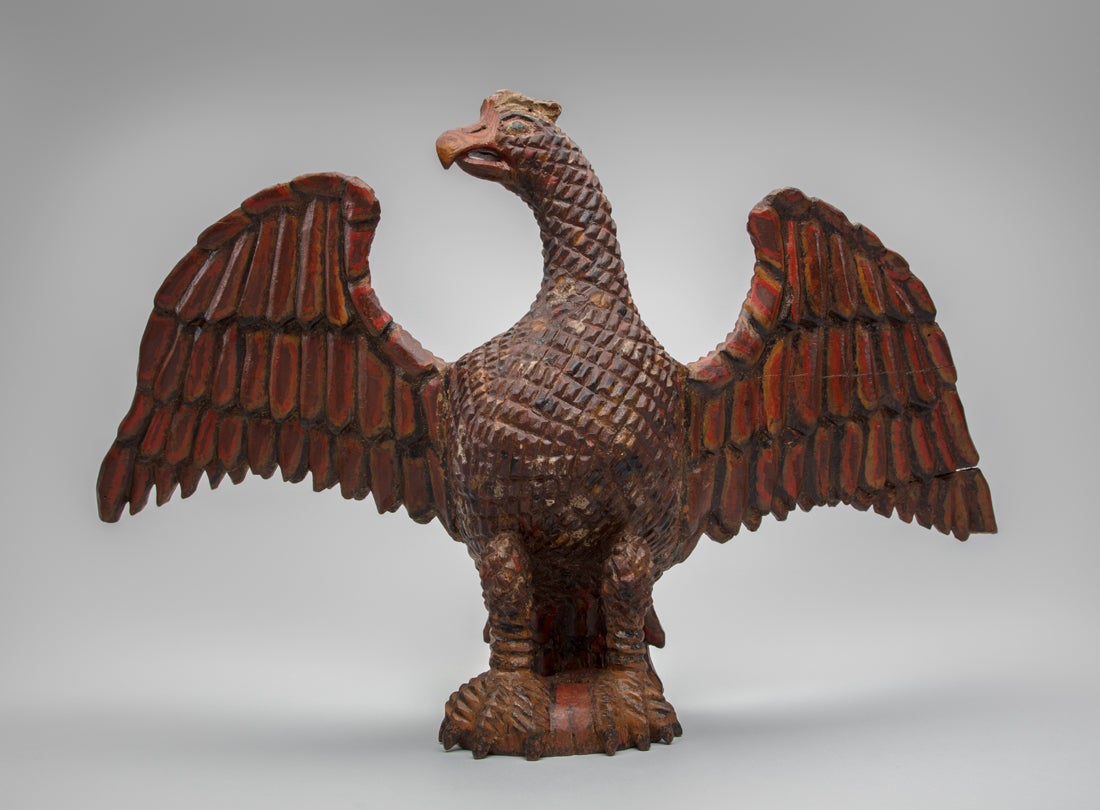 1 of 12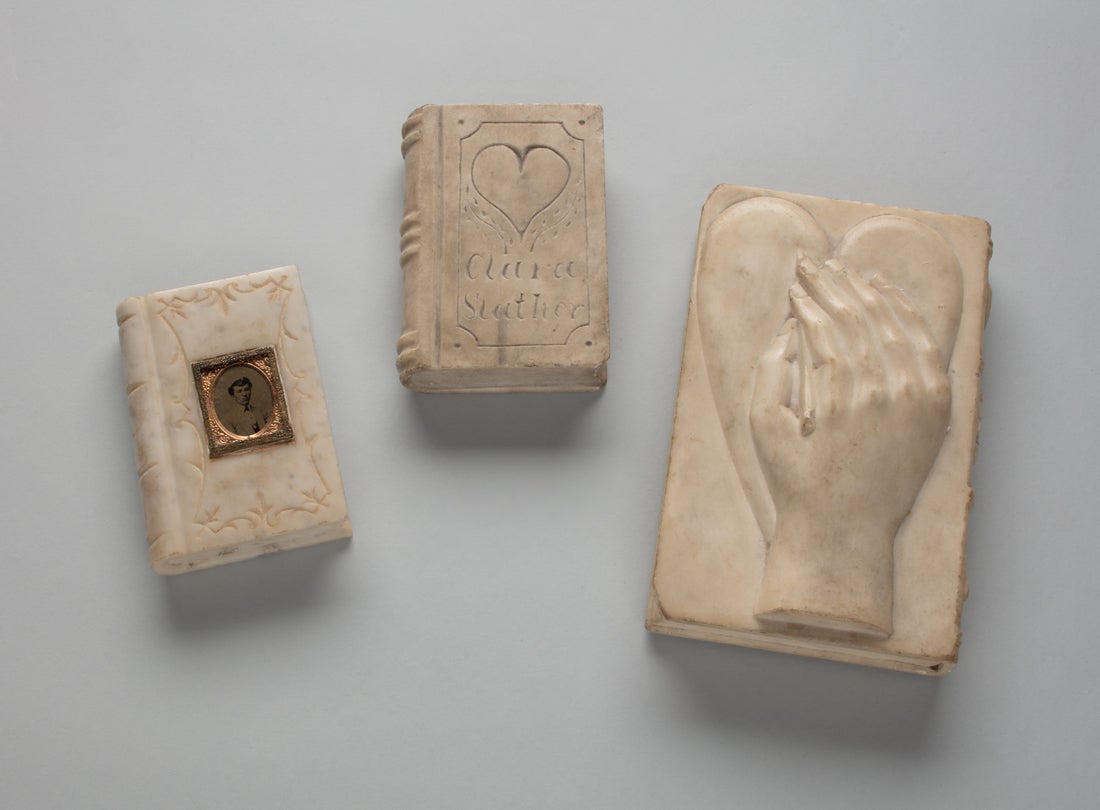 2 of 12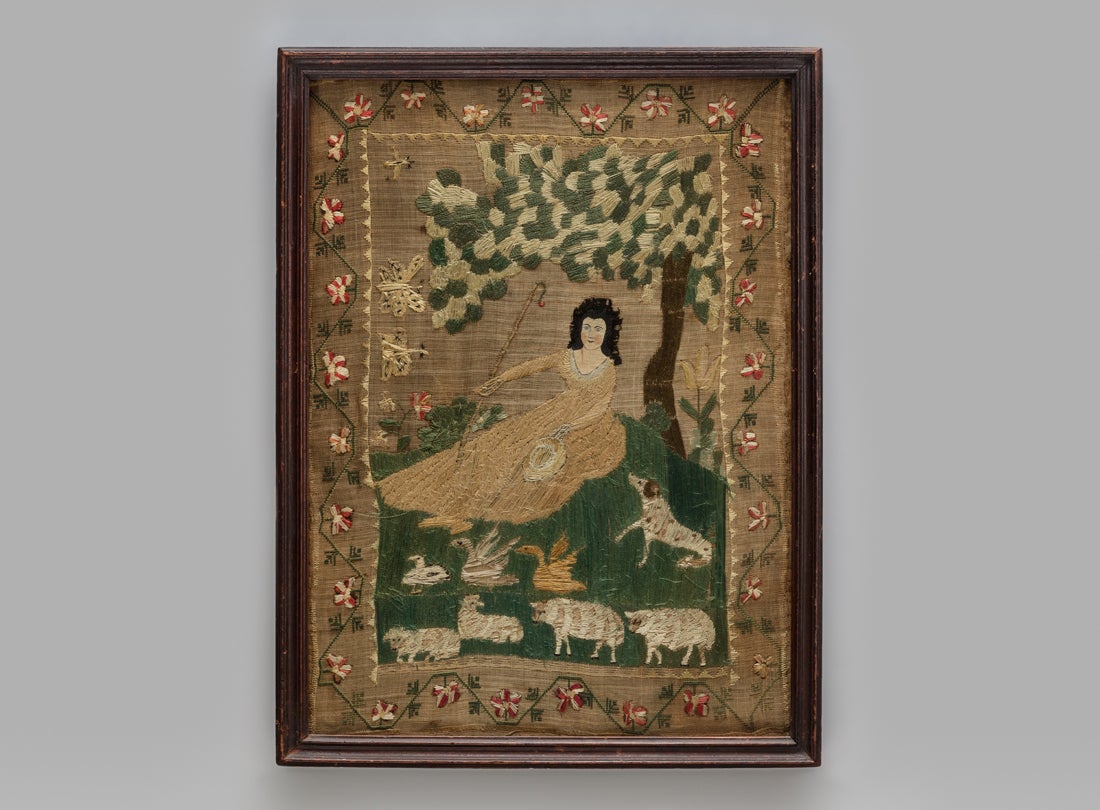 3 of 12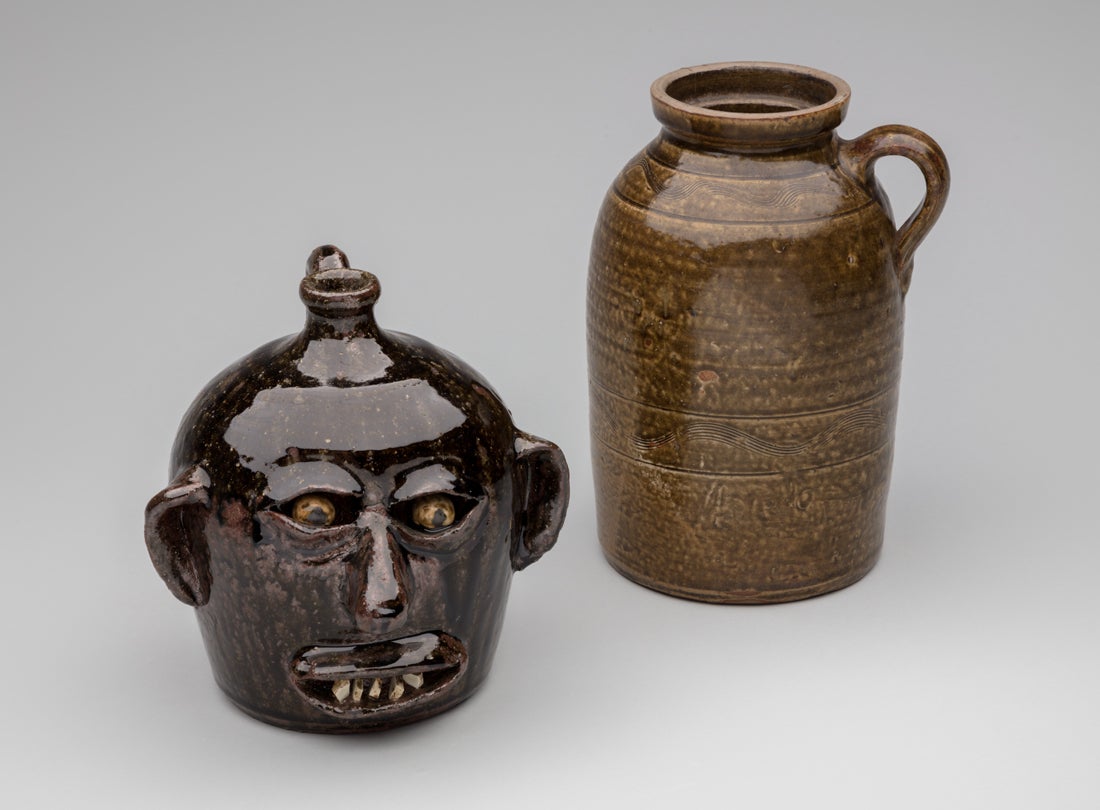 4 of 12
5 of 12
6 of 12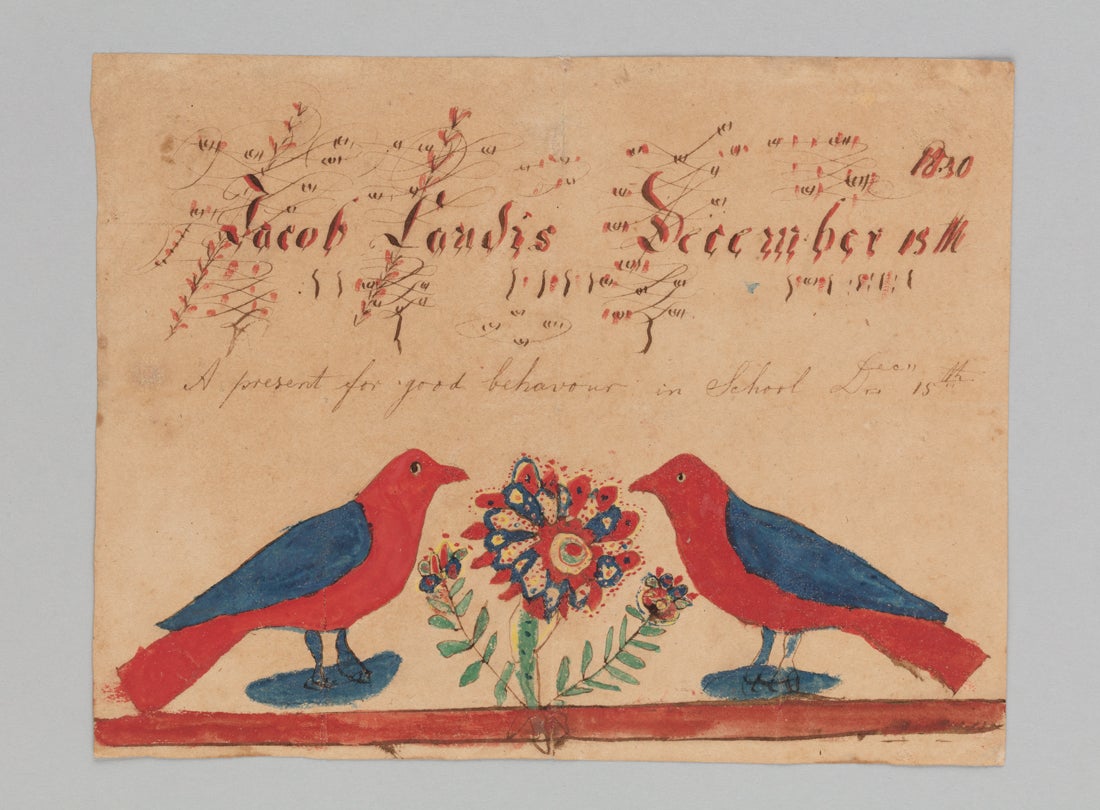 7 of 12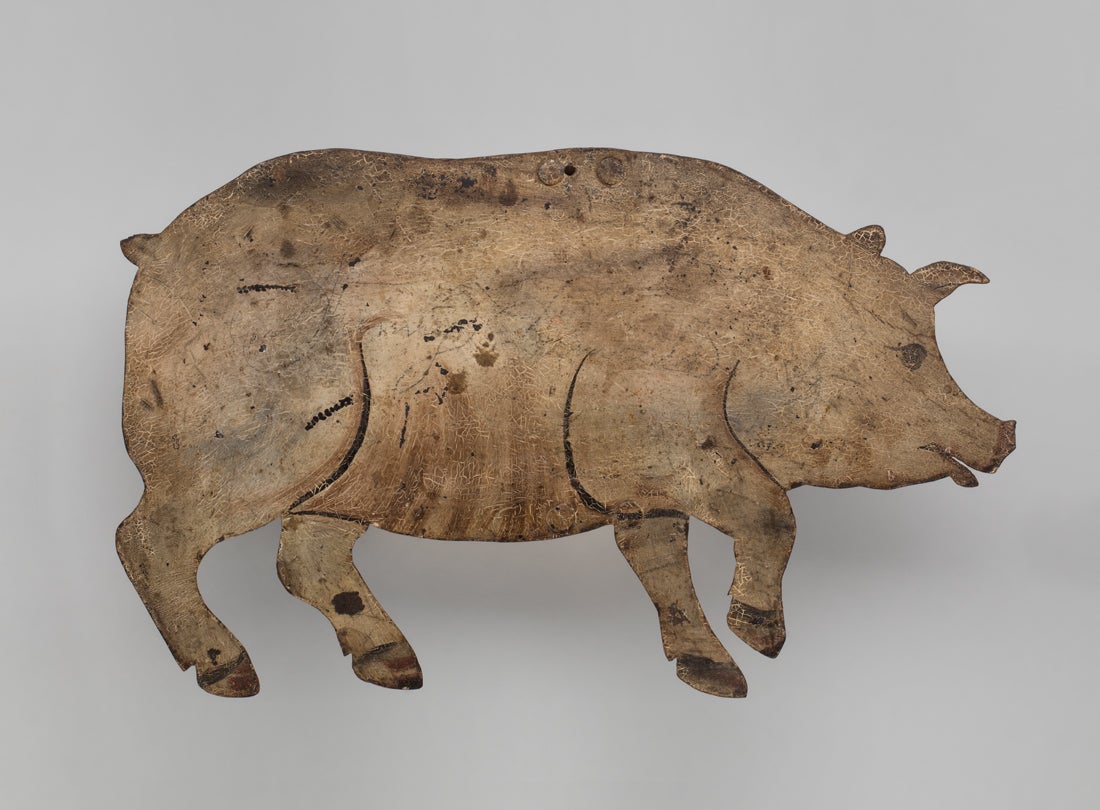 8 of 12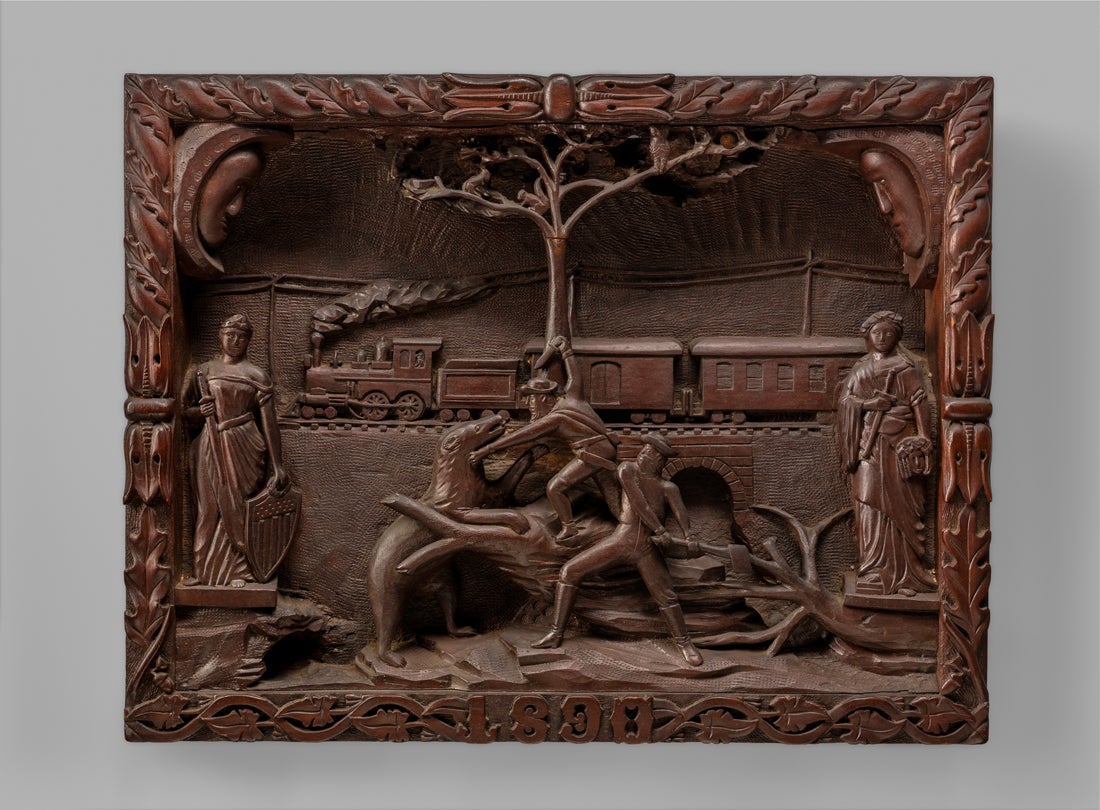 9 of 12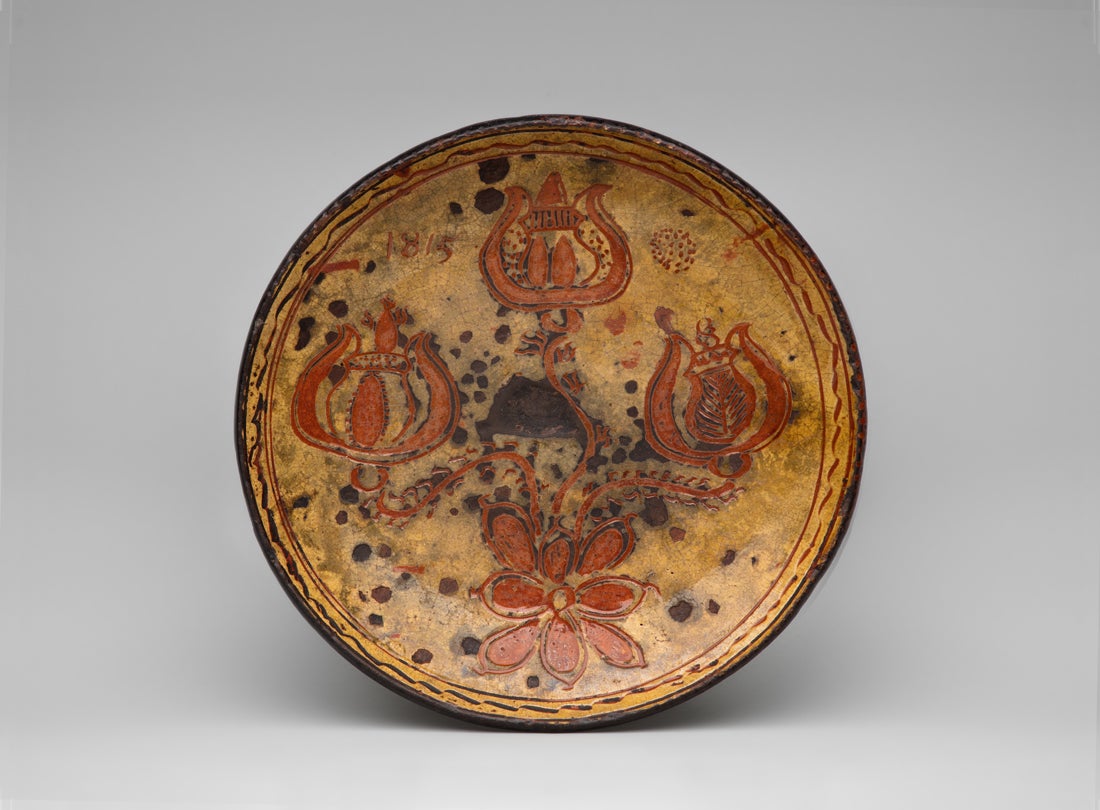 10 of 12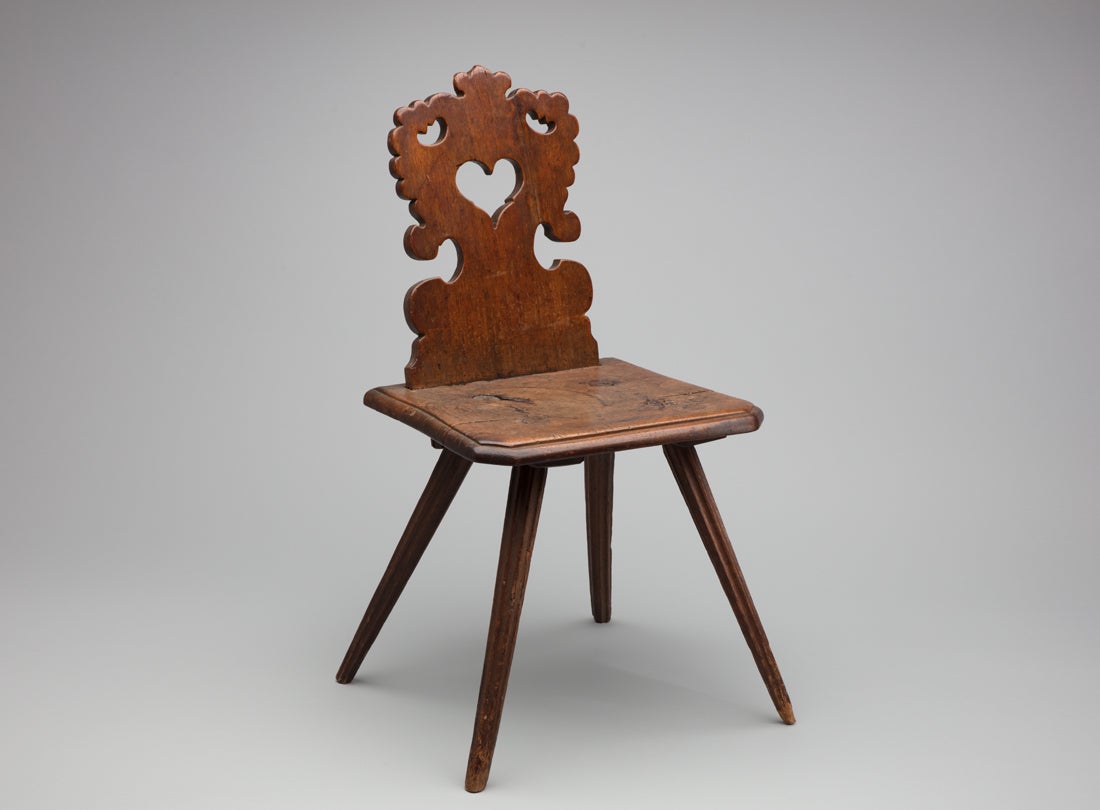 11 of 12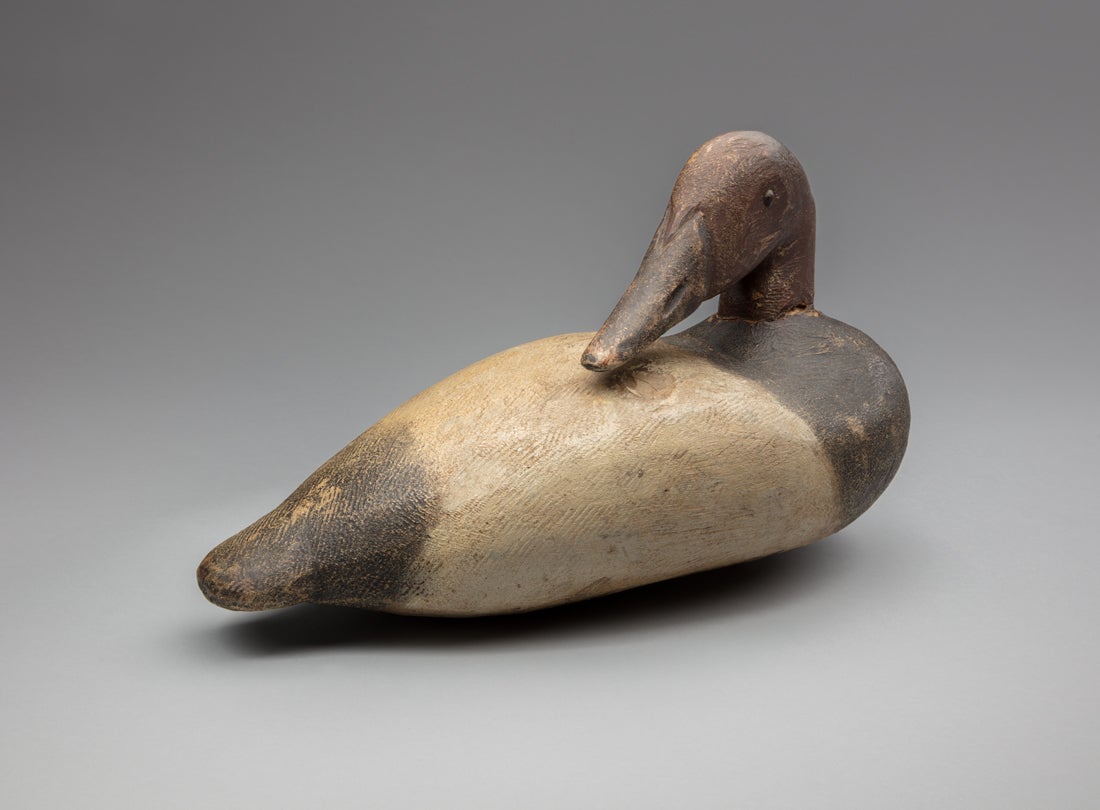 12 of 12
Carved wooden eagle  c. 1870s
Wilhelm Schimmel (1817–90)
Pennsylvania
wood, paint
Collection of the Landis Valley Village and Farm Museum, Pennsylvania Historical and
Museum Commission
FM76.24
L2017.0801.025
In 1782, Congress designated the bald eagle, unique to North America, as the national emblem. The majestic bird, a symbol of freedom admired for its speed and strength, became a favored image of artists in the fledgling nation. This imposing creature takes form in a variety of folk art, including wood carvings.
In southeastern Pennsylvania, where wood was especially abundant, Wilhelm Schimmel (1817–90), a German immigrant who came to the United States in the 1860s, became the most famous—or perhaps infamous—carver in Cumberland County. An itinerant craftsman allegedly known for his fiery temperament and fondness for libations, Schimmel is particularly noted for his carved, painted eagles. In this large, outspread example, he carved the wings separately before dovetailing them to the creature's body.
Tintype portrait of a young man stone book  c. 1900
United States
marble
Collection of Ian Berke
SB-271
L2017.0802.037

"Clara Slather" and hand on heart stone books  c. 1900
United States
marble
Collection of Ian Berke
SB-173, SB-118
L2017.0802.018, .035
American carved stone books first appeared around 1860, but seem to have reached their peak in popularity during the last three decades of the nineteenth century. Stonecutters, many of whom worked in gravestone shops, created these intriguing items in their leisure hours along with other small carvings. Amateur craftsmen, civil prisoners, and prisoners of war also carved stone books. Stone books, usually carved in a closed position, are small, typically three- to six-inches in height. Marble, especially white, was used most often because it was readily available and easily carved. The shape of these books was probably intended to suggest a Bible. Given to loved ones as gifts, stone books typically served as objects of remembrance. Makers embellished books with a variety of religious and secular inscriptions and imagery—both incised or carved in relief. Some recurring motifs include crosses, clasped hands, hearts, horseshoes, and lambs. A number of stone books that serve as memorials have covers set with tintype portraits. Women's first names appear often; full names on carved stone books are rare.
Embroidered pastoral scene  late 1700s
Boston
silk thread, linen, silk, watercolor
Formerly part of the Garbisch Collection
Collection of Mattie and Allen Alperton
L2017.0810.001
Girls learned needlework at an early age to prepare for their future household duties of sewing clothing and mending linens for their families. Samplers display hand-embroidered designs using thread made of silk, wool, or cotton on cloth, typically linen. Samplers served two purposes—they improved a young girl's embroidery skills while teaching her the letters of the alphabet and numerals. Girls learned to make samplers at home or at school. Designs might be adapted from embroidery pattern books or school primers. Girls often embroidered their names, ages, and the dates they completed the samplers. The finished work was often hung at home in the parlor to showcase the girl's skill and kept in the family for generations. More advanced embroideries contained pictorial imagery and a variety of verses, such as words commemorating a deceased loved one. Many of these were made in schools or academies for young ladies.
This imaginative piece features a charming, pastoral scene, with a woman sitting under a tree surrounded by animals. Rather than stitched, the woman's face was painted on silk with watercolor.  
Face jug  1969
Q. Lanier Meaders (1917–98)
Mossy Creek, White County, Georgia
ash glaze, clay
Atlanta History Center, courtesy of John Burrison
ML.1981.41.M188
L2017.0808.001

Fruit preserve jar  c. 1870s
McPherson or Belcher family
Sand Mountain, DeKalb County, Alabama
alkaline glaze, clay
Atlanta History Center, courtesy of John Burrison
ML.1981.42.M105
L2017.0808.003
Small-scale, family-run pottery workshops in the American South continued into the twentieth century. Similar operations in New England, the mid-Atlantic, and Midwest gave way to mass-produced ceramics by 1900. Folk pottery is still made today in North Carolina and Georgia. The southern tradition has emphasized high-fired stoneware vessels that could withstand rough usage on the farm. Alkaline stoneware glazes are distinctly regional, with wood ashes or lime mixed in a solution to help melt the other ingredients—usually sand and clay. These glazes turn green or brown depending on the firing conditions and can have a runny texture. They were developed in South Carolina around 1815, perhaps inspired by published accounts of similar high-firing Chinese glazes.
The face jug made by Georgia's Lanier Meaders represents a later-twentieth-century shift in emphasis from utilitarian farm wares to more decorative pieces for collectors, a trend that continues today.
Independent Order of Odd Fellows all-seeing eye plaque  c. late 1800s
United States
wood, paint
Collection of Ian Berke
L2017.0802.013
Fraternal organizations thrived in America in the nineteenth century. Unlike typical social clubs, members of fraternal groups had to undergo initiation rituals and adhere to a code of secrecy in order to join these brotherhoods. Freemasons and the Independent Order of Odd Fellows, the two prevalent groups, both originated in the United Kingdom and shared similar principles. The Freemasons were established in the United States in the early eighteenth century, while the Independent Order of Odd Fellows followed in the early decades of the next century. These enigmatic, benevolent organizations provided camaraderie, engaged in various charitable causes, and encouraged the strengthening of moral character among members.
During fraternal meetings, members employed a host of objects. Regalia and staffs were adorned with a variety of seemingly strange, symbolic motifs. Members also decorated lodges with emblematic pieces, such as plaques and mirrors. Independent craftsmen, fraternal members, and members' wives made most of these items—the latter crafting textiles and needlework. The all-seeing eye is common to both orders. The heart in hand represents a strong emblem of love and friendship. The iconic Independent Order of Odd Fellows symbol of the three-link chain, symbolizes friendship, love, and truth. The masonic symbol of the square and compass joined together broadly represents virtue and wisdom.
Block with painted schooner Aurora  c. 1900–40
wood, metal, paint
Collection of the San Francisco Maritime National Historical Park
SAFR 24577
L2017.0809.004
For centuries, people have traveled the seas exploring new territories, engaging in trade, fishing, and whaling. Mariners spent long periods of time confined to a ship surrounded by the sea. In the days of sailing ships, a stint aboard might last weeks, months, or years. A seaman had to be a jack-of-all-trades in order to perform his duties. To pass the time during slow periods and calm seas, sailors adapted their varied skill sets to a number of handicrafts. Using their imagination, men transformed wood, bone, and rope into a variety of folk art. 
Fraktur reward of merit for Jacob Landis  1830
Pennsylvania
paper, pigments
Collection of the Landis Valley Village and Farm Museum, Pennsylvania Historical and
Museum Commission
F5.67
L2017.0801.021
Fraktur employs a combination of ink and watercolor and can be easily recognized by its elaborate decoration. These illuminated Germanic documents typically display bright colors with intricate lines and flourishes, such as birds, hearts, flowers, and figures. One of the birds depicted in fraktur is the Carolina parakeet, North America's only parrot species, which became extinct in 1939.
Fraktur appears in the form of birth, marriage, and baptismal certificates, in addition to house blessings, awards of merit, and school writing samples. Oftentimes, a schoolmaster, clergyman, or itinerant specialist crafted these important family documents, which were handed down from one generation to the next. Because these were special documents, their owners typically adhered them to the inside of a chest or tucked them inside of a Bible; as a result, many survive today. Highly illustrative, fraktur influenced many other forms of Pennsylvania German folk art. 
Pig weathervane  c. late 1800s–early 1900s
Pennsylvania
sheet iron, paint
Collection of the Landis Valley Village and Farm Museum, Pennsylvania Historical and
Museum Commission
F0.394 (1)
L2017.0801.030
People have used devices to measure the wind since ancient times. A sudden change in the direction of the wind, combined with prevailing weather conditions, could help determine the forecast. American colonists, using technological skills brought with them from Europe, began crafting weathervanes during the seventeenth century. Eventually, each village, town, and city displayed a weathervane atop its highest building. Early weathervanes were carved from wood or fabricated from various metals. As greater numbers of farmers and settlers moved to rural areas, weathervanes appeared more frequently on the tops of individual homes and barns. Regardless of the pictorial theme, a weathervane was adhered to a cross-shaped, hollow-metal rod with the vertical section serving as its pivot point. Directional arrows marked with the letters N, S, E, W, were then added.
Carved wooden picture  1890
possibly California
wood
Collection of Ian Berke
L2017.0802.003
As with so much American folk art, the maker of this pictorial carving and its origins is unknown. The piece, rife with untold symbolism, features a statue of Lady Liberty in neoclassical dress to the left, armed with a sword in one hand and a stars-and-stripes shield in the other. Another prominent, unidentified female statue appears on the right in a similar flowing gown, carrying a sword in her left hand and the head of a female in her right hand. In the midst of these feminine creatures, prospectors attack a bear that seems to have just leapt from its cave. A tree grows above the figures, while an owl, accompanied by playful squirrels, perches on one of its branches. In the background, a train chugs past, heading West. Two anthropomorphic half-moons frame the top corners of the carving. The piece is enclosed by an ornately-carved frame adorned with oak leaves and acorns. A date of 1890 appears prominently on the bottom of the piece. As the carving references the west, and westward expansion, the piece may have been made in California. 
Sgraffito-decorated plate  1815
possibly Berks County, Pennsylvania
redware, glaze
Collection of the Landis Valley Village and Farm Museum, Pennsylvania Historical and
Museum Commission
FM76.14.1
L2017.0801.013
From the late-seventeenth century to the mid-nineteenth century, Pennsylvania German ceramics traditions thrived. Taking advantage of the abundance of rich clay deposits in southeastern Pennsylvania, potters crafted both utilitarian and decorative display pieces using molds or a pottery wheel. Referred to as redware, this earthenware pottery was made using clay with a high iron content, which turns reddish-brown when fired. By the 1700s, most towns in the region had a local pottery. A potter worked several weeks to prepare enough wares to fill a draft kiln.
Decorative shapes, patterns, figurative designs, and text were applied using contrasting colors of glaze and slip, a liquid clay. Potters often enhanced redware using a technique referred to as sgraffito, in which a pattern is incised into a thin layer of slip, revealing the colored clay underneath. Redware is brittle and easily broken, but because the finest colorful slip- and sgraffito-decorated objects commonly served as special presentation pieces, many remain extant. 
Brettstuhl (board-back stool)  c. 1800s
Pennsylvania
black walnut
Collection of the Landis Valley Village and Farm Museum, Pennsylvania Historical and
Museum Commission
FM2014.14.3
L2017.0801.011
European immigrants from Germanic-speaking parts of Europe began settling in southeastern Pennsylvania in the late seventeenth century. In Europe, most of these industrious immigrants were peasants, artisans, and small farmers. Although agriculture served as the major industry, many people worked as farmer-craftsmen in the new world. Because Pennsylvania Germans lived in isolated, rural communities, they maintained strong cultural traditions for over two hundred years. During this time, Pennsylvania German folk art flourished.
Woodworking, carving, and whittling were commonly practiced by males prior to the Industrial Revolution. Men often made items of furniture for their homes, such as this chair, which is embellished with a heart—a beloved Pennsylvania German motif. The smaller wooden box on display is carved with pinwheels, stars, and diamonds. 
Canvasback drake decoy (preener)  early 1900s
Auro Henry
Napa, California
redwood, paint
Courtesy of Paul A. Mazzilli
L2017.0804.003
The decoy, a hunting tool intended to lure wild birds, has a long history in North America. Native Americans first fashioned them from reeds and other natural materials over one thousand years ago. Sometime in the late 1700s, European-Americans followed their lead and began carving decoys from wood. From coast to coast, various regions of North America developed distinctive types of decoys. Salty, rough waters typically required sturdy, solid-bodied decoys that needed frequent repainting. Freshwater decoys, on the other hand, allowed for hollow bodies and detailed paint patterns, which lasted through many seasons. Master craftsmen created local styles that were passed on through generations of carvers. Artisans also brought their own individual creativity to the birds they crafted, making each one unique. Carvers made some decoys to appear sleeping, preening, or with their heads tucked low into their bodies as if resting. Craftsmen also made flyers to add realism to decoy rigs. Ropes were attached to two poles so the flyer hung over the water or along the shoreline to simulate a duck about to land.